Over the last few years, there haven't been a plethora of quality silver miners to buy. But a company has just emerged that I feel can be added to the shortlist.
Gatos Silver (NYSE:GATO) just went public in November 2020, and since then, it has gained over 40%. I highlighted the stock for The Gold Edge subscribers just a few weeks after it IPOed, as the story is extremely compelling, especially considering the valuation. Despite the increase in market cap since then, GATO has plenty of upside potential. Below are all of the reasons that make GATO such an intriguing silver stock.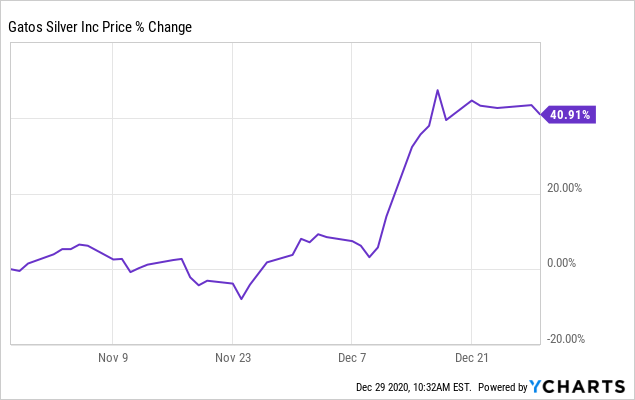 1. Cerro Los Gatos Is Fully Built And Reached Commercial Production in 2019
Gatos Silver has a JV on the Cerro Los Gatos (CLG) silver-zinc-lead-gold mine in Mexico. With its JV partner Dowa Metals and Mining (a Japanese company), Gatos constructed the $316 million mine, and it was completed on time and budget. In 2019, the mine reached commercial production but took a step backward this year due to COVID-19 (more on this in a bit).
Below are some of the pictures of the asset, which highlight the size and quality of the infrastructure. It's rare to come across a mining stock that is brand new to the market and has a fully constructed project. Most times, investors have to wait years before they will see a project begin to bear fruit. And the risk of dilution along the way — to finance the asset — is one of the main downsides for developers and why their stock prices tend to underperform during the construction phase. With Gatos, there are none of those risks.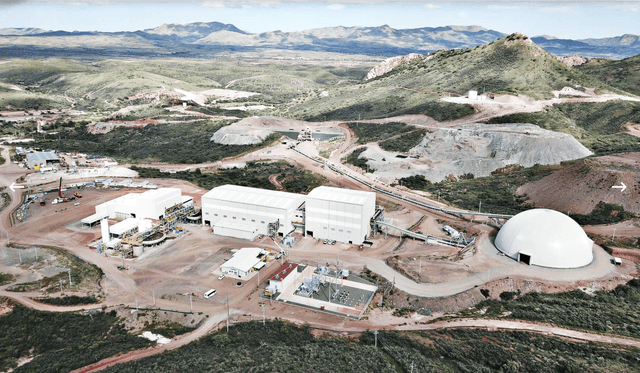 (Source: Gatos Silver)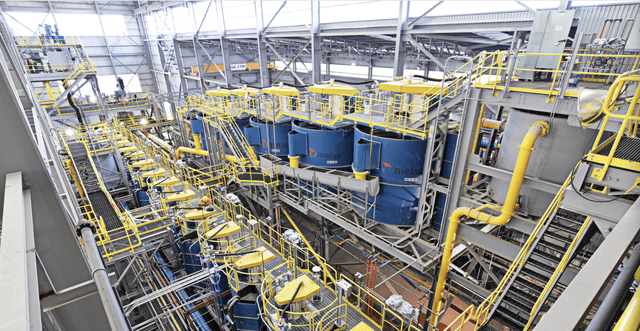 (Source: Gatos Silver)
2. One Of The Largest And Highest-grade Producing Silver Mines In North America, With Reserves At 641
g/t AgEq
The 2020 reserve estimate for CLG shows the mine contains 95 million ounces of silver at a grade of just over 306 g/t, 585 million pounds of lead at 2.76%, 1.2 billion pounds of zinc at 5.65%, and 108,000 ounces of gold at 0.35 g/t. Overall, this is a massive AgEq reserve base at an AgEq grade of 641 g/t. There aren't too many silver mines in North America that can match the size or silver equivalent grade of CLG.

(Source: Gatos Silver)
The diagram below shows the AgEq block grades and the distribution throughout the deposit. Also, notice the shallow depth (CLG is an epithermal vein system), allowing for quick and cheap access to the ore.

(Source: Gatos Silver)
3. Significant LOM With Sizable Jump In Output and FCF Expected in 2021
CLG is expected to have an 11-year mine life with average annual AgEq production on a 100% basis of 12.2 million ounces at an AISC of $11.77 per ounce on a co-product basis. If you just include silver production and use by-products as credits, the mine will produce 6.5 million ounces of silver per year at an AISC of $5.47 per ounce (making Gatos one of the lowest cost, highest margin silver producers).
COVID-19 has slowed the ramp-up at CLG, but in 2021, the mine plan calls for production to hit 13.3 million AgEq ounces at an AISC of $13.97 per ounce. Output will increase even further in 2022, and AISC will drop to under $11 per ounce. The mine is now free cash flow positive, and there will be a surge in FCF over the next several years. It's also important to note that the FCF profile is based on $18.99 per ounce silver and slightly lower lead and zinc prices than where Pb and Zn currently trade.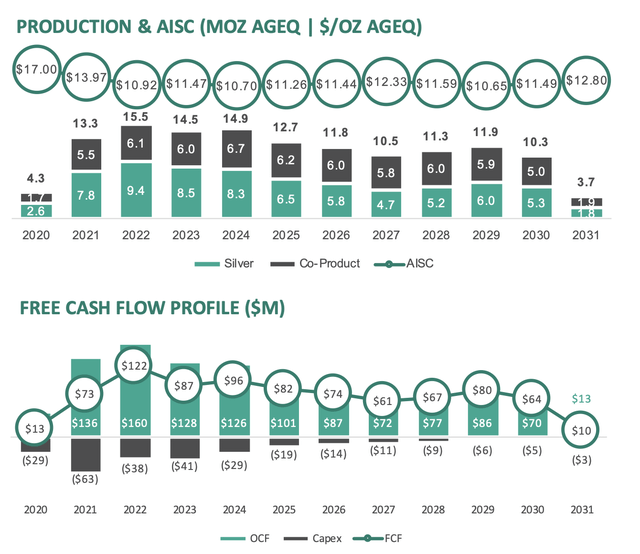 (Source: Gatos Silver)
4. Positive Signs So far In Terms Of Mining Rates, Throughput, And Recoveries
As the graph below shows, the mine ramp-up took a step backward as Gatos temporarily suspended operations earlier this year. Before COVID-19 hit, the mining rate matched the targeted 2,500 tpd level. Gatos is working its way back up to those mining rates but has been slowed somewhat because of COVID-19 precautions.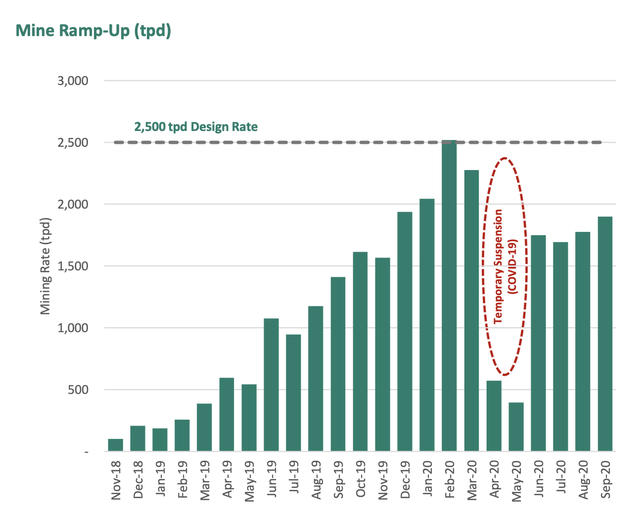 (Source: Gatos Silver)
The process plant has shown that it's capable of operating at 2,500 tpd (even though Gatos isn't operating at that capacity every day of the month as they don't have enough mill feed); metal recoveries are hitting the mark as well. The company stated that Q3 2020 recovered metal in concentrate was 1.3 million ounces Ag, 1.5 thousand ounces Au, 8.3 million pounds Pb, and 11.2 million pounds Zn, for a total of 2.4 million AgEq ounces. Operating costs were also in line with expectations and "trending toward LOM feasibility operating costs." All good signs so far in the ramp-up, despite the COVID-19 challenges.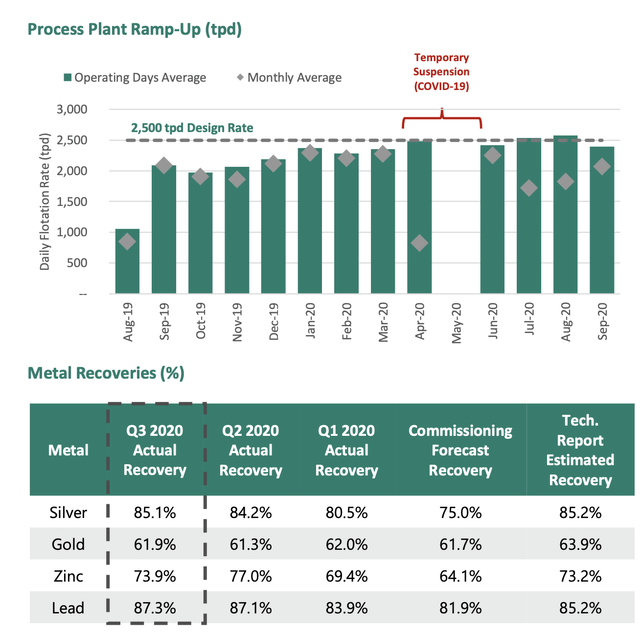 (Source: Gatos Silver)
5. Raised Gross Proceeds Of Approximately US$172.5 million With Its IPO, Allowing The Company To Increase Stake In CLG And Strengthen Its Balance Sheet
Gatos sold 24,644,500 shares of common stock in its initial public offering for gross proceeds of approximately US$172.5 million. It plans to use US$68 million of the funds to immediately increase its ownership in the JV to 70% (up from 51.5%). With the increased stake in CLG, Gatos' attributable AgEq production next year will be 9.3 million ounces.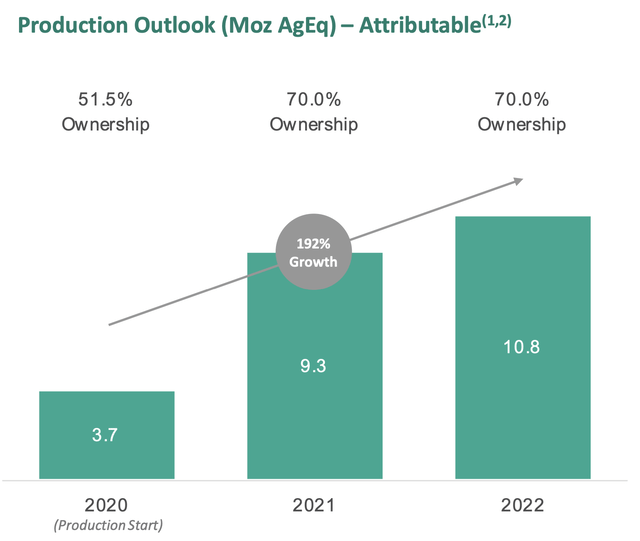 (Source: Gatos Silver)
Part of the remaining IPO proceeds will be used to strengthen the company's balance sheet. $31 million will go to the retirement of a portion of the working capital facility ($31 million of the $60 million working capital facility is attributable to Gatos Silver, the rest to Dowa). Net debt at the JV level is now $237.2 million (they are including accounts receivables and VAT receivable in these estimates), and attributable net debt for Gatos Silver is $128 million. Gatos' financial position is solid considering they will own 70% of CLG, and the mine will spin off free cash flow.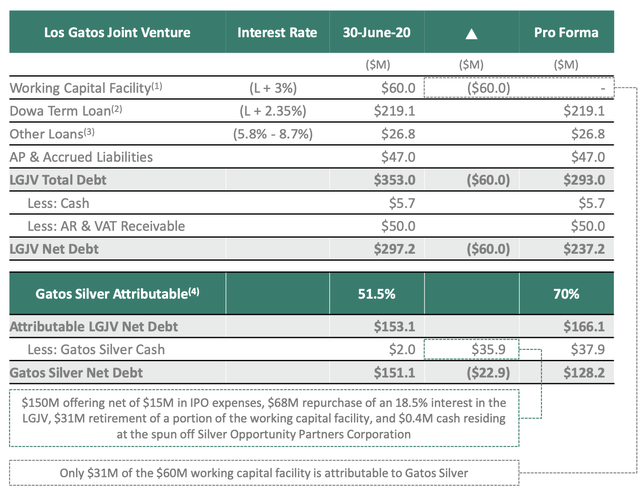 (Source: Gatos Silver)
Below is the share structure post IPO, with Electrum owning 45.1% of the company. The share total doesn't include the over-allotment from the IPO, which increased the share count by 3.2 million.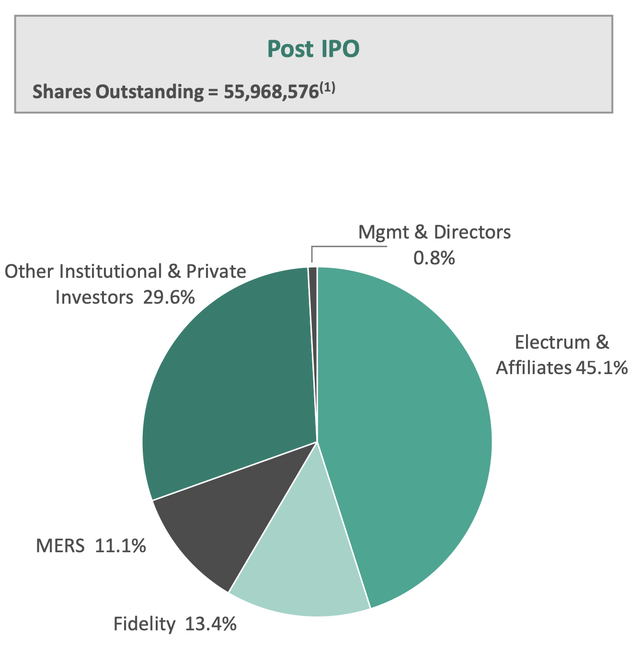 (Source: Gatos Silver)
6. Massive Land Package And Exploration Potential
CLG is just one deposit that Gatos is exploring. There are two other vein systems on the property that contain resources, and there is also a high-valued target located just outside of the current JV that the company believes has serious potential. This is a massive, underexplored land package.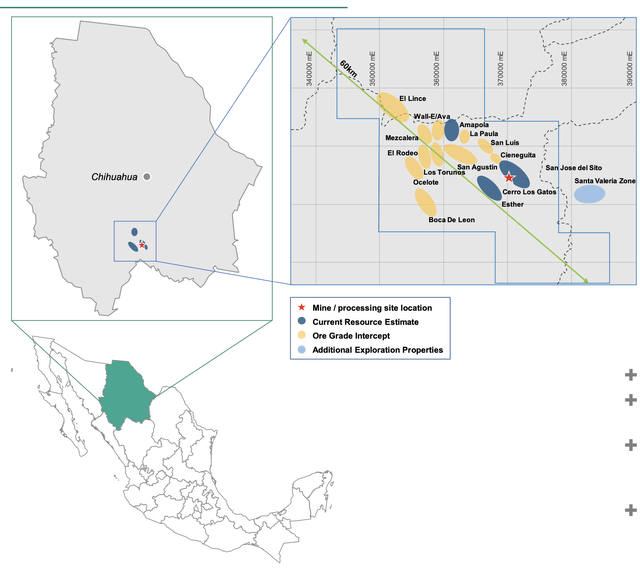 (Source: Gatos Silver)
7. NYSE Listed And U.S. Based
Gatos is based in Colorado, and the shares currently trade on the NYSE and Toronto Exchange. For U.S. investors, this is a bonus, as it gives more liquidity and access to the stock.
All This At An Incredible Valuation
The current price of GATO is $9.40, which gives it a market cap of just over US$550 million. This is an incredible value (both absolute and relative) for this stock considering all of the bullish aspects discussed above.
To put it in context, Endeavour Silver (EXK) trades at a $772 million market cap, and GATO will be producing far more Ag ounces (4.5 million vs. 3 million for EXK) and at a much lower AISC ($5.47 using by-product credits vs. $17 per ounce for EXK). So quite a contrast. Endeavour's Terronera project will boost output by 3 million ounces of silver per year and cut its cost structure in half, but it will still be a few years before the asset is in production.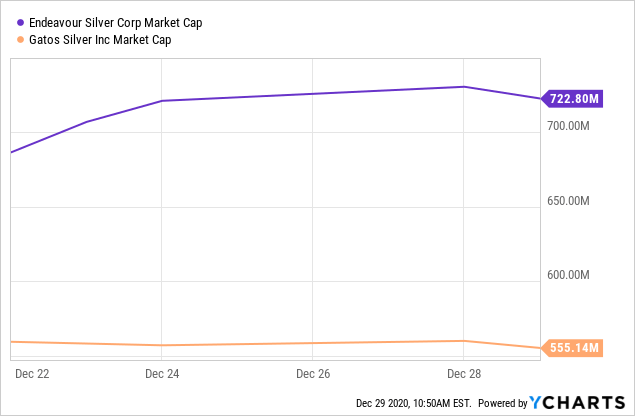 If we compare reserves, the 2020 reserve estimate for Gatos' CLG mine shows it contains 95 million ounces of silver at a grade of 306 g/t. Including the lead, zinc, and gold, there are an additional 100+ million AgEq ounces in reserves. Total AgEq reserves = 200 million ounces at a grade of 641 g/t. GATO owns 70% of the mine, so 140 million attributable AgEq ounces. Endeavour Silver has 82 million AgEq ounces in reserves at a grade of about 350-375 g/t AgEq. That's a 70%+ advantage in both total AgEq reserves and grade for Gatos, yet it trades at a 24% discount to EXK.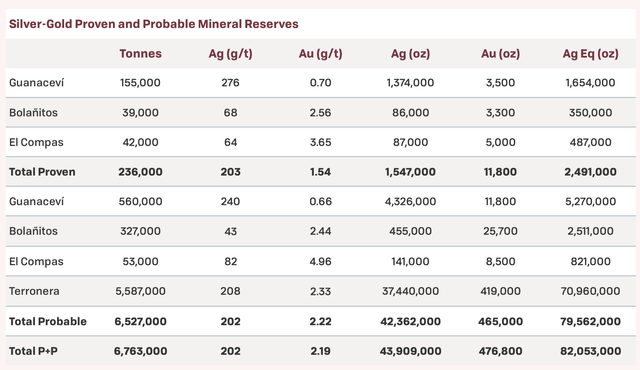 (Source: Endeavour Silver)
EXK has a better balance sheet, but GATO is a bargain considering production, reserves, and other aspects, even adjusting for enterprise value.
While it might seem like I'm negative on EXK, I'm bullish on the stock because I believe costs will continue to trend lower, and Terronera will finally jumpstart growth again. It just shows that Gatos is trading at a compelling relative value given all of the positive attributes, and especially considering the cash flow of the current production profile.
In terms of absolute value, the after-tax NPV of CLG using a silver price of $18.99 is $653 million on a 100% basis. The mine has exceptional leverage to silver, as at the current silver price of $26 per ounce, the NPV increases to $934 million. Factoring in the 70% ownership, that's $654 million of after-tax value for Gatos.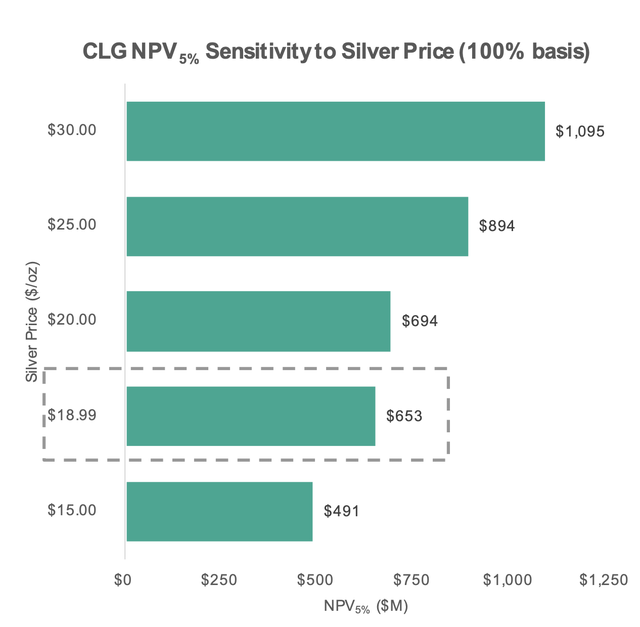 (Source: Gatos Silver)
The price of lead is also 10%+ higher compared to the price used in the NPV estimate above. That boosts the asset's value by another $50 million or so, which increases the NPV for Gatos to just under $700 million. If zinc and silver both continue to rise, the NPV will rocket higher.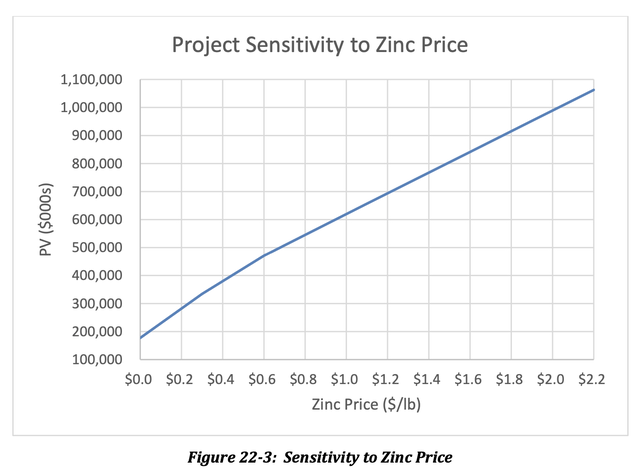 (Source: Gatos Silver)
The NPV also doesn't include the almost 90 million of additional AgEq ounces in resources that are exclusive of reserves at CLG.
GATO is worth much more than where it's trading today, despite the recent 40% surge. The stock is still below its NPV using $26 silver and current lead/zinc prices, and the leverage to Ag, Zn, and Pb should result in outperformance if precious and industrial metals continue higher.
There are still risks with Gatos, especially since it's in the ramp-up stage and CLG isn't running at 100% yet. But GATO is one of the most compelling options in the silver sector, and many investors are now discovering the company and buying the stock. Gato is Spanish for "cat," and given this is a new issue and the explosive run since its IPO, the cat is definitely out of the bag.