Commodity prices have spiked to an all-time high (options strike price is now at $200) especially the oil-related assets and investments like ETFs. Some analysts predict that crude-oil prices will rise to $150 a barrel. Ht So, is it time to invest in oil? For long-term investments of more than four years, the simple answer is no, but only if you have a correct understanding of the reasons behind the fluctuations. Investing in commodities due to geopolitical events and uncertainties would likely be the wrong reason. As Andy Serwer, editor-in-chief of Yahoo Finance put it, "over time we recover and move on. Meaning at some point, Putin will fail. Sadly there will be much pain and suffering before then." That said, the uncertainty and supply disruption in oil in the short term has led to the bullish upward trend.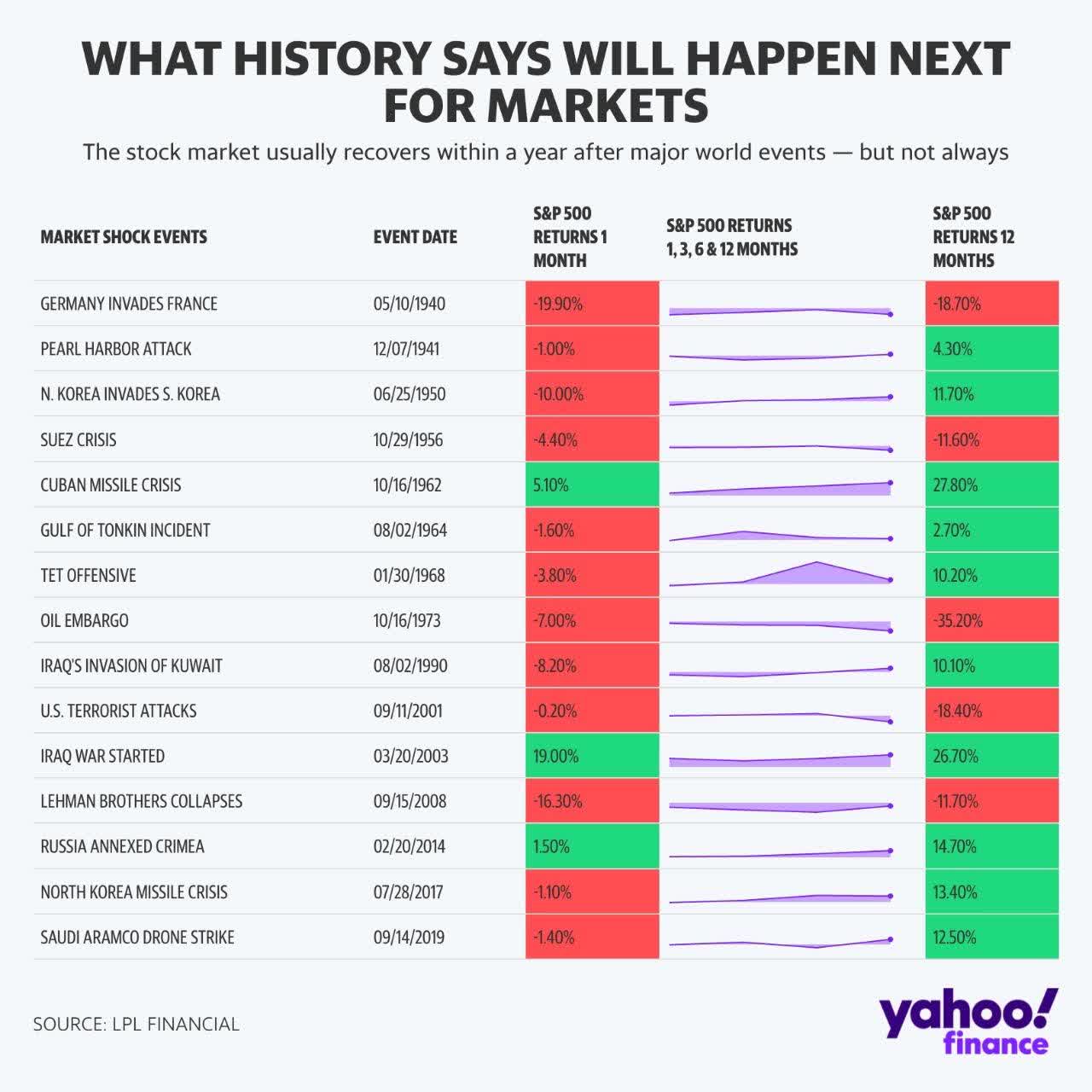 Nonetheless, the damage, suffering and potential devastating commodities and food shortage that the war in Ukraine has caused and will continue to cause cannot be discounted. During these challenging times, we need to step back and see the big picture of past and current trends, especially for retail investors, to better evaluate and consider whether oil and commodities are good long-term investments or short-term trades. Although there are many fear sentiments projected in the general and financial media, we should take them with a grain of salt. Therefore, below are some detailed reviews of historical performance data and straightforward technical analysis and indicators to properly navigate the volatile oil market.
Investor fear index: high but less than 50% of pandemic
As scary and volatile as the situation and market are, we should have grown more versatile after going through the critical stages of the COVID-19 pandemic. In the financial market, the Chicago Board Options Exchange's Volatility Index (VIX) is a good indicator and measure of the level of "implied volatility," based on the S&P 500. This indicator, also referred to as the "investor fear gauge", measures investor sentiment. A higher VIX value (above 20) indicates volatility, uncertainty and drawdown in the equity markets and suggests potential rising oil prices. Currently, the VIX chart tells us that the market is in much pain and fear, but we are still better off than March 2020, when the VIX was at a historical second high (85.47). Meanwhile, during the financial crisis, the market was in a much worse situation, and the economic shock was greater, so the VIX spiked to a historic peak of 89.53. Compared to the September 11th attacks, which came as a much worse surprise, the VIX was at a 49.35 high. As for now, the VIX is in the range of 16 to 39 between January and March 2022.
As you can see in the chart below, the VIX in March has been constantly near or above 30 since the war in Ukraine. There is indeed much fear and pain in the market, but it's not a shock. At least, retrospectively, there had been signs from Russia's political agenda and history over the years.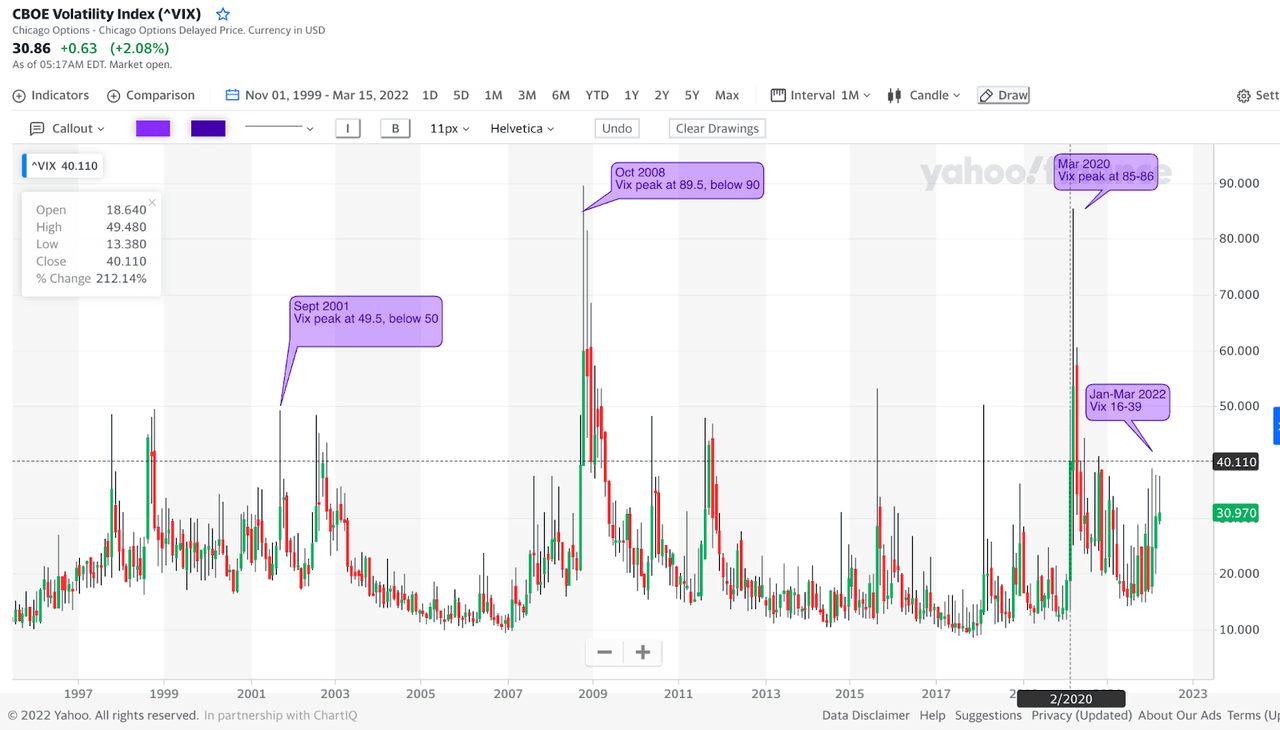 In the current economic and social climate, volatility is inevitable. "The certainty about uncertainty has never been higher," said Avi Felman at GoldenTree Asset Management in a Tweet. The pandemic hit every social class worldwide harder than ever before. The governments bailed the market out and turned the market around financially in 2020 with Quantitative Easing (QE) and stimulus checks. At the beginning of the pandemic, the situation was one of the worst catastrophes we had ever experienced - invisible, then untractable; a mysterious virus without any immediate medicine, vaccine and more than six million deaths globally as of March 15th. A black-swan event caught the world by surprise and completely off-guard. Yet, humans are more resilient, adaptable, transformative and innovative than we could have imagined. The world is empowered with a wealth of various resources, alternatives and technologies.
While we slowly see recovery signs, we are now confronting more human (created) problems: war in Ukraine, inflation or even worse, stagflation and interest rate hikes. The world is still vulnerable but less than in 2020. Some analysts refer back to the 1970s energy crisis and recession; if that happens again, it's not called a recession; it will be a regression. What have we achieved and progressed in life over the past decades? We have flown civilians to the moon. While it's in the very early test phase, it's not a moonshot scenario anymore. While recession and commodities supplies disruption is probable, at least the western world is more advanced and prepared to deal with such a crisis.
Oil price up only?
On March 7th and 8th, 2022, the WTI crude oil price (cl1:com) spiked to $130. The price has cooled off and is back below $100 at $96.68 per barrel on March 15th. The price could still spike up again depending on the latest situation in Ukraine, but there are many parties involved who aim to stabilize and lower the oil prices. Without going into the details of supply and demand and its logistics, fear of geopolitical uncertainty drives the current price spike and speculation in the lack of oil supplies narrative. While those could be valid points, it's important to note that the government is working with regulatory bodies such as the FTC and CTFC to ensure fair pricing to the consumer such that commercial suppliers aren't taking advantage of these difficult times. Oil producers might find it more profitable without boosting supplies, but governments worldwide would find solutions to stabilize the supplies and pricing:
Higher production with a more distributive network regionally.

Substitution - renewable energy as a long-term solution.

Change of consumption behavior or perhaps consumption restriction is likely to occur if the shortage continues.

Electric vehicle development and innovation expansion and growth at a higher pace.
Warren Buffett is jumping in and investing in OXY, should you?
So why is it a bad idea when reports show Warren Buffett has taken a roughly 10% stake in Occidental Petroleum's (OXY) common stock? It is another big investment in the oil producers as part of Berkshire Hathaway's (BRK.B) portfolio, in addition to Chevron (CVX). This deal is now worth about $6.1 billion. Simply put, Warren Buffett is a "master of capital structuring." He has an exceptional edge in "generating low-cost capital and an upper hand in investing preferred shares," as Logan Kane suggested in his article (vs. common stocks in the open market by retail investors).
Oil vs. Crypto: Crypto has 70% upside
History shows that investing in oil long term is not wise, and even for short-term investments, the price actions don't offer strong payoffs. The oil-price spike happened on March 7th and 8th, but now the price has gone below $100. The prospect of a $200 forecast is on the higher spectrum, which entails a much bigger crisis than one can swallow. Crypto offers a better upswing and alpha in the short term. If you have an appetite for risk, the token Luna has had a 70% rally in the last 30 days. Due to the surge in stablecoin, Luna is an emerging blue chip altcoin in the crypto ecosystem. If you are less risk-tolerant, then Bitcoin (BTC) has had 18% growth between February 24th and March 3rd, or since the start of the war and crisis in Ukraine. Current oil commercial producers won't increase output since it's not profitable. In other words, they see more profit keeping the supply shock longer and then enjoy a 30 to 50% jump in price. To combat this, governments would likely implement more regulations on pricing. Therefore, crypto may be an alternative short-term investment to consider to offset the oil investment risks.
Overall Trajectory
Invesco Resources Fund, US Oil Fund(USO), Crude-Oil Futures vs. Invesco Global Fund
Retail investors investing in oil is a bit like investing in Zoom and Peloton at the pandemic's peak. Case in point, if you bought into the promise of oil investments in 2008, you invested in the popular US Oil Fund (USO) and WTI crude oil at the high price cycle. Even if one joined the camp before the peak in late 2007, if no profit taking occurred at the right time, the price crash was too sharp to recover (see charts below).
To keep a more conservative perspective, instead of all-in on oil, even investing in a well-managed diversified resource focused mutual fund, Invesco Resources Fund (AIM1693.cf) still led to inverse expectation. The fund finally terminated in 2020. In contrast, if one invested in a more broadly diversified fund in technology and other equities like Invesco Global Fund (AIM1513.cf), the result would have been a satisfactory positive gain. See more details in the chart below for the performance comparison of USO, Invesco Resources Fund vs. Invesco Global Fund from June 2008 to March 10, 2022.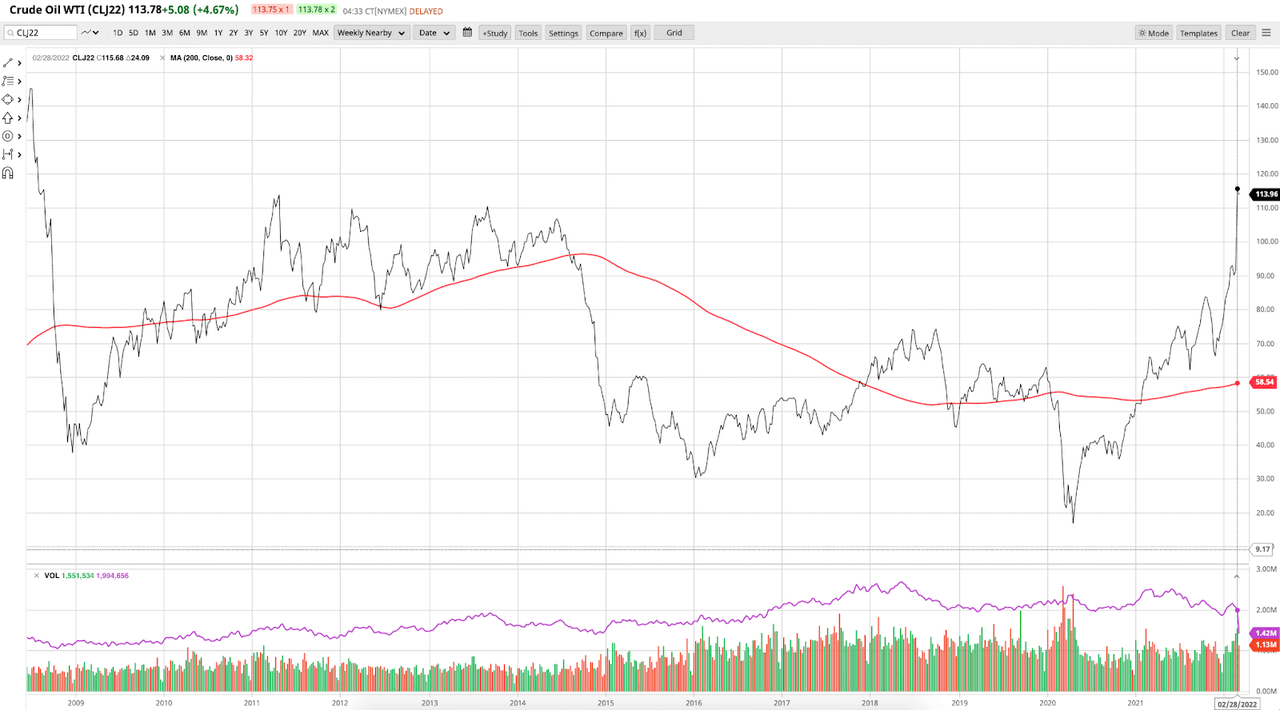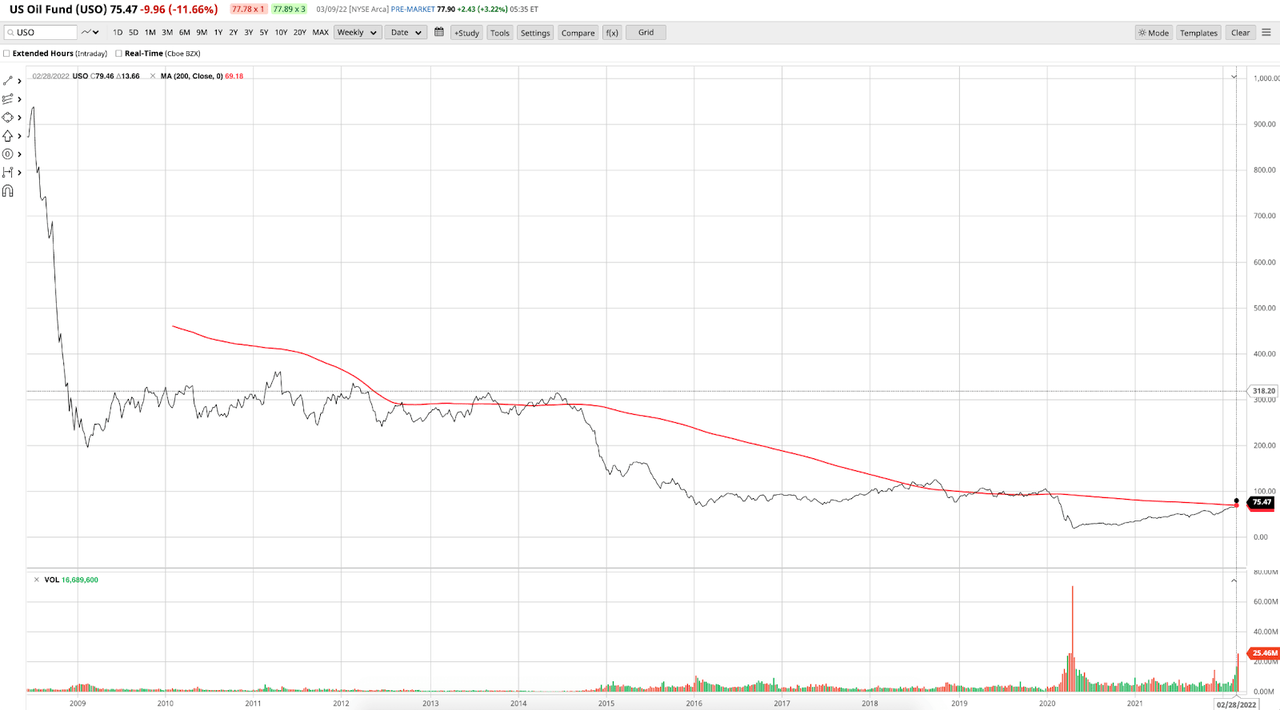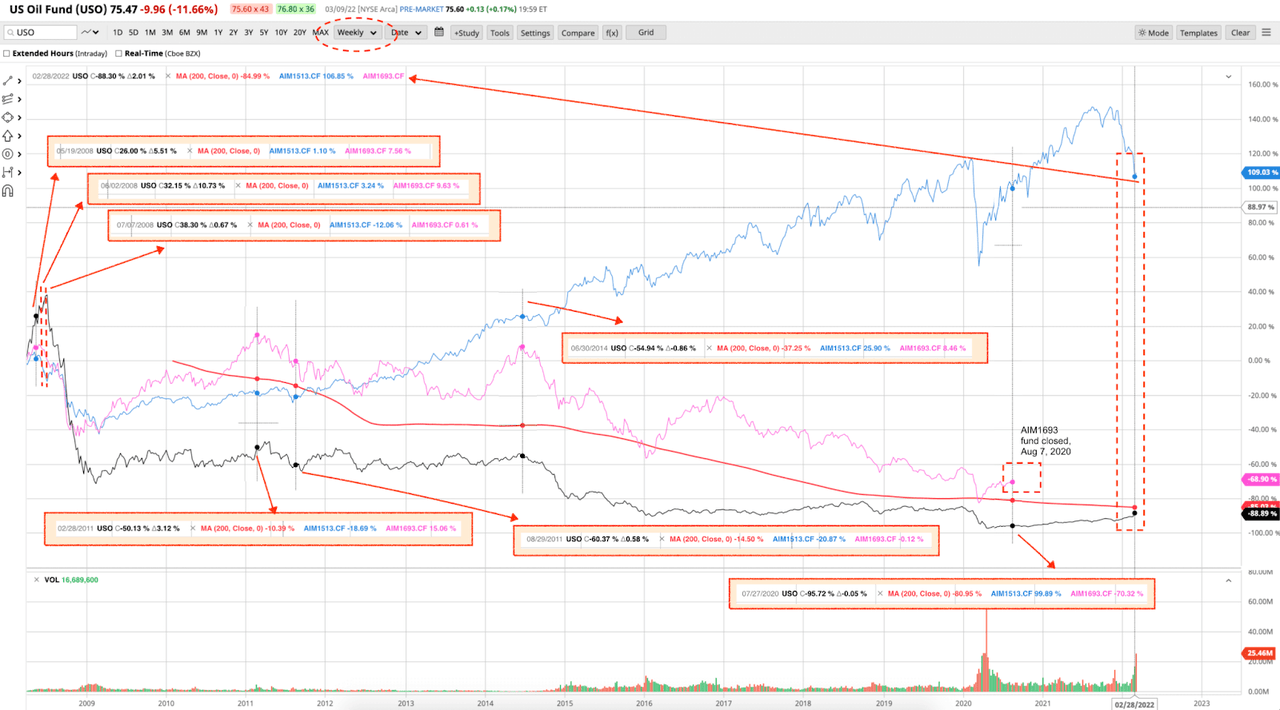 What are measurable and actionable next steps for oil short-term trades?
Nonetheless, the uncertainty and supply disruption in oil in the short term has led to a bullish upward trend. To ensure confirmation of a bullish upward trend, three technical indicators are used together to provide clear checkpoints for entry and exit.
200 Week Simple Moving Average (200w SMA)
Bull Market Support Band
Use of Heikin Ashi Candles
As illustrated in the USO chart, the price has been below 200w SMA persistently for an extended period of time since January 27, 2020 but finally broke out above 200w SMA on February 24th this year. Price actions above 200w SMA signal a strong bullish marco trend and support of a floor price. For USO, after the pullback on March 15, the red candle is touching the 200w SMA.
Secondly, the Bull Market Support Band (BMSB) is another important indicator of bullish territory. BMSM is formed by a 20-week Simple Moving Average (200w SMA) and 21-week Exponential Moving Average (21w EMA). Trending above BMSB provides a clear signal of the bullish uptrend momentum. If the price drops below the band, it's the first sign of a bearish move, and vice versa. When the price moves below BMSB, it's important not to catch the falling knife.
Lastly, instead of the regular candlestick chart, Heikin-Ashi candles provide a smoother visual indicator of up or downtrend. For USO, based on the current weekly low, the weekly red candle shows a bearish bar with a downward wick. It's considered the first exit point or a pause to wait for another bearish bar as confirmation.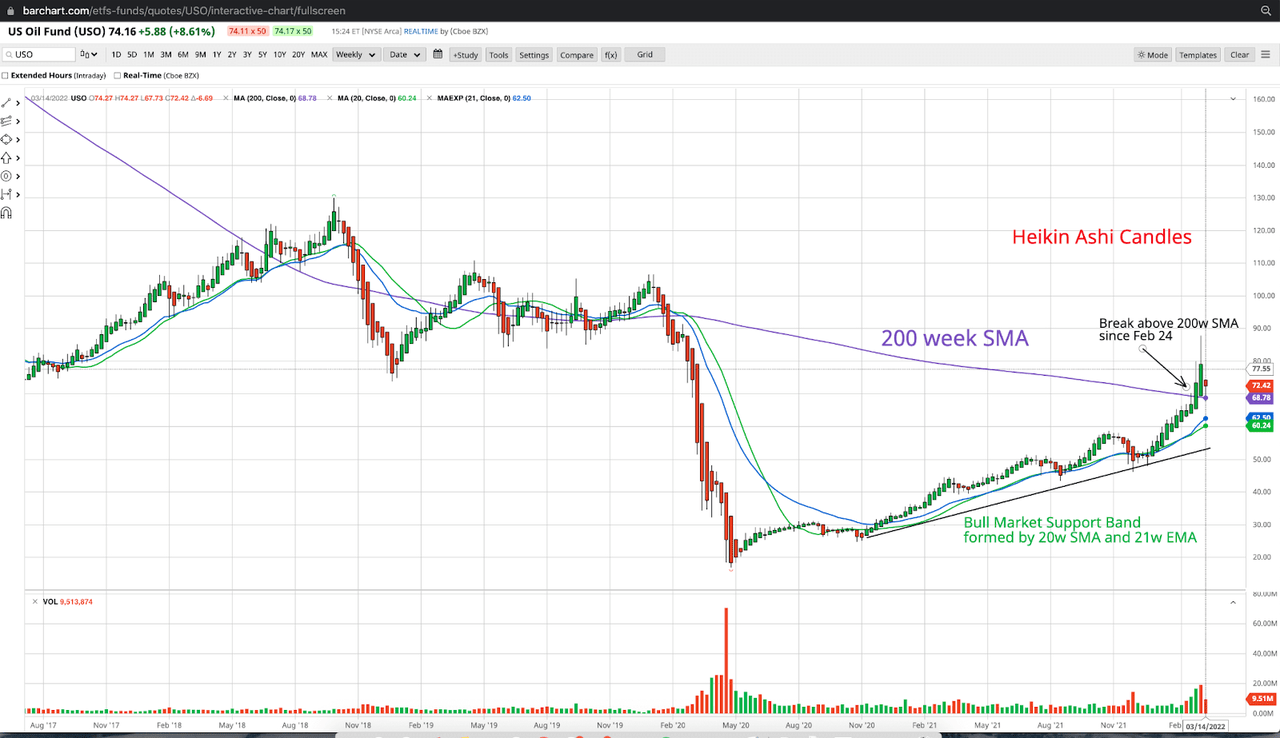 Ideally, in this volatile time, a better entry point would be to wait for oil prices to pull back and for the first bounce above BMSB with a weekly green candle, bullish bar with a upward wick; that would be a strong support level confirmation and better price point.
The approach above can be applied to S&P 500 Energy Sector SPDR (XLE) and other similar oil investment assets.
It's important to review historical performance data and constantly monitor market sentiment, macro conditions, and the latest technical indicators to properly navigate the volatile oil market.