For the last couple years I've been using the values in FINRA's Reg SHO Daily Files as a tool for estimating the number of restricted shares that flowed into the market from private placement purchasers who bought shares of Axion Power International (AXPW) in the company's 2009 private placement and earlier offerings.
Thanks to some welcome help from HTL, I've created a spreadsheet that starts with the daily data beginning in January of 2010 and then aggregates the values on weekly and monthly basis. As the last step in my analysis, I've calculated a monthly average percentage and the standard deviation among the monthly percentages.
For the 34 month period beginning with January 2010 and ending with October 2012, monthly short sales averaged 32.06% of total reported trading volume and the standard deviation was 9.85%.
In November the short sale percentage dropped to 17.2% of total volume and in December short sales were only 12.49% of total reported volume. It was basically 2 Sigma event.
Now that we're almost done with January and short sales for the month to date are 12.61% of total reported trading volume, I think we're firmly in the grip of a "new normal" where the big uglies are gone and the flow of old shares into the market is basically over.
Today I decided to put the monthly "short sales as a percentage of total volume" numbers into a graph for those who are more visually inclined. Here it is: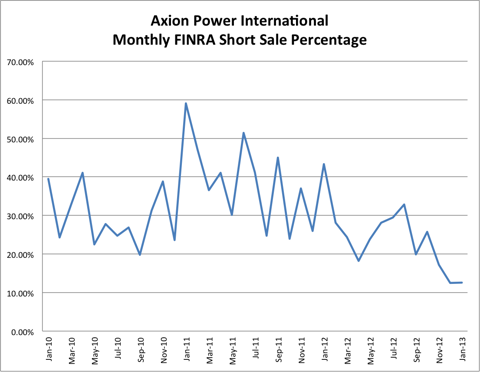 Until very recently, monthly short percentages below 25% were very rare. Now it looks like 12.5% may be the intermediate "new normal." It will probably take a couple more months for the short sale numbers to bottom, but I won't be surprised to see something significantly lower than 12.5%.
JANUARY 26th ADDITION: This morning a comment from Iindelco got me scrambling to see if I could find a way to show the short percentage as an overlay on a bar chart that also shows total monthly trading volume. Here it is: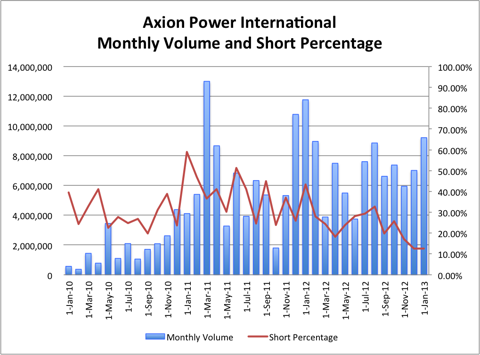 I think the new graph layout was a great suggestion.
Disclosure: I am long AXPW.