VALUATION WATCH: Overvalued stocks now make up 40.12% of our stocks assigned a valuation and 13.7% of those equities are calculated to be overvalued by 20% or more. Four sectors are calculated to be overvalued--with one at-or-near double digits.
--Not Cool for Fuel Man...
Volkswagen in Trouble over Diesel Engine Control Software
VOLKSWAGEN-ADR (VLKAY) is the largest automobile manufacturer in Europe. Their activities focus on the automotive market and they offer products and services along the entire automotive value chain. With nine independent brands, they are able to offer a unique range of models from the extremely efficient 3-litre car to the great sporting tradition of Bentley. While each of the brands has a distinct personality, it also benefits from its membership of the Volkswagen Group with its global manufacturing base.
Volkswagen has been caught red-handed in a massive effort to defraud US buyers seeking "clean diesel" cars and to defraud government regulators by beating emissions tests. With this cheating, the company sought to make VW diesels appear to have high mileage, good performance, and low emissions. Effected models run all through the VW line and include diesel models of the Jetta, Beetle, Golf, and Passat-- as well as Audi's A3 diesel.
Basically, what happened is that VW programmed their engine control computer software to detect when a vehicle was undergoing an emissions test. Under that scenario, the computer would tweak the engine settings so the vehicle could pass the inspection and be certified road worthy in the US. EPA regulators have said that the VW engine control software can sense the precise elements of a US federal emissions test and adjust itself accordingly--and that the company has admitted to the deception.
After the test, the computer would revert to "normal" operation and the car would have a fresh inspection/emissions sticker despite emitting 40x the acceptable limits for some pollutants--such as Nitrous Oxide, a key ingredient in smog. In other words, VW put something in at the factory known better as a "defeat device" in the shady after-market world. This is a huge "no-no" for the EPA and other federal and state regulators.
This is a very sophisticated attempt to avoid emissions testing, and it also represents a very big conspiracy since it must have involved numerous VW workers, executives, etc. VW has been engaged in this activity for the past six years. In that time, the company sold @480k of these "crooked" diesel cars.
And, that conspiracy did NOT "snitch" until confronted by the EPA. The emissions control scam was detected by outside researchers at the University of West Virginia, NOT a whistle blower, company official, regulator, etc. WVU researchers found the illegal tweaks in the control software by running standard garage-type inspections of the vehicles and then putting them on a treadmill dynamometer for a test under more typical "road" conditions. These investigations revealed the different levels of emissions for the cars and the factory-programmed deception.
The EPA confronted VW over the wide differences in results between garage testing and road testing and threatened them with the decertification of ALL diesel models for 2016. It was only at that point the company admitted what they had done.
Autonews.com notes that "compared with other run-ins between the EPA and automakers, VW's alleged violation stands out in its brazenness." At a minimum, this is going to really hammer the company's bottom line. As of right now, VW is forbidden from selling any remaining 2015 diesel cars with 2.0 liter engines. It is unclear what is going to happen to fix the issue for 2016 and cars dating back to 2009.
It looks as though VW will have to recall ALL of the illegal cars and repair them at their own expense. According to current laws and regulations, the company may also be on the hook for fines of up to $37,500 per vehicle for a grand total of @$18 BILLION. Officials may face criminal charges, and the company will also have to deal with consumer class-action suits as the cars were sold under false pretenses--clean emissions, high performance, and high mileage,
Prior to this sordid affair, VW was world-wide leader in "clean diesel" technology and was selling @93,000 of the cars/year in the US--far ahead of competitors. The diesels made up @20% of their total US sales. "Clean diesel" was considered a legitimate competitor for hybrid vehicles like Toyota's Prius. But, we now know that engineers at he company were engaged in an elaborate fraud scheme, which continued for many years and across several engine designs.
As we noted recently, we have seen a lot of good news for auto manufacturers working in the US markets. However, this is going to really hurt VW and may have a spillover effect to other manufacturer's diesel models--even if they are not set up to scam the EPA and federal regulators.
It will take some time for our models to digest this news. Analysts must adjust their earnings numbers so that our systems can recalculate the true picture for the stock. Right now, they see a lower stock price--@20% drop since the news broke--but the same earnings figures. So, it looks like a good bargain. But that is not the case. This company is going to take a big financial hit from this fraud. We expect a downgrade once the earnings picture is adjusted.
Below is today's data on VLKAY: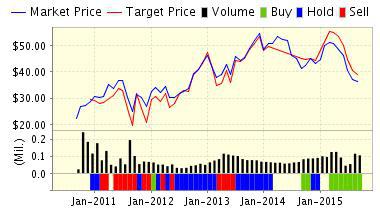 ValuEngine Forecast
 
Target
Price*
Expected
Return
1-Month
36.54
0.64%
3-Month
36.88
1.57%
6-Month
37.09
2.15%
1-Year
39.11
7.71%
2-Year
32.75
-9.79%
3-Year
38.69
6.55%
Valuation & Rankings
Valuation
19.98% undervalued
Valuation Rank(?)
76
1-M Forecast Return
0.64%
1-M Forecast Return Rank
90
12-M Return
-19.10%
Momentum Rank(?)
41
Sharpe Ratio
0.44
Sharpe Ratio Rank(?)
77
5-Y Avg Annual Return
14.26%
5-Y Avg Annual Rtn Rank
82
Volatility
32.65%
Volatility Rank(?)
53
Expected EPS Growth
24.74%
EPSGrowth Rank(?)
64
Market Cap (billions)
53.57
Size Rank
99
Trailing P/E Ratio
7.55
Trailing P/E Rank(?)
95
Forward P/E Ratio
6.05
Forward P/E Ratio Rank
96
PEG Ratio
0.31
PEG Ratio Rank
69
Price/Sales
0.22
Price/Sales Rank(?)
93
Market/Book
1.35
Market/Book Rank(?)
64
Beta
1.80
Beta Rank
15
Alpha
-0.16
Alpha Rank
36