Summary: The algorithmic trading is founded following the list of Features of the price pressure and the presence of active algorithmic trading, see please the list below.
Price movement
On 22 October Community Health Systems Inc (NYSE:CYH) lost 33% of its capitalization for one day with the day trade volume 27.2M shares, it corresponds 23% of its market capitalization and it is by 30 times more than the average day volume before. The average day volume became triple for the next two weeks. Thus, the algorithmic traders use the share actively. See please the Chart 1. Community Health Systems Inc price and volume.
As result
Marginal and option traders lost their working capitals in part or at all.
Value investors cannot see adequate behavior of the share and use traditional analytical methods, thus they cannot invest.
Investors working with loans via banks have to add 1/3 of the share value to their portfolios.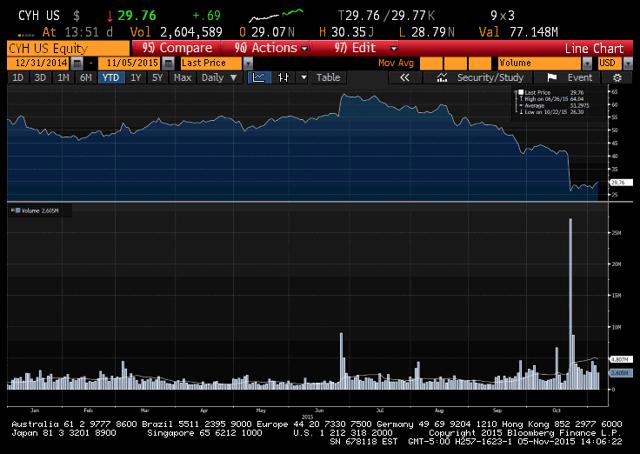 Chart 1. Community Health Systems Inc price and volume, YTD.
About the company Community Health Systems Inc.
Community Health Systems Inc. owns, leases, and operates hospitals in multiple states. The
Hospitals services include emergency room services, general surgery, critical care, internal
medicine, obstetrics and diagnostic services. Community Health also owns interests in physicians,
physician practices, imaging centers, home health agencies and ambulatory surgery centers.
P/E=7.45, P/B=0.83, The Source: Bloomberg.
Thus the company is valued in the market less than the company's balance value. Community Health Systems works in perspective healthcare sector. The company is profitable and has the lowest P/E and the highest Sales Growth in its group. See please the Chart 2. CYH: Relative valuation.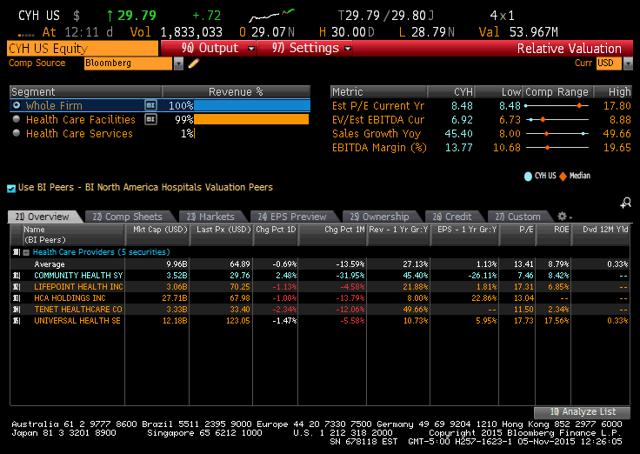 Chart 2. CYH: Relative valuation.
The trading details
The maximal day volume on the 22nd of October 3.3M shares did JPM, KCG - 2.7M shares and ML - 2.7M shares. These investment banks and brokers were owners of 371K, 12K and zero CYH shares, respectively.
Three companies gave the lowest CYH price target 300 and JPM is one of them, see please Charts 3.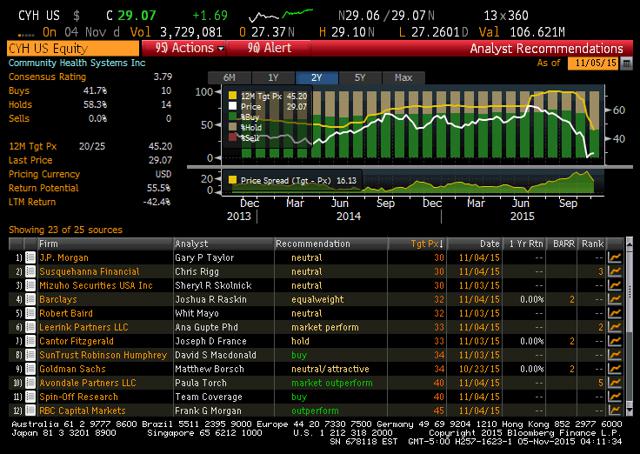 Chart 3. Price recommendations.
Disclosure: I am/we are long CYH.