WWE is looking to sell. Could Comcast be the buyer?
Jan. 06, 2023 12:35 PM ET
World Wrestling Entertainment, Inc. (WWE), CMCSA
DIS, NFLX, AMZN, WBD, FOXA, FOX, EDR
By:

Chris Ciaccia,

SA News Editor
37 Comments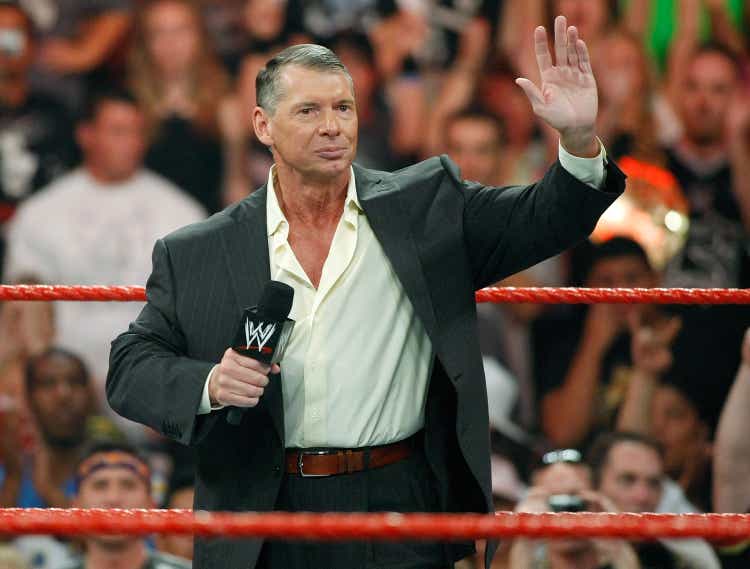 World Wrestling Entertainment (NYSE:WWE) shares surged by more than 21% Friday following the shocking news that former Chief Executive Vince McMahon was planning to return to the company as the wrestling mogul looks to "maximize long-term value for all WWE shareholders."
While there may be a battle inside the company worthy of the Royal Rumble or King of the Ring, investment firm MKM partners believes that when all is said and done, it could be Comcast (NASDAQ:CMCSA) with its hand raised in victory.
Analyst Eric Handler, who has a buy rating and a $90-a-share price target on WWE's (WWE) stock, noted that sports entertainment company would be a "very attractive asset" for any number of buyers, including Comcast (CMCSA), Fox (FOX), Walt Disney (DIS), Amazon (AMZN) and even Netflix (NFLX).
"In our view, there is a scarcity of independent content creators that can match the global popularity and size of WWE," Handler wrote in a note to clients.
In a note on Friday, Benchmark analyst Mike Hickey said WWE (WWE) could be worth as much as $105 per share, citing the previous sale of UFC to Endeavor (EDR) as a comparison.
WWE (WWE) has existing partnerships with Comcast (CMCSA) and Fox (FOXA), as its Raw program airs on NBCUniversal's (CMCSA) USA Network and Smackdown airs on Fox (FOXA). Its premium live events, formally known as pay-per-views, also air on Comcast's (CMCSA) Peacock streaming service.
Comcast (CMCSA) seems like the logical acquirer, Handler pointed out, given the preexisting relationship with Raw on USA and the premium events on Peacock. Handler also said that the company's U.K. pay TV contract with BT sports expires at the end of the year and Comcast (CMCSA) could wind up bringing the rights to both Raw and Smackdown to Sky.
WWE's (WWE) programming previously aired on Sky for 20 years until the last contract expired in 2020.
Adding intrigue to any potential bid by Comcast (CMCSA) is that WWE (WWE) still operates its WWE Network streaming service by itself in the U.K. and could look to license it to a third party, as it has done in the U.S. with Peacock.
Peacock is available in the U.K., having launched in late 2021, but has struggled globally to attract subscribers. In early December, NBCU CEO Jeff Shell said Peacock had 18M subscribers, up from 15M at the end of the third-quarter.
While adding 3M subscribers is impressive, the overall 18M figure pales in comparison to other streaming services. In November, Disney (DIS) said it had more than 164M subscribers for Disney+ at the end of its fiscal fourth-quarter. The company's other streaming services, ESPN+ and Hulu, ended the period with 24.3M and 47.2M subscribers, respectively.
Other services such as Netflix (NFLX), Amazon (AMZN) Prime and Warner Bros. Discovery (WBD) HBO Max also dwarf Peacock with their respective subscriber counts.
Despite the lack of subscribers, Handler noted that Comcast (CMCSA) has been successful engaging with subscribers, it just hasn't been as successful as obtaining them as the other services have.
Of course, any talk of a sale of WWE (WWE) is premature at this point, given that the 77-year-old McMahon has only just officially returned to the company.
In a statement issued early on Friday, WWE (WWE) confirmed McMahon had officially returned to join the company's Board of Directors, along with former co-presidents and directors Michelle Wilson and George Barrios.
Barrios was previously WWE's (WWE) Chief Strategy and Chief Financial Officer and Wilson was the company's Chief Revenue & Marketing Officer.
Following Vince's departure this past summer, his daughter Stephanie became Chairman of the company and co-CEO along with former president Nick Khan.
The statement issued on Friday identified Stephanie as co-CEO, along with Khan. It also noted that JoEllen Lyons Dillon, Jeffrey R. Speed and Alan M. Wexler were removed from the board by McMahon in his capacity as controlling shareholder.
Additionally, Ignace Lahoud and Man Jit Singh resigned from the Board, effective January 6.
The 77-year-old McMahon left the company in the summer of 2022 amid reports of improper relationships and expenses, which led to a number of investigations, including an internal one, one from the state of Connecticut and additional inquiries by the Securities and Exchange Commission and federal prosecutors.
In his Thursday statement, McMahon said the "only way" for WWE (WWE) to capitalize on the unique value would be for him to return as Executive Chairman, while also bringing back Wilson and Barrios.
Now that those events have occurred and McMahon is officially back inside the company, it becomes a matter of time before any new media rights deal is negotiated and a potential sale occurs.
The clock is ticking for WWE (WWE). Will the peacock chime in?