Retail Outlook: Complex and Rapidly Changing
Fiscal concerns will continue to dampen consumers' sentiment, with uncertainty on the realization of significant losses in consumer income. Sears Holdings' (NASDAQ:SHLD) comparable sales only rose 0.8% on an annual basis, the company's first gain since the first quarter of 2010. Demand was led by the sixth straight quarter of higher same-store sales in the apparel category, as well as increases in the home appliance and home categories.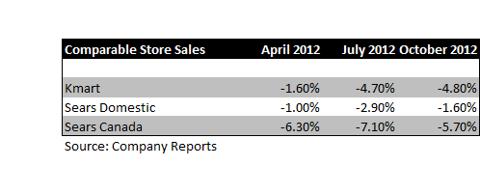 "The retail industry is complex and changing rapidly," said CEO Eddie Lampert in a letter to stockholders. "As anybody can now see from the events surrounding JC Penney (NYSE:JCP), Best Buy (NYSE:BBY), Toys `R' Us, Staples (NASDAQ:SPLS), Barnes & Noble (NYSE:BKS) and others, the retail landscape is fundamentally shifting. In our case, observers have mistakenly concluded that our issues were primarily related to under investing in our stores."
US Consumer Discretionary Spending As % of Total Income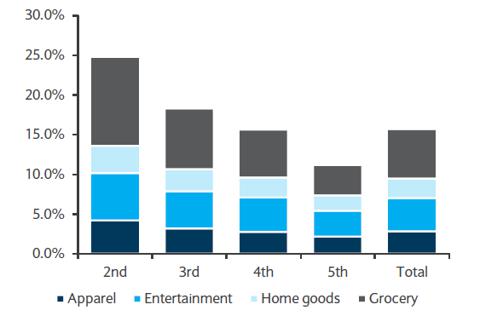 Source: Barclays
Fundamentals Need Clear Strategy
SHLD is not profitable right now, nor will it return to profitability anytime soon, making the usual valuation analysis quite useless. SHLD lost $4.69 per share in 2012 and is forecast to incur losses of $2.28 a share for 2013. Additionally, analysts' consensus estimate calls for losses of $3.31 and $2.33 per share in 2014 and 2015, respectively. With valuations like these, Sears is genuinely a speculative play for investors.
SHLD spent a lot discussing its "value creation" asset strategy; however, speculations that SHLD is pursuing financial restructuring of its assets will not create an immediate impact on its stock price. Sears' investment thesis has already become more complex, as it executed a series of transactions. From the investor relations perspective, the company badly needs to clarify its "growth" story to investors so that they may fully understand the retailer's recent strategic moves.

SHLD completed three asset sale transactions over the past year, bringing in a total of $886.5 million in proceeds:
SHLD sold seven owned stores to General Growth Properties (NYSE:GGP) for $270 million in February 2012.
Sears Canada (formerly 95.5% ownership by SHLD) announced the return of three leased locations to real estate developer Cadillac Fairview for $170 million in March.
SHLD spun-off its Sears Hometown and Outlet business last October, via rights offering, which earned proceeds of $446.5 million in a seemingly clever accounting maneuver. Sears Hometown is still keeping accounting books with Sears Holdings, as it continues to provide products and services, despite not holding any economic interest to the mother company.
Liquidity and Debt Story Remains Intact
The company's financial outlook looks rather promising. At the onset of 2012, SHLD's current ratio, which measures how well a company can settle debts over the short term, was 1.11X. In the most recent earnings results, the current ratio was raised to 1.13X, well below its three-year average of 1.25X. Revenues slipped by about 5% for the first half of 2012.
SHLD 1-Year Stock Price Movement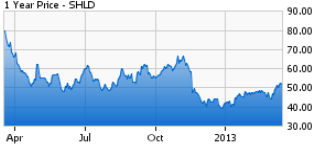 Source: seekingalpha.com/symbol/shld
Liquidity targets for Sears include $500 million in fresh liquidity over the next 12 months. This will come from the $500 million reduction in inventory, which is expected to lift cash by $300 million, plus a $200 million reduction in fixed costs. SHLD did not repurchase any stock until January 2013 and it has $504 million remaining on its stock authorization.
Cash and short-term investments declined to $618 million last year, down from $754 million a year before. This is the company's third straight year of decline, beginning with a $1.7 billion drop in 2010, compared to a pre-recession peak of $4.4 billion in 2006. By comparison, SHLD's short-term debt and current portion of long-term debt climbed to $1.18 billion in 2012 from $1.41 billion in 2011.
The company's leverage is trending toward more manageable levels. Total leverage, a ratio that measures a firm's ability to meet financial obligations, improved to 5.0X versus 6.2X last quarter and 8.7X in the prior year. SHLD reduced its total outstanding debt to $3.12 billion from $4.00 billion last quarter.
Current Valuations
SHLD shares are undervalued, trading at 1.2X price-to-book (the value that tells whether you're paying too much for what would be left if the company went bankrupt). In comparison, Wal-Mart Stores, Inc. (NYSE:WMT) and Target Corporation (NYSE:TGT) shares have price-to-book ratios of 3.5X and 2.6X, respectively. The underlying or breakup value of SHLD's real estate assets is certainly a lot higher than its current stock price.
SHLD has incurred significant cost-reduction progress year-to-date, slashing fixed costs by $500 million and cutting inventories by $1 billion. It also reduced its lease debt by $1 billion since 2010. EBITDA (Earnings before Income Tax Depreciation and Amortization) thus improved to $156 million in 2012 from $178 million in 2011.
Conclusion
Despite SHLD's slump in 2011, the company maintains a positive outlook for investors. Much of the sales pressure is coming from more challenged market segments. SHLD thus continued to underperform compared to the S&P 500. Kmart likewise struggled, mirroring a concern across the sector, which shows declines across most consumer electronics retailers - Sears, Kmart, Best Buy and Radio Shack (NYSE:RSH).
SHLD experienced weakness in consumer electronics citing fundamental factors like price compression, a shift toward smartphones and away from traditional products, while offering no strategy for share price improvement. SHLD is heavily exposed to the broader market with the appliance business accounting for 16% of its revenues.
Home and apparel improvement are more encouraging. These segments have long continued to be well-accepted and competitive. JC Penney reported its worst sales results to date, confirming the difficulty that investors were expecting. JCP fell short of its home shop strategy, while other retailers like Sears and Macy's (NYSE:M) have refocused their businesses and taken market share in those retail categories. Investors would be wise to hold shares as Sears continues to compete with online retailers and other big-box retailers.
Disclosure: I have no positions in any stocks mentioned, and no plans to initiate any positions within the next 72 hours.
Business relationship disclosure: Black Coral Research is a team of writers who provide unique perspective to help inspire investors. This article was written by Hans Centena, one of our senior analysts. We did not receive compensation for this article (other than from Seeking Alpha), and we have no business relationship with any company whose stock is mentioned in this article.
Disclaimer: Black Coral Research is not a registered investment advisor or broker/dealer. Readers are advised that the material contained herein should be used solely for informational purposes. Investing involves risk, including the loss of principal. Readers are solely responsible for their own investment decisions.