Starbucks (SBUX) recently agreed to pay $620 million in cash to acquire Teavana (TEA) ("Teavana" or the "Company"), a specialty retailer of loose-leaf teas, tea wares, and tea related merchandise in North America. Teavana tells its customers that its teas are pesticide free. As consumers of Teavana's high-priced teas, we decided to investigate such claims. What we found is shocking. Independent laboratory tests show that Teavana's teas contain pesticides in amounts that exceed U.S. and EU regulatory limits. In our opinion, not only are lawsuits from the Federal Trade Commission and class-action attorneys inevitable, but once Starbucks learns that they have been deceived into paying a premium price for a tarnished consumer brand, they will walk away from the acquisition. The following is a summary of our full report, available at our website.
SELLING THE HEALTHY LIFESTYLE
Teavana's brand is built on the perception that Teavana's teas are healthier than other teas because they are pesticide free. The Company states in its SEC filings that it rigorously tests every batch of tea under EU pesticide standards.
We placed 80 phone calls to Teavana retail stores in 19 states and to its toll free customer support line. We called as a customer inquiring about the quality of Teavana's tea. In 98% of the phone calls we placed, Teavana's salespersons declared without qualification that the Company's teas were pesticide free. Only one sales associate told us that the Company's teas may contain pesticides, and one other salesperson told us that she did not know the pesticide content of the teas.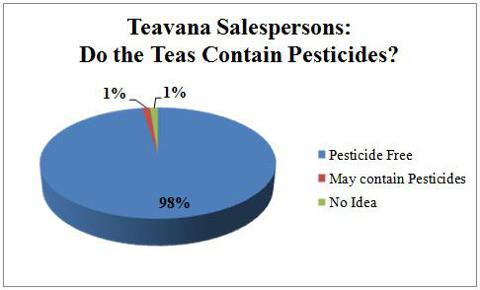 But do not just take our word for it. On our website, we posted a video in which you can listen to a selection of our phone calls with Teavana salespeople around the country. Salespersons from Alaska to Texas and New York to Georgia had a consistent response to our question, indicating that Teavana employees have been trained by the Company to tell customers that its products are pesticide free. This is not true.
INDEPENDENT LAB TESTS SUGGEST PESTICIDES PRESENT
As consumers of Teavana's premium priced teas, we wanted to make sure we were drinking teas that are as healthy as the Company claims. So we sent thirteen of Teavana's most popular teas to an accredited lab in Germany for testing. The lab is the world leader in food, pharmacological and environmental laboratory testing. Lab tests showed the following: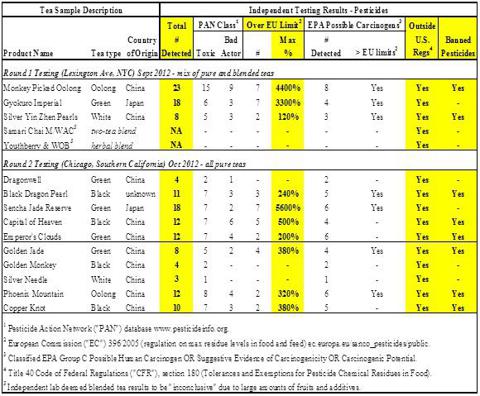 Pesticides Abound. 100% of the tea samples contained pesticides, many of which are classified by the EPA as Possible Human Carcinogens. One of Teavana's most popular and expensive teas, Monkey Picked Oolong, was the most contaminated with 23 pesticides.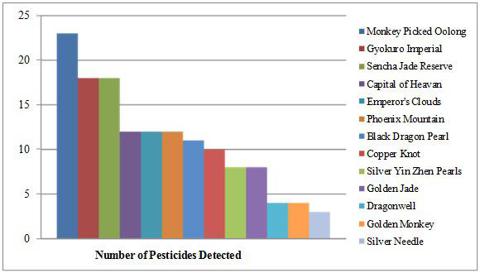 Teas Violate U.S. Law. 100% of the tea samples violate U.S. food pesticide standards (CFR Title 40 sect 180), meaning they are 'adulterated' under the FDCA and subject to federal seizure. We believe Teavana will recall its adulterated teas rather than risk the civil and criminal liability it may incur by knowingly selling adulterated products over Black Friday weekend.
Broad Failure of EU Pesticide Tests. Contrary to Teavana's representations in its SEC filings, 77% of the tea samples failed the European Union pesticide import standards (EC 396/2005) for dry teas, meaning that such teas would be banned from sale to consumers in the European Union.
In the following charts, we show each pesticide that was present in excess of the EU's prescribed limits and the percentage by which it was over the limit.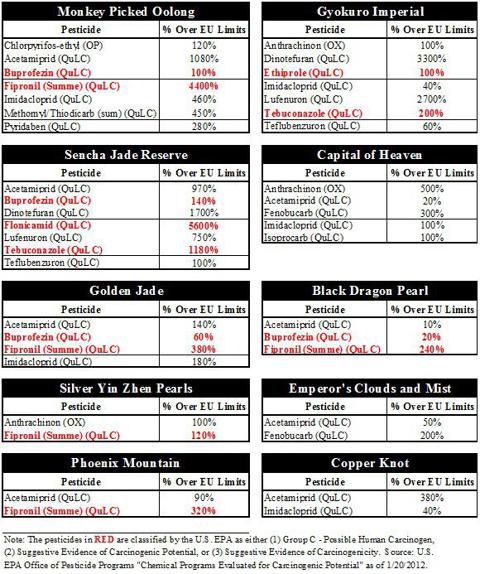 Teavana states in its SEC filings that its teas meet European pesticide standards. In almost every call with Teavana's retail stores, salespeople repeated this claim. Judging by the teas we tested, this claim is not true: 10 of the 13 teas we tested contained pesticides in excess of prescribed EU limits, meaning such teas would not be permitted to be imported for sale in the EU. Not only is Teavana lying to customers, but it also appears that Teavana's SEC filings contain material misrepresentations.
Banned Pesticides. 62% of teas tested showed traces of the pesticide Endosulfan, which has been banned by the U.S., China, the EU and 144 other countries because its use may impair fertility, cause harm to unborn children and other damage to agricultural workers.
Falsely Claiming Teas are "Organic" or "European Organic." The majority (55%) of Teavana's salespersons that we called also stated that all of the Company's teas were organic. Twenty percent stated that the teas were organic without qualification, whereas 35% of salespersons stated that the teas were organic by European Union standards but not USDA certified organic. This is also not true.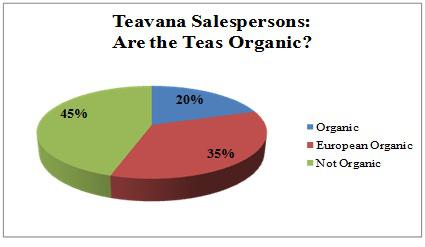 Teavana's teas (with one exception) are not certified EU organic or certified USDA organic, nor would they qualify.
STARBUCKS WILL LIKELY WALK FROM THE ACQUISITION
We believe that like Teavana's customers, Starbucks has been deceived by Teavana's misrepresentations regarding the quality of its teas and will therefore likely walk away from the proposed acquisition.
Teavana's brand is built on the misperception that its teas are healthy because they are pesticide free. This allows the Company to charge customers above-average prices for tea (368% above our Starbucks Tazo tea samples). We believe that as soon as customers discover that they are paying premium prices for pesticide-laden teas, Teavana's brand will be tarnished and its sales will plummet.
We were naively happy customers of Teavana for two years. During that time we paid substantially more money because we were told the teas were pesticide free and/or organic. We will never go back. And we suspect that we are not alone.
With the revelation that Teavana has been misrepresenting the quality of its teas to its customers, there are a host of reasons that Starbucks should walk away from the deal.
Inferior Tea Quality. We tested Starbucks' Tazo teas as a basis for comparison, and the lab results show Tazo teas are of far higher quality. On average, the Teavana samples were priced at a 368% premium to Tazo samples despite containing 3 times the number of pesticides. Like Teavana customers, Starbucks is paying a premium price for an inferior product.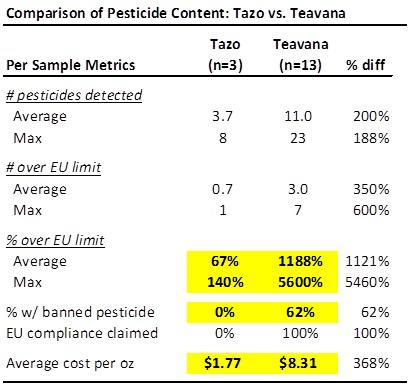 Starbucks is buying a Massive Liability. We believe that Teavana's marketing practices violate the Federal Trade Act and state consumer protection laws that prohibit deceptive marketing. Such deceptive sales practices will likely lead to a consumer-fraud class action lawsuit against the Company as well as FTC and state-level enforcement actions. Teavana also made false statements in its SEC filings by stating that every batch of tea passed EU standards. Starbucks' shareholders would have no interest in defending the myriad of lawsuits Teavana is likely to face as a result of such misrepresentations.
Hurt Starbucks' Brand. Starbucks' global brand is built on a reputation for the "finest coffee in the world, legendary customer service and the highest integrity…" By acquiring a retailer that is lying to its customers and selling teas that violate both EU and U.S. standards, customers and regulators may start to question Starbucks' standards, practices and the quality of its own coffees.
Deal Rationale is Dead. Starbucks sought to buy Teavana for its premium brand, global sourcing know-how, health and wellness image, growth, and impressive unit economics. All of these attributes are built on the fiction that Teavana sells high-quality teas that are free of pesticides. Test results suggest that Teavana has been sourcing pesticide-laden teas of a lower quality than Starbucks' own Tazo brand and that Teavana's retail success is based in large part on getting customers to pay a massive premium for its teas because customers believe the teas are pesticide free and/or organic.
Teavana breached the Merger Agreement. In our opinion, Teavana breached numerous representations and warranties in the Merger Agreement, giving Starbucks the grounds to walk away from the deal.
We encourage Starbucks, and any investor still holding a significant position in Teavana, to test the pesticide content of Teavana's teas as we did. Such tests can be completed in as little as 48 hours.
Massive Overpayment. We believe that the revelation that Teavana has been lying to its customers about the quality of its teas will destroy its brand, which is built on the perception that its teas are healthy and pesticide free. Without a premium brand, sales would plummet along with unit economics. Together with the costs of litigation arising out of the deception and a possible recall of teas violating U.S. pesticide standards, we believe that Starbucks will walk rather than vastly overpay for an albatross.
Disclosure: I am short TEA. I wrote this article myself, and it expresses my own opinions. I am not receiving compensation for it. I have no business relationship with any company whose stock is mentioned in this article.
Additional disclosure: I am short Teavana (NYSE: TEA). Please read Glaucus Research Group California LLC's full disclaimer at the beginning of our report (also available at glaucusresearch.com), which we hereby incorporate by reference in full.