Sometimes we are left in awe at how fickle and short-sighted markets can be. This has been the case with many of the small to mid-size E&P plays where investors worry about capital expenditures while overlooking the fact that this is one of the few industries where they are getting genuine organic growth and real expansion. Such is the time we live in and as such we believe in playing the hand we are dealt. We are not fazed by the overnight action in China or Japan, and instead view it as a potential opportunity to add to holdings on any serious pullback.
Chart of the Day:
Is it possible that we have now found a bottom in gold prices, or is finding a bottom in this chart already akin to finding fool's gold? Time will tell, but this recent price action is nevertheless interesting.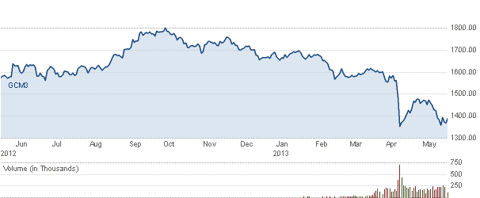 Chart courtesy of CNBC.com
Commodity prices this morning are as follows:
Gold: $1393.00/ounce, up by $25.60/ounce
Silver: $22.525/ounce, up by $0.053/ounce
Oil: $93.62/barrel, down by $0.66/barrel
RBOB Gas: $2.81/gallon, down by $0.0094/gallon
Natural Gas: $4.17/MMbtu, down by $0.016/MMbtu
Oil & Natural Gas
We have continued to watch over the past few trading sessions as names in the Permian Basin, specifically the Wolfcamp/Sprayberry area, have defied gravity and risen even with headwinds developing and big run-ups in stock price recently. The latest bullish news was from Pioneer Natural Resources (NYSE:PXD) which reported another solid well in the area that had a 24-hour IP Rate of over 1,500 BOE/D. The shares rose on that news and again yesterday after UBS upgraded their price target to $155/share due in part to the solid initial results. Couple this with seemingly unstoppable rise over at Diamondback Energy (NASDAQ:FANG) and it is becoming apparent that investors are starting to focus upon these Permian names more and more and recognizing the promise that they hold. We are still bullish of the Permian play, specifically the Wolfcamp, but will wait until a pullback to reenter some of these trades. There are other names which have recently entered that are cheaper on a valuation standpoint but we recognize that a premium must be paid for names which are pure plays.
Solar
CNBC's Herb Greenberg joined the parade yesterday of those of us just dumbfounded by this absurd rise in solar stocks and called them out on Twitter, CNBC and via his blog. These names have been on a tear, however they did retreat yesterday with names such as JA Solar (NASDAQ:JASO) and Yingli Green Energy Holding Company (NYSE:YGE) both finishing lower by over 13% on above average volume. Readers know we are not fans of the industry as the barriers to entry are not all that high and China has effectively declared this industry one of interest for their manufacturing sector and crank out supply that floods the world's markets. Yes their product lags when compared to rivals, but based on their lower manufacturing cost they have been able to offer their product at a cheaper price per kilowatt hour than rivals. We respect the strength here and this is why we have not been short here, however we would much rather investor our time and money in what we perceive to be worthwhile pursuits in energy such as oil, natural gas and uranium at this time.
Precious Metals
Readers know that we said we were not allocating anymore funds to the precious metals names or buying on the continued lows set by the gold and silver names. It is funny how not long after things such as this are said that markets get shaky and begin to doubt themselves and you have these sharp reversals. We do not think it is a matter of an instance of capitulation, rather just another bounce in a larger move downwards before we see a real recovery. For those who continue to believe in owning gold names we still think that Yamana Gold (NYSE:AUY) is one of the names you have to own but right now we maintain our portfolio of physical gold and silver as well as exposure via a select few junior gold explorers. That is how we are playing this market action in the precious metals arena.
Disclosure: I have no positions in any stocks mentioned, and no plans to initiate any positions within the next 72 hours. I wrote this article myself, and it expresses my own opinions. I am not receiving compensation for it (other than from Seeking Alpha). I have no business relationship with any company whose stock is mentioned in this article.