By Paul Carton
Co-written by Jean Crumrine

Enough time has passed for early buyers to have acclimated themselves to the Palm (PALM) Pre and the Apple (NASDAQ:AAPL) iPhone 3GS, so in early August ChangeWave conducted a survey of new owners to see what they think – including which features they like best and dislike the most.
The survey of 198 Apple iPhone 3GS owners and 38 Palm Pre owners also looked at overall customer satisfaction and how well each has lived up to or fallen short of user expectations.
Apple iPhone 3GS. The initial customer satisfaction results for the new Apple iPhone 3GS surpass that of any previous smart phone model we've measured in our ChangeWave consumer surveys over the past eight years, with 82% of new owners saying they're Very Satisfied and 17% Somewhat Satisfied – for a combined near-perfect satisfaction rating.
Palm Pre. While the initial Palm Pre numbers are not as high, the new model's satisfaction rating is exceptional for a new product release. Nearly half (45%) of Palm Pre owners report they are Very Satisfied with their new smart phone and another 42% say they're Somewhat Satisfied – for a combined 87% Satisfaction Rating.
To put this in context, BlackBerry manufacturer Research In Motion (RIMM) and Apple are the only other smart phone manufacturers to attain such high Very Satisfied levels – and in this case Palm is accomplishing it with a brand new product release, a very significant achievement.
Meeting Owner Expectations
Apple iPhone 3GS. In another example of the widespread approval among early 3GS buyers, nearly two-in-five (38%) report the new iPhone exceeds their expectations and another 56% say it meets their expectations.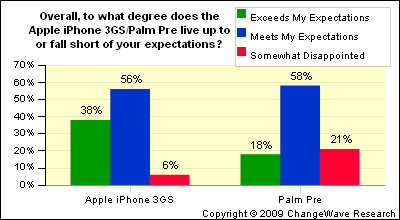 Palm Pre. While less robust than the 3GS, once again the Palm Pre results are quite positive – with 18% of Pre owners saying their new phone exceeds expectations and another 58% reporting it meets expectations.
Thus, the good news for Palm is its new Pre model has outperformed mightily in terms of customer satisfaction – thereby entering the pantheon of the smart phone industry previously inhabited only by its top two manufacturers, Apple and Research In Motion.
But what is it about Pre and the 3GS that leave their owners so highly satisfied? To find out, we queried users on the features they like and dislike most. Here's what they told us:
A Closer Look at the Palm Pre
Palm Pre Likes. The Pre's Touch Screen Interface (47%), Multi-Tasking (42%) and Ease of Use (39%) rank as the top three things that owners like best about their new phone.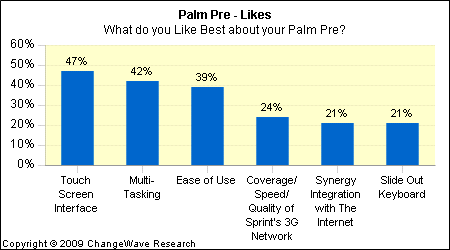 In addition, one-in-four (24%) say the Coverage/Speed/Quality of Sprint's 3G Network is the feature they like best – a finding that bodes well for Palm's exclusivity agreement with Sprint (NYSE:S).
Palm Pre Dislikes. By a wide margin, Short Battery Life (45%) is the thing owners dislike most about their Palm Pre. A second big issue is its weakness regarding Third Party Applications – with 24% saying they're unhappy with them.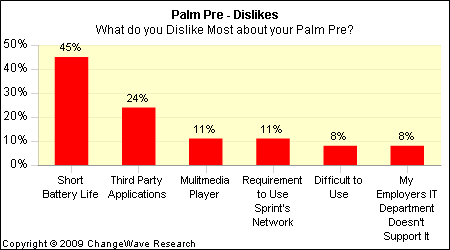 But in an important finding for Palm, a relatively small percentage of Pre owners say that the company's exclusivity agreement with Sprint is one of their top dislikes – only 11% report they're unhappy with the Requirement to use Sprint's Network and just 3% say they dislike the Coverage/Speed/ Quality of Sprint's 3G Network.
A Closer Look at the Apple iPhone 3GS
Apple iPhone 3GS Likes. Similar to what we found with the Pre, the iPhone 3GS's Touch Screen Interface (45%) and Ease of Use (41%) rank as the top things owners like best about their new phones – followed by Faster Web Browsing (33%) and Third Party Applications (31%).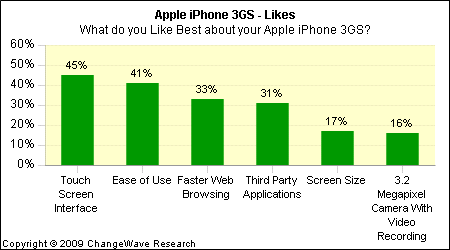 Respondent GRE5573 sums it up for the iPhone 3GS as follows:
Of all the gadgets I've used in the last 10 years, it's the only one that makes me feel like the future has arrived, by elegantly integrating so many devices in one.

The GPS works seamlessly with its maps application, the iPod can keep me entertained for days with music and video, the improved camera adds a slick video recording feature, the app store lets me do almost anything I need to with the phone – I could go on and on…

The reason the iPhone is so popular is because it can easily become whatever it needs to be to make it an integral part of a person's life ... even if you have to use AT&T's (NYSE:T) less-than-stellar network.
Apple iPhone 3GS Dislikes. Short Battery Life (41%) ranks as the number one dislike for iPhone 3GS owners.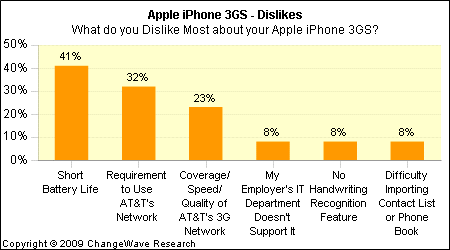 But by far the most significant pitfall for new Apple 3GS owners rests with AT&T. One-in-three (32%) say they don't like the Requirement to Use AT&T's Network and another 23% say they dislike the Coverage/ Speed/Quality of AT&T's 3G Network.
Thus, there are no indications that Apple's AT&T problem is going away. On the contrary, the better customers feel about their iPhones, the worse they feel about AT&T – with nearly one-in-two 3GS owners citing AT&T-related issues as their biggest dislike. These survey results suggest Apple will be forced to deal with the issue sooner than many analysts expect.