Clean energy companies have rebounded in 2013 and the sector is climbing higher with President Obama's "Climate Change Action Plan" in focus. The latest IEA report supplies data that supports a further run-up in clean energy exchange traded funds.
"The International Energy Agency's (NASDAQ:IEA) new policies imply that 57% of power capacity added during 2013-2030 will be from clean renewable resources (including large hydro). In fact, BNEF (Bloomberg New Energy Finance) estimates that wind and solar will take up the largest share of new power capacity added in terms of GW by 2030, accounting for 30% and 24%, respectively," Zacks Equity Research wrote.
The clean energy sector has also gathered support based on high gas and oil prices. Further issues surrounding global warming and high levels of carbon and greenhouse gas emissions have continued to boost the sector.
Clean energy ETFs such as the First Trust Nasdaq Clean Energy Green Energy Index (NASDAQ:QCLN) have taken losses over the past few years as government subsidies and low demand took their toll. However, QCLN has gained 53.69% as of late June, over the one-year period. The ETF is evenly divided among small-caps and micro-cap stocks, with most companies domiciled in the United States.
Bloomberg analysts of BNEF reported that new annual investment in renewable power capacity will rise 2.5 to 4.5 times more between now and 2030. Cost efficacy of wind and solar energy technologies are forecast to jump 230% by the year 2030. Hydro, geothermal and biomass energy sources are expected to improve as well.
The PowerShares WilderHill Clean Energy ETF (NYSEARCA:PBW) invests 90% of the portfolio to companies related to clean energy. The companies are consistent with a growth strategy, and focuses in on technology, industrials and materials. PBW is up 32.43% over a one-year period. The Market Vectors Global Alternative Energy ETF (NYSEARCA:GEX) invests in companies that are rooted in alternative energy. The ETF is up 50.67% over the one-year period ended June 30.
The recent clean energy summit in Las Vegas validated the growing support of alternative power sources and the recent progress that the sector has made.
"Tuesday's summit wasn't just for politicians and policy makers. It was a chance for renewable energy companies to show off what they're doing." The CEO of Sol-Up, based out of Las Vegas, Frank Rieger, said his business is booming, "We do solar projects, especially with the focus on residential clients. We sold more systems than all three years ago, just in the first six months of this year," Denise Wong for Action News reported.
First Trust Nasdaq Clean Energy Green Energy Index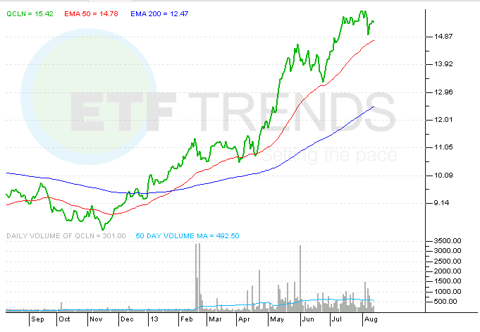 Tisha Guerrero contributed to this article.
Disclosure: I have no positions in any stocks mentioned, and no plans to initiate any positions within the next 72 hours. I wrote this article myself, and it expresses my own opinions. I am not receiving compensation for it. I have no business relationship with any company whose stock is mentioned in this article.