A few weeks ago I wrote an article stating that Platinum Group Metals (NYSEMKT:PLG) was my favorite miner. I had a few reasons why I preferred PLG over Stillwater Mining Company (SWC) and North American Palladium (PAL). The main reason is that PLG is full of cash and is not facing any headwinds regarding a shortfall of working capital. Especially PAL has trouble getting financed, they had to pay an extreme interest rate of 15% (and fully mortgaged with the assets in the ground) to attract additional working capital.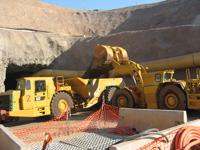 PLG on the other hand raised a lot of cash through the issue of new shares. On top of that they secured a loan of $260 million with an interest rate of only 5% over libor.
In a recently published report PLG states that despite the labor unrest in South-Africa, development of the Waterberg mine is still on track. The additional funding of $260 million is not even necessary in the coming years but is a nice buffer for the longer term.
Attractive mining costs
In the report PLG gives an indication of the mining costs of the platinum of the Waterberg project. Based on the assumptions that the Waterberg JV is bordering the BRPM mine, which is a shallow, high grade Merensky reef, the cash cost should be around $1000. This leaves a margin of around $500 per ounce which is, especially compared to other mines, very profitable.
The Waterberg mine is even more promising. This mine is similar to the Anglo Platinum Mogalakwena and Impala Zimplats. Cash cost of mining could even be lower here and are projected around $650-700.
Conclusion
Of course this all has to be seen yet, but it looks promising and although there could be a few bumps in the road (labor unrest, weakening commodity prices) PLG is the owner of a very attractive proposition in South-Africa.
Disclosure: I have no positions in any stocks mentioned, and no plans to initiate any positions within the next 72 hours. I wrote this article myself, and it expresses my own opinions. I am not receiving compensation for it (other than from Seeking Alpha). I have no business relationship with any company whose stock is mentioned in this article.