Editors' Note: This article includes micro-cap stocks. Please be aware of the risks associated with these stocks.
When I last reviewed the entire cannabis sector a month ago, I pointed to a big change: Not all of the stocks were moving in the same direction. My thesis was and remains the same: Investors are beginning to differentiate on both transparency as well as leverage to the big themes of recreational legalization and a more enthusiastic embracing of the medical benefits of marijuana. Again, the DOJ "hands-off" policy that gave the green light to Colorado and Washington to proceed with their implementations as well as Sanjay Gupta's reversal of his previously negative view on the medical aspects, both August events, paved the way for investors to sharpen their focus on these themes.
As I suggested then (note: here is a link to all of my previous articles on the sector), two of the better stocks to take advantage of these themes are GW Pharma (NASDAQ:GWPH) for medical and GrowLife (OTCQB:PHOT) for recreational (but also medical). As you can see, these two stocks enjoyed a strong month:

Again, the requirement to make this list is to have a market cap, including assumed conversion of any convertible securities, of at least $10mm. Two companies on the list last month that fell off are Endexx (OTCPK:EDXC) and GreenGro Technologies (OTCPK:GRNH), while two names joined, including Fusion Pharm (OTC:FSPM) and Puget Technologies (OTCPK:PUGE). FSPM has only 5.7 million common shares, but I missed a preferred stock that converts at 100-1. This is owned primarily by the CEO, Scott Dittman, and partially by his brother. While the company sounds interesting (and is partnered in part with PHOT), the capital structure isn't very shareholder-friendly. My initial take on PUGE, which recently established Cannabis Biotech, is negative.
GWPH was clearly the leader over the past month, responding to the October 7th upgrade by Lazard, with a $65 target attached. The stock, which is the ADR for the UK listing, has only 3.8mm shares outstanding and traded 1.7mm shares that day as the stock rose from $24.70 to $31.86 after trading as high as $35. This biotech is clearly the leader of the sector in transparency and management quality as well. I spoke to CEO Justin Gover at length in mid-October and will have more to share on the name soon. For those not familiar with the company, it markets Sativex, a spray containing approximately equal parts THC and CBD (cannabidiol), in several countries and is in a late-stage clinical trial for the product in the U.S. for advanced cancer pain. The pipeline is robust, with other cannabis formulations targeting different diseases. Insiders own over 16% of the company. The stock is up over 250% since the U.S. IPO in May at $8.90. My best guess is that the stock needs to consolidate a bit after the big run.
PHOT extended its gains, fueled primarily in my view by the announcement of the "GIFT" program on October 14th. I am still waiting to learn more, but it appears that this move by the company may have made them the first company to have revenues potentially tied directly to cannabis sales. Known as the Growlife Infrastructure Funding & Technology program, it consists of a leasing program that allows growers and dispensaries to lease equipment for five years while giving PHOT a sole-source relationship. The more interesting aspect is the offer of warrants at a modest discount to the market price in exchange for "a portion of gross revenue from their GIFT enhanced operations," creating a powerful alignment. The news flow for PHOT was varied, with the announcement of a convertible note financing but also the unveiling of the cannabis.org website and also an updated investor presentation. The presentation included guidance that the company expects to operate 30 stores by the end of 2014 capable of delivering $15m in annual sales, presumably in 2015. Additionally, Grass Roots Research updated its research and target price, raising it from $0.22 to $0.23. I continue to like the PHOT story, though my own target is lower. The report used the wrong share-count, which may explain the discrepancy.
The third big winner was one of my least favorite names in the sector, AVT, Inc. (AVTC). This was somewhat of a dead-cat bounce, as the stock is still down more than 50% YTD. I have previously pointed to an apparent scheme that allows the father of the chairman to take advantage of shareholders through lending capital to the company and getting paid back in preferred stock at a massive discount to its fair value. Further, the company is behind on its filings and has engaged in a potentially dangerous financing from Ironridge. The stock may have benefited from a paid research report produced by Zacks Small-Cap Research that was published on September 26th with a $2.60 target. I found several errors in the report, with the main issue being the failure to properly account for the preferred stock. My email to the author received no response. I reiterate my previously stated view that the stock is likely to trade below $1 (the recent low was $1.20).
I won't spend as much time on the decliners. I had previously pointed to CannaVest (CANV) as being highly overvalued. mCig (OTCPK:MCIG) is about to launch its first product on October 31st. I was very impressed with this story following my interview with the CEO earlier this month, and I have been waiting for the stock to reverse more of its huge run-up. I had suggested a month ago below $0.10, and it did trade almost to $.09. I have updated my expectation to a range of $.06-.09. Again, MCIG, which makes a $10 vape-pen, seems to be very leveraged to recreational marijuana. My discussions with members of the 420 Investor community suggests a mixed view, as many cannabis consumers say it doesn't do the trick for them (they prefer more expensive vaporizers or just rolling it themselves), but I think the market is bigger than they presume. Health-oriented younger consumers and returning baby boomers will be drawn to this product in my opinion.
Medbox (MDBX) continues to deflate. The company was the target of an investigative journalist's report that raised a lot of questions about the founder. I would note that MDBX continues to sell stock for $5 to accredited investors, which is a red flag to me. MediSwipe (MWIP) was crushed by its announcement that it intended to do a reverse split (1:10). It initially maintained its authorized share count but followed up the next day with a reduction from 500mm to 250mm. The company announced a program that seems similar to the GIFT program at PHOT on 10/24.
Medical Cannabis Payment Solutions (OTCPK:REFG) is a relatively new listing that I mentioned a month ago. I continue to harbor concerns about this one. Terra Tech (OTCQX:TRTC), on the other hand, is one where I feel the market may be missing the potential. The financing transaction that CEO Derek Peterson discussed in my September interview has been weighing on the stock in my view. My understanding is that the company is looking to partner with dispensaries and retailers in Washington, Colorado and other states to become a grower, leveraging on the Vande Vrede's (GroRite) hydroponics growing capabilities. The company appears to be on track to gain substantial cash flow from its new facility for organic produce in New Jersey in 2014.
The most popular company in the sector (as measured by Seeking Alpha followers), Medical Marijuana, Inc. (OTCPK:MJNA) was the only other stock to rally in the sector. I am becoming a bit more optimistic on the name, though I continue to harbor some of the concerns I have discussed previously. While I don't expect Q3 to be very strong, it should reflect improvement over the weak Q2. The company is rapidly rolling out its CBD-based products, with a lot more to go apparently. One of the overhangs on the stock has been its leadership. Michael Llamas stepped down a year ago as he faced felony charges related to his foreclosure business. The trial has been delayed yet again. I believe that his return to MJNA is quite possible and that this would be a major catalyst for the stock. Llamas is the visionary behind the company.
The company recently named Cheryl Shuman as its "brand ambassador", a move that many have criticized due to her association with CannaCig, a product promoted by Rapid Fire Marketing (OTCPK:RFMK). I take a more favorable view, as it's part of a much better go-to-market strategy the company is now employing. Previously, it was relying on partner Dixie Elixirs with its Dixie Botanicals products, but this wasn't working. The company has really improved its marketing and community outreach. With CBD rapidly becoming more appreciated for its potential medical benefits, MJNA, with its ability to ship legally CBD-based products to consumers in all 50 states as well as overseas, is in position to benefit. I had previously suggested a trading range of $0.10-.15, but I now expect that range to migrate a bit higher to $0.13-18, with the stock potentially testing resistance near $0.20.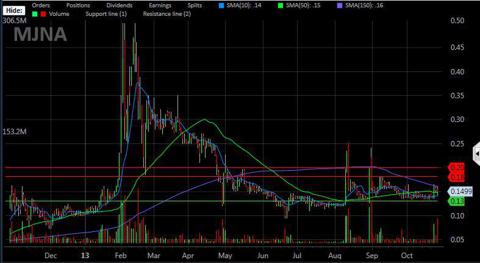 This is really more of a technical call, as the share count at almost 950mm suggests a market-cap at present of $142mm, which seems expensive. Of course, the stake in CannaVest, even fully taxed, is currently worth more than $142mm, but clearly CANV stock isn't liquid. I continue to see MJNA as having the potential to improve transparency, which would also help the stock in my view. It's easy to see this as a beaten up stock, as it is down 70% from its peak earlier this year, but it's also up 50% YTD and was trading at about $.03 two years ago.
I continue to see the cannabis sector as highly speculative though supported by very favorable trends and a strong investor appetite. Many of the companies in the space appear overvalued, and some have the appearance of being in the business of selling stock rather than goods and services. At 420 Investor, I introduced a trading alert service a month ago and have called it the "Flying High" portfolio, looking to take advantage of short-term opportunities. At this point, I see only GWPH and PHOT and perhaps as a long-shot TRTC as offering long-term investment potential, though MCIG and MJNA are very close to joining them in my view. I continue to expect new entrants, and I am hopeful that some of the existing companies in the sector move to better embrace transparency. If you are interested in learning more about the sector, I encourage you to download the 420 Investor's Guide to Cannabis Stocks, free of charge.
Disclosure: I have no positions in any stocks mentioned, and no plans to initiate any positions within the next 72 hours. I wrote this article myself, and it expresses my own opinions. I am not receiving compensation for it (other than from Seeking Alpha). I have no business relationship with any company whose stock is mentioned in this article.
Additional disclosure: 420 Investor has short-term buy recommendations on MJNA, MWIP, PHOT and TRTC but may change its recommendation at any time