US stocks swung between gains and losses on hump day as Germany and France discussed assistance for Greece, offsetting Federal Reserve Chairman Ben S. Bernanke's plan to raise the discount rate for loans to banks "before long." Trading volumes are slowing due to snow storms in the US Northeast. Five of the last seven full trading sessions have seen triple-digit point moves in the Dow.
Today's Market Moving Stories
Germany and France have agreed to a deal to "safeguard financial stability" for Greece and the wider eurozone following crisis talks at a European Union summit. Political agreement on general principles was thrashed out during tense negotiations between Germany, France, Greece and the European Central Bank on Thursday morning. "There is an agreement on the Greek situation. We will communicate now the agreement to the other leaders," Mr. Van Rompuy said. Jose Manuel Barroso, the European Commission President, said that Greece would receive support in return for and aligned to progress on sweeping austerity cuts. "Greece needs to do whatever is necessary, including additional measures, to ensure that the deficit reduction targets for this year are met," said an official. "Secondly, in that case the euro zone members should be ready to safeguard financial stability in the euro zone area as a whole."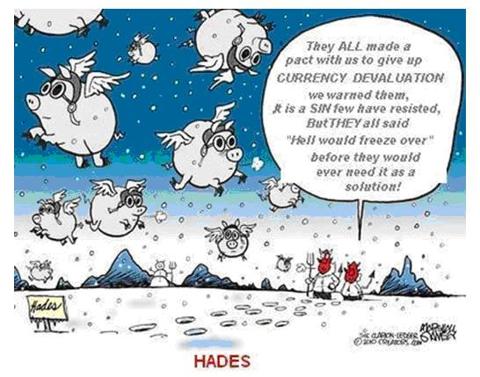 The focus for markets overnight was the release of Fed Chairman Bernanke's testimony that, but for the weather, was to have been presented to the House Financial Services Committee (Greece has taken a back seat overnight, ahead of the EU Head of State and Government Summit meeting in Brussels today). Crucially, Chairman Bernanke repeated that: "The FOMC anticipates that economic conditions, including low rates of resource utilization, subdued inflation trends and stable inflation expectations, are likely to warrant exceptionally low levels of the federal funds rate for an extended period." Indeed, according to Bernanke, the outlook for monetary policy remains about as it was at the time of the January FOMC meeting. But he acknowledged that at some point the Fed will need to tighten financial conditions by raising short-term interest rates and reducing the quantity of bank reserves outstanding.
Gordon Brown said on Wednesday that the world's leading economies were close to agreeing on a global bank tax, highlighting UK hopes of agreeing to a deal at the G20 summit in Canada in June. In a FT interview, Brown indicated that he believes that public opinion has shifted in favor of a globally co-ordinated tax after President Barack Obama's move last month to raise $90 billion from a US bank levy. The UK prime minister has been pushing for a global charge on banks.
Fewer British homes were for sale in January than at any time in the past 30 months, helping sellers get better prices, according to a survey of brokers. The average number of properties available at real estate branch offices dropped to 55 from 59 in December, according to responses from 876 members of the National Association of Estate Agents. That was the lowest level since July 2007, near the peak of the UK's decade-long boom in home prices. Declining mortgage approvals, record-low borrowing costs and a reluctance among banks to foreclose on homes have kept owners in their houses and left buyers competing for the dwindling number of properties on the market. Average home prices in England and Wales increased 6% in the nine months through December, according to Land Registry data. They are still 10% below the 2007 average.
Job vacancies at London's financial-services companies increased 60% last month as firms rehired bankers that were fired during the credit crisis. The number of new job vacancies in the City, as London's main financial district is known, rose to 4,646 from 2,898 in the year-earlier period, U.K. recruitment consultant Morgan McKinley said in a statement today. Vacancies increased 105% in January compared with December, the survey showed. "There were more new job opportunities in January 2010 than at any point in 2009, which is very encouraging," said Andrew Evans, managing director of Morgan McKinley's financial- services unit
Bloomberg reports that Germany's banks may have more at risk in Greece, Portugal and Spain than their global counterparts, adding to pressure on Chancellor Angela Merkel to forge a European Union aid package for Greece and avoid contagion. German banks had foreign claims of $330.8 billion related to the three countries on Sept. 30, according to the most recent data from the Bank for International Settlements in Basel, Switzerland. French banks had $306.8 billion in claims and U.K. lenders $156.3 billion, the data show.
In less than a week, the East Coast of the United States has been hit by two severe blizzards. While over the weekend, "Snowmageddon" brought the heaviest snowfalls in 90 years to Washington D.C, the "Second Blizzard of 2010,″ also named "Snoverkill," is expected to bring up to another 18 inches of snow to an area between Washington and Boston. Airports, schools and even all federal government agencies in the D.C. area have been closed. According to the Office of Personnel Management, this closing alone, which began on Wednesday, costs about $100 million a day. The overall damage from the two storms may easily add up to a couple of billion dollars. In the following section we'll focus on the blizzards' impact on a few relevant economic numbers: retail sales, nonfarm payrolls and housing starts.
Today's Market Moving Stories
Greencore (OTCPK:GNCGY) has disposed of its malt business to a French group (AUCA) for €116 million, including average working capital of €24 million. In addition, its AGM statement shows that the convenience foods business has grown Q1 sales by 7.8% (ex water) while widening margins further and its US revenues have risen by over 30%.
The UK charter group Thomas Cook says, "in recent weeks bookings for summer '10 have improved significantly." The company is experiencing price increases in the UK (+6%) and Northern Europe (+11%) after cutting capacity by 8% in both regions
Drinks giant Diageo (NYSE:DEO) released H1 figures this morning which were below expectations, with operating profit falling 3% to £1.63 billion (expectations were for £1.73 billion) on underlying sales down 2%. Unsurprisingly, North America and Europe were weak, whilst Asia Pacific and International (Africa/Middle East) were more resilient. As a sign of the times, the performance of Diageo's standard brands (+2%) outperformed its premium brands (-5%), although Diageo's diversity by geography, category and brand, limited damage to margins.
Dairy king Danone (OTC:GDNNY) was out with Q4/FY figures this morning which were slightly shy of expectations, albeit nothing too dramatic. Operating income rose an underlying 7.4% to €2.29 billion (expectations were €2.32 billion), on sales that were up 3.2%. Organic sales momentum strengthened in Q4 to 5.5% (v 3.2% for FY), driven by strong volume growth of 8.9% offset by lower prices. Cash generation was also strong – up over 20% – helping Danone to reduce debt by €4.7 billion (including the EUR3 billion rights issue). On that subject, Danone stated it may consider using its share buyback authorization in 2010, which seems strange given last May's rights issue.
Miner Rio Tinto (RTP) has reported a strong improvement during H2, resulting in full year EBITDA of $14.3 billion, ahead of consensus. The balance sheet has also been transformed following last year's recapitalization and the realization of $5.7 billion of disposals during the year (in total, $7.2 billion were agreed), with net debt reduced from $38.7 billion at the end of 2008 to $18.9 billion at December 2009. The company is confident that factors that drove the price recovery seen in 2009 will continue in 2010, is planning capex this year of $5-6 billion and has announced a dividend of $882 million.
Google Inc. (NASDAQ:GOOG) is planning to build high-speed fiber-optic broadband networks in the U.S. to offer Internet speeds that are more than 100 times faster than what Verizon Communications Inc. (NYSE:VZ) and AT&T Inc. (NYSE:T) sell today. The company, owner of the world's most popular Web-search engine, said today it will offer the service at a "competitive price" to at least 50,000 people and potentially as many as 500,000. Google wants to use the networks for applications that consume lots of bandwidth.
Some ill-Advised Business Names.
And Finally

Disclosures: None