By Mark Bern, CPA CFA
Economists predicting U.S. GDP growth above 3.5 percent in the second quarter are abundant across the country. The argument is that much pent up demand was created by the cold weather in the first quarter that kept consumers inside and away from shopping. The problem is that consumer spending was not the problem; it came in at a very respectable 3.1 percent (after the first revision). But, then again, much of that increase was from increases in healthcare spending, primarily on higher insurance premiums. It counts, but does not really help the economy. Increased spending on healthcare may mean that there is less left to spend on discretionary items. Thus, there may not be as much pent up demand as expected. So, what are economists around the country predicting for this quarter?
According to this article from Bloomberg, Morgan Stanley predicts that the second quarter GDP growth will be 4.2 percent. Here is a quote from another article with high expectations from USA Today: "Jim O'Sullivan, chief U.S. economist of High Frequency Economics, predicts economic growth will run at a 4% annual pace in the current quarter as businesses and consumers make up for reduced spending early this year. Many economists expect growth to exceed 3% the rest of this year and in 2015."
The NYTimes.com site lists other articles on the subject citing in one that the U.S. Commerce Department is forecasting 3.6 percent growth in the second quarter. It almost seems as though private sector economists are trying to tell us that the federal government is sand bagging here, playing down expectations to get a surprise on the upside. That would be almost refreshing.
Now, I want to take a look at some early indicators to see how great the economy is doing so far. It is early, granted, as we have only two months of the quarter completed. But, one would expect that the "coiled spring" economists have used to describe the U.S. economy would begin to release some of that kinetic energy during months like April and May when the weather was beautiful.
This article from CNBC.com has some interesting quotes:
"Meanwhile, the ISM said manufacturing growth unexpectedly slowed in May. The index hit 53.2, versus expectations for a reading of 55.5."

"Construction spending ticked up just 0.2 percent in April to its best level in nearly five years, according to the Commerce Department, but still missed estimates for a gain of 0.6 percent."
There were also some positive points made in the article as all is not bad. But if construction and manufacturing did not meet expectations in May, a month of unleashed pent up demand, I question whether the pent up demand is likely to be as strong as predicted.
Thomson Reuters tracks earnings, guidance and surprises. And in its May 23rd weekly article, there is some more signs of weakness brewing in the economy. "For Q2 2014, there have been 85 negative EPS pre-announcements issued by S&P 500 corporations compared to 22 positive EPS pre-announcements. By dividing 85 by 22, one arrives at an N/P ratio of 3.9 for the S&P 500 Index." Maybe it is just me, but that does not sound very good.
Another tidbit from the same article explains that forward guidance from the consumer discretionary sector has declined from 10.3 percent to 6.9 percent, a 3.4 percent drop since April 1st. As we get closer to the actual reporting period, I suspect that expectations will likely be lowered even further. This is the game Wall Street analysts and our government play. We read about how wonderful everything is going to be later in the year, maybe even next quarter. But then, over time and very gradually, the expected numbers begin to fall to more realistic levels until, at the time of reporting, the expectations have become relatively easy to beat. And then we get a positive surprise! The headlines and news reports that receive heavy coverage are the early expectation that is really optimistic and the surprise when expectations beat after expectations have been lowered. There are no headlines about lowering guidance and expectations that get posted over and over. Those factoids are included in other reports with positive spin and the real information we need to know is buried near the bottom of a multi-page article that hardly anyone finishes. Press releases directly from the companies cover lowered guidance, but somehow do not receive repeated dissemination.
Here is a table downloaded from S&P Dow Jones that shows the expected S&P 500 earnings over time, just from the end of March to the end of May (imagine what the difference amounts to over a full year):
| | | |
| --- | --- | --- |
| OBSERVATION | Q2,'14 EST | 2014 EST |
| 3/28/2013 | $30.89 | $124.73 |
| 6/28/2013 | $30.14 | $123.01 |
| 9/30/2013 | $30.02 | $121.83 |
| 12/31/2013 | $29.96 | $121.48 |
| 3/31/2014 | $29.64 | $120.04 |
| 5/30/2014 | $29.51 | $119.81 |
The full year 2014 estimated earnings (based upon EPS for one share of each of the S&P 500 component companies) fell by almost $5 in three months. That is a 3.9 percent reduction in expectations in the first quarter. If the trend continues, the expectation will be calling for S&P 500 earnings to actually fall in 2014 compared to 2013. Negative growth with GDP growth expectations of three percent for the rest of 2014? I am sure you are thinking that I am getting way ahead of myself in assuming that the expectations will continue to fall so precipitously. But I have been noticing this trend for several years. We are told to expect stronger growth in the second half of the year and continued strength into the next year ever since 2010. In some years, the second half stronger growth has come, yet the follow through has never materialized. Also, the guidance and analyst expectations have been lowered throughout the year every year in the past five years.
The following chart shows the S&P 500 Sales Growth Rate (Source). Notice the trend since 2011: down. We had a little rise in 2012 into 2013, but then it has turned down again. EPS growth for the S&P 500 was actually negative for three consecutive quarters from the third quarter of 2012 through the first quarter of 2013. Did you see the headlines? I did not notice them. My point is that good news is shouted from the rooftops and reported repeatedly (whether it is real or made up) and bad news is rarely reported clearly, if at all. This trend is bad. Do not expect to see any headlines.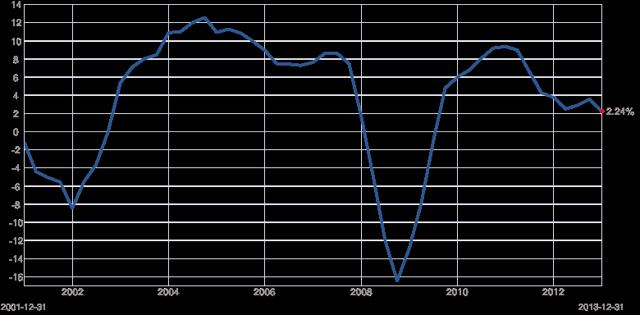 EPS growth has come largely from cost cutting, rising capacity utilization and efficiencies through automation. Unless we see more growth in sales, the only way to maintain decent EPS growth will be to cut costs even further and I do not see how that continues on a broad scale for much longer. I do not expect large layoffs unless sales growth turns negative. But without better sales growth, the improving jobs picture gets murkier and wage stagnation continues.
Thomson Reuters mentioned (in the article linked earlier) that earnings are coming in at about five percent above estimates. That sounds great until you realize that earnings are coming is at five percent above the same quarter earnings of a year ago. That means that estimates were calling for zero growth in earnings. The bar was lowered so that any improvement would be a positive surprise… again.
The whole point of this article is to simply say that we are being set up once again. We are being told now that growth for the second quarter will be near four percent. That was just to keep investors buying more stocks, in my humble opinion. With what has been reported thus far for the months of April and May, my expectation is for second quarter growth closer to 2.4 percent. That is not bad in itself, but when taken in combination with the first quarter it will be year-to-date GDP growth of just 0.7 percent. If I am right, even growth of three percent for the rest of the year will leave us with full-year growth of only 1.85 percent. That would be a step in the wrong direction. The pent up demand just is not there. Too much of the growth that should have been is being sucked up by healthcare insurance premiums. Bummer!
As always, I welcome comments and will try to address any concerns or questions either in the comments section or in a future article as soon as I can. The great thing about Seeking Alpha is that we can agree to disagree and, through respectful discussion, learn from each other's experience and knowledge.
Disclosure: I have no positions in any stocks mentioned, and no plans to initiate any positions within the next 72 hours. I wrote this article myself, and it expresses my own opinions. I am not receiving compensation for it (other than from Seeking Alpha). I have no business relationship with any company whose stock is mentioned in this article.