Today should be rather uneventful, however investors should be aware that Walgreen (WAG) has changed its name to Walgreen Boots Alliance (NYSE:WAB). The ticker symbol has also changed, which will probably throw off track more than a few readers' stock watch lists. With the events that took place in Canada last night, investors might want to watch over the next 24 hours for any terrorism in key parts of the world as celebrations take place to usher in the New Year.
Markets will be closed tomorrow, but will see normalized trading resume on Friday. The week is set up nicely to end on a good note, assuming of course that Friday's economic data is good.
Chart of the Day:
One of the key questions investors will have to ask themselves in 2015 is which direction the Chinese stock market (Shanghai Composite) will move after such a strong 2014 which saw Chinese regulators open A-class shares to foreigners via Hong Kong in an effort to increase equity prices. This could be one of the three most important international stories for investors in 2015.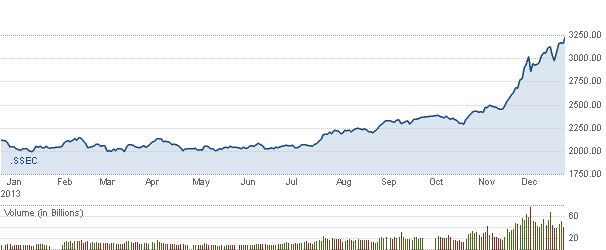 Source: CNBC
We have economic news today, and it is as follows:
Initial Claims (8:30 a.m. EST): Est.: 290k Act.: 298k
The Asian markets are lower today:
All Ordinaries - down 0.10%
Shanghai Composite - up 2.15%
Nikkei 225 - CLOSED
NZSE 50 - down 0.16%
Seoul Composite - CLOSED
In Europe, markets are higher today:
CAC 40 - up 0.64%
DAX - CLOSED
FTSE 100 - up 0.29%
OSE - down 0.97%
Buyer Beware
The biotech and small drug maker space is a very tough area to make money. In many instances one could compare this area of the stock market to the roulette wheel at a casino. This is not to say that research cannot be done to better one's odds at choosing solid investments, but is rather an attempt to highlight just how difficult it is to come out on top. This brings us to yesterday's big winner, NeuroDerm Ltd. (NASDAQ:NDRM), an Israeli company which had its IPO just over a month ago.
Ordinarily we would not pay much attention to a small cap biotech company which had a busted IPO, however yesterday the company's stock rose 193.53% as 41 million shares were traded. All of the excitement was over results from the company's ND0612H treatment which showed that this higher dosage of the company's treatment could minimize the need for surgery for Parkinson's patients.
While this was good news, we think readers need to take a cautious approach and not chase this name. The IPO was just over a month ago and 'the story' was marketed; meaning that this should have been somewhat priced in and expected. Strange things happen when Wall Street trading desks are thinly staffed and a stock such as this getting stronger and stronger throughout the session to close higher by nearly 200% would certainly fit that category.
Chinese Drugstores Rise
Both China Nepstar Chain Drugstores (NYSE:NPD) and China Jo-Jo Drugstores (NASDAQ:CJJD) rose yesterday, with China Nepstar finishing the day higher by nearly 22% and China Jo-Jo higher by nearly 21%. Benzinga pointed to reports that China could loosen laws to allow online pharmacy sales of prescription medicines, with this being a new avenue for the drugstores to use to attack the traditional system preferred by doctors and patients, hospital pharmacies.
China Nepstar Chain Drugstores also announced another $5 million share repurchase plan which continues the company's efforts to return cash to shareholders and boost the stock price.
Potential Problems Ahead For Fingerprint Passcodes?
With news from Germany that hackers have found a way to use pictures to recreate fingerprints and actually performing a demonstration in order to prove their techniques using the German Defense Minister as a target. Apparently the technique to recreate fingerprints is not something entirely new, but it is time consuming and requires certain skill. While it is bad enough knowing that these 'fingerprints can trick Apple's (NASDAQ:AAPL) TouchID, the fact that photos are used to create them might be even worse.
Disclosure: The author has no positions in any stocks mentioned, and no plans to initiate any positions within the next 72 hours.
The author wrote this article themselves, and it expresses their own opinions. The author is not receiving compensation for it (other than from Seeking Alpha). The author has no business relationship with any company whose stock is mentioned in this article.
Editor's Note: This article covers one or more stocks trading at less than $1 per share and/or with less than a $100 million market cap. Please be aware of the risks associated with these stocks.