Up until this week, your intrepid Dogs of the Index strategist has applied dog dividend methodology only to lists of stocks created for a publisher's stated purpose.
For example:
CME Group states:
The Dow Jones Industrial Average (NYSEARCA:DIA) is a price-weighted index of 30 blue-chip US companies representing nine economic sectors including financial service, technology, retail, entertainment and consumer goods. The leadership position of the component stocks in the DJIA tends to result in an extremely high correlation of the DJIA to broader US indexes, such as the S&P 500 Index providing additional opportunities.
McGraw Hill states:
Standard & Poor's strives to provide investors who want to make better informed investment decisions with market intelligence in the form of credit ratings, indices, investment research and risk evaluations and solutions." The company says that the S&P 500 index includes 500 leading companies in leading industries of the US economy, capturing 75% coverage of US equities.
NASDAQ states:
The NASDAQ-100 Index includes 100 of the largest domestic and international non-financial securities listed on The Nasdaq Stock Market based on market capitalization... It does not contain securities of financial companies including investment companies.
Russell Investments states its purpose as:
Improving financial security for people. " The company says its Russell 1000 Index offers investors access to the "extensive large-cap segment of the US equity universe, representing approximately 90% of the US market.
You get the idea. Every publisher has a different perspective and builds a list of equities as a baseline for comparing periodic gyrations in the market. To this end, the financial publishing community contributes to the malady diagnosed by Yale Professor of Economics, Dr. Robert Schiller, who has observed:
People still place too much confidence in the markets and have too strong a belief that paying attention to the gyrations in their investments will someday make them rich, and so they do not make conservative preparations for possible bad outcomes.
Herein is launched a new forward test of the Dogs of the Index metrics applied individually to each of eight major market sectors, in alphabetical order these sectors are: basic materials, consumer goods, financial, healthcare, industrial goods, services, technology, and utilities.
The ninth sector, conglomerates, contains just eight firms, five of which pay dividends, so dogs of the index metrics do not apply in such a limited universe. Such a task is comparable to a dog show judge trying to evaluate a Chihuahua based on St. Bernard breed conformation standards.
Dogs of the Index Metrics Used to Select The Top Ten Industrial Goods Sector Stocks
Two key metrics determine the yields that rank index or sector dog stocks:
Stock price
Annual dividend
Dividing the annual dividend by the price of the stock declares the percentage yield by which each dog stock is ranked. Investors select portfolios of five or ten stocks in any one index or sector by yield to trade. They await the results from their investments in the lowest priced, highest yielding stocks they selected and pray that the price of every stock they now own climbs higher (having locked in a high yield percentage at purchase).
This Dogs of the Index strategy, popularized by Michael B. O'Higgins in the book "Beating The Dow" (HarperCollins, 1991), reveals how low yielding stocks whose prices increase (and whose dividend yields therefore decrease) can be sold off once each year to sweep gains and reinvest the seed money into higher yielding stocks in the same index.
Comparative Methods Used
First, the entire list of industrial goods sector companies is sorted by yield as of December 12 using Ycharts.com to reveal the top thirty. Market performance of these thirty selections is then reviewed using three months of historic projected annual dividend history from Yahoo Finance.
Thereafter, today's article goes on to assess the relative strengths of the industrial goods sector top ten dividend dogs vs. the Dogs of the Dow December 9 stock list. Here we look at annual dividends from $1000 invested in the ten highest yielding stocks in each sector or index versus the aggregate single share prices of the top ten stocks in each sector or index.
Industrial Goods Sector Dividend Dogs
click on images to enlarge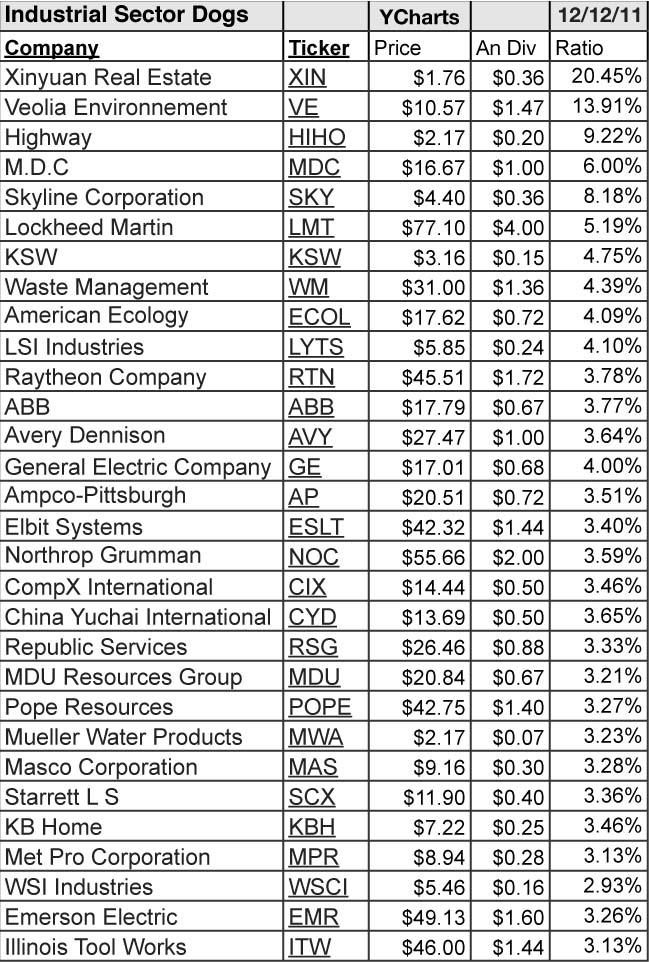 The top ten industrial goods stocks paying the biggest dividends for December represent one sector. Top industrial goods sector stock XIN is from the Residential Construction industry (in China). Two of the top ten industrial goods firms are in that same Residential Construction industry group, MDC is the other. Three of the top ten industrial goods firms are Waste Management.
Of the top thirty industrial goods sector stocks, six firms are Diversified Machinery. Other industrial goods sector industries represented by more than one firm are: Waste Management, with four; Residential Construction, Aerospace Defense - Major Diversified, with three each; Industrial Electrical Equipment, General Building Materials, and Industrial Equipment & Components, with two each.
Vertical Moves in Industrial Goods Dividend Dog Stocks
Going back three months, XIN claimed the top of this list by yield and stayed there throughout the quarter. The action throughout the list is generally bearish. A notable price gain, however, was made by GE from November to December moving from ninth place by yield to fourteenth by virtue of rising from $16.30 to $17.01 or 4.35% in one month. Conversely ABB lost value moving from twentieth place at $19.48 in October to twenty-sixth place at $18.64 in November, then pushing down to $17.79 in December, a 8.68% overall loss in two months.
Color code shows: (Yellow) firms listed in first position at least once between October and December 2011; (Cyan Blue) firms listed in tenth position at least once between October and December 2011; (Magenta) firms listed in twentieth position at least once between October and December 2011; (Green) firms listed in thirtieth position at least once between October and December 2011. Duplicates are depicted in color for highest ranking attained.
Below is a graph of the relative strengths of the top ten industrial goods sector stocks by yield as of December 12, 2011 compared to those of the Dow. Using three months of historic projected annual dividend history from $1000 invested in the ten highest yielding stocks each month and the total single share prices of those ten stocks creates the data points for each month shown in green for price and blue for dividends.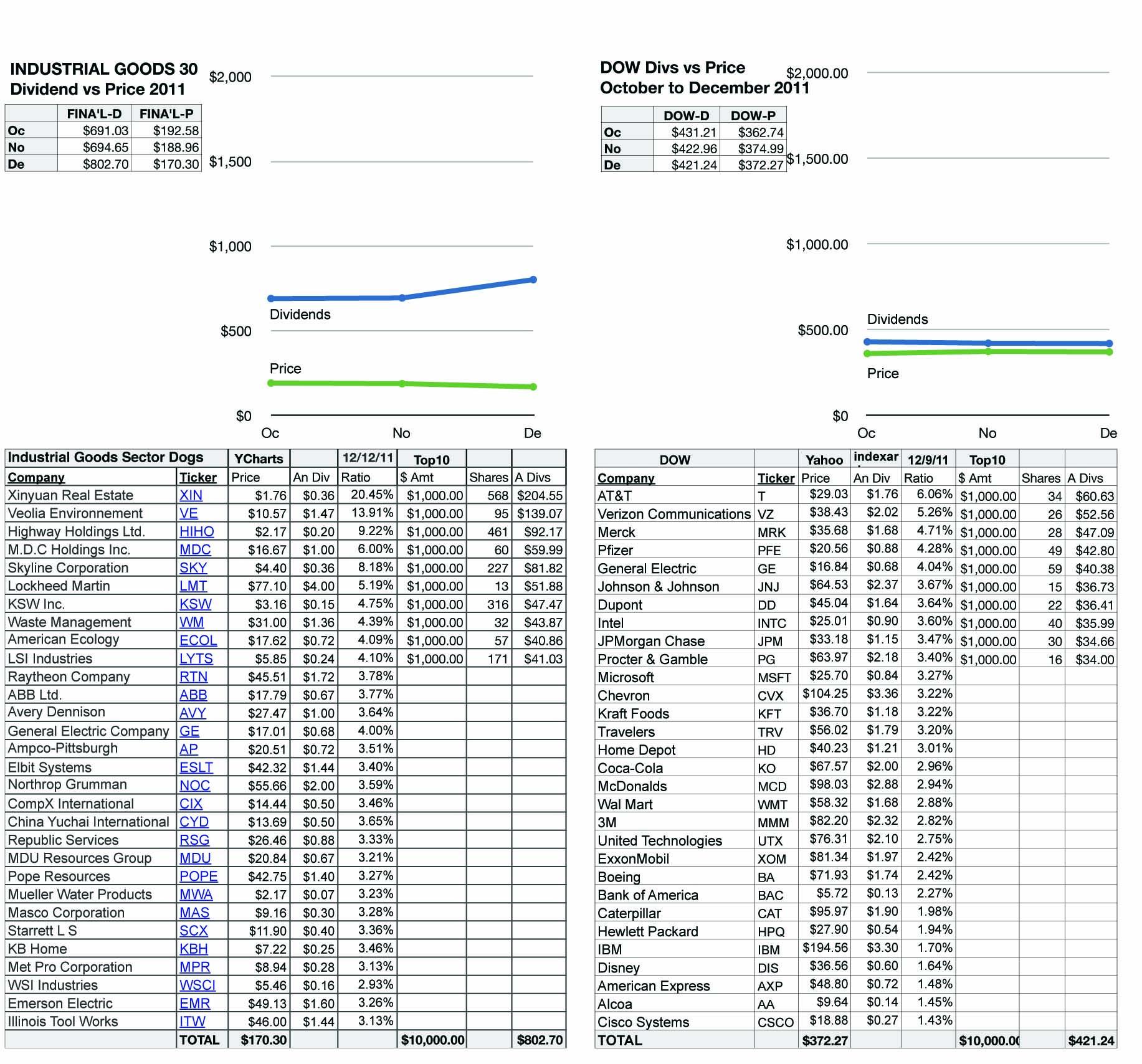 Conclusion: A Purebred Team of Working Dogs Ready for Hard Labor
This industrial collection of 30 dividend payers shows depressed market performance during the recent unsettled conditions. The Dow index exhibited near convergence of dividends from $1k invested in the top ten with aggregate total single share prices over the past three months. In contrast, the industrial goods sector top ten diverged further. Dividend yields increased as industrial goods sector prices declined to produce much more risk per share price than the Dow.
At the end of each month, two summaries will conclude this new series of articles by showing comparative results of yield and price for all eight sectors reported: basic materials, consumer goods, financial, healthcare, industrial goods, services, technology, and utilities.
Disclaimer: This article is for informational and educational purposes only and shall not be construed to constitute investment advice. Nothing contained herein shall constitute a solicitation, recommendation or endorsement to buy or sell any security. Prices and returns on equities in this article are listed without consideration of fees, commissions, taxes, penalties, or interest payable due to purchasing, holding, or selling same.