Shares of MeetMe Inc. (NASDAQ:MEET) are up about 35% over the past year. We thought we'd check in to see if this rise in price is warranted. Our view is that this is a bit spicy for our tastes, but could be compelling to people interested in investing in a potential buyout candidate in the social media space. We outline our reasoning below.
The Company
MeetMe is a location based mobile chat application for connecting with new people. The company makes money through advertising and through in app purchases. The company is intriguing because it is at the intersection of "Chat Apps" and "Meet New People Apps." The technology enables users to find local people with similar interests and it makes relevant introductions. The company is growing quickly. It boasts strong growth. Active daily users were up 26% to over 1 million over the most recent quarter and revenue grew by 47% in the most recent quarter, relative to the same period last year.
The following demonstrates the company's strategic position in the space. Their network represents the best of "virtual" and "local" in our view.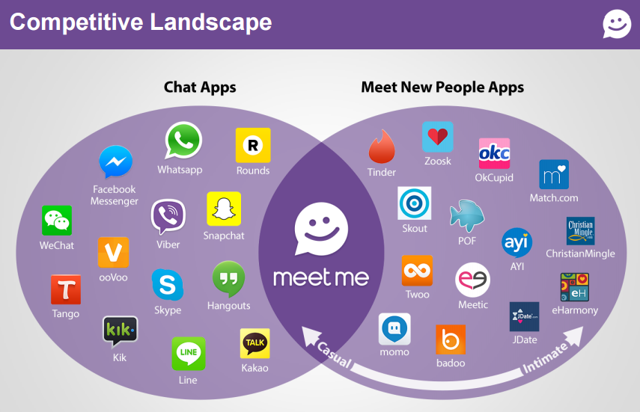 Source: Investor presentation
Insider Buy
We always like to see some insider buying activity. On April 23 of this year, the Blast Furnaces of Mexico bought 336,927 shares for an average price of $4.30. We take note of insider buys on the very obvious premise that insiders have greater knowledge about a company than we can have.
Operating Profits
The level of operating profit here is actually rather good for a small social media company. Over the past two quarters in particular the company began earning a very healthy level of operating profit relative to the capital employed. Additionally, the capital structure is much less risky than it was. We also note that debt has come down from ~$3 million to ~$1.7 million.

Source: Company filings
The Bad: Valuations
The problem here is that the shares are priced at a significant premium to the market. They are trading at ~40 times earnings and the forward PE is ~253. Holding all else constant, the market is forecasting earnings to fall about 84% from current levels. This may be a bit pessimistic, but the current valuation is still too rich for our blood.
Conclusion
Ultimately, the question comes down to whether any other companies in the space could build the functionality for less than the cost of MeetMe's enterprise value. If so, there's little buyout premium here (until such time that valuations drop even further). If not, there is quite a bit of buyout premium here. Thus, this a binary trade. We try to find trades that have asymmetric reward potential, so it's not for us. For people willing to take a flyer on a trade, they could do worse than buying this company in hopes of a buyout.
Disclosure: I/we have no positions in any stocks mentioned, and no plans to initiate any positions within the next 72 hours. I wrote this article myself, and it expresses my own opinions. I am not receiving compensation for it (other than from Seeking Alpha). I have no business relationship with any company whose stock is mentioned in this article.