The past year has been brutal for most brick-and-mortar retailers. The U.S. Department of Commerce estimates that for the third quarter of 2016, e-commerce as a percent of total retail sales accounted for 8.4 percent of total sales. This represented a growth of about 4 percent from the previous quarter. There is no hiding from the fact that online sales have been a headwind for these traditional retailers. The net sales and profitability of these retailers have taken a hit as a result.
Costco (NASDAQ:COST), which falls under the brick-and-mortar retailers category, on the other hand, has managed to remain an exception to the norm. From fiscal year 2010 to 2014, Costco delivered an annualized net sales growth of 11.5 percent, handily beating other retailers in terms of growth. However, net sales have shown slower growth during fiscal years 2015 and 2016. So, the question is, has Costco reached a plateau? Or is this just a period of consolidation before a return to impressive growth? To answer this, a basic understanding of the strengths and weaknesses of the company is required. But first, let's take a historical view of the company's performance.
1. Costco's Impressive Growth History
Figure 1 shows the total revenue change YoY (includes net sales and membership revenue) and earnings before income tax (EBIT) change YoY.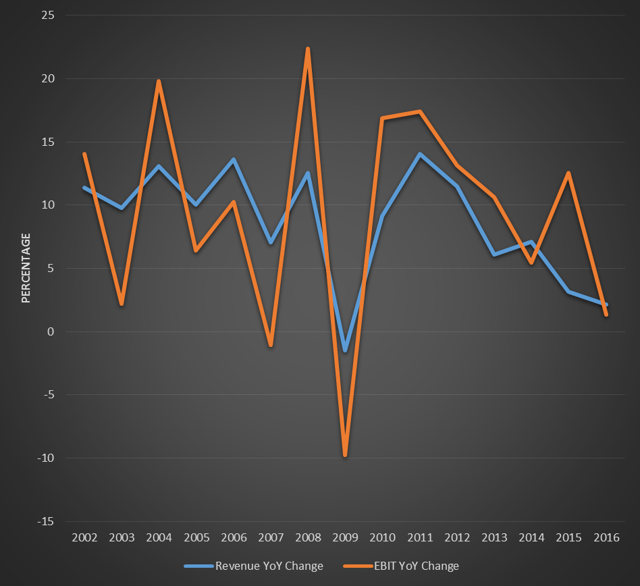 Figure 1: YoY Revenue and Operating Income Change. (Data taken from annual Costco 10-K filings)
Costco has a good history of providing solid revenue growth. Negative sales growth was seen only during fiscal=year 2009. However, growth promptly returned to the high-single digits during fiscal year 2010 once the economic conditions improved. Additionally, operating income has shown similar growth trends to revenue growth. There have been only two instances of negative operating income growth; during 2007 and 2009. However, Costco overcame these struggles to deliver solid sales growth coupled with earnings growth over the next few years.
Why is the return to growth important? Competitors such as Wal-Mart (NYSE:WMT) and Target (NYSE:TGT) have had a rough period over the last few years. Wal-Mart's revenue has grown at an annualized rate of just 2.0 percent. Target, meanwhile, has grown revenue at an annualized rate of 1.4 percent over a similar period. On the other hand, Costco has grown revenue at an annualized rate of 4.9 percent from fiscal year 2012 to 2016.
Note: Fiscal year revenue growth is not an apples-to-apples comparison as each company has a different start month to their fiscal year. However, it is used as a quick illustration here to show the comparatively rapid growth at Costco.
However, YoY revenue growth has shown a declining trend since fiscal year 2011. It has fallen into the single digits since fiscal year 2013. More on this later in the article.
2. The Membership Magic
The major income stream for Costco is its revenue from membership fees. Figure 2 illustrates the impact of membership fees on profit. It can be seen that the contribution of membership fees is substantial.
Note: In this article, membership revenue is considered as profit because there is little cost associated with it for the company. The $750.00 cash back benefit to Executive Members on the 2 percent cashback is treated as a sales negative and therefore reflected in net sales income. This allows for membership revenue to be treated as income.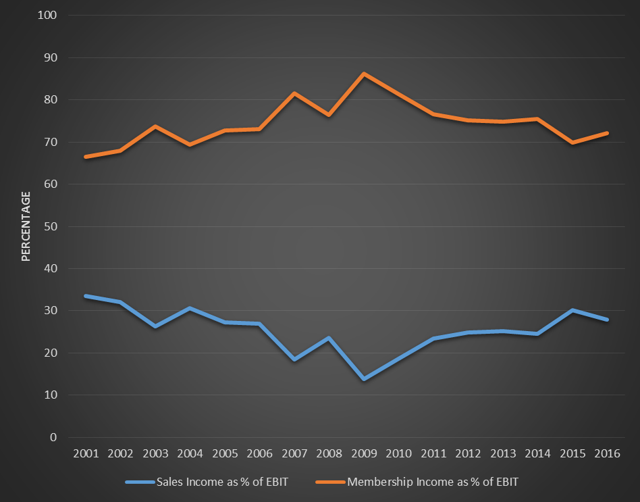 Figure 2: Sales and Membership Income as a percentage of EBIT. (Data taken from annual Costco 10-K filings)
The contribution of membership revenue to profit is put into proper perspective when looking at dollar amounts.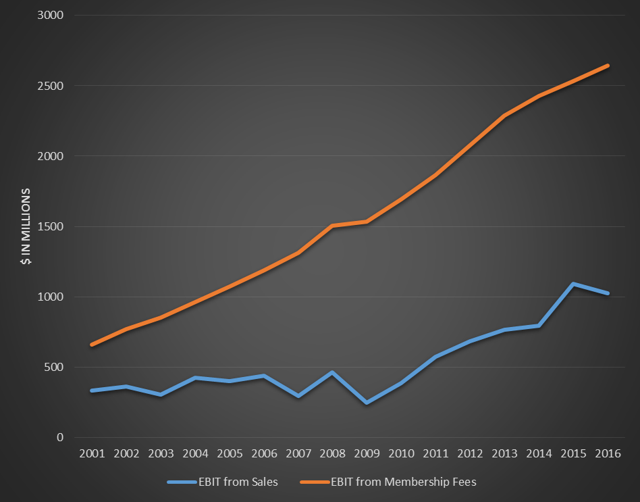 Figure 3: EBIT contribution from Sales and Membership fees. (Data taken from annual Costco 10-K filings)
This is what allows Costco to operate with smaller margins. The highest ever margin on goods sold was observed during fiscal year 2016 at 11.35 percent. For comparison, the margin on goods sold at Target and Wal-Mart for the last fiscal year was 29.5 percent and 24.6 percent, respectively.
It is the lower margin that attracts shoppers to Costco even though there is a membership fee associated with it. Compared to the cost savings that a shopper is likely to see over the course of a year, the membership is very low. The benefits to the company due to the membership based shopping experience have been documented very well over the course of the company's history. In short, membership helps with customer loyalty and lower theft. Additionally, shoppers are unlikely to drop by to buy products worth a few dollars and likely to engage in bulk buying. Only 4 percent of the total sales is done through e-commerce. This means that shoppers are happy to have the store experience over convenience. This also increases the average ticket price because shoppers are likely to buy more than they intended to buy as they notice price reductions or make impulse buys. A combination of discounts, coupon changes every month, and bundle package discounts serve to keep shoppers happy.
In short, the membership model has provided great benefits to the company in terms of bringing in more customers and increasing revenue. Comparable sales growth in existing stores provide incremental growth while new store openings provide the "pop" factor. Figure 4 shows the YoY change in total membership and the YoY revenue change from membership.
Note: Membership numbers exclude the add-on members on business memberships which costs the same as the base membership. Additionally, Mexican members are not reflected in the total before 2011. This explains the sudden burst in membership YoY change in 2011.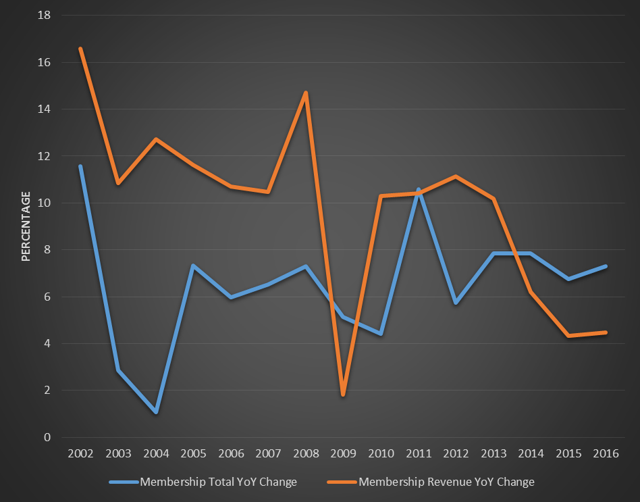 Figure 4: Membership numbers and revenue YoY Change. (Data taken from annual Costco 10-K filings). Membership numbers exclude business add-on members. Numbers prior to 2011 do not include Mexico customers.
The membership growth rate has held north of 6 percent for most of the time. Costco reports that 39 percent of the total members hold Executive Membership and make up most of the sales. The membership revenue growth got a boost in fiscal year 2007 benefiting from a membership fee increase during fiscal year 2006. Additionally, fiscal year 2011 saw another membership fee increase. Through these membership fee increases, it is important to note that the growth in membership numbers was not impacted adversely. Additionally, Costco boasts a membership retention rate of 90 percent, which is phenomenal. This shows that customers are very loyal and are not very sensitive to membership cost increases.
Costco's pay and compensation for its employees is well above the competition. While Wal-Mart is busy trying to increase wages and improve customer experience only recently, Costco has championed it for years. The customer experience at Costco is very positive and employee morale is high. The company has a very good reputation among customers and employees. This may very well explain the high membership signings at new Costco locations. The increase in membership numbers is a combination of retaining 90 percent of the existing members while continuing to expand its presence to new areas. The number of stores that Costco operates has increased steadily over the years both locally and internationally. As of fiscal year 2016, Costco operated a total of 715 stores and expects to open 31 more stores in fiscal year 2017.
Figure 5 shows the rate of expansion of Costco warehouses over the years.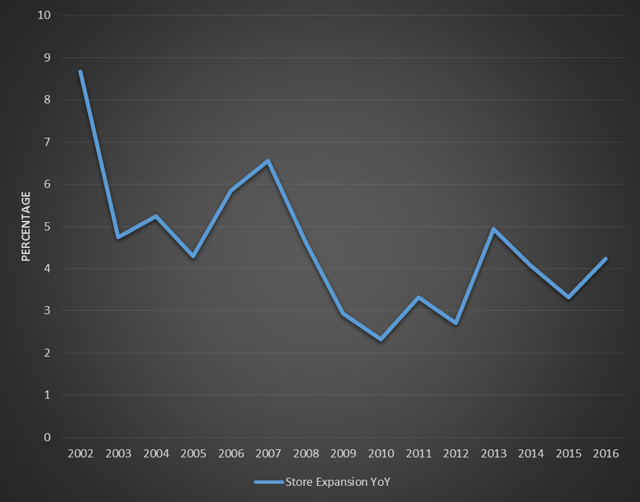 Figure 5: Store expansion growth YoY. (Data taken from annual Costco 10-K filings)
The high retention rate means that existing warehouses are able to provide steady sales with incremental increases in sales while new stores provide the main source of sales increases YoY. A solid growth strategy.
3. Expansion to International Markets
Expansion to international markets provides great growth opportunities. The company has built brand name recognition over the years with a proven business model.
The growth of international stores over the years is shown in Figure 6. Expansion has been primarily focused on Canada, Mexico, and UK in the early part of the millennium. Over the last four years, the number of stores in Japan have almost doubled. These represent strategic store openings.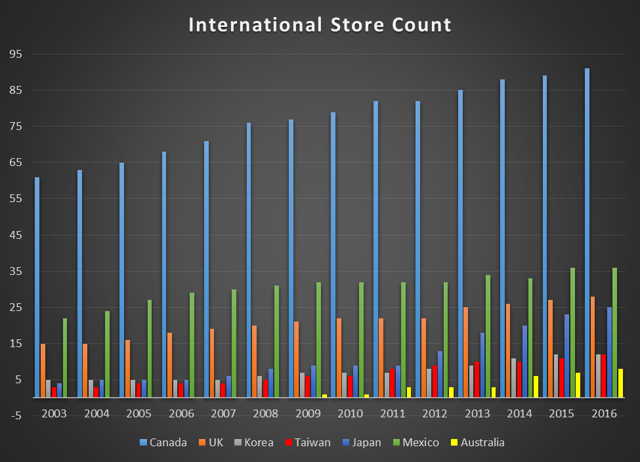 Figure 6: International stores by location. (Data taken from annual Costco 10-K filings)
As of fiscal year 2016, Costco operated 715 stores with 501 stores in the US, 91 in Canada, 28 in the UK, 12 in Korea, 12 in Taiwan, 25 in Japan, 36 in Mexico, 8 in Australia, and 2 in Spain. Costco has reported plans to open stores in 31 new locations in fiscal year 2017. This would represent an increase of 4 percent YoY. Therefore, the core strategy of incremental sales at existing locations with growth coming mainly from new store openings is still intact. We will see later why this is important.
Costco reports annual revenue split among the following three segments:
US
Canada
International markets
The annual revenue and operating income derived from Canada and the International markets segment is shown in Figure 7. The US segment metrics are shown in Figure 8 due to the large difference.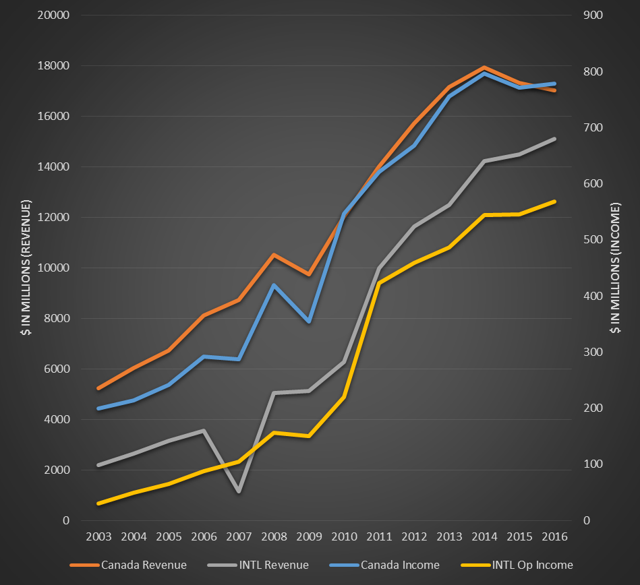 Figure 7: Revenue and Income of the Canadian and International segments over the years. (Data taken from annual Costco 10-K filings)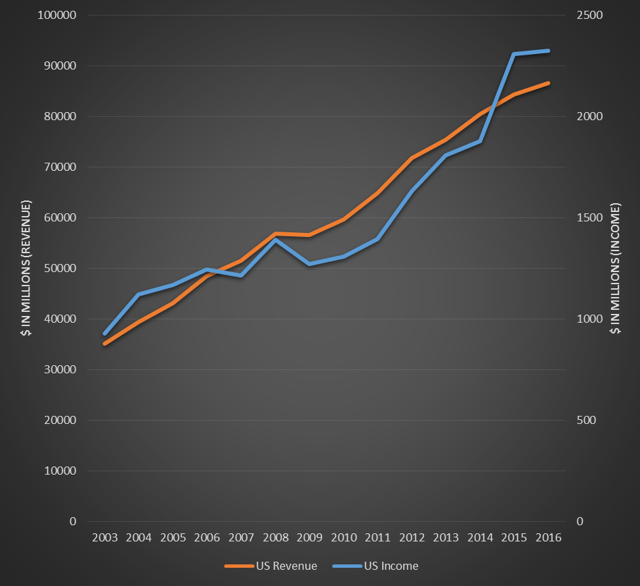 Figure 8: US Revenue and Income over the years. (Data taken from annual Costco 10-K filings)
Figure 9 shows the Canadian and International segments' revenue as a percentage of total revenue. This chart shows that the foreign segments have taken a greater share of the revenue and by extension the profits as well.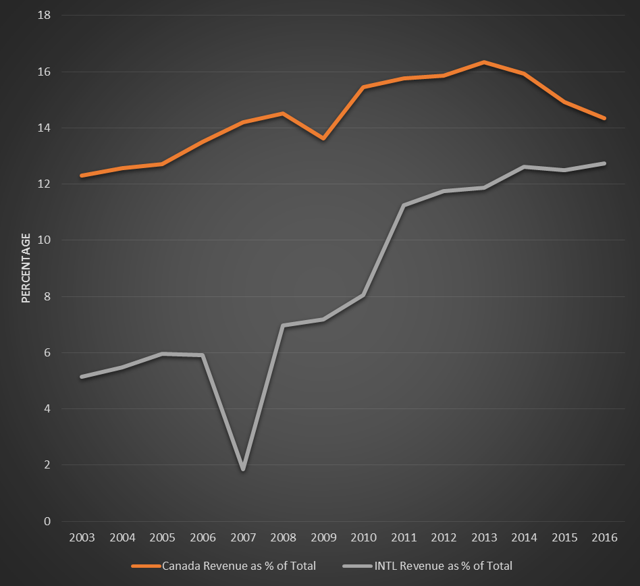 Figure 9: The Canadian and International segments' revenue as a percent of total revenue. (Data taken from annual Costco 10-K filings)
Post fiscal year 2010, International segments took off and started to increase its share of total revenue providing faster growth. The percentage of revenue contributed by the Canadian and International segments to the company revenue increased to a peak of about 28.21 percent in fiscal year 2014.
4. Declining Revenue Growth?
If Costco has such as great model, why has revenue growth been on a steady decline since fiscal year 2012? To understand this, let's take a look at the factors affecting Costco's revenue.
Forex - Game-Changing Tailwind/Headwind
Expansion to foreign markets is great for growth. However, this also increases the exposure of the company metrics to forex changes. Costco reports company earnings in US dollars. Therefore, forex variations may either increase or decrease the total revenue growth depending on the strength of the foreign currency to the US dollar. During periods where the USD shows weakness, income from foreign markets will benefit positively. Whereas, if USD shows strength, income from foreign markets will be negatively impacted.
Mexican Peso: The Mexican Peso has in general weakened against the USD over the years since 2003. Particularly since 2014, the Mexican Peso has weakened by more than 53 percent to date. This has been a major drag on net sales. Over the last few months, the Mexican Peso has declined quickly due to comments from president-elect Donald Trump about NAFTA. Look out for more of the same once he is in office. This could lead to more depreciation of the Mexican Peso. Additionally, the economy is reliant on oil revenue to some extent with 20 percent of the total revenue as of 2015. The Peso may see some strength should crude oil prices rise.
Canadian Dollar: The CAD appreciated over 42 percent against the USD from 2003 to 2008. However, turbulence struck in 2009 when it depreciated by over 40 percent before recovering all of it by mid-2011. However, since then the currency has depreciated by over 41 percent again. This trend can be clearly seen in the year-over-year revenue from the Canadian segment, which has declined since 2014 as the currency lost value steeply. The CAD may recover if oil prices continue to recover as the country has become increasingly dependent on oil revenues.
UK GBP: The UK pound followed a similar pattern to the CAD and has contributed in much the same way to the international revenue variation. However, here Brexit seems to be the main driver of GBP weakness.
Japanese Yen: Over the last four years, the number of stores opened in Japan has been almost doubled. In the last year, the Yen surged against the USD with flight to safety as the JPY is considered as a safety asset. This may have very well led to the increase in international revenue seen in 2016 along with store openings in other emerging areas for Costco.
All these factors contributed to a decline in revenue expressed in USD.
Gasoline - A Difference Maker?
Figure 10 shows the revenue from gasoline sales since 2004.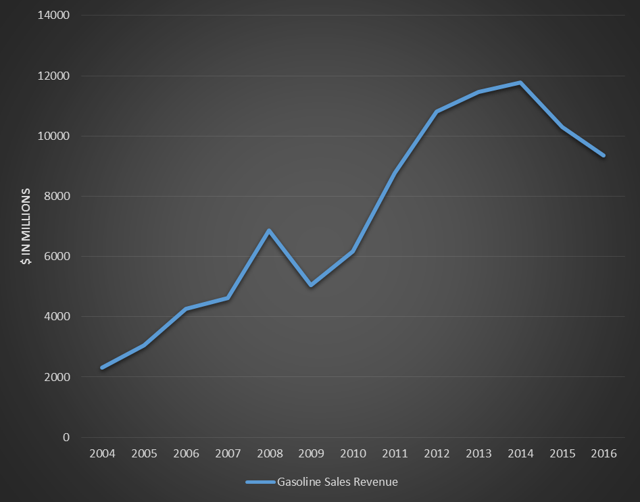 Figure 10: Gasoline sales revenue over the years. (Data derived from annual Costco 10-K filings)
Note: Gasoline sales are estimated from the data provided in Costco 10-K filings. These numbers were derived from multiple reports and hence the actual numbers may vary by a few basis points.
The YoY change in gasoline sales revenue since fiscal year 2005 is shown in Figure 11.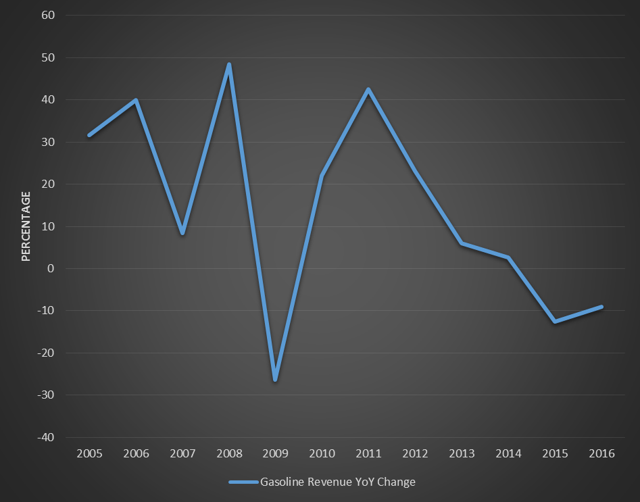 Figure 11: Gasoline Revenue YoY Change. (Data derived from annual Costco 10-K filings)
Anyone matching this chart against revenue and revenue growth chart will have realized that the patterns match. The total volume of gasoline sales increased 12.2 percent in fiscal year 2016. However, sales revenue decreased by 9.09 percent due to lower gas prices. While loss in revenue may seem bad, it is important to note the increase in sales. As gasoline prices rise, the sales revenue from gas sales will return quickly.
The first hit to revenue growth arrived in the form of slowing gasoline sales growth during fiscal year 2013. Additionally, depreciation of the Yen against the USD caused reduction in sales growth.
Fiscal year 2014 marked the beginning of gas deflation causing sales growth to stall. This also marked the beginning of the steep depreciation of the CAD, Mexican Peso, and JPY. Only the UK GBP provided any sort of relief.
Things just go from bad to worse in fiscal year 2015 with gas prices taking a massive hit due to a steep fall in crude oil prices. As a result, the USD appreciates rapidly against all the currencies mentioned before resulting in low- to mid-single-digit growth figures.
Fiscal year 2016 brings more pain as crude oil prices continued to fall sharply before reversing course and settling between 40 to 50 USD per barrel. Gas deflation continues as a result. The CAD depreciates further due to crude oil prices and general weakness in the Canadian economy. The Mexican Peso on the other hand takes a beating due to Donald Trump's election win and the uncertain future of NAFTA. The UK GBP falls due to the Brexit vote. The only currency that appreciated during this period was the JPY, providing some respite. However, these factors combine to reduce revenue growth to less than three percent. Brutal combination of these factors stumped growth of net sales to almost two percent.
5. A Stellar EPS Increase in 2014. How?
Strategic Store Expansion
It all goes back to the membership fee based wholesale retail model. By retaining almost 90 percent of members, incremental sales increases are driven at existing warehouses. By expanding strategically to new locations, bigger gains in net sales are created. The ability to focus on expansion knowing that your base revenue is unlikely to decline with the high retention rate is a huge benefit. Costco is still expanding at a fair clip. Management has plans to open as much as 31 new stores representing a 4 percent increase in the number of stores laying the ground work. First time store openings in France and Iceland are being planned for the current fiscal year. These could prove to be great areas for future expansion. Store expansions over the years is one of the key reasons that Costco revenue growth did not turn negative. Figure 12 shows how incremental sales plus new store openings improve revenue YoY.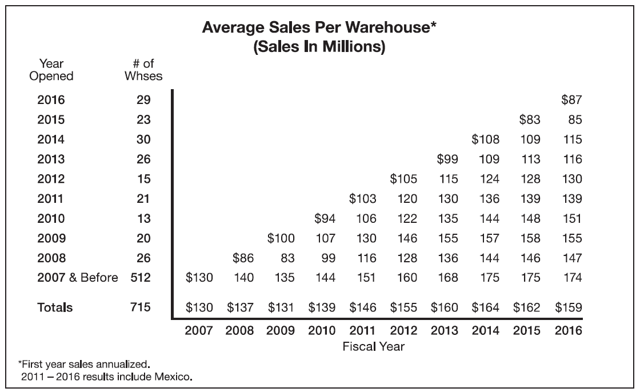 Figure 12: Average Sales per Warehouse. (Image taken from Costco 2016 Annual Report)
Growth of Operating Margin
A quick look at Figure 13 shows the reason for a spike in operating income despite slowing sales. The chart shows the expenses as a percentage of revenue (excluding membership fee) and the margin on goods sold from 2001 to 2016. The numbers above the blue line on the chart show the net difference between the two values, which is essentially EBIT as a percentage of net sales revenue.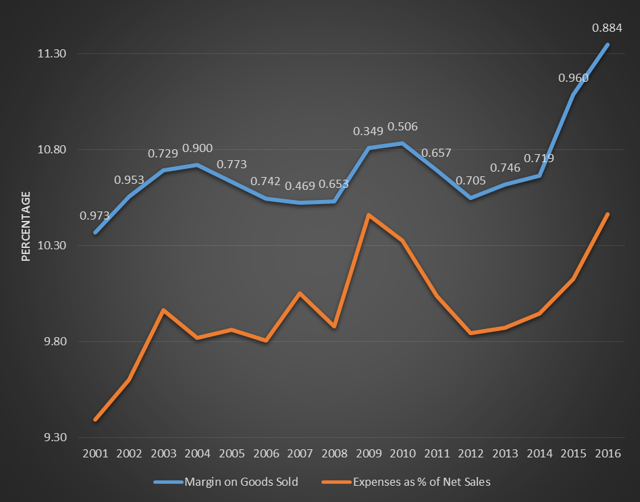 Figure 13: Margin on goods sold, expenses, and EBIT as a percent of net sales excluding membership fees. (Data derived from annual Costco 10-K filings)
In both 2007 and 2009, an increase in expenses was the primary reason for fall in sales profits. Fiscal year 2015 saw Costco enjoy a larger margin on goods sold and lower increase in expenses. This led to an increase in the diluted EPS from $4.64 to $5.37 (2014 to 2015). However, the expenses rose in 2016 due to expenses related to IT systems modernization (6 basis points) and non-recurring legal expenses (2 basis points). Of these two, the IT systems modernization impact is expected to be carried on to fiscal year 2017 also. However, it appears that margin can be expected to stay north of 85 basis points for the fiscal year. This may reduce if gasoline sales pickup more than expected, however, sales revenue would see a jump thereby having a positive impact on income. Add membership income on top of this and it will make for good reading. Analyst EPS estimates for the current fiscal year stand at $5.92 according to the research page for Costco on the Wall Street Journal website. Costco may very well be able to achieve this with bettering margins and decent growth assuming some of the headwinds switch direction. This brings us to "How should I trade the stock?"
6. The Valuation Conundrum
Costco is well positioned to take advantage of a stronger USD to make investments in foreign countries and enjoy the benefits when the dollar eventually weakens. Everything is cyclical and the headwinds that Costco currently faces used to be tailwinds. These will circle around again to tailwinds eventually, hence, the bullish behavior of COST's stock performance.
Having said that, Costco was trading at 163.86 as of December 21, 2016, after riding a boost from fiscal quarter one of 2017 and a stock upgrade from Citi. However, the stock is currently trading at a PE of 29.77, which to put mildly "is a teensy bit on the high-side". The five-year PE average of the stock stands at 26.60. Even if Costco achieves an EPS of $5.92 for fiscal year 2017, it would mean that at the current price, PE would be 27.67, which is still above the five-year average. Maybe investors would be willing to pay a higher premium if 2018 growth outlook looks positive. Tax benefits to companies by the Trump administration may also serve as a catalyst for EPS growth. On the flip side, trade wars may affect gross margins. Therefore, there are catalysts that can aid Costco. However, valuations suggest these factors are baked into the price already. It may not be a bad strategy to wait for a pullback from higher valuations, which may happen if Costco fails to meet investor expectations due to the factors described. If Costco whiffs on revenue or margins drop leading to an EPS lower than expectation, the stock could drop back towards/below $150.00, which would be an excellent buying range.
So, what factors are likely to drive prices in 2017?
7. Significant Price Movers
Crude Oil
The singular risk that can make Costco's headwinds last for a while is the price of crude oil. This is because of the obvious effect on gasoline prices and not so obvious effect on forex of oil dependent economies. Especially CAD, which can possibly provide a big boost to revenue and income growth if it appreciates against the USD.
The Organization of the Petroleum Exporting Countries (OPEC) has agreed to cut production in an attempt to speed up the process of market rebalancing. However, it does not come into effect until January and is set to be in place only for six months. There isn't enough clarity on whether all members will abide by the cuts. Additionally, out of the 1.2 barrels per day (bpd) proposed, 0.7 million bpd comes from suspending Indonesia from the cartel, which means they are really only cutting 0.5 million bpd. However, they have managed to strike a deal with non-OPEC producers such as Russia for production cuts. It remains to be seen how effective this deal will be in raising crude oil prices. Shale oil producers in the US are swimming in debt and will ramp up production to shore up revenues and profits. Therefore, these will serve as headwinds for oil prices. Additionally, it remains to be seen what Saudi Arabia will do if members do not adhere to the cuts. Will we see another round of price wars? Too many unknowns here. Crude oil is likely going to stay range bound unless we see a spike in demand coupled with supply reductions. It will take time to use up the inventory built up in the last few years as well.
If prices can stay at or above current levels, Q2 and Q3 of fiscal year 2017 will see gas inflation addition to net sales as the current crude oil price is more than twice the price of crude oil at its lowest levels. So, gasoline sales will likely assist 2017 sales provided crude oil maintains prices.
Forex Impact
The CAD may appreciate with increase in oil prices as the country has become increasingly oil dependent. However, general weakness in the Canadian economy and expectations of a Trump presidency seem to be holding it off from appreciating.
The Mexican Peso is probably in for a volatile time with president-elect Donald Trump set to take office on January 20th, 2017. His opposition to NAFTA may see both the CAD and Mexican Peso be affected.
The JPY is likely to depreciate with the Japanese economy looking like it may finally be seeing some growth. Unless global risks trigger a flight to safety, the Yen is likely to continue the path towards depreciation. The Yen has depreciated about 15 percent in the last three months alone. This is bound to have a negative effect on the international segment sales growth.
The UK GBP is dependent on Brexit to a certain extent. Very uncertain times here as well.
2017 may bring about a strong USD, which may keep the forex headwinds around for a longer time.
Forex will be an important factor in determining the level of growth at Costco. December sales are likely to see a neutral to positive impact from the CAD and JPY. However, the Mexican Peso and GBP will have a negative impact. Therefore, December sales are unlikely to show a pickup in revenue growth.
Membership Fee Increase
A membership fee is expected to come sooner than later. This could provide a boost to total revenue. However, this will likely have a positive impact distributed over a couple of years. This could see Costco's PE stay at a higher level.
8. Stock Price Expectation for the Next Year? Range Bound
Expectation for the stock is to stay range bound for the next year within $140.00 to $175.00. A breakout may be on the horizon depending on how 2017 unfolds. However, keep an eye on the factors mentioned in this article to ascertain whether the stock price is going to go up or down. The best way to trade the stock would be to follow the direction of the trend after monthly sales reports and indulge in short-term trades while looking out for signs of a breakout.
It appears that any fall into sub $150.00 is a great buying opportunity. Any spike above $170.00 could be a good shorting opportunity. As things unfold, the factors will be monitored and expectations for the stock will be updated in later articles. Hopefully, this article gave you enough data points and adds a new perspective on trading Costco the coming year. Have a great 2017 trading year.
Disclosure: I/we have no positions in any stocks mentioned, and no plans to initiate any positions within the next 72 hours.
I wrote this article myself, and it expresses my own opinions. I am not receiving compensation for it (other than from Seeking Alpha). I have no business relationship with any company whose stock is mentioned in this article.