Investment thesis
Despite the recent economic shock stemming from Modi's demonetization decision, India's long-term growth trajectory is likely to remain intact. With superior earnings growth track record and profitability of the Indian stock market, India-focused ETFs represent a unique long-term investment opportunity regardless of market conditions.
India's macroeconomic snapshot
Although several international institutions decreased India's growth outlook, long-term momentum of the world's seventh largest economy is definitely not poised vanish anytime soon. Last month, the World Bank cut its forecast for this year's GDP annual growth rate to 7 percent from its previous estimate of 7.6 percent, citing a deceleration in consumption and manufacturing due to the unexpected demonetization event and an ongoing slowdown in private investment and credit financing due to the mounting bad debt issues. Shortly after, this was followed by the IMF's update, which also counts with a lower GDP growth rate compared to its original estimate (6.6% vs. 7.6% earlier). However, as pessimistic as these forecast cuts might seem at a first glimpse, India's long-term growth story is not likely to change. Most of the negative consequences of Modi's currency reform have a short lifespan and are unlikely to materialize in the long run. Actually, over time, one should expect the exact opposite - several GDP-boosting benefits should arise. As the grey economy is assumed to shrink under the new system, banks deposits are expected to rise and spur economic growth through increased lending activities.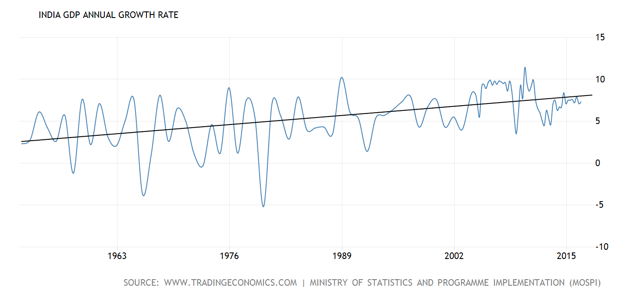 Strong earnings growth and profitability
Since the Asian financial crisis in 1997, earnings of Indian companies have grown faster than those of their foreign peers. According to calculations performed by Dr. Andrew Stotz, CFA, the average EPS growth in India has hit 16 percent since the turn of the millennium, while the average EPS outside India has reached a mere 9 percent. Moreover, in recent years, the EPS growth in the rest of the world has been even negative, while Indian companies managed to increase their earnings growth to 17 percent. In this regard, India is a rare exception.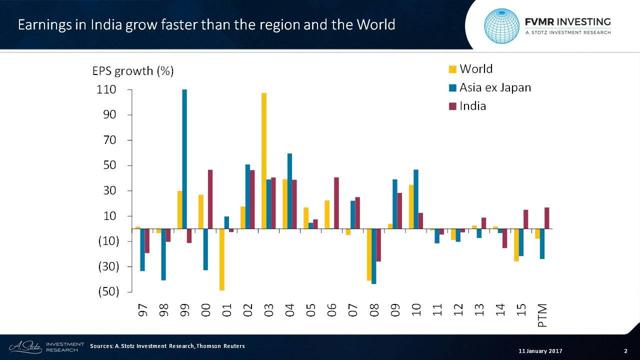 Source: Becomeabetterinvestor.net
Besides Indian higher than average earnings growth, Indian companies also have higher return on equity than the global average. The average ROE for Indian stock market, represented by a sample of 500 largest companies, amounted to 16 percent in the period from 1997 to 2015. In Asia, the same measure reached just 10 percent and the world average was just a one percent higher than that. Over the past twelve months, the top three sectors with the highest ROE were Information Technology (25%), Consumer Staples (23%) and Health Care (20%). Obviously, these are remarkable figures, despite the fact that they have a strong foundation in leverage engagement.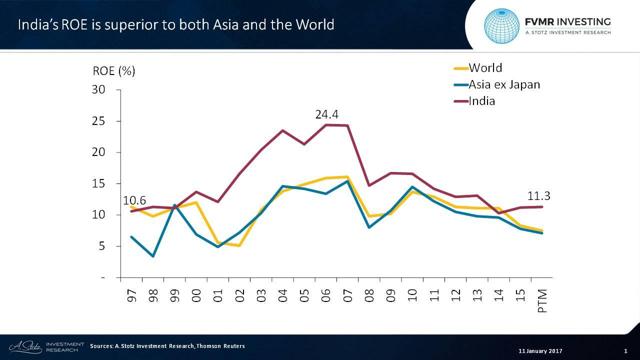 Source: Becomeabetterinvestor.net
Top Indian ETFs
Based on etfdb.com records, there are currently eleven India-focused exchange-traded funds. The three largest funds by total assets under management - the iShares MSCI India ETF (BATS:INDA), the WisdomTree India Earnings Fund (NYSEARCA:EPI) and the iShares India 50 ETF (NASDAQ:INDY) - have soared a little over 8 percent since the begging of this year. Surprisingly, while the S&P500 index has added almost 75 percent over the past 5 years, all three funds have gained only around 9 to 22 percent. Year-to-date, the best performing fund is the Direxion Daily India Bull 3x Shares ETF (NYSEARCA:INDL) with 26 percent gain at the time of writing this article.
Takeaway
Overall, Indian economy remains in strong shape and the revised GDP growth rate estimates are not a big deal in the long run as the vast majority of other countries can only dream of growing at such rates. With superior profitability characteristics and favorable demographic trends, Indian equities are well-positioned to be a long-term play. In order to find the best of the best of what India currently offers, I will screen, analyze and present the best investment ideas. As I have already committed to a perform a similar serial analysis for publicly-traded companies domiciled in China, please note that it is likely to be a several-month endeavor.
Author's note: To bring similar articles to your attention, please consider subscription of my SA feed by clicking on the ''Follow'' button at the top of this page, or alternatively, connect with me on Twitter.
Additional disclaimer: Please note that this article has an informative purpose, expresses its author's opinion and do not constitute investment recommendation or advice. The author does not know individual investors' circumstances, portfolio constraints, etc. Readers are expected to do their own analysis prior to making any investment decisions.
Disclosure: I am/we are long HDB.
I wrote this article myself, and it expresses my own opinions. I am not receiving compensation for it (other than from Seeking Alpha). I have no business relationship with any company whose stock is mentioned in this article.