Last week Northern Oil & Gas (NYSEMKT:NOG) reported their fourth quarter and 2011 results. Due to timing issues associated with tying in new wells (something previously talked about by numerous operators in the Williston Basin), production volumes were slightly light to Consensus levels but still notched record levels at 6,950 BOEpd, up 21% sequentially and up 87% from the year ago quarter. EBITDA too came in light to estimates at $39.1 mm (the Street was looking for $41 mm) and the stock has fallen nearly 9% since the day before the report.
Really that kind of move in E&P is generally what I'd call noise but I think in this case there are some misconceptions or lack of good data and I can't point to foolish stories on the web and comments on TV that show a lack of care with the facts.
The name has long been a favorite of the short side and while short interest has waned in recent months some die hard shorts and their more vocal on-air lap dogs tried to find something to complain about this quarter as well as making only grudging comments about the company's new auditors' clean bill of health statement and instead pointing to a comment made during the conference call about not providing quarterly guidance with the short mouthpiece saying that eliminating quarterly guidance is (insert super serious voice here) "ALWAYS A RED FLAG".
When I mentioned several other important aspects about the quarter and the call I was told by this voice of the shorts "don't blame me, I'm just pointing out the facts, it's what the company said that made the stock fall". Facts, eh? Since the commentator clearly wasn't on the conference call let me offer a few key points from the call and observations about the press release to help fill in some of his blanks.
First, one of the big short claims regarding the NOG story is supposedly accounting regularities with depletion and the use of a small, "no name" accounting firm that allowed this to happen. Northern moved to replace the firm with Deloitte and Touche as its auditor. Problem solved? Oh no, the shorts then countered that since quarters are not audited the issue wouldn't be put to rest until the 10 K was filed. And it was filed last week. And I quote:
We have also audited, in accordance with the standards of the Public Company Accounting Oversight Board (United States), the financial statements as of and for the year ended December 31, 2011 of the Company and our report dated February 29, 2012 expressed an unqualified opinion on those financial statements.

Deloitte & Touche LLP
So, to sum up point number one, there is nothing wrong with the way NOG has been doing its accounting (at least according to household name accounting Deloitte & Toche), there were no restatements of prior periods, and the depletion claims by the shorts were a red herring.
Second, EBITDA and EBITDA per BOE hit record highs during the quarter. The E&P business is one of drill and reinvest. Earnings tell you very little since depreciation and deferred taxes are large parts of what come out of revenues to arrive at net income and yet they are non cash costs. The cash costs of LOE, production taxes, and G&A, on the other hand, leave behind what an E&P has (along with cash, borrowing and or equity offerings) to use to drill wells and continue to grow. EBITDA per BOE remains strong with NOG reaping over $60 per barrel of oil equivalent produced and as such NOG's absolute EBITDA is growing right along with (actually better than) its volumes.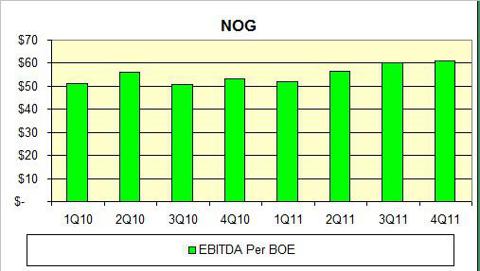 .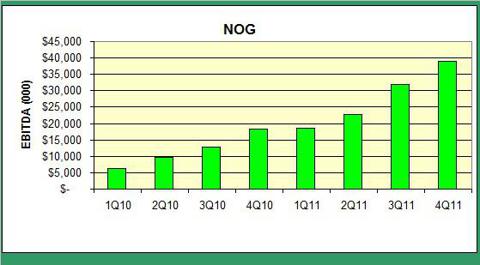 ... And its inline with (actually slightly better than) its peers. Notably, among NOG's other Bakken Players peers (NYSE:WLL), (NYSE:KOG), (NYSE:OAS) Northern came in second in terms of EBITDA per BOE this past quarter.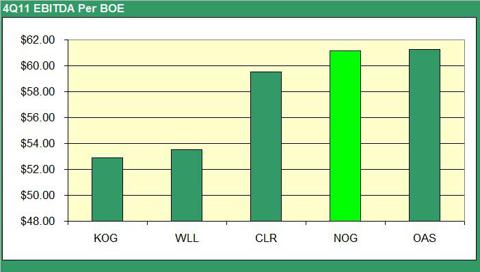 ... And How Does This Happen? By being involved with efficient operators (both public and private).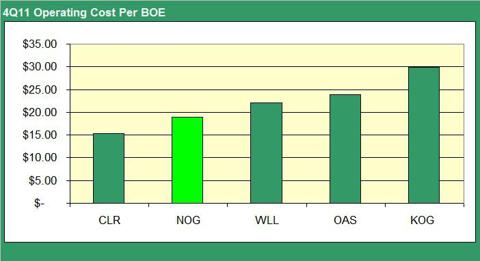 I saw no comment from the shorts on how high NOG's EBITDA is or how low their costs are, but in the interest of education that one's a freebee.
Third, the company actually is guiding, just not on a quarterly basis. On the call they said that they expect to double production this year over last year. Many companies don't guide on a quarterly basis. Are they all shady? GOOG comes to mind as one that doesn't give quarterly guidance ... oh yeah, what a horrible company that must be. But why would NOG, a company that once provided quarterly estimates shift to not providing quarterly numbers? That's a fair question. My response would be that quarterly estimates are fine for operators albeit a bit difficult to always make for the very reason that you have many unknowns in E&P and things that are simply beyond your control.
While unconventional resource players are often likened to manufacturing businesses and while this analogy makes sense in some ways (in that they are engaged in a repetitive task as they march rigs across leasehold drilling shale wells) there are some key differences from that, of say, a factory. They operate in the outdoors and weather is unpredictable. It can delay rigs from drilling or completion equipment from getting to the site for weeks or in some cases months. Second, equipment in the Williston Basin is in tight supply and in many cases time is shared between operators. Wells are drilled in advance and then the frac spread arrives. Delays at one well at one operator's site can trickle through the system to yield delays for several other operators. Supplies can arrive behind schedule as well from tubulars to sand leading to the same delays.
Moreover, since NOG is a non-operator they have no control of when the rig or the frac spread arrives. Sometimes situations arise where the Basin is backed up on completions like we saw in the first half of last year due to flooding. As the weather improved and frac spreads worked through the drilled but not yet completed well inventory in some cases they would preferentially complete higher working interest wells first, as the operators tried to make their own quarterly guidance.
In the near term this can work against the non-operator (as it did in 3Q) but this situation reversed in 4Q with NOG completing a record 14.9 net wells in the quarter. Over time, the non-operated model has proven to be simple and low cost but results in any one quarter could be high or to the simple straight line modeling of analysts. And over time the models have generally worked as promised.
Here's a chart of what NOG's production growth profile looked like when the shorts launched their attack in the Spring of 2010.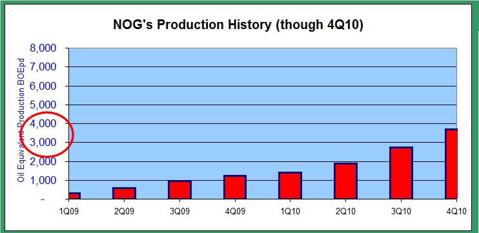 And here's what it looks like now.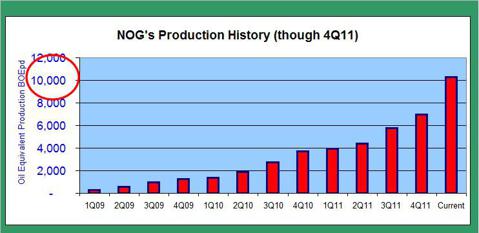 Fourth, Proved Reserves Nearly Tripled. No mention by the shorts, but NOG's proved reserves were up 198% to 46.8 MMBOE in 2011 with 1,700% production replacement. On an organic basis NOG actually led the aforementioned peer group for 2011 only falling behind KOG on an absolute basis and some of KOG's announced 2011 acquisitions (the September but not the November acquisition) were included in the 2011 year end reserve report. While NOG has recently added an in house reserve engineering capability, the reserves as usual were engineered by Ryder Scott, one of the most reputable firms in the business.
Fifth, NOG's Credit Facility Was Greatly Expanded. Northern announced their senior credit facility was expanded to $750 mm with an initial borrowing base of $250 mm from prior levels of $500 mm and $250 mm respectively. The borrowing base expansion is a major accomplishment for them and I'm looking for two more things to happen later this year. First, they will release a mid year reserve report again that will likely show growth in step with or a bit higher than production growth. By then, their in house reserve engineer should be able to put together a case to push back against Ryder's conservatism so that's a bonus as well.
Second, the borrowing base will rise as the reserves do. Probably after that, they will term out their debt and there is the real possibility of an MLP as a source of funds in 2013. My kingdom for an analyst willing to talk about appropriate capital structures and not all the ones in the E&P space who seem to be so leery of the smallest whiff of debt on the balance sheet. One short story that has emerged since the call is the supposed need for an equity offering this year and they point to increasing use of the revolver as reasoning. I'd look for a high yield deal well before I would expect to see new equity unless the company decides to make a large acquisition.
However, I'm not necessarily opposed to an equity offering to reload the financial arsenal this year either as many a NOG competitor has fired off multiple offerings since NOG's last secondary. The company, however, is apparently opposed to such a deal and the company has said it won't happen in 2012 again unless they are after a large acquisition.
Sixth, NOG remains overly cheap to peers on acreage. NOG is trading at $9,413 per "straight" acre (vs someone like KOG who trades at $20,000). On a 4Q production adjusted basis, they are trading at $4,995 per acre (based on a $100,000 per flowing barrel adjustment), (vs KOG trading at $15,458 on the same basis). To be sure, KOG is an operator, but should the non-operator discount be so steep? The barrels produce and the spend the same way and NOG has lower costs.
Nutshell. The shorts continue to sling mud but the company's activities are proving to be a non stick surface. Production, EBITDA and reserves continue to ramp sharply and the company continues to add acreage in the basin in the right places to get drilled by the leading operators in the play. Despite NOG's multi-faceted growth their share price has lagged their peers over the last year as the shorts, who never let facts get in the way of a good short story, grind away at the stock. Speaking of grinding away, we'll end with one last chart, that of short interest which seems to show some shorts are losing interest or maybe seeing the light.