Last Time Out
In our last two missives, "Left And Citron: The Boy Who Cried Wolf?" and "Left, Lawyers, Grizzlies And Money, Oh My!," we Nattered regarding short activists, and their affect and effect on valuations.
Does one still wonder why Ubiquiti? why now? Or what underlying circumstances might have caused the UBNT, Citron situation to manifest itself? Or how investors could accidentally get caught up in such a series of unfortunate events?

As Violet Baudelaire said, there's always something. After traversing this long and dusty trail, replete with bear activists, shareholders, lawyers, grizzlies and money, Oh my! We are somehow reminded of this.
On Tuesday 09/12 Ubiquiti was $59.81, by that Friday it closed down 8% at $54.95. The following Monday 9/18, upon the release of Citron's report, the stock fell another 13% to $47.78. Ubiquiti has since rebounded to close at $60.32 on 10/14.
Apparently, in light of the Citron allegations and subsequent investor reevaluation of such, the stock has surpassed the pre-report valuation. This constitutes a 21% decline and rebound, or 42% valuation fluctuation in the space of 23 trading days.
One can only speculate as to who profited from the 8% "pre-report" decline and subsequent 34% in valuation fluctuations. Who knew? Moving West...
Speaking of fluctuating valuations and rebounds, we offer you now a little item called...
Whip It
"Whip It" is a new wave and synth-pop song by the American rock band Devo, featured on their 3rd album Freedom of Choice (1980). Due to its nonstandard tempo and strange lyrics,"Whip It" was not expected to be a hit.
It's hard to find anyone between the ages of 30 and 50 who does not have a vivid recollection of "Whip It," the kind of unusual track that made listeners want to bop their heads and break into a herky-jerky dance.
Peaking at #14 on the Billboard Hot 100, "Whip It" became a major hit. Lead vocalist Mark Mothersbaugh wrote the song's distinct riff, which was based on the Roy Orbison song "Oh, Pretty Woman". The lyrics for "Whip It" appear disjointed and nonsensical.
Even though most of the listening public took "Whip It" as just a catchy bit of weirdness with nonsensical lyrics about a vaguely sexy topic, the song's actual purpose like much of Devo's work was social satire.
Putting the somewhat abstract lyrics together, "Whip It" emerges as a sardonic portrait of a general, problematic aspect of the American psyche: the predilection for using force and violence to solve problems, vent frustration, and prove oneself to others.
when something's going wrong, you must whip it/when a good time turns around, you must whip it/you will never live it down unless you whip it
Apropos we think, for tonight's discussion of rebounds in oil prices, fluctuating valuations in related equity prices, and the subsequent whipping of something going wrong (costs and breakevens) into shape.
The Holy Land
As we have Nattered previously at length (list of missives provided at conclusion), since 2014, shale or tight oil is driving a new paradigm industry wide, resulting in declines in both onshore and offshore costs. As a result, many shale companies have been drilling holes like a sailor in a brothel.
More holes, more money, some put out, some not so much, some futures (DUCs -- drilled but uncompleted wells) one may never know. Potential problems include the rights (location, overall play), recon data (intel), well decline rates and drilling skills.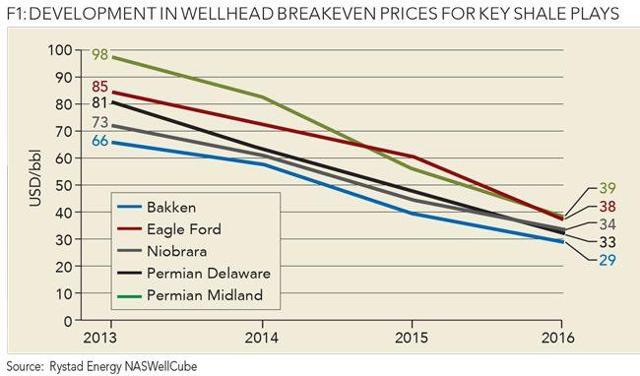 Above, the decline in well head BEP or breakeven points since 2013. All below $40 and sub $30 in the Bakken. As we will show later, well head BEP does not present the full picture.
What's it all about? The ability to efficiently and effectively, get it up, get it in, get it on, get it out, get it off and move on to the next hole to take another money shot, all the while hoping its a gusher, viz. your rig can shake that money maker loose.
Economics
Depending on the economic methods used, sometimes things are not quite what they seem. As we have discussed before, there are many methods and metrics used for breakevens. Full cycle: everything. Single well: excludes lease acquisition and includes a portion or well share of pad facility cost.
Oft used of late is point forward: viz. an existing backlog which can be completed with breakevens of LT $XX/bbl. Usually based on average cost assumptions, includes the cost of the frac, flow lines, operating costs, royalties and taxes. Other considerations, variability between operators within a play, viz. legacy or federal leases may have a 12.5% royalty, while new leases have 25%.
In addition, YMMV -- your mileage or well performance may vary, the curves presented are not median estimates, perfection is oft advertised, while only average or sub par performance are delivered. Much like the sailor drilling in the brothel, when being propositioned for an oil industry investment, an investor will often hear "my holes are better."
Moral of the story? One needs to be wary of the presentation, prospectus or how companies advertise their well economics, performance and costs. Ultimately, the attractiveness of a project and it's breakeven, depend on when, what, where and how.
July 2017 - Deepwater Breakeven Falling to $50
Declines in deepwater breakevens have created an interesting situation.
Transocean (RIG) - the breakeven is NOT $50 for Deepwater operators - more like $60. - Latchdaddy
That raises some questions: Can most attractive global deepwater projects now compete with U.S. shale? Do offshore and deepwater oil drillers need higher oil prices to present intrinsic value?
Wood Mackenzie estimates that, on average, global deepwater project costs have fallen more that 20 per cent since 2014. Assuming a 15 per cent internal rate of return hurdle (NPV15), five billion barrels of pre-sanction deepwater reserves now breakeven at US$50/boe or less. - JWNEnergy
Flashback 16 months...
January 2016 - Support Above $70
Half of production from future developments is uneconomic at US$60/bbl Brent Deepwater and ultra-deepwater projects sit high on the cost curve and are at greatest risk of delay. Onshore, tight oil and shallow water projects typically have the most robust economics. Breakeven analysis provides support for an oil price floor in the longer term of above US$70/bbl - Wood MacKenzie
Said $70 support level for deepwater projects appears to have declined. Have competitive pressures from tight oil, and declining then rebounding oil prices, fostered more efficient and effective methods and a reduction in costs? Thus making those uneconomic or less attractive projects, seem worthy? The above begs an examination of recent breakevens.
Offshore Breakevens
Below a list of offshore breakeven prices as of November 2016. The average breakeven prices of some offshore developments are in the $40s/bbl, with a range of $11-$88/bbl.
In the Middle East, offshore developments are about $26/bbl in the Persian Gulf.
In U.S. GoM (Gulf of Mexico), conventional shallow water developments at about $22/bbl, and conventional deep and ultra-deep developments are $37/bbl. The GOM Lower Tertiary developments at $55/bbl average with a range of $42-$88/bbl.
In Northwest Europe, conventional shallow water and deepwater developments are in the $30s per barrel, while deepwater heavy crude projects are about $47/bbl.
In Latin America, shallow water heavy crude oil developments and conventional deepwater developments are both at $32/bbl. The conventional ultra deepwater project is relatively high at $49/bbl.
In Asia-Pacific, conventional shallow water and deepwater projects at $37/bbl and $56/bbl, respectively.
In West Africa, shallow water conventional and heavy oil developments are both at $36/bbl, and deepwater and ultra-deepwater developments are at around $54/bbl.
Onshore Breakevens
Below is a list of on shore breakevens by project type as of November 2016.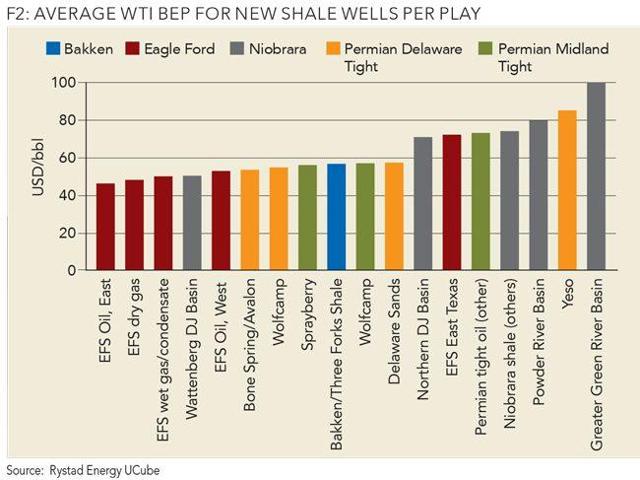 Courtesy OGFJ
Above, as opposed to the sub $40 wellhead BEP, US shale oil plays have a weighted average breakeven price of about $51/bbl.
Canadian oil sands, are at about $57/bbl, with a range of $36-$100/bbl. Brazil pre-salt developments at $36/bbl in a range of $29-$49/bbl. Heavy crude oil developments (projects with crude oil API lower than 25) at $32/bbl.
In the Middle East, conventional onshore projects at about $8/bbl. Heavy oil developments are a little bit higher at $14/bbl.
In Asia-Pacific, onshore conventional projects, heavy crude at $13/bbl and $30/bbl, respectively.
March to April 2017: A Decline in Deepwater Breakevens
Since January 2016, some deepwater project costs are down by a fifth:
The energy research firm believes unapproved deepwater projects that could reach some 5 billion barrels of oil would yield investment returns at $50 a barrel oil. Some oil companies have cut the breakeven costs of projects in the Gulf of Mexico from $70 a barrel to $50 a barrel oil. - FuelFix
The above assumes a 15% internal rate of return hurdle (NPV15). Some deepwater projects are closing the cost gap with tight oil plays.
Projects in the U.S. Gulf of Mexico in particular have made significant strides, with many reducing NPV15 breakevens from above $70/boe to below $50 per boe. - World Oil
At Shell, can a new deepwater project breakeven below $40?
Calling the project an 'attractive near-field opportunity,' the international major said it will be competitive at oil prices below USD 40 per bbl. - SPE.org
June 2017 - Deepwater Vs. U.S. Tight Oil
In comparison to U.S. tight oil, are deepwater projects bouncing back? Can deepwater be competitive with tight oil shale at $50?
Even though many players have exited the deepwater sector to focus on US onshore, we believe deepwater can compete with tight oil for major investments. The outlook for new FIDs remains challenging, but the first quarter of 2017 saw three projects sanctioned - two in the Gulf of Mexico, one offshore Israel - and all have breakevens below US$50/boe. - Wood Mackenzie
Many players have exited. Those three deepwater projects with majors were Mad Dog Phase 2, Kaikias and Leviathan. What is affecting project economics estimates?
This is not just the result of cheaper rig day rates. Of far greater impact are the steps the industry in the Gulf of Mexico and elsewhere have taken to re-evaluate project designs and improve well performance. We are now seeing scaled-down projects emerge with less wells, more subsea tie-backs, and reduced facilities and capacities-and this all translates into lower breakevens. - Angus Rodger
Crack That Whip
To summarize, some Gulf of Mexico deepwater project breakevens have gone from 70 to 50 viz. Mad Dog Phase 2, Kaikias and Leviathan are all under 50, and a new Shell project hit 40. How are those majors BEP's coming down? Crack that whip…
Drilling rigs are generalized in two categories. Floaters can float and operate in up to 2 miles of water, while jackups are based from the ocean's floor, so they can only operate in a couple hundred feet of water. One can see the going rates at IHS Markit.
Below, contract dayrate and utilization for the ultra-deepwater drillship fleet. Since late 2014, daily price has declined roughly 38% to $420K, so some offshore deepwater drillers are feeling a bit of squeeze.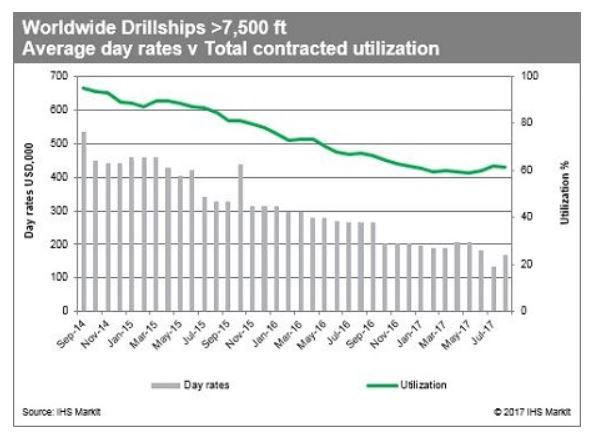 In addition, there are other factors, re-evaluation of project design, improved well performance, scaled down projects emerge with less wells, more sub-sea tie backs, and reduced facilities and capacities, all translating into lower breakevens.
In closing, of late onshore and offshore BEP's are coming down, and it really still depends on where, what and how. Location, nature of the project, age of the asset, the commercial, tax, and regulatory regime it resides in, all can make a substantial difference in breakeven costs, and have influenced what assets companies are retaining in their portfolios viz. portfolio high grading.
We have witnessed a confluence of events, a rebound in oil prices, fluctuating valuations in related equity prices, and the subsequent whipping of something gone wrong into shape (resulting in lower costs and breakevens).
Perhaps these developments will lead to increased investment in offshore and deepwater projects, driving further production, BEP declines, and a "leveling" of the playing field for two upstream assets - tight oil and deepwater. TBD.
Is this a double-edged sword? Many players have exited. A reduced number of competitors in the pool, with limited capital resources directed towards the leaner lower BEP threshold, might cause fewer projects to be developed? TBD.
In either environment, do offshore and deepwater oil drillers need higher oil prices to present intrinsic value? Much like an oil company asset portfolio, it depends on who, what, where and how. The mix of fleet age, water depth, duration and contract terms of a drillers portfolio, must be examined.
Oil breakeven and pricing directly effects the production and transportation cost of everything in the global supply chain. An increase in offshore production could lead to a long term stabilization at sub $55 per barrel.
Such a development would be advantageous from a supply chain pricing, inflation, spending, income, demographic and macro standpoint.
For further analysis of BEP's we recommend:
Offshore and onshore breakeven prices - StratasAdvisors
"Understanding The Current Market Environment In The Offshore Drilling Industry - August 2017 Edition" - Power Hedge
For further analysis of the new oil supply and pricing paradigm we recommend:
Whip It? excerpts from Wikipedia and tip o the hat to Steve Huey - AllMusic.
Happy Trails
Hope you folks enjoyed yourselves, catch you later on down the trail. Would like to thank you folks fer kindly droppin' in. You're all invited back again to this locality. To have a heapin' helpin' of Nattering hospitality. Naybob that is. Set a spell, take your shoes off. Y'all come back now, y'hear!
This is our 132nd in a series of thematically related missives that will attempt to identify the macroeconomic forces with potential to adversely effect capital, commodity, equity, bond and asset markets.
I wish to dedicate this missive to one of my mentors, Salmo Trutta, who is a prolific commenter on Seeking Alpha. Without Salmo's tutelage, and insistence on not masticating and spoon-feeding the baby ducks, as in learning the hard way by doing the leg work and earning it, this missive would not have been possible. To you "Proximo"... "win the crowd and win your freedom" - Spaniard.
Market Plays
As for how all of the above ties into the potential and partial list of market plays below, the market as a whole could be influenced, and this could tie into any list of investments or assets. Those listed below happen to influence the markets more than most.
There are many macroeconomic cross sector and market asset correlations involved that affect your investments. Economic conditions, the eurodollar, global dollar debt and monetary policy all influence the valuation of the above and market plays below, via King Dollar's value, credit spreads, swap spread pricing, market making, liquidity, monetary supply and velocity, just to name a few. For a complete missive series listing covering those subject and more, click here.
The potential global economic developments discussed in this missive could affect numerous capital and asset markets, sectors, indexes, commodities, forex, bonds, mutual funds, ETFs and stocks.
A List of Additional Potential Market Plays (Long or Short)
Baker Hughes (BHGE); Transocean (RIG), Seadrill (SDRL), Diamond Offshore (DO), Noble Corp. (NE), Ensco (ESV), Halliburton (HAL), Total (TOT), Royal Dutch Shell (RDS.A) (RDS.B), Exxon (XOM), Chevron (CVX), Eni SpA (E), BP (BP), and Rowan (RDC).
Disclaimer: Investing is an inherently risky activity, and investors must always be prepared to potentially lose some or all of an investment's value. Past performance is, of course, no guarantee of future results. Before investing, investors should consider carefully the investment objectives, risks, charges and expenses of an investment vehicle. This and other important information is contained in the prospectus and summary prospectus, which can be obtained from the principal or a financial adviser. Prospective investors should read the prospectus carefully before investing.
Disclosure: I/we have no positions in any stocks mentioned, and no plans to initiate any positions within the next 72 hours.
I wrote this article myself, and it expresses my own opinions. I am not receiving compensation for it (other than from Seeking Alpha). I have no business relationship with any company whose stock is mentioned in this article.
Editor's Note: This article covers one or more stocks trading at less than $1 per share and/or with less than a $100 million market cap. Please be aware of the risks associated with these stocks.