** Most of the companies described herein - except Cronos (CRON) - trade primarily on Canadian exchanges. There are OTC versions listed for most of them, but the Canadian-traded equities will have better liquidity.
Recreational cannabis will be legal in Canada shortly after July 1, 2018 (perhaps in August). This has caused a gold rush of sorts into the industry as companies enter the space, rapidly expand production, and prepare for the beginning of what could be an $8 billion market, according to my own estimate.
"There's no exact date but, if you do the math, you'll see it won't be July 2018," [Canadian Health Minister Ginette] Petitpas Taylor told reporters Thursday. "Cannabis legalization is not about a date, it's about a process ... We want this process done as seamlessly as possible."
Cannabis will be legal nationally perhaps in August. However, distribution and retail will be handled at the provincial level rather than the national level. In most provinces, cannabis will fall under jurisdictional and distribution rules, similar to the rules currently in place for alcohol. Trina Fraser, a partner at an Ottawa law firm, maintains a very convenient summary chart of the rules in place in each particular province and territory.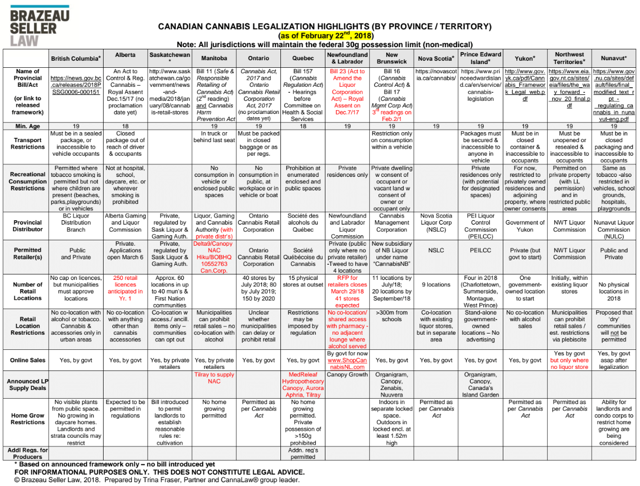 Source: Trina Fraser's Twitter (link to PDF)
In four provinces so far, the government organization responsible for cannabis has ordered a large amount of cannabis from a small number of cannabis producers.
| (Orders in kg/year) | NFLD | PEI | NB | QC | Total |
| --- | --- | --- | --- | --- | --- |
| Total Orders | 8,000 | 3,000 | 15,500 | 62,000 | 88,500 |
| Canopy Growth (WEED.TO, OTCPK:TWMJF) | 8,000 | 1,000 | 4,000 | 12,000 | 25,000 |
| Hydropothecary (THCX.TO, OTC:HYYDF) | | | | 20,000 | 20,000 |
| Aphria (APH.TO, OTCQB:APHQF) | | | | 12,000 | 12,000 |
| MedReleaf (LEAF.TO, OTCPK:MEDFF) | | | | 8,000 | 8,000 |
| Organigram (OGI.V, OTCQB:OGRMF) | | 1,000 | 5,000 | | 6,000 |
| Tillray (private) | | | | 5,000 | 5,000 |
| Aurora (ACB.TO, OTCQX:ACBFF) | | | | 5,000 | 5,000 |
| Zenabis (private) | | | 4,000 | | 4,000 |
| Nuuvera (NUU.V, OTC:NUUVF) | | | 2,500 | | 2,500 |
| Canada's Island Garden (private) | | 1,000 | | | 1,000 |
Centralized ordering of this manner favors large producers which are able to secure high market share in these emerging markets.
The effects here could also be long-term, even if the market opens up in the future. For example, cannabis users in Newfoundland are likely to find their favorite Canopy Growth products during the time period when Canopy is the only cannabis product in stores (or the predominant product). When other competitors do enter that market, it may be tougher for them to get market share from Newfoundlanders who already enjoy a specific Canopy Growth product. This effect will be even stronger if exclusivity lasts until edibles are legal - edibles are likely to be less fungible than dried flower products. As much as a user might enjoy Boaty McBoatface, dried cannabis products are quite fungible when adjusted for strain and strength.
These MOUs are a large factor in my current cannabis investing strategy - I like Hydropothecary a lot in large part due to its large Quebec order. I also expect that Quebec will need to increase its order size, as its per capita order is much lower than other provinces and than projected cannabis use.
Ontario has a different plan
While Quebec and three of the Atlantic Canadian provinces have ordered from a select group of cannabis producers, Ontario is following a different path.
"I feel that every LP is going to have a chance to supply the LCBO," [John Fowler, chief executive of The Supreme Cannabis Company (OTCPK:SPRWF)] added. "There was a commitment to be an equal opportunity retailer, whether you're big or small, in British Columbia or P.E.I."
The Financial Post reports that Ontario's plan will instead allow a wide variety of small producers rather than concentrating on the products from a select number of larger producers. This may potentially allow a much wider variety of cannabis producers to participate in the Ontario market when compared to other provinces.
Even Quebec - the second most populous province after Ontario - ordered from only six providers. Meanwhile, Ontario's meeting was attended by representatives from over 60 licensed producers of the 90 licensed producers that were invited. Residents of Ontario could end up having a much wider selection of cannabis available to them than residents of other provinces.
I also expect that most of Ontario's cannabis sales will be made online on its Shopify-based platform (SHOP).
Ontario, a province with 14.2 million residents, is expected to have only 40 cannabis retailers at the launch of recreational cannabis in 2018. That number is expected to grow to a mere 150 by the end of 2020. This is an absolutely minuscule amount for such a large province (920,000 km2). For comparison, Ontario has 872 LCBO stores and LCBO agency stores selling alcohol, which serve 53.2% of the alcohol market in the province.
Ontario estimates the size of its alcohol market at $11 billion. Taking this figure at face value, it implies ~ $6.6 million in sales per LCBO store and agency store. For the sake of comparison, say that the Canadian recreational cannabis market is $8 billion by 2020. Based on population, that would imply the Ontario market is ~ $3.1 billion. Even with 150 stores, this would imply sales of $20.6 million/store - three times the sales at LCBO stores. Expecting Ontario cannabis stores to sell 3x the volume of liquor stores is unrealistic, as is expecting 150 (much less 40) stores to service 14 million people spread out over nearly a million square kilometers.
Based on the large number of brands available and the prevalence of online sales, I would expect that Internet marketing will play a big part in which cannabis companies are successful in Ontario. The value of packaging and in-store marketing will be lessened if the majority of consumers are not entering physical stores to pick up cannabis. Having a clearly-defined and effective Internet marketing plan is likely to be very important for market share in Ontario since traditional media marketing is unlikely to be permitted.
Canopy Growth Jumps on NASDAQ Rumors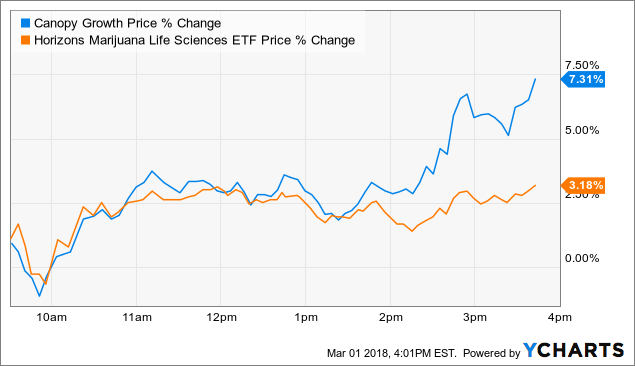 Canopy Growth is the largest cannabis producer in Canada. The company has 25,000 kg/year in signed MOUs - the most of any Canadian cannabis company. It has also signed MOUs with each of the four provinces that have MOUs signed, the only company to accomplish this feat. Further, it is part of a group, with Delta 9 Cannabis (NINE.V, OTC:VRNDF), that has one of the four retail licenses in Manitoba.
On Thursday afternoon, Canopy Growth jumped on news that it will seek to list on the NASDAQ in the future, as published at Vice:
According to a note by Beacon Securities analyst Vahan Ajamian, Canopy Growth Corporation CEO Bruce Linton made clear his intention to list on the Nasdaq at an Economic Club of Canada lunch Thursday afternoon in Toronto, adding that Canopy had in already been preparing to list on the exchange since October 2017.

That plan was temporarily shelved "as the deal with Constellation Brands Inc. was heating up, and to not introduce any complications to completing it," wrote Ajamian.

"Now that the Constellation partnership is fully up and running, listing on the Nasdaq seems to be back on the front burner for the company."
This could be great news for Canopy Growth. The first Canadian cannabis company to list on any major US market was Cronos Group, which began trading on the NASDAQ on Tuesday.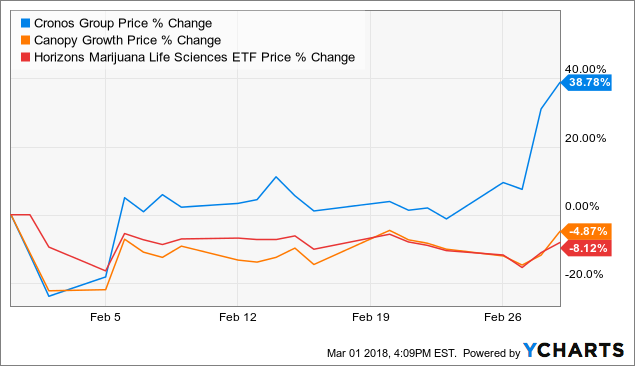 American traders who are unable to purchase shares on Canadian exchanges are hungry for chances to invest in the Canadian market. Investors have poured money into CRON, driving shares up 39% over the past month. In contrast, the broader cannabis market (HMMJ.TO) is down 8%. Canopy Growth could see a similar jump in the future, if it is able to list on the NASDAQ while American investors remain hungry to invest.
Conversely, if Canopy Growth and others are able to list on major U.S. exchanges, this could prove detrimental to CRON's shareholders. CRON's jump in price was not matched by the broader Canadian cannabis market. Its shares currently trade at a premium relative to the rest of the Canadian cannabis market, and it is unlikely this premium will be permanent, especially if other Canadian cannabis companies become more widely-traded in the United States. I don't plan to invest in CRON since I fear that the NASDAQ premium may fall off the stock sooner or later.