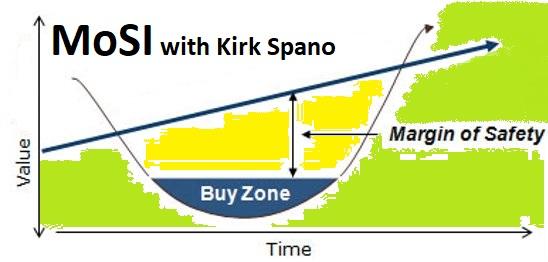 Former Fed Chair Janet Yellen on several occasions discussed the transitory impact of low oil prices on inflation. She noted in late 2014 and early 2015, that the drop in oil prices had a "major impact" on inflation and would prevent inflation from rising to the Fed's 2% target temporarily.
Today, myself, JPMorgan (JPM), Goldman Sachs (GS) and others are projecting oil prices to rise to around $80 per barrel by summer. What impact would that have on inflation and the economy? The answer is surprisingly little. The impact on the stock market though, could be far more dramatic.
Rising Oil Will Raise Inflation, But Not Much
According to the Fed: "... it seems to make sense that oil prices explain a lot of the variation in inflation because many industries consume oil, often for transportation..."
This is a pretty basic concept. Oil is a shade under 4% of domestic GDP. If the price of oil rises 25%, that theoretically drives about a 1% increase in inflation if there are no offsets elsewhere. Of course, there will be offsets.
Many businesses do not pass on the entire cost of the increase in oil prices, by shrinking their margins. The assumption is that consumers are very price sensitive. While that might or might not be entirely accurate on a business by business analysis, it does impact behavior nonetheless.
Fed studies have shown that with the supposed 25% increase in oil prices that others and I are projecting, the reality is only 20-30 basis points would likely pass through to the CPI (Consumer Price Index). A relatively minor amount.
The converse is also true for oil. If the price of oil falls, as Tony Seba and Raoul Pal suggest to below $40 per barrel again, then we could see inflation decline by 20-30 basis points. Again, important, but not overwhelmingly consequential.
Oil's Goldilocks Level Is About $80 Per Barrel (For Now)
In an economy 70% consumer-driven, rising oil prices can have an impact on economic growth. However, "prices at the pump" do not hamper consumer spending at the projected levels of around $3 per gallon for gasoline.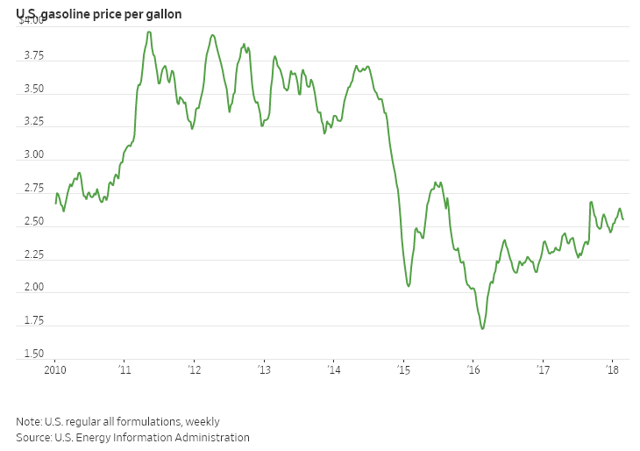 WSJ
According to JPMorgan's study "How Falling Gas Prices Fuel the Consumer," about 80% of the money saved, about $700 per year per consumer, from the fall in gas prices in late 2014 and early 2015 went to spending.
The average gasoline price had fallen from $3.70 per gallon to about $2.20 per gallon during that time frame. So, a rise to $3 per gallon would imply that about half of that gasoline savings money would no longer be spent on other things. Let's note though that after the summer driving season, oil prices probably fall a bit.
Consider that employment is high, wages are rising ever so slightly, people hate to cut spending and the impact of tax cuts. Consider too that folks do budget for their vacations (maybe not for retirement, but definitely for vacations) mitigating any spending impact of higher gasoline prices. Add those to high consumer confidence and I think the economic impact of higher oil prices will be very subdued - at least until there is some other financial pressure asserted on consumers.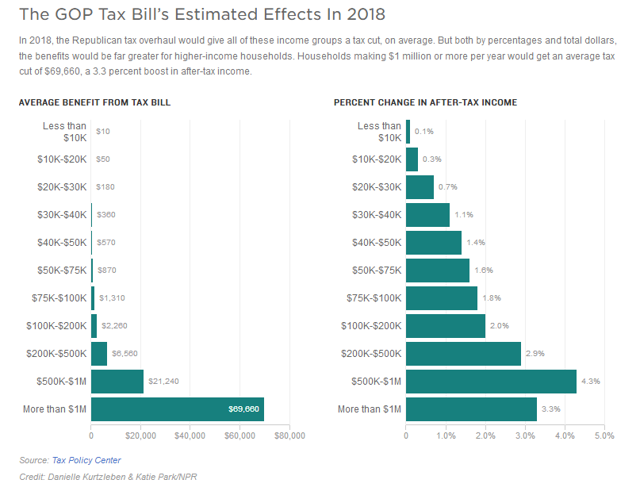 NPR
It is also important to consider the impacts of oil prices on the producers. In the Middle East, particularly the extremely important Saudi Arabia, oil needs to approach $80 per barrel for their federal budgets to break-even in most cases. The break-evens shown in the chart below include significant spending cuts already enacted. Further budget reductions seem unlikely, especially in Saudi Arabia, which wants to ramp up military spending and has to fulfill its Vision 2030 plan.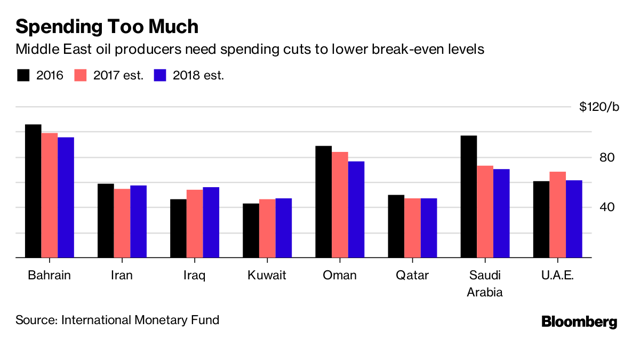 U.S. oil companies also would like to see oil prices approach $80 per barrel. Why? Because as I discussed in my regular Friday webinar discussing my "Peak Oil Plateau" report update, about half the U.S. oil producers are still hopelessly in debt and unlikely to ever get out at oil prices near $60 per barrel.
Expect The "Peak Oil Plateau" To Last A Long Time
While there are different ideas about demand destruction for oil, with OPEC and producers not seeing peak oil demand until the 2030s and EV proponents seeing peak oil demand in a few years, I think it is safe to keep my opinion intact. I see oil demand peaking and staying on a plateau of around 105 million barrels per day starting a few years out and holding until around 2030.
During the 2030s, as EVs and hybrids exceed ICE vehicle sales, and ICE vehicles are retired, trucks in particular, we will gradually see demand destruction for oil before it falls off a cliff around 2040 to about 55mbd of demand long term. I see the chart playing out like this: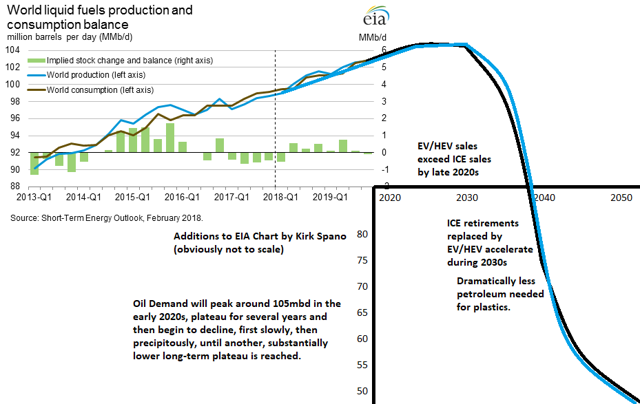 What you will see is that over the next few years, I believe oil supplies will be held a shade below demand. Despite projections by the EIA and IEA that the U.S. shale industry will remain strong, I believe there are key factors, which will keep shale from expanding at the pace it did last year.
First off, the impact of high-grading is beginning to be felt. With the exception of the Permian Basin and to a much lesser extent the Eagle Ford, U.S. shale production growth just does not exist. As the best acreage is tapped, the secondary plays are not nearly as efficient or productive. See the chart below. All of the other plays have essentially fallen into the trap of being tapped out of tier one drilling locations.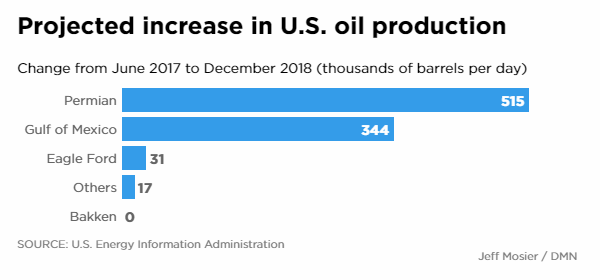 Only the Gulf of Mexico adds to American production increases outside of Texas and that surge is limited as well. The Gulf, as is the case with shale, runs into financing issues. Investors are simply unwilling to finance questionably economic oil projects. The sting from the oil collapse is still fresh. Bank lines of credit have shrunk, equity offerings have fallen off a cliff and debt deals are tight.
Transportation is also a problem in the Permian as storage is nearly full and pipes are at capacity. Without an increase in natural gas gathering capacity, oil production stalls as flaring regulations, even under President Trump still exist and are followed to some degree.
On top of that, refineries will be coming out of their maintenance season soon and we are likely to see a dramatic decline in oil inventories by April or May. That would be on top of the OECD December drop of over 55m barrels (the steepest drop in seven years), which has driven the OECD oil inventories to the lowest level since June 2015 at just 52 million barrels above the five-year average.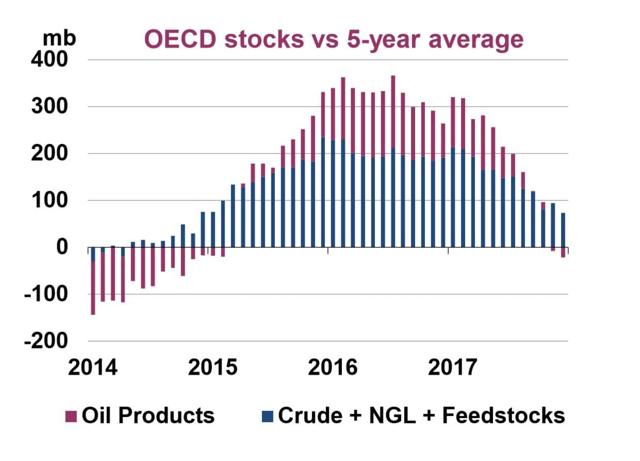 OilPrice.com
In addition to the limitations that American development is starting to experience, global oil supply is facing some imminent disruptions. Already Venezuela production is crashing. It could fall even further, another 300,000 barrels or more potentially according to Helima Croft at RBC if financing is tight or if President Trump imposes further sanctions.
(Sanction on Venezuela just took an interesting and potentially corrupt turn: Trump Jr. partnered with GOP donor who met with officials to push for curbing sanctions in Venezuela).
Angola, Libya and other nations are also facing supply disruptions. Iran's growth has been stunted by lack of investment due to President Trump's sanctions threats over the nuclear deal. That doesn't include the possibility as I pointed out a while ago, that Iran could still see an internal conflict with outside interference.
Not an outright disruption, but still supportive of the idea of higher oil prices, Canada's transportation problems are nowhere near being solved. For example, the Kinder Morgan (KMI) Trans Mountain pipeline is at least two years from completion as British Columbia fights it.
Finally, let's consider Saudi Arabia's 2 million barrels per day excess production capacity. That capacity, which can be driven higher in short order, represents a threat to the highest cost oil producers. They know that Saudi Arabia can punish the market if they choose.
The most likely use for the Saudis' excess capacity is to provide supply at the margins in a few years as conventional, deepwater and shale production all plateaus or begins to fall in the face of still slowly rising demand. Ultimately, Saudi Arabia will control oil prices during the 2020s as the swing producer again.
Summarizing, while shale is prolific, it is peaking imminently, oil supply disruptions small and potentially big exist globally, transportation issues for supplies in Canada and the Permian, deepwater investment is still very low globally compared to five years ago, demand is slowly rising and Saudi Arabia has the only capacity to be the swing producer for oil.
Saudi Arabia has said they want oil over $70 per barrel.
Buy The Dip In Oil
Oil stocks have taken it on the chin since the start of the year. The Energy Select Sector SPDR ETF (XLE), the SPDR S&P Oil & Gas Exploration & Production ETF (XOP) and the SPDR S&P Oil & Gas Equipment & Services ETF (XES) have all seen declines this year. I did a comprehensive comparison of XLE and XOP here:
XLE And XOP: Comparing 2 Popular SPDR Oil Stock ETFs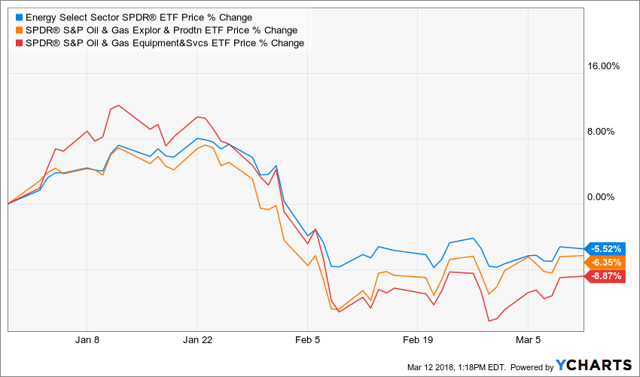 I would argue that energy is one of the few places left to find value in this stock market. The picking has to be careful though. As I mentioned above, a good many companies will never overcome their debt problems. Here are three stocks that I like with balance sheets that could withstand a temporary downturn in the oil price should I be wrong about the price climbing to and holding about $80 per barrel (ex-Iran war which would send oil prices surging) for the better part of a decade:
Buy Encana (ECA): As I have discussed before, the company has done a spectacular job cleaning up its balance sheet and is now drilling out of free cash flow while continuing to reduce debt. It is focused on four core areas, the Permian and Eagle Ford in Texas, as well as, the Duvernay and Montney in Canada. Interestingly, Royal Dutch Shell (RDS.A) (NYSE:RDS.B) recently said they are looking to make acquisitions in the Permian and Duvernay. As members to Margin of Safety Investing know, I have suggested that Encana is an attractive buyout target for a major.
Buy Occidental Petroleum (OXY): This is another stock on the Very Short List at Margin of Safety Investing. The company is the leader in the Permian Basin and is about to expand its export capabilities, which is going largely unnoticed by the market. The company is once again profitable on increasing revenues. On top of that, the company's strong dividend of over 4% makes it the rare dividend payer that also has real growth potential. The company has been a rumored takeover target of Exxon Mobil (XOM), which I believe is a real possibility based on synergies.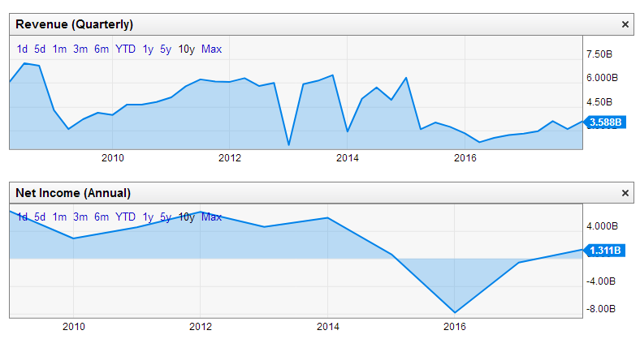 Buy Helmerich & Payne (HP): The company has risen sharply since I first recommended it, but pulled back and stalled recently. This is a pause that refreshes America's number one land driller. Whether the U.S. drives oil price down or not, the emphasis on production has helped Helmerich & Payne see increasing margins lately. This is another dividend payer (4%+) that also offers growth attractiveness.

MARCH MADNESS!!! There are fewer and fewer spaces available to Margin of Safety Investing at the $1 per day rate or $365 per year. Try us on a rare "free trial" and see my "Very Short List" of stocks that can lead in the next decade.
The world is about to become very volatile. We are at the intersection of inflation, deflation and stagflation. Missteps can cause the global economy to tumble into recession and for markets to revert to historical valuations which would mean a 30-50% decline. Find out where the safe spots are and how to benefit from global change under any circumstances.
Disclosure: I am/we are long XOP, XES, ECA, HP, OXY. I wrote this article myself, and it expresses my own opinions. I am not receiving compensation for it (other than from Seeking Alpha). I have no business relationship with any company whose stock is mentioned in this article.
Additional disclosure: I also own option positions on some of the companies I am long. I own a Registered Investment Advisor - BluemoundAssetManagement.com - however, publish separately from that entity for self-directed investors. Any information, opinions, research or thoughts presented are not specific advice as I do not have full knowledge of your circumstances. All investors ought to take special care to consider risk, as all investments carry the potential for loss. Consulting an investment advisor might be in your best interest before proceeding on any trade or investment.