The Expansion, Regulation, And Future Of ICOs
Summary
From 2013 to 2017, ICOs saw a massive increase in popularity. In Q4 2017 alone, there were 196 ICOs, raising net capital of $3,133.2.
ICOs without regulation pose a significant risk to investors, businesses, and governments.
The future of ICOs will be determined in the coming years, pending government regulations and the sustainability of the crowdfunding mechanism itself.
Editor's note: Seeking Alpha is proud to welcome Jonah Dally as a new contributor. It's easy to become a Seeking Alpha contributor and earn money for your best investment ideas. Active contributors also get free access to the SA PRO archive. Click here to find out more »
By Jonah Dally and Alex Andreoli
The History of ICOs to Present Day
Initial Coin Offerings (ICOs) are a new way of raising money that has been introduced to the public. Some sources cite their creation as early as 2013. ICOs gradually became more common in 2015 and 2016. Notable ICOs that launched in 2016 are ICONOMI, which raised a market capital of about $10 million, and SingularDTV, which raised about $7.5 million in market capital. These few ICOs in 2016 started a trend and opened endless possibilities for new investors to earn more money through having "tokens" in ICOs.
At the beginning of 2017, people were worried that ICOs wouldn't take off. With only 7 ICOs and $28 million raised in the first quarter, people were skeptical of their growth. Much of this skepticism came about because of how governments would regulate these ICOs and cryptocurrency in general. Many governments, such as China and South Korea, acted quite negatively toward having their people put in billions of dollars into this untraceable currency. They both banned ICOs and even shut down all cryptocurrency exchanges in their country. In the United States, the Securities and Exchange Commission (SEC) has started to crack down on ICOs.
However, all of this skepticism about ICOs and cryptocurrency did not stop the explosion of ICOs in Q2, Q3, and Q4 of 2017. The amount of money raised through ICOs began to increase at a rapid rate. As people began to view ICOs as a new way to invest in companies, they became more open to the idea of participating in them. Depending on the source you get your data from, ICOs raised around $5.5 billion from 382 listed ICOs by the end of 2017. More than half of this funding came in the fourth quarter of 2017, where an estimated $3.1 billion was made through 196 fairly successful ICOs that were listed throughout the year.
The funding gained for ICOs during Q1 of 2017 compared to Q4 of 2017 is astronomical. The most popular ICO in Q1 of 2017 was ChronoBank, which launched in February raised and around $5.4 million. The most popular ICO is Q4 of 2017 was Hdac, which ended up raising around $258 million since its launch date in December 2017. Even the 10th most popular ICO in Q4 of 2017 was Gridplus, which ended up raising around $45.7 million through its ICO.
In 2017, the number of ICOs listed in Q1 compared to Q4 increased more than 17-fold: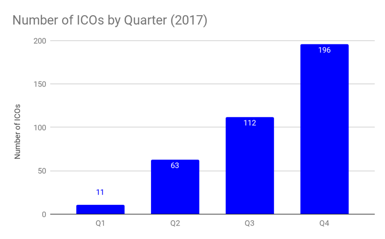 Source: Created by author
The capital raised in Q1 compared to Q4 also increased more than 174-fold: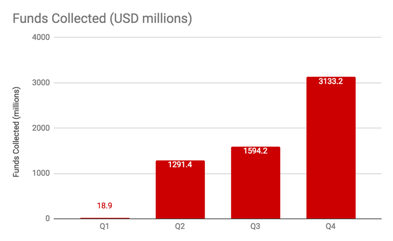 Source: Created by author
A current ICO collecting funds is Votem. Votem is an online voting application that can be downloaded on consumers' phones. Their goal is to make voting accessible to tech-savvy consumers. Some of their customers include the District of Columbia, the City of Detroit, and the State of Montana. The ICO will be collecting funds from February 27 through March 29.
Evaluating the trends from this past year, the ICO markets are looking optimistic for 2018, pending government restrictions and regulations being made, of course.
A Need for Regulation
Although ICOs present new opportunities for funding startups, there are significant risks associated with them. They pose a huge threat to consumers, businesses, and governments. ICOs offer an unorthodox route for raising massive amounts of capital in a short period of time. On top of that, this crowdfunding remains unregulated and untraced for the most part.
Consumers face an increased risk of scams and "pump-and-dump" schemes. There have been a few notable ICO scams. One example is Confido. They had created a formal website and social media accounts, which were later deleted when they disappeared with $375,000. The anonymity of ICOs leaves victims with no clear route for reclaiming assets. Unlike IPOs, where accountants, management, and even investment banks can be held liable for losses, there is virtually no precedent to refer to when suing for losses from ICOs.
These startups utilizing ICOs are extremely susceptible to price swings. As the price of their capital (i.e., Bitcoin or Ethereum) swings against them, their ability to operate a successful business becomes extremely difficult. Bitcoin has lost more than half its value in only six weeks. In early February, Bitcoin experienced a drop from its peak price of $19,783 to below $7,700. Businesses utilizing ICOs are vulnerable to price swings of their capital similar to the one the market just witnessed.
Typically, when raising capital, the SEC, the Treasury Department, and other regulatory bodies help reduce the risk of fraud and scam in market listings. ICOs essentially avoid this regulation process by offering their own tokens (or IOUs) to investors for established cryptocurrencies (typically Bitcoin or Ethereum). The SEC has made some statements on the subject of ICOs, but they lack a cohesive policy. To date, no ICOs have been registered with the SEC.
In 2017, the SEC issued several statements on utility tokens versus equity. They stated they would treat some tokens as securities, requiring them to be registered with the SEC. An example of an ICO that would be considered a security would be tokens issued for a publishing house that hasn't been built. Also in 2017, the SEC terminated an ICO issued by a restaurant app, Munchee. The SEC viewed this as a security, and Munchee returned the raised funds to investors.
Recently, the SEC halted the operations of an allegedly fraudulent ICO, AriseBank. Their founders mislead investors by claiming they were a decentralized bank, and they failed to disclose the criminal background of their executives. The SEC issued a cease and desist. They also intervened to secure the digital assets of investors by freezing AriseBank's assets. The SEC is exploring further litigation and prosecution.
Much of the current debate in the SEC is about the difference between equity (security) tokens and utility tokens. Utility tokens represent future access to a company's products or services (i.e., the Dollar Shave Club), while equity tokens are typically tradeable and should be registered with the SEC. Utility tokens can still be considered securities and should not be viewed as exempt from SEC regulation in all circumstances.
Overall, the SEC has made it clear that whether or not a token is a security depends on the circumstances. Many investors predict that new regulations issued in 2018 could determine the future of ICOs. As of now, ICOs continue to pose significant risks to investors. Despite the risk, they also may provide significant rewards. Investors must have a relatively high risk tolerance to invest in ICOs absent regulation. If comfortable, ICOs can be a valuable asset in an investor's portfolio.
The Future of ICOs in 2018
ICOs are continuing to come to market in 2018. Since the start of the year, 480 ICOs have been announced, with 36 more said to release later this March. Although the cryptocurrency market has crashed in 2018, it seems to have little effect on the releases of future ICOs. Large ICOs have still found success raising funds; however, their smaller counterparts have struggled to attract investors. Telegram, a large ICO released amid this crypto volatility, raised over $850 million in funds. Telegram has been able to raise funds in a matter of months that took Facebook (FB) seven years and Uber (UBER) five years to raise.
As we continue through 2018, we are coming closer to the inevitability of governments worldwide acting on the threats that ICOs bring to the market. As mentioned earlier, South Korea and China have banned ICOs completely. On the other hand, Canada has issued regulations that allow firms to simply register with the government to obtain an exemption from securities laws. The United States has yet to take a formal stance, but agencies like the SEC have already taken strides in regulation, including cease and desist orders for several fraudulent ICOs (i.e., BitConnect and AriseBank).
Although some view government regulation as the enemy, the majority of investors see it as a necessary protection against fraudulent ICOs. The market itself cannot regulate ICOs, because by the time it has been released and sold, it'll be too late. Nonetheless, a regulatory system is not meant to discourage future ICOs but to sort out the real from the fake. A regulatory system is also meant to make the investor more confident in what he or she may be buying. It is important for governments to find a happy medium when it comes to regulation as opposed to just completely banning them nationwide.
The market for ICOs in 2017 resembled the Wild West. With no regulation, the market boomed with both successful and fraudulent ICOs. In contrast, we have already witnessed the SEC take a more active role in regulation, issuing multiple cease and desist orders in 2018. ICOs will continue to increase in popularity. With increased regulation, consumers and companies will feel more confident investing in ICOs.
This article was written by
Undergraduate student at DePaul University majoring in Accounting, Finance, and Economics.
Analyst's Disclosure: I/we have no positions in any stocks mentioned, and no plans to initiate any positions within the next 72 hours. I wrote this article myself, and it expresses my own opinions. I am not receiving compensation for it (other than from Seeking Alpha). I have no business relationship with any company whose stock is mentioned in this article.
Seeking Alpha's Disclosure: Past performance is no guarantee of future results. No recommendation or advice is being given as to whether any investment is suitable for a particular investor. Any views or opinions expressed above may not reflect those of Seeking Alpha as a whole. Seeking Alpha is not a licensed securities dealer, broker or US investment adviser or investment bank. Our analysts are third party authors that include both professional investors and individual investors who may not be licensed or certified by any institute or regulatory body.