SPS Commerce (SPSC) is a supply-chain management software company. As per its 10-K, SPSC is a "leading provider of cloud-based supply chain management solutions, providing network-proven fulfillment, sourcing and item assortment management solutions, along with comprehensive retail performance analytics to thousands of customers worldwide." At its fiscal year-end, it had about 26,000 customers. Refreshingly, its sales are distributed well over its customer base, with even its biggest customer making up less than 1% of its revenues.
As per its website, it offers the following solutions and integrations:

Source: Company Website
I like a few things about it: its balance sheet isn't laden with goodwill; it announced a share buyback program; as a tech company providing cloud solutions, it has the potential to scale its operations. Nevertheless, I don't think it's worth the risk as of yet, for the following reasons: despite growing revenue over 500% since its IPO, net income is in the red; COGS is increasing at a rate greater than sales; margins are thin; its earnings yield - used to assess its rate of return - is actually negative. And, despite all these issues, execs are being rewarded handsomely.
Let's get into it.
Earnings
If SPSC can't grow its revenue in a way that will benefit investors' bottom line, then it may as well not grow at all, because growth becomes harder as companies increase in size (according to the Law of Large Numbers). While SPSC is still small, its growth so far has only served to hinder its bottom line.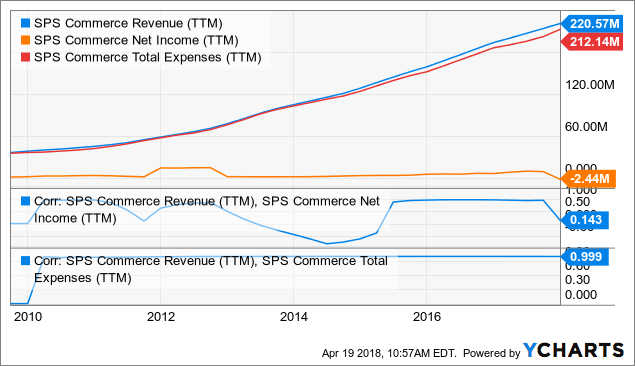 As we can see, its sales and earnings are barely correlated (0.143), and worse, its sales and expenses are almost perfectly correlated (0.999). To that end, its COGS growth has begun to outstrip its revenue growth (544.9% vs. 515.3%, TTM, respectively). COGS, as we know, is the direct costs attributable to the production of its products, including the cost of the materials and direct labor costs. For SPSC, as revenue grows, the cost of production is growing faster. That doesn't bode well for SPSC improving its bottom line.
Margins And Growth
Margins are incredibly thin and/or negative (an operating margin of 3.8% and a profit margin of -1.1%, TTM). That is, for every $100 of sales, SPSC is losing a buck and change. This is simply unsustainable.
As it stated in an investor presentation, SPSC sees its "future opportunity" as growing its ~24k customers to 200k.

Source: Company Presentation
Based on that table, ideally, SPSC expects its customer base to increase by ~8x and its revenue per customer to increase by about 3x. If this growth won't translate into bottom line growth, as per the previous decade (and when it's losing a buck for every hundred dollars of sales), it's a "future" growth opportunity that I find hard to get excited about.
CEO Compensation
In theory, I like the idea of boards attempting to align exec compensation with company success. For SPSC, I don't believe this is the case.

Source: Morningstar
As we can see in the table above, executive compensation is up a whopping 65%, during a year the company failed to turn a profit, and a year the stock was down over -30%.

Source: Morningstar
Rewarding execs with significant multi-million dollar bonuses when the company is -2.44M in the red is not an example of a shareholder-friendly compensation scheme, in my opinion.
Conclusion
I think SPSC may have growth potential in the future. Nevertheless, investors would be wise to wait and see for any bottom line and/or margin improvements before jumping in. Further, investors would do well to take a hard look at whether SPSC is creating value for shareholders with its current executive compensation scheme.
As we know, the earnings yield is the percentage of each dollar invested in the stock that was earned by the company. SPSC has a negative earnings yield (-0.21%) - implying a negative rate of return on this investment. At that rate, investors who love SPSC are better off sticking to T-Bills until the situation improves.
Disclosure: I/we have no positions in any stocks mentioned, and no plans to initiate any positions within the next 72 hours. I wrote this article myself, and it expresses my own opinions. I am not receiving compensation for it (other than from Seeking Alpha). I have no business relationship with any company whose stock is mentioned in this article.