Welcome to the weekly oil storage report edition of Oil Markets Daily!
Note: Starting June 1, HFI Research will be limiting the number of public articles we publish. Weekly oil storage reports will continue, but all storage estimates - including next week's estimate - will be reserved for HFI Research subscribers. On June 1, we will also be increasing the subscription fee for HFI Research. For more info about the service, see here.
Highlights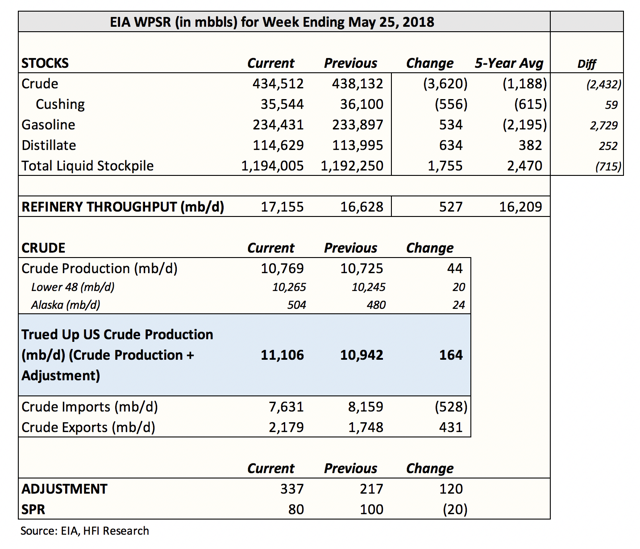 EIA reported a crude storage draw of 3.62 million bbls versus our forecast of a 4.2 million bbl draw. The draw was higher than the five-year average, all thanks to a large jump in refinery throughput (+527k b/d w-o-w).
EIA reported that U.S. crude imports decreased 528k b/d (in line with third-party estimates), and exports increased by 431k b/d w-o-w (higher than third-party estimates). The adjustment factor jumped by 120k b/d w-o-w to +337k b/d, which in our view is largely explained by the overstated exports.
Today was also the release of the EIA 914 March U.S. monthly oil production figure, and the monthly is closely tracking the weekly. For the month of March, the average adjustment factor was +304k b/d, while the tracking error average for U.S. crude exports was overstated by +202k b/d. In our view, this confirms what we've seen in the recent weekly data, which is that EIA's crude exports have been overstated, resulting in the adjustment factor to be consistently positive. This is not attributed to understated production.
Turning to the product side, the build in gasoline storage of +534k bbls was bearish compared to the five-year average draw of 2.195 million bbls. Exports were down, and higher refinery throughput explained the minor build. Distillate storage also saw a build of +643k bbls, which was slightly higher than the five-year average of +382k bbls. Overall, total liquid stockpile came in lower than the five-year average with a build of 1.755 million bbls versus a 2.47 million bbl build.
For the upcoming EIA oil storage report, crude imports are expected to jump w-o-w by +300k b/d. U.S. crude exports are also tracking lower w-o-w. If refinery throughput continues to increase next week, then we should see a lower crude storage draw than we did this week. Keep in mind that U.S. crude storage saw a build of 3.295 million bbls last year due to a material increase in imports.
More important in today's report is the price action we are seeing in the oil markets. Brent-WTI spreads are now blowing out to as much as $11/bbl earlier in the day. The blowout comes on the back of subdued crude draws of late and increasing U.S. oil production, all in the face of constrained export capacity. As we noted earlier, the recent adjustment factor is attributed to overstated crude export figures. Kpler data shows that U.S. crude exports have not been able to sustainably average above 2 million b/d.
The difference between Brent-WTI or LLS-WTI signals the constraints we are currently seeing in U.S. infrastructure to support higher exports. As we've also mentioned before, a wide Brent-WTI spread signals a shortage in crude globally, and the wide spread is therefore needed to accommodate a pull effect on U.S. crude storage. But as the spread keeps widening and U.S. crude exports are stagnating, this only signals to us export capacity constraint while the global oil markets remain undersupplied.
Going forward, it will be important to start seeing U.S. crude exports trend higher. We are already seeing this on a four-week average basis, and we expect the new capacity increases in the coming 18 months to materially increase U.S. crude exports. Some analysts have pegged a potential increase to ~3 or 4 million b/d out of the U.S.

U.S. Oil Production + Adjustment
U.S. oil production data came out for the month of March today, and it's tracking the weekly estimate nicely.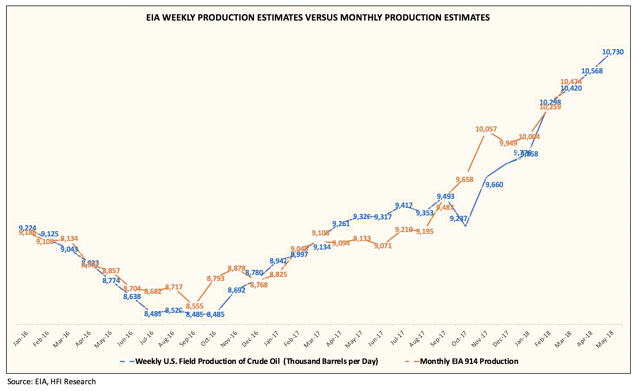 But relative to our trued-up U.S. oil production forecast, monthly U.S. oil production came in lower than expected: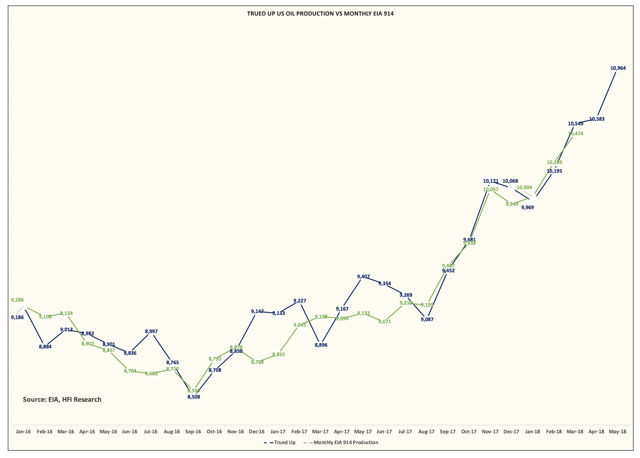 As you can see from this calculation, U.S. oil production for the month of April will likely remain flat m-o-m despite the weekly saying that U.S. oil production has increased to 10.568 million b/d. (We discuss this in more detail in our EIA 914 report.)
The adjustment factor also goes a long way to explain the possible variables that are being overstated or understated. For the month of April, the adjustment factor was negative.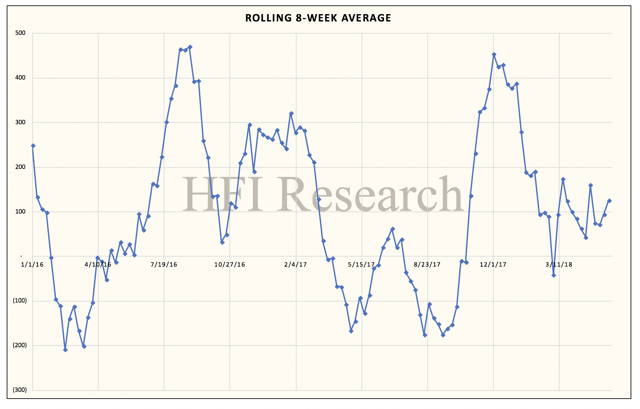 But since the drop in April, the adjustment has recently trended higher once again, and our analysis indicates it's likely due to overstated exports (see this article).
U.S. Crude Exports

Brent-WTI spreads are blowing out today with the spread reaching as high as $11+/bbl earlier in the day. Our analysis indicates that the blowout is a result of the constrained U.S. crude export infrastructure and undersupply in the global oil markets. This shouldn't be a surprise to anyone who read the latest IEA OMR that was made publicly available yesterday.

Source: IEA
With the exception of Europe, global oil storage is either at or already below the five-year averages: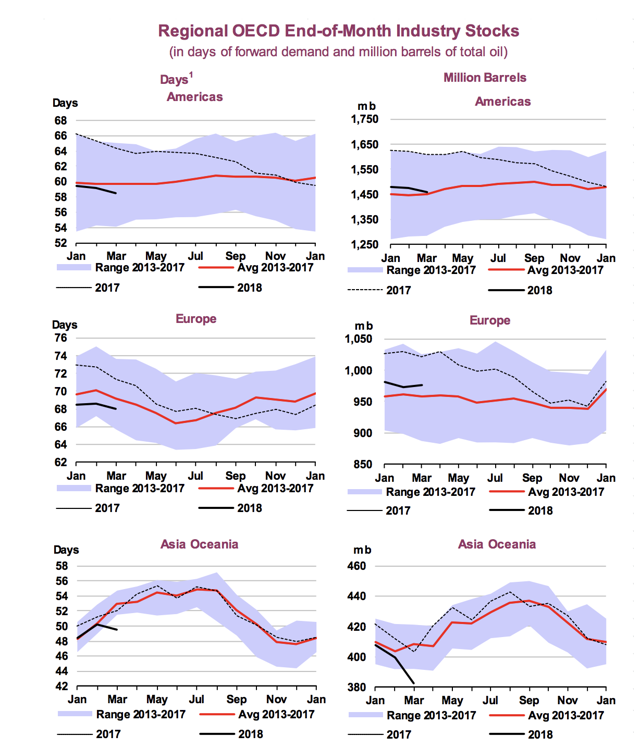 Source: IEA
As you can see in the OECD storage breakdown above, Asia has already penetrated the lower range of the storage stockpile, while Europe is seeing a surplus and the Americas right at the five-year average. Going forward, the pull effect from Asia will reduce storage levels in both Europe and the Americas. But if exports remain constrained out of the U.S., we could see global storage levels fall even more, with the U.S. playing catch-up.
This is why it's also important to not be overly focused on the weekly noise presented in the EIA oil storage reports. The timing of imports and exports can easily swing balances from a build to a draw, but if the global oil balance calculation is right, the U.S. might very well be the last place to see significant draws.
But with the arb window right open, we expect U.S. crude exports to keep trending higher for the rest of the summer. This will coincide with higher refinery throughput, and, once crude imports normalize, the storage drawdown could accelerate faster than we are forecasting at the moment.
Crude
Cushing

Gasoline

Distillate

Refinery Throughput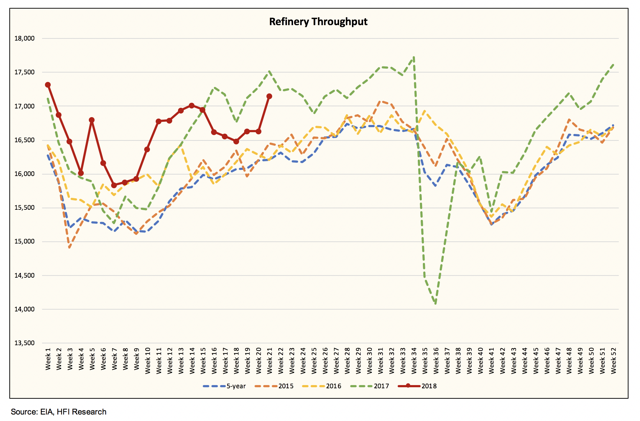 Crude Imports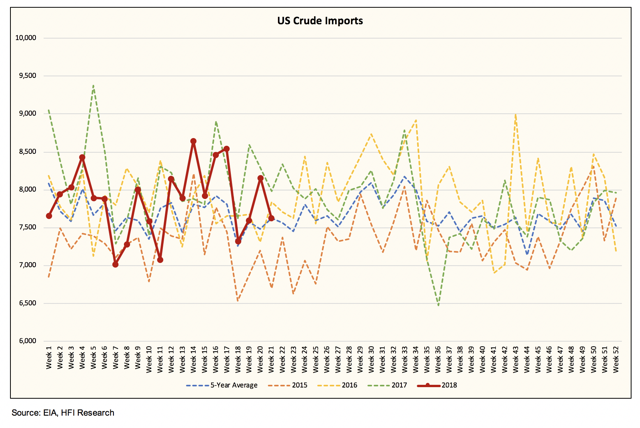 Total Liquids Stockpile
Days of Supply
Concluding Thoughts
On the balance, EIA continues to report bullish relative storage reports. The jump in refinery throughput was a welcomed figure this week as it signals to us that refinery throughput wasn't bogged down by lack of supply, as some might have been led to believe. Nonetheless, U.S. crude exports remain constrained, but we expect the average to keep moving higher. Higher exports, along with normalized imports, should help push crude storage lower, and with refinery throughput ramping again, we should see better than seasonal average crude storage draws ahead.
Thank you for reading. If you liked this article, please leave a "Like" at the bottom.
If you have found our oil market articles to be insightful, we know you will find our premium service even more valuable to you. We have been one of the few research firms to have nailed the oil market fundamentals, and if you have questions, we have answers. See here for more info.
Starting June 1, we will be increasing the subscription prices for our premium service. The monthly subscription price will increase from $100/month to $150/month, and the annual subscription price will increase from $800/year to $900/year. If you join before then, you will be able to lock in the old rate. We hope to see you join the HFI Research community today!
Disclosure: I/we have no positions in any stocks mentioned, and no plans to initiate any positions within the next 72 hours. I wrote this article myself, and it expresses my own opinions. I am not receiving compensation for it (other than from Seeking Alpha). I have no business relationship with any company whose stock is mentioned in this article.