"What you find is there's never just one cockroach in the kitchen when you start looking around," – Warren Buffett
After the first cockroaches were discovered at RCI Hospitality (RICK) earlier this year, I started digging deeper and discovered a troubling relationship between RCI CEO Eric Langan and a construction company that has received tens of millions of dollars worth of business from RCI. Numerous red flags, including issues with security at Bombshells, multiple lawsuits, and questionable capital allocation.
Some of these issues have been known though poorly covered over the past few years, but many issues were new claims that were made public for the first time. While these were all troubling discoveries that highlighted the company's poor stewardship, the amount of capital being misappropriated in today's discovery dwarfs all of the prior transactions.
It should be noted that I reached out to the head of IR for RCI, and I did not receive any response regarding the company's relationship with Tannos Construction, Eric Langan's ownership in Tannos Land Holdings, Ed Anakar's interest in the Tannos Land Holdings, the Board's awareness of the relationship between the company and Tannnos.
RCI has been on a construction binge the last three years. It built a brand new 40,000 square foot office building at a cost of $6 million, and has built or is in the process of building seven new Bombshells restaurants at around $3 million per location. It turns out that multiple Bombshells and the headquarters (plus some additional club remodels) were awarded to a single contractor, Tannos Construction & Development. Tannos Construction posts its projects on its Facebook page (linked in the previous sentence). I have created a Flickr page documenting the various sources here.
RCI's New Corporate Headquarters: You can see the RCI name in the bottom right hand quarter of the picture. Per RCI's 10-K:
In October 2015, the Company entered into a $4.7 million construction loan with a commercial bank for a new corporate headquarters building. The note, which was fully funded upon the finish of construction of the building in October 2016, is payable over 20 years at $31,988 per month including interest and has an adjustable interest rate of 5.25%. The rate adjusts to prime plus 1% in the 61st month, with a floor of 5.25%."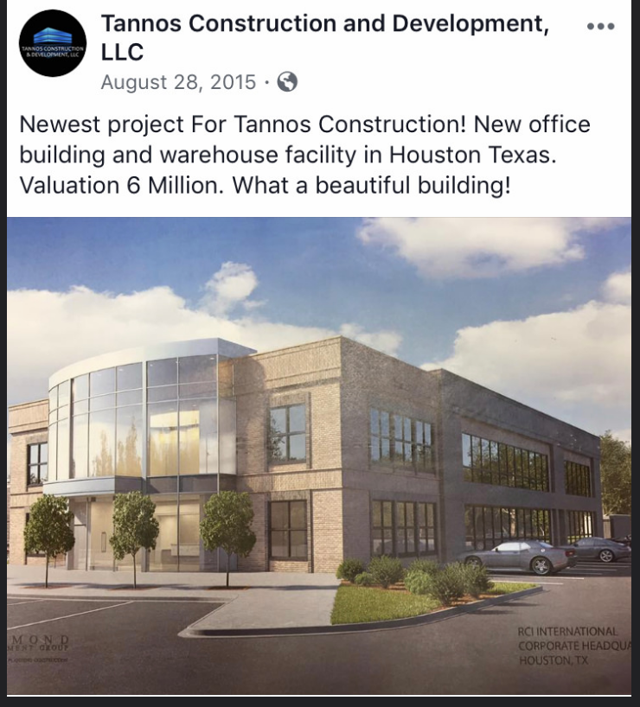 Bombshells, as disclosed in the Q3'18 earnings deck: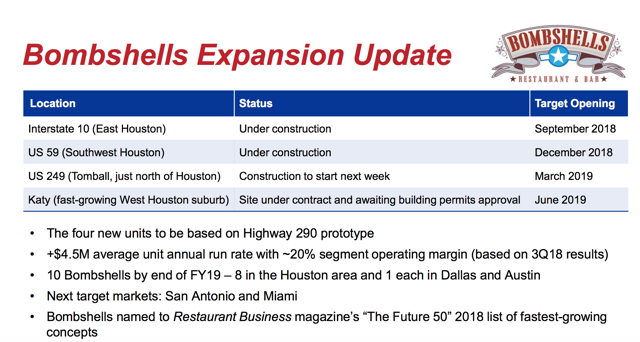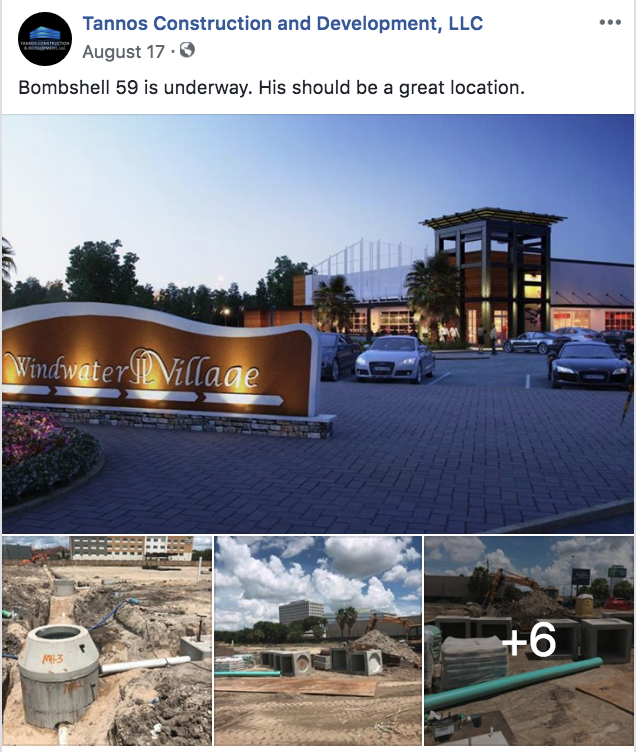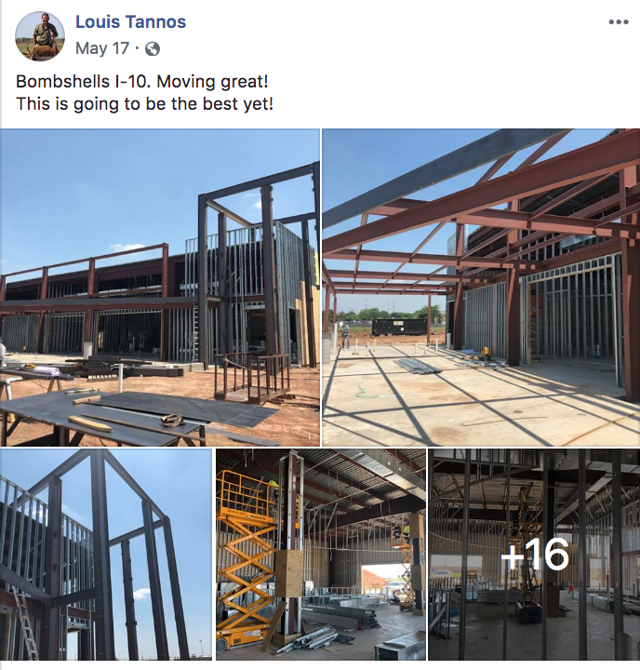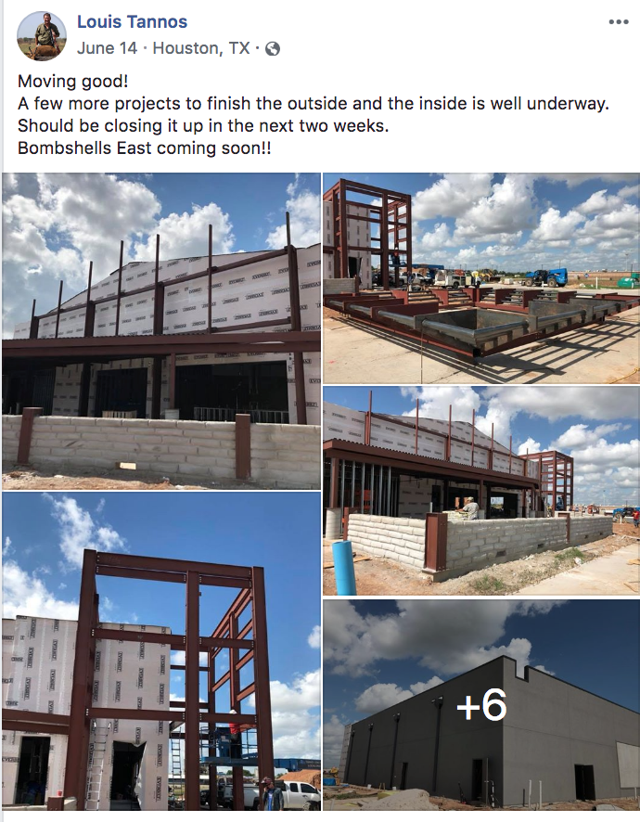 And Bombshells Austin: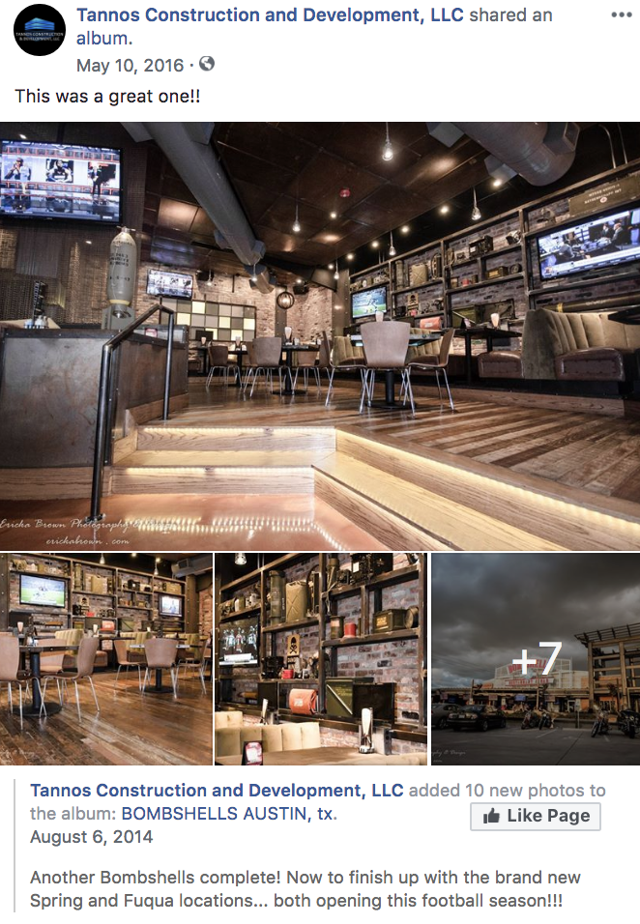 Tannos Construction is run by Louis Tannos, one of RCI Hospitality CEO Eric Langan's best friends.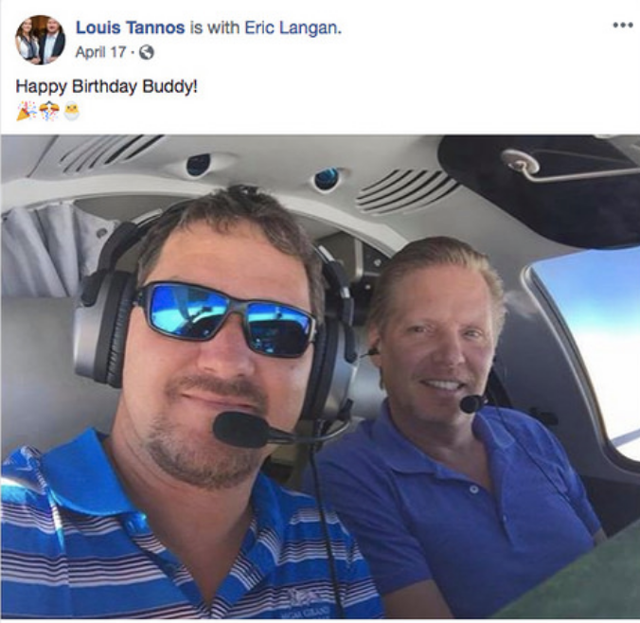 Tannos frequently posts pictures and videos to social media of himself and his good friend Eric Langan taking the RCI corporate jet to weddings, business trips, and Las Vegas as well as hanging out in the RCI Hospitality suite at concerts and Texan games. This may seem like speculation, but Tannos makes it very clear that he is in the RCI jet. You can see the below jet appears to be the RCI jet. It is a Cessna Citation, the jet that RCI infamously purchased in 2013. Tannos earlier posted a picture of him with his child in front of this jet.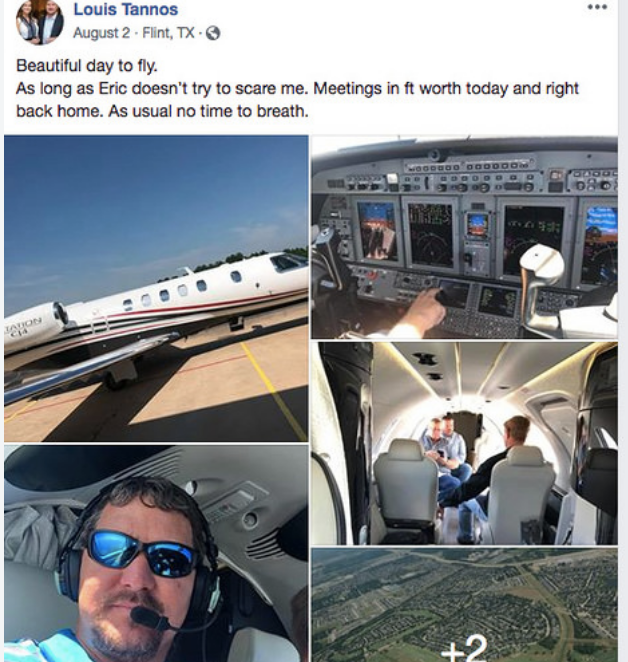 He makes it even more clear that he is in the RCI suite. You can see Langan in the top left photo: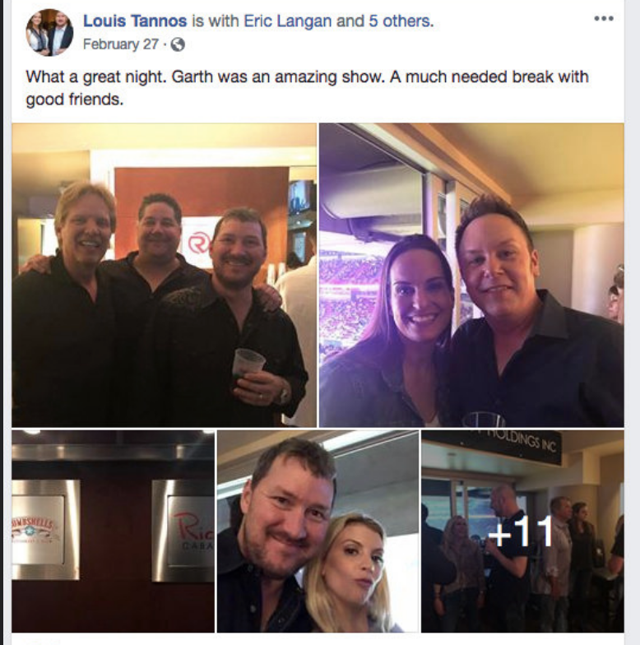 On its own, the CEO awarding contracts to his good friend would be cause for concern. It turns out that around the time RCI began aggressively awarding Tannos all of this business, Tannos Construction launched an affiliate company called Tannos Land Holdings, which is publicly owned by RCI CEO Eric Langan and Louis Tannos. This connection suggests that Langan is directly funneling funds from RCI into his own coffers.
In February 2015, Tannos Construction and Development, LLC announced:
We are pleased to announce our newest company 'Tannos Land Holding I' a commercial real estate company to purchase, build, manage and lease commercial properties".
While the business carries the Tannos name, a review of the LLC's filings with the Texas Secretary of State shows that the entity is owned and managed by RCI CEO Eric Langan and Louis Tannos.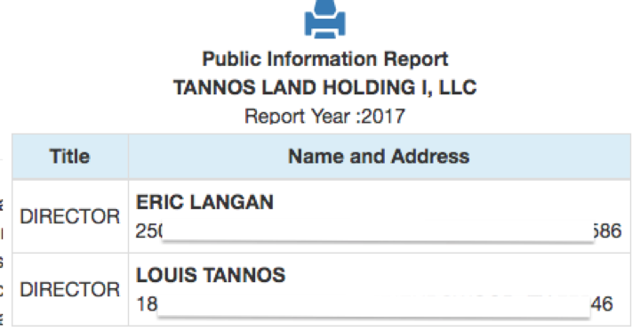 Source: Texas Comptroller of Public Accounts
The "Tannos Construction" side of the business builds on behalf of clients (predominantly RCI), while the Tannos Land Holdings side (which Langan co-owns) invests the profits into commercial real estate developments that it owns. Since the first investment affiliate was established in 2015, the pace of business RCI has awarded to Tannos Construction has increased exponentially.
Based on disclosures from Tannos Construction's website and Facebook page, Tannos appears to have been awarded several RCI Hospitality construction project in Texas over the last three years. In total, there are a dozen major projects, including all the new Bombshells build-outs, RCI's new 40,000 square foot headquarters, Studio 80 Webster, Foxy's Cabarets in Austin and Dallas, and more.
All of the non-RCI projects posted on Tannos's corporate websites and social media accounts are located in Houston and its surrounding suburbs, however, it is routinely awarded contracts from RCI for projects in distant cities such as Austin and Dallas where Tannos has no other presence.
It should be noted that typically construction management is a localized business due to local contractors' ability to navigate regulations and stakeholders that vary greatly across different municipalities, though it is possible for firms to gain expertise in different locations. I have not seen evidence to suggest that Tannos has any interest in other Texas markets besides greater Houston.
The influx of RCI business awarded to Tannos Construction has apparently provided enough capital to drive rapid growth in the Langan-owned Tannos Land Holding investment vehicles. Since creating their first LLC in 2015, Tannos and Langan have now created 5 separate investment vehicles to pursue large commercial property developments in Friendswood, Texas: Tannos Land Holding I, II, III, IV, and V.
In an interview with a local paper, Tannos stated that the Tannos Land Holding entities have invested a total of $40 million into their projects. Tannos Construction has repeatedly made it clear that the Land Holdings entity is an affiliate: "Tannos Land Holdings III, an affiliate of Tannos Construction & Development, has broken ground on a $10M mixed-use building in Friendswood."
How Much Money Has RCI Awarded To Tannos?
After spending $4.5 million on Bombshells-only related capex in 2017, RCI has gone on a binge and already spent more than triple that amount in the first three quarters of 2018. In the last quarter alone, RCI spent over $9 million in Bombshells capex, an annualized rate of an alarming $36 million. Non-construction related capex, such as kitchen equipment, tables, and TV's, is likely to be only a sliver of the total project costs, so the majority of the Bombshells-related capital expenditure is likely flowing through Tannos. I have no insight into whether or not the services are performed at fair market value.
For RCI's new office, Tannos Construction's Facebook post stated that the project was valued at $6 million. This is validated by RCI's 10-K, which shows corporate capex (non-club or restaurant) of $7 million over 2017 and 2016. Corporate level capex was only $260,000 in 2015, so it can be assumed the vast majority of the increase was related to the new office. In addition, Tannos has been awarded contracts for remodeling and building numerous clubs, including Foxy's Cabaret and Studio 80, which likely reached into the millions.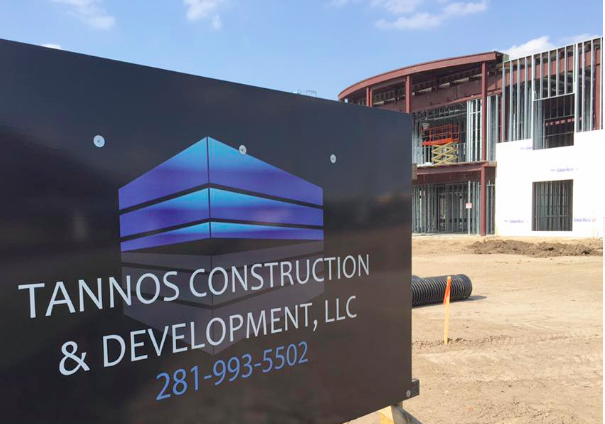 Combined, the Bombshells and corporate level capital expenditures spending for 2016, 2017, and year-to-date 2018 totals $29 million, the majority of which was likely given to Tannos. Again, I do not have definitive proof of every single contract, but I do have evidence from all of the publicly available Facebook pictures that there is a high probability that Tannos Construction handles all of the Bombshells construction.
RCI Hospitality Bombshells & Corporate Capital Expenditures ($ 000's)

2016

2017

2018 YTD

Total

Bombshells

$609

$4,489

$16,625

$21,723

Corporate

$5,393

$1,604

$619

$7,616

Total

$29,339
Self-Dealing Spreads Beyond The CEO
In the third Tannos investment venture, "Tannos Land Holding III," Ed Anakar appeared as a member of the partnership. Anakar is a long-time RCI executive that currently serves as Head of Operations and President of RCI Management Services. Readers may remember that it was previously uncovered that Anakar's brother, Nour-Dean Anakar, is on RCI's board of directors, but, to my knowledge, RCI has never disclosed this relationship and conflict of interest.
The inclusion of an additional RCI executive into the Tannos investment vehicles shows RCI management may be enriching themselves with shareholder capital. There are no other partners involved in any of Tannos's ventures other than these two RCI executives.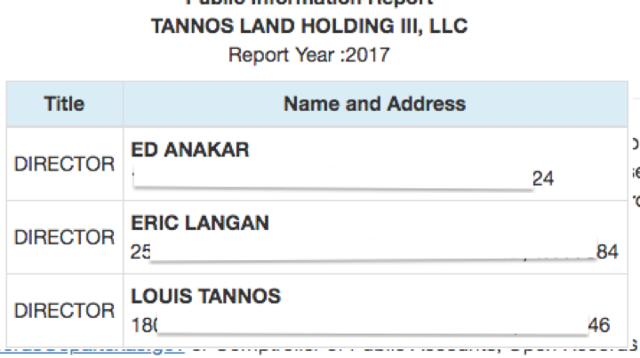 In a twist that would be surprising for a public company with adequate corporate governance, there is also a third Anakar on the RCI payroll, Ed's wife Tatiana. According to her LinkedIn profile, she is an employee of RCI and also runs Anakar Accounting LLC. Interestingly, Anakar Accounting LLC was initially registered with the state of Florida with its principal office listed as Tootsie's Cabaret (150 NW 183rd St. Miami Gardens, FL). Anakar Accounting may pay rent to RCI, but I was unable to find any disclosure.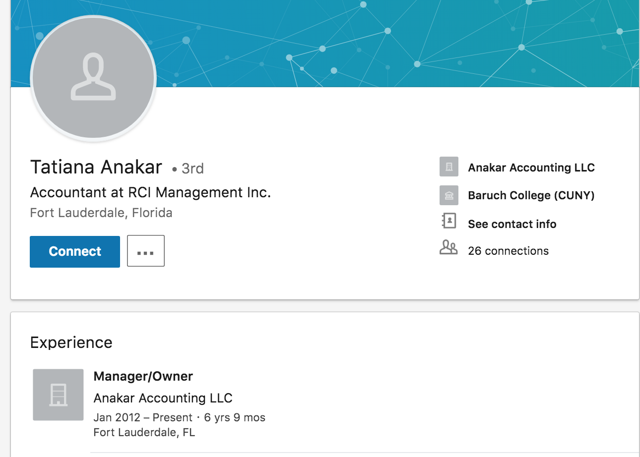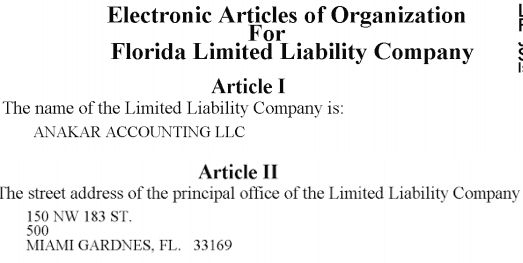 Source: Florida Department of State
Stock Remains Uninvestable
When I was previously long the stock, myself and many other shareholders voiced our confusion as to why management was so aggressively pursuing the expansion into a low barrier, commoditized restaurant business. Now that I have found out Langan is benefiting from the construction of each new Bombshells locations, the egregious spending on Bombshells build-outs finally makes sense.
These troubling new discoveries suggest that the board of directors remain asleep at the wheel in allowing the self-dealing to go unchecked. This information was not difficult to discover, and it was found entirely using public sources. I believe the stock remains a short.
The company appears to be engaged in questionable business practices. I think as investors acknowledge this idea we will see a decline in the company's valuation.
In spite of the apparent related-party transactions, bulls could argue, "so what, the company does some self-dealing, that doesn't change the valuation." That's a fine argument, but I do not believe that is true.
Recently, I have changed my long-term view on the sustainability of strip clubs after engaging with discussions on the matter with a more skeptical investor. There are multiple stories of major declines in strip club penetration. Toronto has the number of strip clubs fall from 47 in 1998 to 15 in 2016. Strip clubs in bachelor/bachelorette destination Nashville have declined from a dozen to just four today. With the increasing availability of Internet substitutes, dating apps that reduce dating friction, and declining interest in the segment, I do not believe the strip club industry will see secular growth. I anticipate demand will continue to fall.
In addition, RCI's forays outside of the adult club industry have been horrendous. Robust Energy is the most egregious example of when leaving the core business goes wrong. At the time, I wrote about how it was a bad idea to acquire a Red Bull knock-off for cash and shares that were undervalued at the time of the deal. Robust has not contributed anything thus far to the company, and I find it very unlikely that it will ever become a contributor.
Robust was just a small example of value-destruction. I believe the real downside will come from investment in Bombshells. Management has pitched Bombshells as a great concept to franchise, though recent reinvestment into corporate-owned restaurants, as well as Langan's involvement with Tannos Land Holdings, may explain why RCI has doubled down on the concept internally.
To advance the franchising strategy, RCI hired Shannon Glaser as VP of Franchising in 2016. Shannon had previously spent seven years at Twin Peaks, one of the nations largest breastaurants, and sold 120 franchise commitments. Twin Peaks success is what Bombshells hopes to replicate, so if anyone was going to be able to franchise Bombshells, it would be Shannon. Shannon barely lasted a year before leaving RCI and was not able to land any franchise commitments. Given her long tenure and success at Twin Peaks, I would guess the corporate dysfunction at RCI and weak concept led her to realize she had an impossible task.
Management originally pitched the concept as a lunch, dinner and night restaurant with families coming in for meals plus crowds staying around later into the night for drinks. The sales data the last three years shows that the restaurant concept isn't catching on and Bombshells has been shifting towards the bar spectrum.
While this is good for margins short term, this further highlights why franchising will not catch on. Franchising is prevalent among restaurants but rare among bars. A Bud Light and a Jack and Coke are the same everywhere, providing little reason to pay to franchise a name. For example, Buffalo Wild Wings disclosed 20% of sales from alcohol versus more than 60% at Bombshells.
| | | | |
| --- | --- | --- | --- |
| Bombshells Sales ($000s) | 2015 | 2016 | 2017 |
| Alcohol | $9,970 | $11,539 | $11,784 |
| Growth | | 16% | 2% |
| Food | $7,630 | $7,133 | $6,910 |
| Growth | | -7% | -3% |
Source: RCI 10-K
Remember that the second Bombshells location lasted only two years before closing. Management cited it being a bad location as the reason for the closure, but it wasn't deemed to be a bad location 24-36 months earlier when millions were being invested in the location.
Bombshells made up just over 10% of revenue in 2017 and even less of operating income, so it was an interesting hobby project, but its success or failure would not be material to RCI as a whole. However, management is doubling down (or triple/quadrupling down) and is taking it to a level where the ultimate collapse of Bombshells will have a meaningful impact on RCI.
In Q2 2018 alone, Bombshells-related capex was over $5 million and management spent an additional $5.5 million on a single parcel of land for a future location. This accelerated to a whopping $9.1 million in Q3. The segment's total assets nearly doubled in six months from $18.8 million in Sept 2017 to $32.5 million in March 2018. Current assets in the business totals $32.9 million.
The massive investment in Bombshells is being fueled by debt, creating the potential for more disastrous consequences to the business if (or when) it fails. The Bombshells segment has margins about half of the strip club segment, providing significantly less margin of safety if revenue falls or if a recession strikes. The best case scenario for shareholders is that the brand dies off quickly before RCI sinks too much capital into the brand, but at the current pace it looks like RCI will reach nearly $50m invested in the brand by the end of 2018.

Source: Detroit Bear
If we look at historical numbers, the current valuation is quite out of line with comps. Typically, the business trades at 5.6x cash flow - it currently trades at about 2x that price. The stock typically also sells for ~1x sales, and it currently trades for 1.8x sales. Except for P/E, which is somewhat inflated by years where RICK traded at premium multiples, every other valuation metric suggests RICK is overvalued by 50%. Based on a combination of the above metrics, I believe RICK should trade at $16-20.
What caused this great valuation change? I think it was driven largely by terrific IR rebranding. The company sold a story of a focus on cash flow generation, smart capital allocation, and purchasing durable assets. It sounds right out of the book Outsiders, but it also once aptly described how analysts felt about Valeant Pharmaceuticals. These stories sound great on paper, but it takes in-depth research to get beyond the simple story we consistently hear from management.
Historically, RICK was valued as I see it today - a business with poor organic growth, a questionable management team, and a business that is either in terminal decline or terminally flat. The market today buys a story that Langan belongs in the rarified air of Buffett and Henry Singleton. This is simply unrealistic.
The risk to the upside is that in spite of the numerous issues, the company has done a great job of picking out valuable clubs at attractive prices. I am skeptical of this claim, but if RCI pulled off a great transaction with prime assets, then it is likely that the misallocation of capital towards Bombshells would not be enough to negatively impact the firm. I don't believe the stock has much upside from current levels, but I could see a return to the $35-40 range. This implies a P/E of 17-20x earnings, which seems aggressive relative to historical norms.
In summary, our best-case scenario here is that RCI's management team is simply helping out a friend, and in the process, helping themselves make a little extra cash. This, in my view, remains an SEC violation; however, one could make an argument that it shouldn't impact the company's valuation.
At worst, management's self-dealing may explain why the company is investing significant capital in a questionable restaurant concept. Construction prices could be inflated, and this could be a way for management to funnel capital from shareholders to enrich themselves. In any event, management should immediately address this relationship and provide relevant disclosures. Auditors should also pay close attention to the relationship with key vendors to examine if there are other related-party transactions that I have yet to uncover. I tend to believe this is the likely scenario.
At this time, RCI is one of the highest conviction shorts I have ever found. While I embarrassingly turned bullish after years of skepticism, I hope that bringing this information to the limelight will increase the market skepticism of the transformation story that has been peddled.
Disclosure: I am/we are short RICK.
I wrote this article myself, and it expresses my own opinions. I am not receiving compensation for it (other than from Seeking Alpha). I have no business relationship with any company whose stock is mentioned in this article.