Netflix, Inc. (NFLX) recently renewed an agreement with AT&T (T) for the rights to continue streaming classic sitcom "Friends" for 2019. The old agreement had expired, and the renewal saw the price tag for this privilege jump from $30 million, to $100 million. The premium Netflix paid indicates that licensed content is still very important to subscribers at a time when owners of "established" content are getting ready to flood the market with competition.
Although Netflix should be heralded for its growth as the future of digital content distribution, its intensive spending has Netflix continuing operate on a negative free cash flow basis. At 65X next year's earnings, there is more risk than reward given certain challenges the company must answer to.
While Netflix keeps its audience data private as proprietary information, the hefty price that Netflix was willing to pay to keep friends just a little bit longer (AT&T retained rights to offer the sitcom in 2020 on its own upcoming streaming service) is a solid indicator that licensed content still holds strong value to Netflix. While Netflix has built a nice stable of "hits" with consumers including "Orange Is The New Black", "House of Cards", "Stranger Things", and "Making A Murderer", the company still heavily utilizes licensed content to flesh out its offerings. Many of Netflix's original programs lack longevity/depth (how many hours will people spend re-watching a limited number of "Making A Murderer" episodes versus hundreds of episodes of "Friends" or "The Office"?).
Netflix has revolutionized the industry by reinventing the means in which content is distributed to consumers. Netflix has continued to grow as the primary act in town because it has been able to provide high quality content (much of which is licensed) to consumers at a low cost. With various owners of established content brands (AT&T, Disney (DIS) among them) bringing their own distribution models to market, Netflix's leverage decreases as licensed content begins to be pulled from Netflix in favor of competitors' in-house streaming services. The "Friends" deal with AT&T illustrates just how much leverage Netflix has lost, and is why the company is aggressively spending to build out its own brand. Netflix is trying to transition from being simply an effective distribution model, to a brand that stands on its own.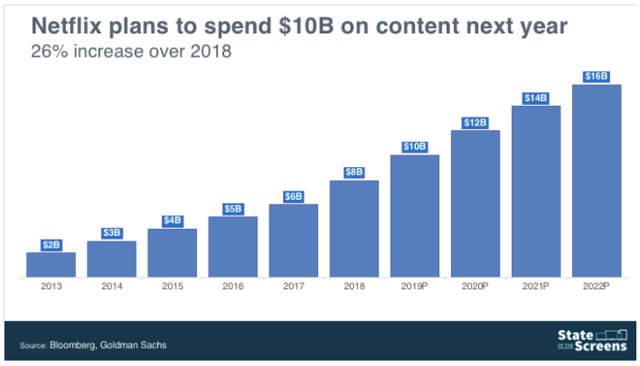 source: State of the Screens
This presents the first challenge to Netflix. Although Netflix should be applauded for vastly growing its subscriber base, their is arguably more execution risk in successfully building an organic content base/brand, as there is a distribution model. Content is what ultimately attracts eyeballs.
This increased rate of spending has presented its own challenge to the company. Despite continued subscriber growth, it hasn't been enough to organically fund content creation. The company has seen a gradual uptick in debt over the past few years, and free cash flow continues to move in the wrong direction. Despite another strong quarter of subscriber growth in Q3, the company is still guiding to running a larger FCF deficit (around $-3 billion) for the full year.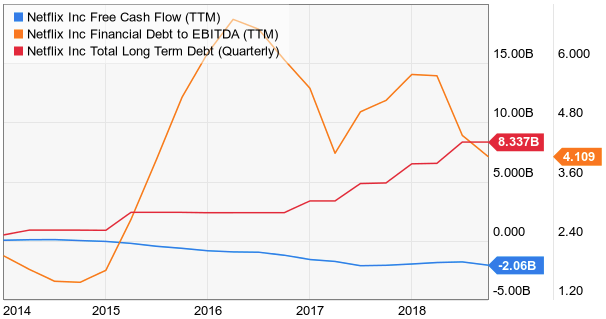 source: Ycharts
With debt crossing $8 billion and a leverage ratio now at 4.1X EBITDA, it becomes fair to wonder how much longer Netflix can operate in this manner without drastically raising its cash flow production? One way to do this would be to simply increase its pricing to consumers. This presents a second challenge to Netflix. Part of Netflix's growth story has been its value proposition to consumers. While minor price increases will probably not drastically increase churn from its current subscriber base, Netflix needs to be careful not to negatively impact its subscriber growth rates with new competitors out to gain market share.

source: Netflix financials
The leg up Netflix does have, is its international presence that is beginning to gain solid footing. Netflix has successfully begun to monetize its international subscriber base that was margin negative two years ago, and is now positive at 16.0% as of its most recent quarter.
From an investment standpoint, the question isn't so much about whether Netflix will succeed as a business, as it is about the length of time it will take for earnings to cause the stock to make sense. Despite margin expansion and subscriber growth, the company still has a $3 billion FCF gap to close, while analysts are estimating content expenditures to double by 2022. The company will get some of this back by not having to pay for as much licensing, but there is still a lot of pressure on the business to continue growing in the face of increased competition from AT&T, Disney, Amazon (AMZN), and others.
With analysts projecting 2019 earnings at $4.19 per share, the current stock price of $275 per share results in an earnings multiple of 65X next year's earnings.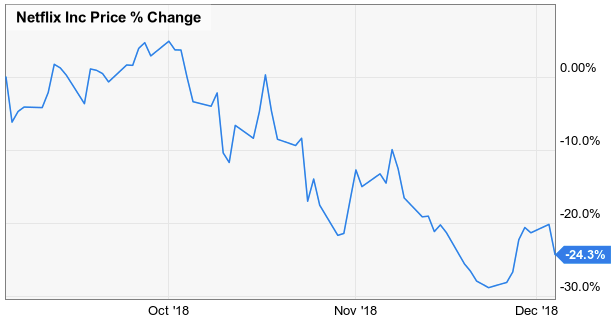 source: Ycharts
While a 24% haircut over the past three months may seem like a buying opportunity, we still see a lot of risk given the nosebleed premium that the stock still trades at. We see a lot of execution risk in Netflix's expensive efforts to build its content portfolio. Meanwhile, Netflix has grown to a market cap exceeding $120 billion (about 75% the size of Disney). The continued need for rapid growth for Netflix to maintain this trajectory despite increasing competition, results in our finding that there is more potential downside than upside at the present valuation.
My insight, analysis, and investment ideas are provided FREE to the Seeking Alpha community. You can receive immediate access to new content by clicking the FOLLOW button at the top of the page. Make sure to follow!
Author Disclaimer: Wealth Insights is an investor and investment author. His content is not geared to anyone's specific investment goals, time horizons, or risk tolerance. Content is for illustrative purposes only and is not intended to displace advice from a fee-based financial adviser. Accuracy of data is not guaranteed.
Disclosure: I/we have no positions in any stocks mentioned, and no plans to initiate any positions within the next 72 hours. I wrote this article myself, and it expresses my own opinions. I am not receiving compensation for it (other than from Seeking Alpha). I have no business relationship with any company whose stock is mentioned in this article.