Thesis
My thesis on Hudson Executive Investment Corporation/Talkspace (NASDAQ:HEC) is simple - the company is underappreciated on a valuation basis for a forward revenue growth rate of 69% YoY, it offers a compelling value proposition with thousands of paying users, and it will continue to experience tailwinds after Covid. Although these may be dampened, I believe the entry point of $12/share still offers 20%+ upside.
Talkspace plays in this space with online therapy and has seen big tailwinds in 2020. It recently agreed to go public via a merger with HEC in mid-January 2021, and it has been underappreciated from the investment community.
I believe there is a space for digital companies to emerge in healthcare. I believe technology can allow for easier delivery of these services, which is the first layer of innovation. Talkspace fits into this wave of innovation.
Looking at Hims & Hers Health (HIMS) which is at $23/share, and comparing this investment which has a cash trust basis of $10/share, I take a weighted average probabilistic approach to my price target. I apply a 50/50 outcome on both to get to a price target of $18/share which implies ~30% upside from today's prices. I believe that 60%+ YoY revenue growth combined with the market opportunity and proven comparables of Teladoc (TDOC) and HIMS will result in a multiple re-rating of the business and an opportunity for investors today.
Value Proposition
Talkspace operates in a large market of mental health. There are thousands of unseen conditions that people experience, and Covid has intensified these. Talkspace markets its addressable market at over $500 billion, but as investors we must dissect these numbers. I would take 10% of this as addressable considering cost, willingness to use online platforms, accessibility, and other factors. That still results in a $50 billion opportunity.

Source: Investor Presentation
Further, I like how management is thinking about the market opportunity and segmenting it. I believe this thought process is more important than the end numbers.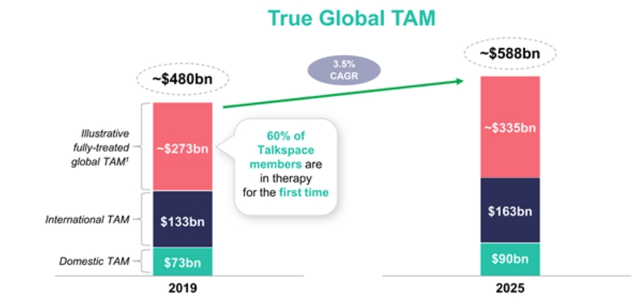 Source: Investor Presentation
Some Reddit threads have brought up the lawsuits against the company and against the efficacy of the treatments. The reality is that these online treatments are not really scientifically proven, and although the company has gone to lengths to prove it, I am unsure if it can be proven.
Still, I believe people will go to therapy because they believe it helps them, and that is enough. For some it will and some it won't, but the idea of constantly improving oneself and talking to others through issues I believe is a universal attribute of humans.
Model and Growth
Talkspace understandably experienced rapid growth in 2020 as in-person therapy centers closed and mental health conditions increased due to lockdowns. I particularly like the fee per session model ($200 for the first session, followed by $125 per session) and the growth in members. I still believe it is too pricey and the price needs to come down, but I am willing to accept that for now. I like the combination of selling through insurance plans and going direct to consumer as channels of customer acquisition. I believe more insurance partnerships can result in unrecognized catalysts to the upside in lives covered.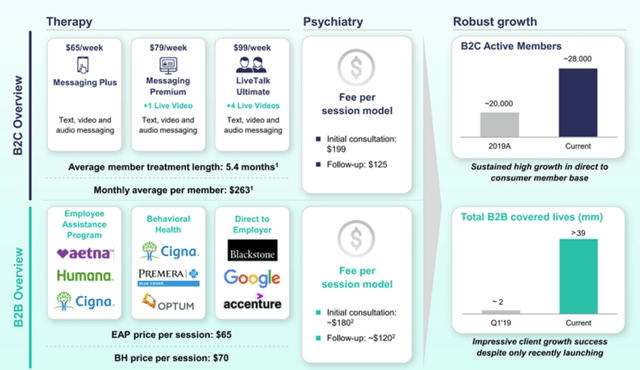 Source: Investor Presentation
Product
I believe matching, response time, and triage are the most important elements of the product and are directly correlated to net promoter score. The company recognizes and addresses these points in materials, but I wanted to see how consumers actually thought about the product.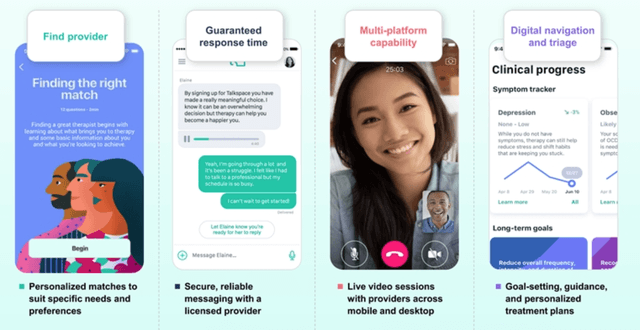 Source: Investor Presentation
I went through several reviews to try to figure out what people really like or dislike about the service. The first thing I noticed was a competitor called BetterHelp. It was acquired by Teladoc, and is now rolled up as an internal offering.
The reviews online talk about ease of use and the help that having more than one therapist gives. They help to establish the veracity of the business and that it is legitimate, which seems to be a major concern for potential users.
On the other side, many providers mentioned that they feel underpaid, there are questions about privacy, and they don't appreciate the spread between providers and the company take-home. These are to be expected in a human-driven business, but it is a negative in my book.
Valuation
Looking at the valuation, HEC has traded in a range of $11-$12/share since the announcement in mid January 2021. It has briefly dipped into the $10/share range which has always been a good time to buy or start a position.
The company estimates $125m of revenue in 2021, with ~50% B2C subscriber growth this year. These are impressive figures, with revenue estimated to grow 69% YoY. Last year was a blockbuster year with 94% expected revenue growth due to Covid.
At $12/share (depending on when this article gets published), it would imply an enterprise value of $1.7 billion (~20% premium to the EV that $10/share investors got in at). Applying our $125m revenue to that gets us to a forward EV/S multiple of 13.5x. GoodRx (GDRX), HIMS, American Well (AMWL), and TDOC all trade around 20x+ EV/forward sales. If we were to apply a 20% discount to these peers and apply a 16x multiple, that would result in ~20% upside from today's prices. I could easily see this business trading in line which would allow for more upside given the revenue growth profile of the business and recent dynamics of paying up for higher growth.
Risks
Talkspace must continue to show efficacy of its products and prove the naysayers wrong. Even though they may never get 100% of people onboard, the quality of the product and happiness of the supply side must be improved over time. That comes down to execution but it is something I am watching.
Further, Talkspace must continue to get B2B partnerships. I view this as a key mechanism to growing the subscriber base over time and getting to more covered lives. I believe they must navigate reopening carefully and execute well into 2H'21.
Another point that could change my thesis is if BetterHelp, Headspace, or Calm are able to gain market share for having a higher quality experience. In my mind, customer NPS and experience is key and it is not clear which service is better. Today, we know that Talkspace is slightly more expensive and "premium," but peers like Calm/Headspace could easily compete with an equivalent live offering. This would affect terminal value estimates negatively.
Further, Talkspace needs to find a way to appease the providers on the platform and justify their take rate. I believe they will need to continue to add value-added features, and that will be critical to future growth on the supply side and scale. I am closely watching for improvements in provider scores online.
Conclusion
Talkspace operates in the growing market of mental health and builds on megatrends within healthcare of using video chat as a delivery mechanism. Although there are concerns over the scientific efficacy of online therapy, I believe it is a natural human trait to want to talk to others and that video chat is accepted as a new norm given COVID-19. Further, I look at the 60%+ YoY revenue growth forecasted this year, the millions of lives under coverage, and the deep partnerships with established insurers as proof points that Talkspace is building something with real value that thousands of people find valuable.
HEC recently announced the merger and it is misunderstood by the market. There are few 60%+ revenue growers that are trading near NAV in the SPAC market, and I believe the recency of the announcement and the lack of analyst coverage has resulted in this stock flying under the radar. This is a tremendous buying opportunity with ~20% downside (cash basis of $10/share for the trust of HEC) and 20%+ upside. If the business trades closer to HIMS, we could easily see HEC hitting $20/share which would imply 66% upside from today's prices. Taking a 50/50 probability-weighted valuation lends up to ~30% upside from today's prices.
This reasonable entry point combined with a positive social impact, a strong, growing business, and proven comparables in companies like Teladoc and HIMS give me confidence that HEC will be the next great health technology investment.