Introduction
When last reviewing the small and largely unknown ethanol-focused partnership, Green Plains Partners (NASDAQ:GPP), it was found that they were walking a proverbial tight rope with their choking credit facility repayment terms, as my previous article explained. This article provides a follow-up analysis that reviews their progress fighting out of this situation along with their fourth quarter of 2020 results and their upcoming asset sale.
Executive Summary & Ratings
Since many readers are likely short on time, the table below provides a very brief executive summary and ratings for the primary criteria that was assessed. This Google Document provides a list of all my equivalent ratings as well as more information regarding my rating system. The following section provides a detailed analysis for those readers who are wishing to dig deeper into their situation.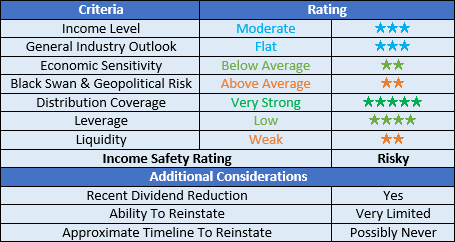 Image Source: Author.
Detailed Analysis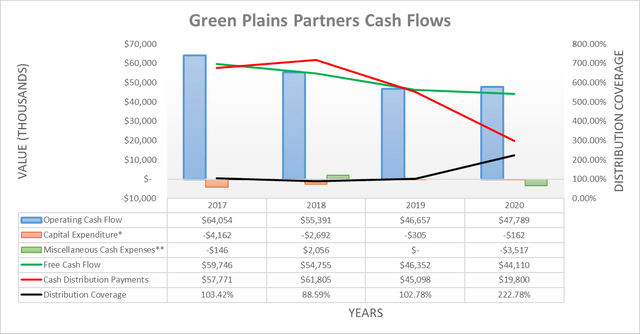 Image Source: Author.
Instead of simply assessing distribution coverage through distributable cash flow, I prefer to utilize free cash flow since it provides the toughest criteria and best captures the true impact on their financial position. The main difference between the two is that the former ignores the capital expenditure that relates to growth projects, which given the very high capital intensity of their industry can create a material difference.
When originally reviewing their cash flow performance the two primary takeaways were that their distribution coverage was now very strong following their massive distribution reduction in early 2020 but at the same time, their ability to reinstate these previous distributions is very limited. If interested in further details regarding these aspects, please refer to my previously linked article since nothing material has changed since publication.
Now turning to their recent performance and once again it appears that despite the turmoil across the economy due to the Covid-19 economic downturn, 2020 ended up being virtually identical to 2019 with their operating cash flow increasing by a very minor 2.43% year on year. When looking ahead into 2021 there is scant guidance but nevertheless, it would not be reasonable to expect any material growth in operating cash flow given their lack of capital expenditure. Following their asset sale it would not be surprising to see their results for 2021 come in a bit softer year on year but only time will tell the exact extent. Whilst this business-as-usual situation seems quite positive overall, the biggest issue facing them was their credit facility terms and thus reviewing their updated financial position is of greater importance.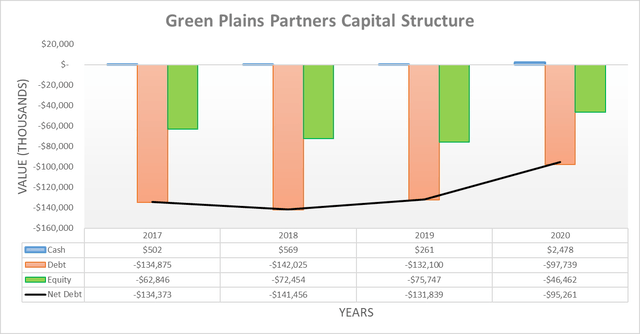 Image Source: Author.
The biggest change of 2020 was clearly evident in their capital structure with their equity increasing from deep negative levels but more importantly, their net debt decreased significantly. During 2020 it decreased 27.74% year on year and during the fourth quarter of 2020 alone it decreased by 17.39%. Once they receive the $27m from their asset sale it will materially help by instantly eliminating another 28.34% of their net debt. Whilst the absolute level of their net debt was not necessarily the previous issue, nevertheless, the lower it goes the more progress they make to finally escape their credit facility and its subsequently discussed choking repayment terms.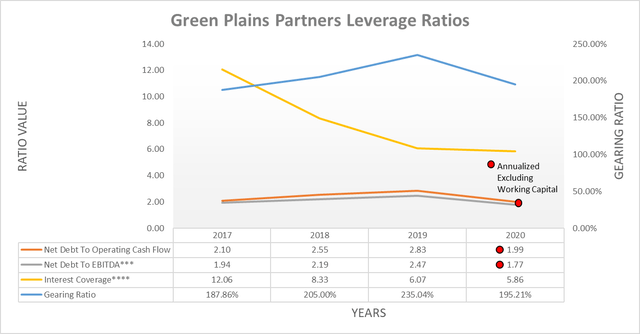 Image Source: Author.
Following their steady earnings and reduced net debt, it was only natural that their leverage also decreased in tandem throughout the fourth quarter of 2020. It now sits in the low territory versus the previous moderate territory with a net debt-to-EBITDA of 1.77, which is comfortably below the upper limits of the threshold of 2.00. Whilst their gearing ratio remains essentially off the charts at a seldom ever seen very high level of 195.21% due to their negative equity, this is not overly concerning because their leverage relative to earnings is far more important than relative to the accounting value of their net assets. Their ability to steadily produce free cash flow after distribution payments will see this leverage continue trending lower and thus further indicates that they are making progress towards finally shedding their choking credit facility.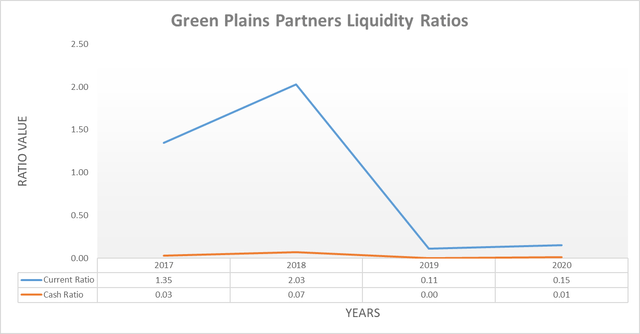 Image Source: Author.
When finally turning to their liquidity and here lays their biggest issue and risk, which is easily apparent with their crisis level current ratio of only 0.15. Whilst it would be strange to see a partnership with low leverage face issues remaining a going concern, it should nonetheless be remembered that failure to meet a debt repayment is what ultimately triggers bankruptcy proceedings and not necessarily always the level of debt.
Similar to the original analysis, their liquidity issue stems from their previously mentioned credit facility that houses all of their debt and unfortunately matures in December 2021. Whilst this is still many months away, they are required to make monthly repayments in the meantime that will soon reach $3.2m and thus effectively consume essentially all of their free cash flow after distribution payments, thereby choking their finances. If interested in further details regarding their credit facility repayment terms, please refer to my previously linked article.
Thankfully their upcoming $27m asset sale will provide a much-required cash infusion to materially relieve a degree of this pressure. This will essentially buy them slightly over eight months of repayments once their monthly repayments reach $3.2m in the near future. Whilst this smooths out their path up until around the end of 2021 and thus undoubtedly helps, they will still need to refinance the remainder of the debt maturity by year-end. When combining the $27m proceeds from this asset sale with even $48m of free cash flow, it only equals $75m and thus falls well short of their $98m debt maturity. Considering this assumed steady operating cash flow along with zero capital expenditure and distribution payments, it illustrates the point that either further asset sales or refinancing are still required. Since their leverage is now low, their ability to refinance their credit facility as necessary should be helped greatly but alas, if 2020 taught anything, it would be to never count upon anything until it has actually happened and thus their liquidity is still only rated as weak.
Conclusion
Overall, they are making solid progress and their asset sale will buy them more breathing room but until such time as their credit facility has been refinanced, risks will persist. Once completed they will be well-positioned to see their distributions begin growing again. Given this situation, I continue believing that a neutral rating is appropriate for the time being with the possibility of an upgrade to a bullish rating in the future.
Notes: Unless specified otherwise, all figures in this article were taken from Green Plains Partners' 2020 10-K, 2019 10-K and 2017 10-K SEC Filings, all calculated figures were performed by the author.