Eldorado Gold: This Gold Bearish Spell Is An Opportunity
Summary
Revenues were $278.5 million, up from $191.87 million the same quarter a year earlier and slightly down sequentially.
The company announced fourth quarter gold production of 138,220 Au Oz for Q4.
I am using this bearish spell as an excellent opportunity to accumulate.
Looking for a helping hand in the market? Members of The Gold And Oil Corner get exclusive ideas and guidance to navigate any climate. Get started today »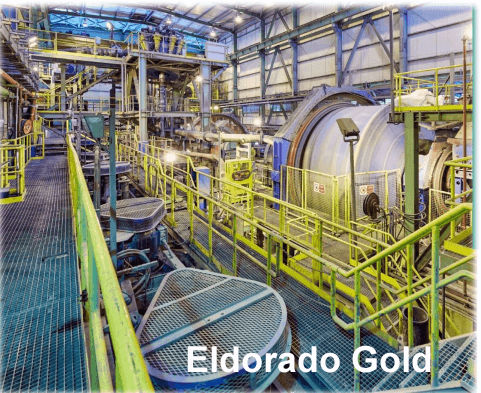 Source: Eldorado Presentation
Investment Thesis
Vancouver-based Eldorado Gold (NYSE:EGO) released its results for the fourth quarter and full-year 2020 on February 25, 2020.
The gold producer's operational results were impressive again, but it has been in free-fall since then. Eldorado Gold reached its 2020 guidance as it maneuvered through the coronavirus pandemic negative effects.
The issue is that gold is down sharply just in the last few weeks, and the gold mining sector is following the trend no matter what. In fact, the gold price is correcting from its August high and describes a perfect 10-year Cup & Handle pattern that I have explained many times on Seeking Alpha. We are now well into the bearish handle of this bullish pattern.
In my preceding article about the fourth quarter preliminary gold production, I wrote:
We are entering 2021, and it is time again to make some cautious predictions of stock's performance that have been a severe disappointment to many long term investors in 2020. 2020 offered everything we can imagine to set a stellar year, yet we are back to the $10s again.
Nothing has really changed, and EGO is back again in the $10s even after announcing the news of a groundbreaking agreement with Greece about the Skouries mine. What could do the trick?
The investment thesis is a little complicated now. Eldorado Gold is unquestionably a long-term investment candidate. The future growth is evident, and Greece's situation is now realistically solved with an agreement that should be ratified by the Greek government very soon. It is not the end of the process but an exciting beginning.
However, it is prudent to trade short-term regularly your long-term position. The gold sector is highly volatile and could turn ugly on short notice.
The recent drop in gold price reaching another low, barely above $1,725 per ounce, has sent a cold spell over the gold miner industry, with gold miners tumbling on Friday as much as 6%.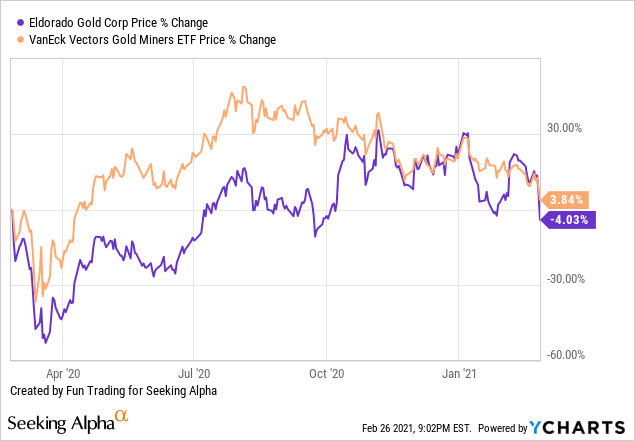 George Burns, the CEO, said in the conference call:
I am very pleased with the strong operational and financial results in Q4 and over 2020. We delivered on many fronts, including maintaining and achieving our original 2020 guidance and achieving our highest quarterly production in nearly 5 years.
Eldorado Gold - 4Q'20 Balance Sheet And Gold Production: The Raw Numbers
| | | | | | |
| --- | --- | --- | --- | --- | --- |
| Eldorado Gold | 4Q'19 | 1Q'20 | 2Q'20 | 3Q'20 | 4Q'20 |
| Total Revenues in $ Million | 191.9 | 204.66 | 255.92 | 287.60 | 278.5 |
| Net Income in $ Million | 91.2 | -4.88 | 45.62 | 41.01 | 22.80 |
| EBITDA $ Million | 158.7 | 80.15 | 137.91 | 162.97 | 95.10 |
| EPS diluted in $/share | 0.57 | -0.03 | 0.26 | 0.23 | 0.13 |
| Cash from Operating Activities in $ Million | 45.15 | 53.27 | 99.63 | 165.40 | 107.40 |
| Capital Expenditure in $ Million | 41.8 | 40.48 | 37.13 | 50.85 | 64.40 |
| Free Cash Flow in $ Million | 3.4 | 12.79 | 62.50 | 114.55 | 43.00 |
| Total Cash $ Million | 181.0 | 366.47 | 444.96 | 504.36 | 511.00 |
| Long-term Debt in $ Million | 479.7 | 445.1 | 596.99 | 542.89 | 501.13 |
| Shares outstanding (diluted) in Million | 170.9 | 165.2 | 173.91 | 178.13 | 179.83 |
| Eldorado Gold Production Au Oz | 4Q'19 | 1Q'20 | 2Q'20 | 3Q'20 | 4Q'20 |
| Production gold Au Oz | 118,955 | 115,950 | 137,782 | 136,922 | 138,220 |
| AISC | 1 110 | 952 | 859 | 918 | 959 |
| Gold Price | 1 475 | 1 580 | 1 726 | 1,919 | 1,845 |
Source: Company filings and Fun Trading files.
Note: More data are available to subscribers only.
Balance Sheet And Production Discussion
1 - Revenues for 4Q'20 were $278.5 million at the end of December

Revenues were $278.5 million, up from $191.87 million the same quarter a year earlier and slightly down sequentially. The company recorded a net income to shareholders in the fourth quarter of $22.8 million or $0.13 per diluted share.
The adjusted net earnings for the quarter were $58.0 million or $0.33 earnings per share. The solid revenue is due to the average realized gold price in the fourth quarter of 2020 at $1,845 per ounce, compared to $1,475 per ounce in the comparative quarter of 2019. It is $370 per ounce higher, and it is making a large difference.

2 - Eldorado Gold is now net debt-free as expected

Total cash increased this quarter and stands now at $511.0 million, up from $504.6 million in the previous quarter. It is the most encouraging part of the balance sheet, in my opinion, especially with the development of Skouries mine that will require about $700 million in CapEx.
Also, Eldorado Gold is still mulling the sale of two non-core gold projects: Tocantinzhino in Brazil and Certej/Bolcana in Romania. In the press release:
Certej Project – Romania We continue to evaluate strategic options for the Certej and Bolcana projects which may include a potential sale or a partnership. The Certej mining concession was extended in January 2020 for an additional five years...

Tocantinzinho Project – Brazil We are currently evaluating strategic options, which may include a full or partial sale, partnership or standalone listing, to maximize value for the Tocantinzinho Project, a non-core gold asset...
While I do not see much value for Certej, I believe the Brazil project could bring between $100 million and $150 million in cash, which will come extremely handy for the development of Skouries. Why have these transactions not been done already? It is well beyond my understanding.

3 - The free cash flow is estimated at $43.0 million for the fourth quarter

Note: The organic free cash flow is cash from operating activities minus CapEx.
EGO shows a 2020 free cash flow of $257.35 million, with $43.0 million for the fourth quarter of 2020. These numbers are quite impressive and help the bottom line here.
Also, this positive trend is quite encouraging and makes me wonder if the company should resume paying a dividend to its shareholders, which has been canceled since March 2017. It is perhaps time to reward faithfully long shareholders here.
4 - Gold production details for the 4Q'20
The company announced fourth-quarter gold production of 138,220 Au Oz for Q4. Solid and steady quarterly production numbers for the last three quarters as we can see in the graph below:

Lamaque did pretty well this quarter.

Kisladag did not meet production expectations this quarter:

But Lamaque has been the bright spot:

Also, the company indicated a maiden resource announced at Ormaque: Inferred gold of ~800,000 ounces near Lamaque operations.
Note: Eldorado Gold is producing gold as a primary metal, but it also produces silver, zinc, and lead. Olympias mine also includes production from Stratoni mine. "Stratoni produced 44,382 tonnes of concentrate during 2020, increasing 19% from 37,153 tonnes in 2019. "
One element that should be noticed and shows some definitive progress is the AISC trending around mid-$950 per ounce, the industry average.

5 - 2021 Guidance and Five-Year Outlook
On January 7, 2021, Eldorado Gold provided detailed 2021 production and cost guidance and an updated five-year production outlook.
The company's 2021 gold production is projected to be between 430K and 460K ounces at all-in sustaining costs - AISC - of $920 to $1,150 per ounce.

Source: Presentation
6 - The Greek assets update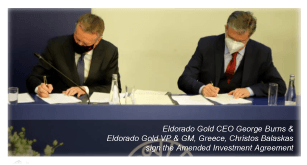 Source: From presentation.
I recommend reading my preceding article about the new agreement here where I look at the different aspects of this new groundbreaking development. This news is good news for the company's future. It finally unlocks a massive part of the reserves of the company.
Conclusion And Technical Analysis
Eldorado Gold is entering 2021 with many exciting developments from Lamaque to Greece; you name it.
All these positives are unfortunately shaded by the actual gold weakness, which is temporary. In my opinion, as a TA trader, gold was due to a correction after reaching a high at $2,070 per ounce in August. The 10-year chart and the "Cup & Handle" pattern were clear indicators.
However, this pattern is often considered bullish. We are just going through the bearish part of the last handle. Gold will resume its uptrend. The question is not if but when.
Meanwhile, I am using this bearish spell as an excellent opportunity to accumulate.
Technical Analysis (Short Term)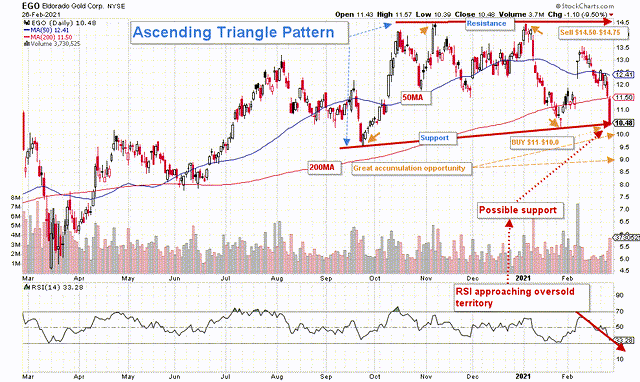 EGO forms an ascending triangle pattern with resistance around $14.50 that we should consider the sell target mid-term and support at $10.50, which presents a great opportunity to accumulate.
The support is strong, but EGO could eventually cross it due to the recent gold weakness. However, a quick look at the RSI close to 30 indicates that the stock is already oversold. It means that we can start accumulating now with reasonable confidence.
However, watch the gold price like a hawk.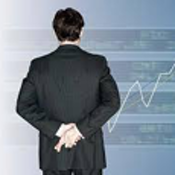 Join my "Gold and Oil Corner" today, and discuss ideas and strategies freely in my private chat room. Click here to subscribe now.
You will have access to 57+ stocks at your fingertips with my exclusive Fun Trading's stock tracker. Do not be alone and enjoy an honest exchange with a veteran trader with more than thirty years of experience.
"It's not only moving that creates new starting points. Sometimes all it takes is a subtle shift in perspective," Kristin Armstrong.
Fun Trading has been writing since 2014, and you will have total access to his 1,988 articles and counting.
This article was written by
I am a former test & measurement doctor engineer (geodetic metrology). I was interested in quantum metrology for a while.
I live mostly in Sweden with my loving wife.
I have also managed an old and broad private family Portfolio successfully -- now officially retired but still active -- and trade personally a medium-size portfolio for over 40 years.
"Logic will get you from A to B. Imagination will take you everywhere." Einstein.
Note: I am not a financial advisor. All articles are my honest opinion. It is your responsibility to conduct your own due diligence before investing or trading.
Analyst's Disclosure: I am/we are long EGO. I wrote this article myself, and it expresses my own opinions. I am not receiving compensation for it (other than from Seeking Alpha). I have no business relationship with any company whose stock is mentioned in this article.

I am accumulating now
Seeking Alpha's Disclosure: Past performance is no guarantee of future results. No recommendation or advice is being given as to whether any investment is suitable for a particular investor. Any views or opinions expressed above may not reflect those of Seeking Alpha as a whole. Seeking Alpha is not a licensed securities dealer, broker or US investment adviser or investment bank. Our analysts are third party authors that include both professional investors and individual investors who may not be licensed or certified by any institute or regulatory body.