Dividend Sleuthing: Public Storage
Summary
Public Storage is the largest owner of self-storage facilities in the U.S., and it owns a stake in two REITs, spinoff PS Business Parks and a European company, Shurgard.
From one storage unit in 1972, to a fast-growing real estate investment trust, to a mature sector leader, Public Storage has plateaued, resulting in a flat dividend since 2017.
The company has avoided a fight with Elliott Management by agreeing to place two Elliott representatives on the company's board (called "trustees").
The company has low debt and is one of only two REITs with a Standard & Poor's credit rating of A. The Public Storage Investor Day is May 3, 2021.
Looking for a helping hand in the market? Members of Margin of Safety Investing get exclusive ideas and guidance to navigate any climate. Learn More »
Self-Service Storage
Public Storage (NYSE:NYSE:PSA) is the largest owner of self-storage facilities in the U.S., with 2,548 facilities and 175 million rentable square feet in 38 states (2020 10-K, p.5).
PSA benefits from scale, which makes it competitive on price. Its nationwide presence and familiar orange logo give it very valuable name recognition. PSA has made significant investments in customer-friendly Internet technology for online advertising and for making reservations.
Public Storage's dominance is reflected in the company's position as the largest real estate investment trust in the Self-Storage sub-sector of the FTSE Nareit All REITs Index, with an equity market capitalization of $39.786 billion as of 1/31/21. This was considerably more than the combined equity market cap of the other five self-storage REITs in the index.
PSA's strength is complemented by two other investments. PSA owns 42% of PS Business Parks, Inc. (NYSE:PSB), an industrial-focused REIT that offers flex space in multi-tenant buildings in multi-building business parks for manufacturing, product assembly or distribution, typically with adjoining office space. PSA also has a 35% interest in a European business, Shurgard Self Storage SA ("SHUR" on Euronext Brussels).
Public Storage's experienced management team is led by CEO Joseph D. Russell, Jr., 60.
Brief History
Public Storage has a dominant self-storage market position and an A credit rating. Founder Wayne Hughes hated debt and grew the business during the heyday of private investing. Rather than bonds, PSA uses mostly preferred stock that is perpetual but callable, giving PSA maximum flexibility to issue new shares when advantageous. Here's a capsule history of the company:
1972--Opened first self-storage facility in California as a partnership of founders Wayne Hughes and Ken Volk.
1977--Formed first of many real estate limited partnerships, raising $200,000 to $300,000 annually from 200,000 institutional and individual investors, for a total of $3

billion from 1977-1989

.

1980--Organized as a REIT, and began to convert some RELPs to REITs, in which PSA held interests as a joint partner and/or shareholder.
1986--PS Business Parks organized as a division of Public Storage.
1995--Became self-administered and self-managed, bringing together Storage Equities 16 other spinoff REITs, an advisor, a

manager, a facilities operator, a business park operator, 33 retail stores, 65 trucks available for rent at 45 locations, and a pick-up and delivery service.

2006--Acquired rival Shurgard Storage Centers, with properties in 38 states and 7 European countries for $3.2 billion.
2007--Public Storage, Inc. reorganized as Public Storage.
2018--Shurgard initial public offering in Europe.
2020--Beyond Self Storage acquired for $528 million.
Vital Signs
PSA's 2020 Q4 press release reported net income of $1.098 billion, or $6.29 per share, for 2020, down from $1.273 billion, or $7.29 per share, in 2019. FFO (funds from operations) was $9.75 per share, down from $10.58 in 2019, a decrease of 7.8%. PSA is one of only two REITs with a Standard & Poor's credit rating of A.
The graph below indicates steady growth from the 2009 Great Recession low through a peak in 2016. The uptrend in FFO (total green area) plateaued in 2017. Dividends (dark green area) have been flat since 2017. F.A.S.T. Graphs projects modest future dividend growth.
PSA's stock price (black line) has made sharp up and down movements. The stock has made lower highs and lower lows. From the peak in 2015 through the March 2020 low, PSA's stock trend has been relatively flat with a downward bias. In early 2020, prior to the pandemic, PSA's stock appeared to be attempting a recovery. Since the beginning of the pandemic, the price has made a classic "W" pattern. Is the stock attempting to resume the early 2020 upswing that was interrupted by the coronavirus recession?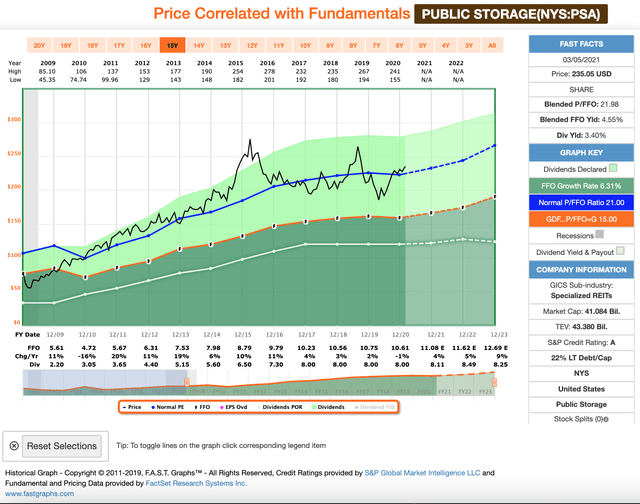 From F.A.S.T. Graphs
Strategy
Public Storage was one of the fastest growing US businesses in the 1980s-1990s. Since then, PSA has become a mature company that seems to be consolidating and integrating its US and European businesses amid increasing competition. Some people see PSA as a sleepy performer, evidenced by a plateau in FFO and no dividend increase for the past four years.
In December 2020, Elliott Management rang a "wake-up" bell when the activist investment firm announced it believes PSA has failed to take advantage of its "first mover" position and has underperformed due to two main issues:
A failure to invest more aggressively in its strong asset base; and
Lagging sales growth.
Elliott sought six PSA board ("trustee") positions. CEO Joe Russell and his team addressed some of Elliott's concerns in a December 14 press release that presents management's case for future growth. On January 5, PSA agreed to appoint two Elliott Management representatives to their board and to create a Long-Term Planning Committee "focused on Public Storage's long-term planning, strategy, growth, capital allocation priorities and capital structure management."
Self-storage is a competitive industry. PSA faces threats from small and regional operators and from other listed REITs. PSA also faces threats from government regulators, but Elliott Management suggests that PSA's greatest threat may be complacency. It is encouraging that the company has taken important steps to address Elliott's concerns.
Public Storage seeks to be a "green" neighbor, with a strong sustainability consciousness. The REIT partners with communities to improve the landscape where possible, such as by repurposing and renovating old structures.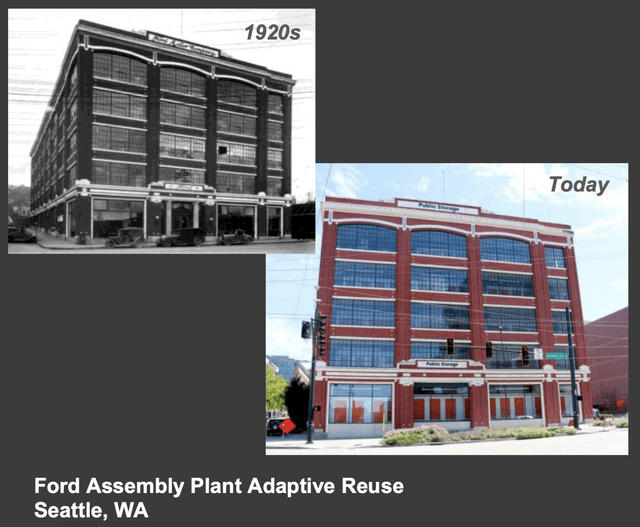 From the PSA 2019 Sustainability Report
The Dividend
PSA's $2.00 quarterly dividend ($8.00 annually) yields 3.40% at a 3/5/21 closing price of $235.05. From 2010 to 2017, PSA raised the dividend seven straight years, with a 5-year growth rate of 14.9% and a 10-year DGR of 13.8%. However, the dividend has been $2.00 per quarter since 2017.
The average high yield for the past 5 years was 4.28%, with the highest yield of 5.1% reached on March 23, 2020. The 52-week price range has been $155.37-$246.52.
Investment Thesis
From the Q4 2020 earnings call: The occupancy rate for Q4 was 95.2%. Of 600,000 move-ins during 2020, half came from PSA's e-rental contactless leasing channel. PSA's new third-party management business grew to 120 properties. Acquisitions and development have averaged about $250 million for each of the past five years, funded with retained cash flow, preferred stock or unsecured debt. PSA has record low issuances of debt and preferred equity. In January, they issued a 5-year bond at less than 1% interest.
Public Storage seems well positioned to grow. In Q4 they saw an uptick in move-ins by people making home renovations and by those needing more space due to working from home. PSA is seeing more properties available for purchase, at occupancy rates around 65%. Typically, investors in those properties are impatient with low occupancy rates and this provides a buying opportunity for PSA. At the recent Q4 2020 earnings call, analysts expressed appreciation for the 38-page supplemental presentation, which is timely and helpful for anyone considering an investment.
Public Storage has many strengths: an A credit rating, a dominant footprint across the U.S., deep relationships in many communities, an obvious first call for any investors wanting to sell their storage facilities, a stake in PS Business Parks and Shurgard, a ready market for their low-yielding preferred stock and bonds, and an effective digital platform for advertising and reservations.
The dividend is relatively safe, with a "very safe" 96 rating from Simply Safe Dividends. Lackluster FFO growth and a flat dividend are disappointments. Investors will want to watch for the impact of Elliott Management's new representation on the PSA board (or "trustees"). Specifically, will the new trustees support increased debt? Will PSA continue to freeze the dividend?
The company's Investor Day is May 3, 2021.

This article was written by
I am a retired dividend investor focused on total shareholder return through a diversified equity portfolio that is designed around quality, growth and relative safety.
.
Analyst's Disclosure: I/we have no positions in any stocks mentioned, and no plans to initiate any positions within the next 72 hours. I wrote this article myself, and it expresses my own opinions. I am not receiving compensation for it (other than from Seeking Alpha). I have no business relationship with any company whose stock is mentioned in this article.

This article is for informational purposes only (not a solicitation to buy or sell stocks). Ted is not a registered investment adviser. Kirk Spano is an RIA. Investors should do their own research or consult a financial adviser to determine what investments are appropriate for individual selection. This article expresses my opinions and I cannot guarantee that the information/results will be accurate. Investing in stocks involves risk and could result in losses.
Seeking Alpha's Disclosure: Past performance is no guarantee of future results. No recommendation or advice is being given as to whether any investment is suitable for a particular investor. Any views or opinions expressed above may not reflect those of Seeking Alpha as a whole. Seeking Alpha is not a licensed securities dealer, broker or US investment adviser or investment bank. Our analysts are third party authors that include both professional investors and individual investors who may not be licensed or certified by any institute or regulatory body.