What's your favorite song of all time?
You've got five seconds to answer starting from the moment I say "Go." So, with that said:
On your mark…
Get set…
Go!
Five. Four. Three. Two. One. And stop! What's your answer?
A few of you might have a legitimate one: An actual title instead of "Ummm…" or "I know I do have one." But I imagine the majority of you are a bit stumped by this intro for a few different reasons:
I put you on the spot when you weren't expecting it.
I gave you less than 10 seconds to work with.
There are a lot of songs you've heard to sort through.
You probably have more than one favorite.
I've mentioned a few of my own go-tos in articles over the years. For instance, Carly Simon's "Nobody Does It Better" is a classic that at least makes my top 10 list. If not my top 3.
It's that good, in my opinion, easily matching up with my favorite James Bond film, The Spy Who Loved Me. (Which makes sense since one was written for the other.)
But there are a few others that rank pretty high up there too – some of which I probably couldn't remember off the top of my head if I was put on the spot. Fortunately though, I didn't ask myself the question and therefore have no obligation to answer.
That's just how it works when you're writing an article. You get to call the shots.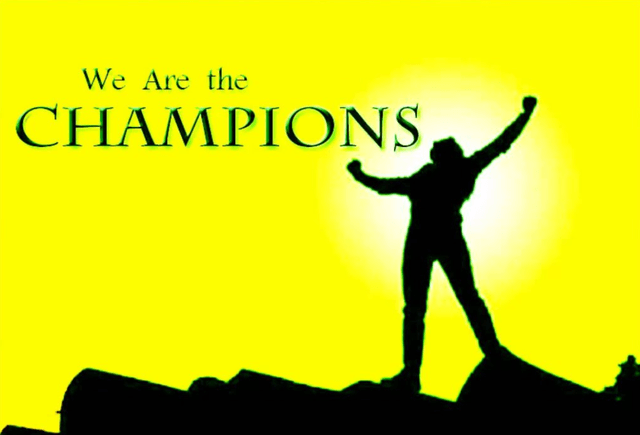 "Shot Through the Heart"
Speaking of shots, I'm reminded of another song – a classic, if you will – you'll no doubt recognize:
An angel's smile is what you sell. You promised me heaven and put me through hell. Chains of love got a hold on me. When passion's a prison, you can't break free. Oh, you're a loaded gun. Yeah. Oh, there's nowhere to run. No one can save me; the damage is done! Shot through the heart, and you're to blame. You give love a bad name. I play my part, and you play your game. You give love a bad name.
That's the '80s for you. A song written and performed by a hair band can still be considered a classic today.
Incidentally, I expect to get comments and possibly some hate over whether Bon Jovi was a hair band or not. In my defense though, MSN labeled it the No. 2 hair band right here.
Regardless, it does remind me of what's happening with Washington Prime Group (WPG). In case you missed it, I wrote an article last week titled, "Washington Prime: Another One Bites The Dust." In it, I highlighted Bloomberg's news that the struggling mall REIT is:
"… 'preparing a potential bankruptcy filing as time runs out to avert a default after it skipped an interest payment on its debt, according to people with knowledge of the plans.'

"Bloomberg writes that Washington Prime 'would use a 30-day grace period to continue negotiations with its lenders. Yet those talks are faltering... the plan to file for Chapter 11 protection isn't final and could change if negotiations evolve..."
Its investors don't look like they'll be rewarded for the love they gave, to say the least.
"I Can't Get No Satisfaction"
Now, I didn't write any of that with any glee. Like so many other people, I rather like Washington Prime Group's CEO, Lou Conforti.
The man is a unique blend of solid experience and what I've called "delightful straight talk" before. His particular personality has given him a bit of a cult following, with people tuning in to the company's conference calls just to hear what he might say next.
He's been known to reference Queen during those presentations, which is why I titled the article what I did. "Another One Bites the Dust" wasn't meant to mock what's going on with the company. Instead, you can consider it as something of a tribute.
And, one way or the other, I do hope WPG manages to make it out the other side of Chapter 11. I don't think it can, but I want it to all the same.
That unfortunate evaluation is why I'm not willing to bet on its stock as this ballad unfolds. In which case, I'm definitely not willing to tell you to. It looks like the show might very well be over for this business as we know it.
That's why I'm turning to another song and another company today. You could call this investment opportunity WPG's polar opposite. Though, in honor of Conforti's love of Queen, I'm going to stick with that theme by getting another song stuck in your head.
This time it's "We Are the Champions."
"We Are the Champions"
Justin Law, one of our expert analysts at Wide Moat Research, published frequent articles on Seeking Alpha related to Dividend Champions.
In a recent article, he explained that "the Dividend Champions list is a monthly publication tracking companies with a history of consistently increasing their dividends.
Wider in scope than the well-known S&P 500 Dividend Aristocrats and Nasdaq Dividend Achievers, the Dividend Champions covers all companies listed on exchanges in the United States."
Justin goes on to explain that "in order to be included in the list, the annual split-adjusted dividend payout of a company (based on calendar year) must be consistently increasing."
The Dividend Champions list is separated into three categories based on how long companies have maintained the streak of annually increasing dividends:
Champions (25 or more years)
Contenders (10 to 24 years) and
Challengers (5 to 9 years)
The Dividend Champions list was created by David Fish in 2007 and is currently maintained by Justin Law. The Dividend Champions list may be obtained for free for personal, non-commercial use from the DRIP Investing Resource Center.
5 Dividend Champions
Today, I wanted to highlight the five (and only five) Dividend Champions (25 years and more) in REIT-dom. Keep in mind that several companies fell off the list – notably Tanger Factory Outlet (SKT) and Urstadt Biddle (UBA) – due to the events surrounding COVID-19.
Let's start with the 27-year dividend grower, Essex Property Trust (ESS).
We have covered the company extensively at iREIT on Alpha, here are a few highlights:
"In our view, the U.S. tech space is large enough to support multiple tech hubs. So we expect its continued growth will keep creating relatively attractive job metrics in Essex areas.

What's more, ESS could simply start expanding into other markets from here. Regardless, its management team is more than capable of navigating the changing landscape.

You don't generate 15% long-term total return CAGR if you're anything but stellar, after all."
ESS has a quality score of 97 and shares are now trading at $264.09 and a P/FFO of 20.8x, ~3% below the normal 3-year average (P/FFO). The dividend yield is now 3.2% with a healthy payout ratio (of 64%). We recently downgraded the company from a BUY to a HOLD (based solely on valuation).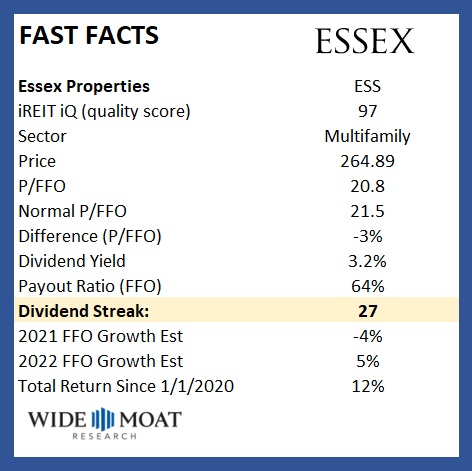 Next on the list is Realty Income (O), aka "The Monthly Dividend Company" with an impressive record of paying and increasing dividends for 28 years in a row. We recently wrote on the company,
"We continue to be bullish on O regardless. And we increased our position significantly during 2020.

So long as shares continue to trade in this ~18x AFFO range, we'll likely continue to invest in this best-in-breed name throughout 2021 as well."
O is still trading at 18.x P/FFO and shares are hovering just below $60.00. The dividend yield is 4.7% and the company is likely to grow FFO per share by 4% to 5% per year. We maintain a BUY.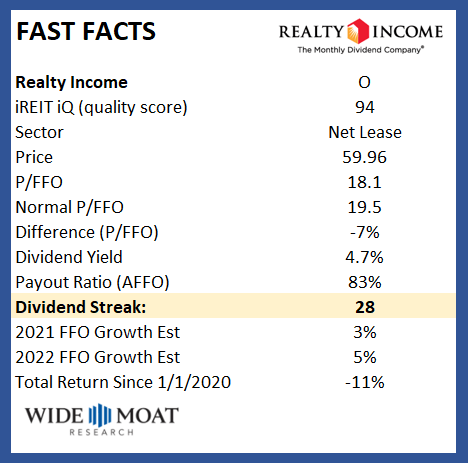 Next on the list is another net lease landlord, National Retail Properties (NNN) with an exceptional 31-year dividend growth record. We recently explained that "NNN remains a top buy at iREIT as we head into what could end up being a major turnaround year."
NNN is now trading at $42.60 and a P/FFO of 16.4x (8% below the three-year average). The dividend yield is 4.9% and well-covered by AFFO (82%). Analysts are forecasted muted growth (zero) in 2021 and 7% in 2022. We maintain a BUY.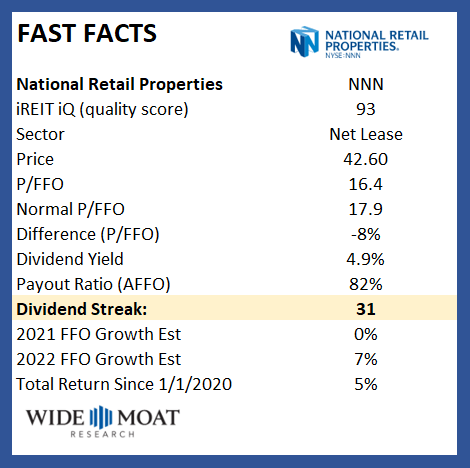 Next up, we have Universal Health (UHT), a healthcare REIT that has very little coverage on Seeking Alpha (just 16 articles in 10 years). Recently, Cash Flow Capitalist wrote on the company,
"UHT may not be dirt cheap, but its stock price gives investors a generous margin of safety, as there doesn't seem to be much downside at these levels. As I write this, UHT is trading hands at around 19.2x estimated 2020 FFO. While this certainly prices in UHT's quality, conservatism, and long track record, it's also a lower price-to-FFO than the REIT has often traded at in the past."
iREIT plans to add UHT to the coverage spectrum, as we are intrigued with the dividend record that signals the disciplined risk management profile.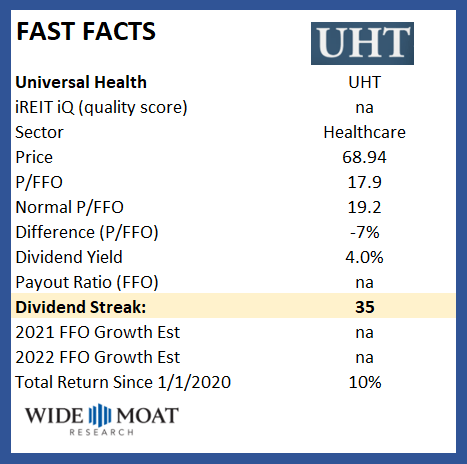 Last but not least is the "only" Dividend King in REIT-dom, Federal Realty (FRT), a shopping center REIT with an extraordinary dividend record of 53 years in a row. Although the pandemic is not officially over, it's clear that FRT has been able to survive one of the toughest markets in its history.
As of March 2020, 100% of FRT's properties remain open with 98% of the retail tenants open and operating in some capacity (as of Feb. 1). Rent collections continue to improve on the 72% and 85% levels, previously reported for Q2 and Q3 respectively, and are now up to 89% in Q420.
FRT is now trading at $105.76 per share with a P/FFO multiple of 24.0x (2% above the three-year average). The dividend yield is now 4.0% and we maintain a BUY.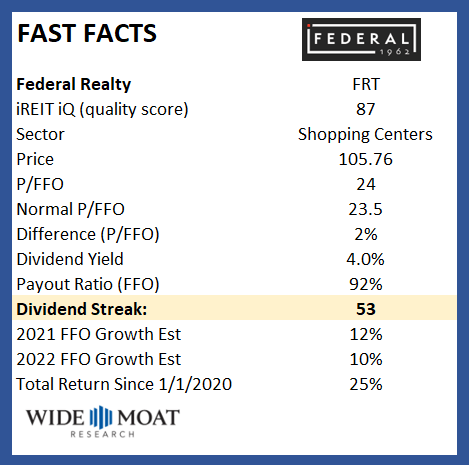 Get Ready For The Contenders
As I explained above, Justin Law also publishes the "Dividend Contenders" list (10-to-24-year dividend growth) and later this week, we will provide a list of the REIT "contenders" highlighting the companies with the best records.
This is a great precursor to our upcoming "Sweet 16" March Madness series, recognizing that dividend growth will always be the catalyst that drives total return performance. After all, it's dividend growth that separates the best from the rest.
March Madness Price: $999 For All 3 Services

Join iREIT on Alpha today and get a "front row seat" to our "March Madness" REIT Bracketology series where we break down each property sector to arrive at the "Sweet 16 REITs" to own.
We include exclusive video so our members can get all of the latest and greatest insight and maximize portfolio performance. Our coverage spectrum includes equity REITs, mREITs, Preferreds, BDCs, MLPs, ETFs, and we recently added SPACs to the lineup.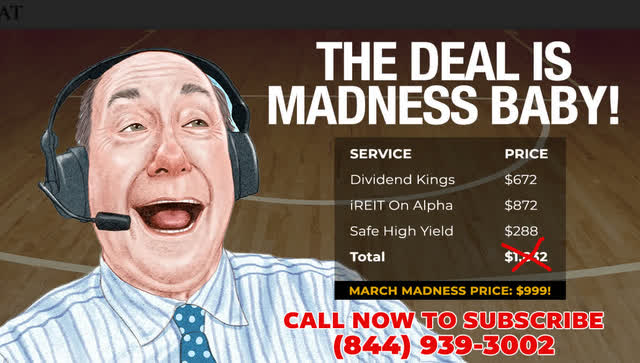 And this offer includes a 2-Week FREE TRIAL plus my FREE book.