Car manufacturing companies, which I'll refer to using their native nomenclature of OEMs (Original Equipment Manufacturers), are in a post-pandemic situation they didn't expect. They're missing components to restart production because they didn't take the time to calculate their production model against another industries' production model properly. The economy is ready for them and to stay in business they need semiconductor components, but to get these components they must wait and remain paused. Semiconductors benefit in all facets of this as every industry is now knocking on their door and governments want to throw money at them to fix it.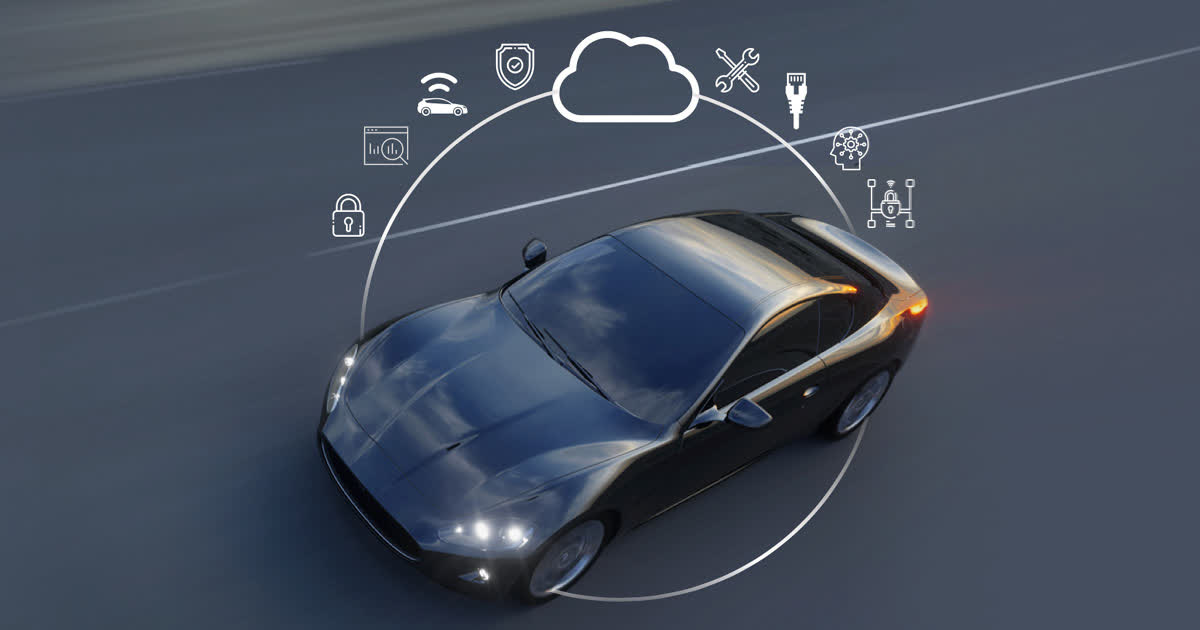 (Source: NXP Semiconductor's Press Release)
The problem is... this situation can't be fixed today.
This can be a confusing situation and unclear as to who dropped the ball and who should (can) pick it up again. I'll walk through how auto OEMs got here, where they are now, how nothing will change even with the Biden administration taking a "look" into supply chains, and, finally, which semiconductors stand to benefit the most.
How Did We Get Here?
When OEMs stopped production and waited out the pandemic, they didn't count on the higher dependency and semiconductor strategy of production of chipset hardware, electronic components, and various other logic chips to restart their production lines once demand returned. As an industry, OEMs implement strategies to keep costs down and make the production line efficient for inventory and financial agility. Because of this "just-in-time" manufacturing strategy, inventory is kept low and is close to a made-to-order production line.
My father works for a US-based metal parts stamping company that supplies these OEMs directly as well as other part vendors such as Bosch, ACDelco (GM), and NGK (OTCPK:NGKSF) (OTCPK:NGKSY). The company supplies small metal parts and components to assemble the car or for more complicated parts that ultimately wind up in the vehicle. The lag time my father's company experiences is very short when demand dries up in the auto industry. In most cases, it's merely weeks and leads to a minimal amount, if not zero, manufacturing needed as the auto industry slows to a crawl.
This works for the auto OEMs as they are the big kids on the block. They can tell their auto-related vendors when and how many parts they need.
But there's always a bigger fish.
The strategy OEMs employ doesn't complement the long lead, very methodical approach to manufacturing semiconductors. This is the tough realization OEMs are facing. While cars have become "smarter" and more assisted - moving toward autonomous - they've relied more and more on semiconductor components and less and less on sheet metal and rubber. They are finding out the hard way there's another industry they must yield to.
(Source: Ford Media Center)
The semiconductor industry doesn't just use a different strategy to manufacture its products; it can't use any other method. To remain above water and stay in the black, a semiconductor must use 100% of its fab capacity 24 by 7. This means managing its wafer and bit supply months in advance with order contracts that span quarters, not weeks.
Apple (AAPL), Amazon (AMZN), and other large consumer and cloud tech companies know this. They plan their chip and memory orders months in advance. Being bigger means being able to put larger amounts of money on the table to claim the capacity they need. This doesn't mean a bigger check automatically gets the order secured - though it doesn't hurt - rather, it's the amount of capacity locked up in these orders that counts. A smaller company can't ask for 100,000 specialized chips and expect to get it filled in three weeks. But when Apple orders 100,000,000 chips for next quarter, they not only have the cash to afford that contract, they have the foresight in their industry to predict they'll need that contract.
This brings us to another difference for OEMs. The vendors they deal with sell them spark plugs, brake calipers and bushings, among other things. Those products only work in so many industries. They can't use those in computers, or phones, or houses. But semiconductors have been on this road for a while (no pun intended), and what they produce has found its way into everything you and I do or use. This has been a transformation decades in the making.
So when OEMs turn off the lights in the plants, Bosch and NGK aren't far behind. But when they stop ordering semiconductor chips and components, semiconductor companies switch to another vertical - or industry - where demand is already breaking down the door.
And that's exactly what OEMs did - they stopped ordering semiconductors.
The semiconductors then did what they needed to by diverting resources to the chips demanded by other industries like the cloud, smartphones, networking, or PC OEMs to remain at full capacity. Since automotive didn't take up a large chunk of the industry to begin with, it didn't take much to retool for the chips they were pumping out on the line next to it.
In short, OEMs stopped production, which meant not ordering various parts and components to comply with their just-in-time manufacturing strategy. What they didn't account for once they received their last order of semiconductors was semi-fabs diverting capacity to the rise of work-from-home and new 5G smartphones and losing their slot in the capacity of the fab.
Where OEMs Are Now
With the economy seeing signs of life and consumers more stable in their job prospects, OEMs are restarting the production line. Or at least they are attempting to. Ordering parts from their usual suppliers like Bosch and ACDelco isn't too concerning as those same parts lines come back up and running, producing the products they were prior. With the foresight to schedule plant reopenings, these vendors can make the needed adjustments and resume production rather quickly.
But it takes every component for a vehicle to drive it off the lot - nothing can be missing. The bins on the production line for brake calipers, wheel bearings, and bushings were restocked. But when the call to order more chips and semiconductor-related products went out, the fab returned the message with, "Sorry, we don't have the capacity for us to sign a parts contract with you."
Is this anyone's fault? Well, sort of.
The semiconductors are saying, "Sorry you didn't plan ahead," while OEMs are saying, "You're not working hard enough to find capacity."
Bloomberg says as much in its article from January detailing the behind-closed-doors back and forth:
Chipmakers say car companies' preference for low inventories hurt their planning, while auto and part manufacturers say the supply chain is thrown into disarray as semiconductor makers drag their feet. Automakers also contend chipmakers are prioritizing consumer electronics because those devices provide the bulk of their sales and profits. Chipmakers deny they are playing favorites.
With what has transpired over the last year, semiconductors couldn't do anything about this. This one falls on the OEMs to have planned ahead and got themselves back in line well before an opening plan was even ready to be discussed. They misjudged what their semiconductor vendors would be doing while their plants' lights were off.
Right now, there's nothing OEMs can do except wait for the capacity to open up so the specific chips and components they need can be produced. But governments aren't resting on their laurels.
What The Biden Administration Is Trying To Do But Won't Be Able To
This shortage has affected almost every major automaker from GM to Ford (F), from Toyota (TM) to Tesla (TSLA). Undoubtedly, the thing to do is ask for the federal government's help.
With the US having a 12% share of the global manufacturing capacity, the Semiconductor Industry Association is looking for increased funding for capacity and R&D. While I want to see the US return to a more dominant position in the semiconductor fabrication realm, the US government is not going to make it happen. There are a few things unable to make it viable in the next three to four years.
...oh, you wanted those automotive chips this week? This problem isn't solvable by this quarter - or even this year.
The first issue is the way dominance in chip manufacturing has swayed. The broader IC (integrated circuit) industry is just a few steps behind the memory industry in terms of consolidation and its leaders rising to the top. In 1998 there were 21 DRAM vendors. By 2012 there were 11, and today there are only six, three of which make up 95% of the market. The consolidation of the industry has emphasized the very few countries where those vendors remain. Similarly, the logic chip industry has consolidated over the last several years and now sees the remainder leaving the pack behind. GlobalFoundries, once a behemoth in the space, had to bow out of sub-10nm lithography. Intel (INTC) lost the technological lead trying and failing to ramp up its 10nm node adequately. Taiwan Semiconductor (NYSE:TSM) has taken the lead in this battle of nanometers, outdoing Samsung (OTCPK:SSNLF) (OTCPK:SSNNF) for leading-edge nodes, though Samsung is putting up a fight.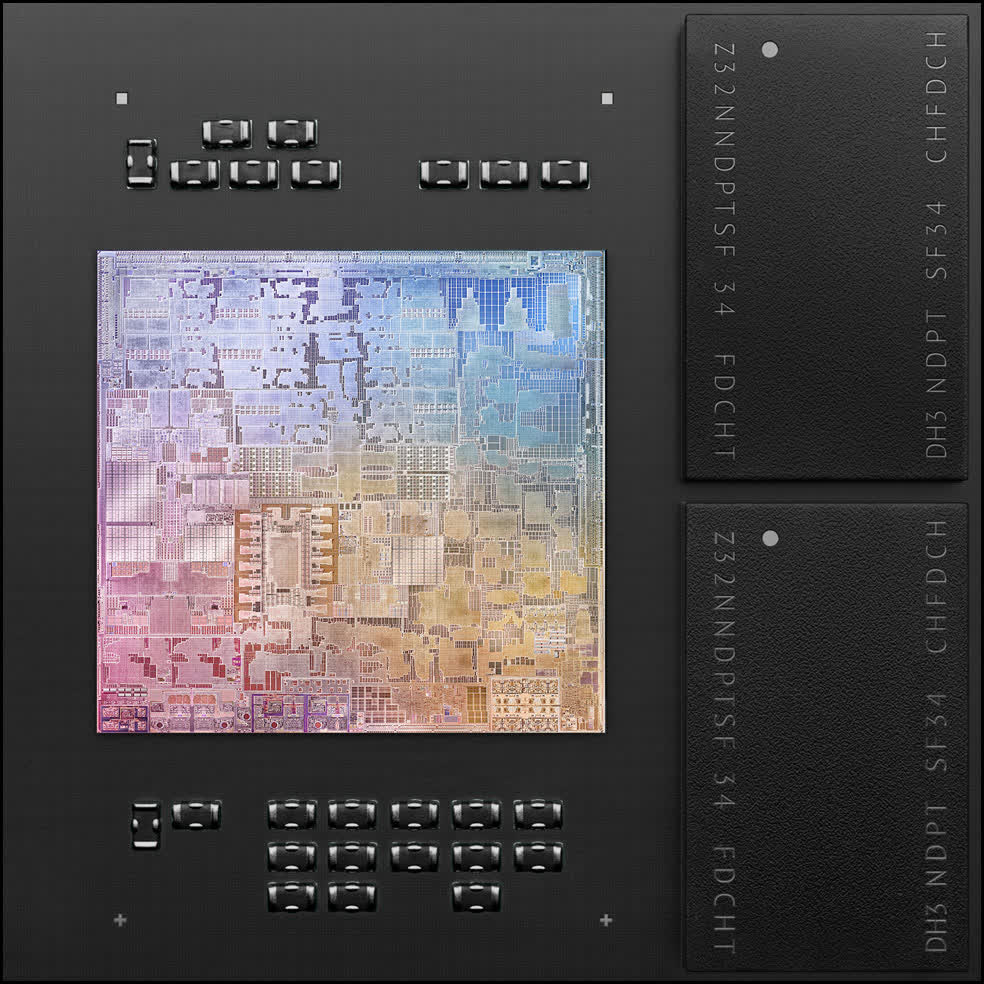 (Source: Apple M1 Product Page)
While automotive chips are not Apple M1 processors (though built on 5nm and not far off), the consolidation and the bowing out of markets by large foundries makes finding capacity difficult. What's being produced for Apple or AMD (AMD) is capacity not going to other customers or industries.
Capacity is tight in the entire industry.
The second issue is the time it takes to build a fab, let alone have the intellectual property to produce highly sophisticated components. Even if $50B were dumped into the industry tomorrow from the federal government, it would still take at least two years even to see a fab constructed - and I'm very generous there. More likely, it would take three years before it was online and processing wafers. And that $50B may only see two or three fabs built with that amount. Taiwan Semiconductor expects its under construction fab to cost $20B. Its Arizona fab is expected to cost $12B when it's all said and done.
Now let's see what the Biden administration expects out of its executive order. It's not very productive in terms of helping OEMs with their lack of semiconductors capacity today.
The order includes a 100-day review of key products including semiconductors and advanced batteries used in electric vehicles, followed by a broader, long-term review of six sectors of the economy. The long-term review will allow for policy recommendations to strengthen supply chains, with the goal of quickly implementing the suggestions, Biden said at a press event Wednesday before he signed the order.
While this is all well and good, let's recap the timeline:
Over three months of review
Then another review of the economy
Followed by policy recommendations
Finally, implementing said recommendations
At a minimum, this is a six-month but likely nine-month ordeal. We'll be lucky to see recommendations put into action by Thanksgiving. And even if somehow some semiconductor company is given grants and funding to build a fab, we'll be more than a year into this shortage, and no capacity relief will have occurred.
What's funny is that automotive capacity constraints will start to alleviate by the end of this year, according to most reports. This executive order will have looked like it accomplished something when not one extra wafer was produced because of it.
And what's better is Congress is only looking to put $30B toward the problem. - not even close to my $50B estimate. But to be fair, that's before this executive order review. I still don't trust the US government to do anything efficiently, including handing out money for something it knows little about.
I get it, though. The idea is to prevent this kind of shortage in the future - or at least I hope everyone sees that at this point. None of this will fix what is causing OEM assembly lines to be shut down for weeks right now.
Who Are The Winners?
So how do we capitalize on this in the equity market? The question of the article has now come.
The easiest thing to look for is the largest players in the auto semi market. Statistica shows us the market share data with Infineon (OTCQX:IFNNF) (OTCQX:IFNNY) as the leader, NXP Semiconductors (NXPI) in second, Texas Instruments (TXN) in fourth, and STMicroelectronics (STM) rounding out the top five.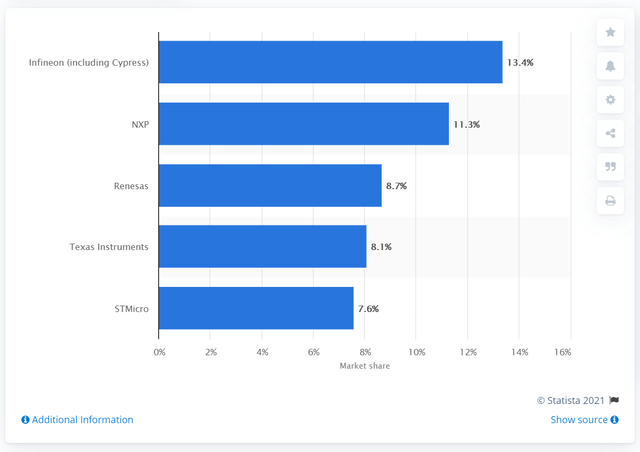 (Source: Statistica.com)
Texas Instruments is the blue-chip semiconductor on the list and received 20% of its revenue from automotive in 2020.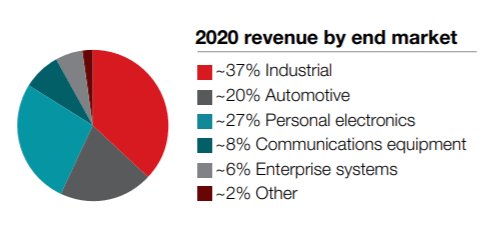 (Source: Texas Instruments' 2021 Investor Overview)
Strategically speaking, TXN expects to "place additional strategic emphasis on industrial and automotive." Texas Instruments continues to gain market share in the industry as its combined industrial and automotive revenue was 42% in 2013 but totaled 57% in 2020. Texas Instruments is a good consideration for capitalizing on this automotive need on a recovery basis but also a longer-term basis as automotive semiconductors will continue to grow in content for the next several years. TXN specializes in advanced driver assistance systems, which are the backbone for autonomous driving. MarketsAndMarkets expects the semi-autonomous and autonomous vehicles market "to grow at a CAGR of 21.36% from 2017 to 2022 and 68.94% from 2025 to 2030 respectively" in terms of vehicle volume.
However, Texas Instruments is not considered to be a high-growth vehicle in terms of investment. While revenue is expected to grow just over 14% for 2021, it's estimated to slow in 2022 to 5.1% and then further to 3.65% in 2023. If we're looking to capitalize on this recovery, TXN may be good for a low-risk, low-reward play but nothing more.
For something a little hotter, NXPI is a better candidate. Its automotive business was 47% of its revenue in 2019 and 44% in 2020. The smaller makeup in 2020 is from the slowdown in demand for vehicles - owed entirely to the pandemic. But demand in 2020 picked up toward the end of the year as OEMs began ordering components again.
Because NXPI owns a few fabs, it's able to direct capacity where its greatest demand originates, giving it an advantage over competitors who rely solely on outside fabs. However, its most advanced technology is pretty cutting edge and isn't built in its own fabs. In fact, it defers to the leader in process technology nodes, Taiwan Semiconductor.
TSMC and NXP are expanding their collaboration to create a System-on-Chip (SoC) platform in 5nm to deliver the next generation of automotive processors. Using TSMC's 5nm process, NXP's offerings will address a wide variety of functions and workloads, such as connected cockpits, high-performance domain controllers, autonomous driving, advanced networking, hybrid propulsion control and integrated chassis management.

- June 2020 Press Release
So all of this has led us to the king, the top of the mountain, the end-all-be-all in automotive chip manufacturing: TSM. As we know, TSM has courted the world's brightest chip designers, including Nvidia (NVDA), AMD, and Apple. But it's also finding the top automotive chip designers as well, and for this, it too can ride the automotive chip shortage to higher highs.
Its revenue growth is expected to be consistently in the teens over the next three years - and accelerate.

(Source: Seeking Alpha, ignore Price/Sales as it's incorrect)
Using 2022 revenue estimates, its valuation is higher than its average but has come off its highs on this March correction.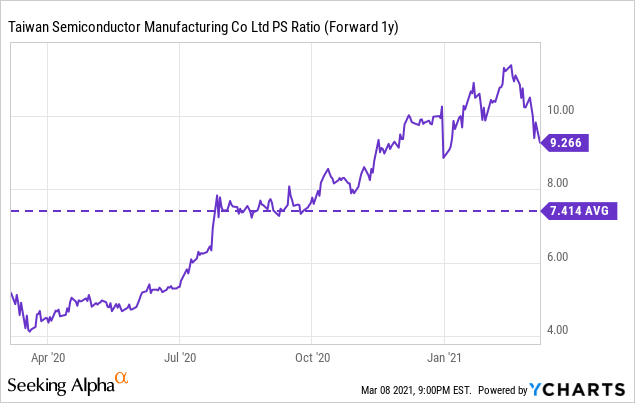 I first recommended TSM when it was trading for $84 based on its technology process leadership. After reaching $142, it retreated and has fallen further as the Nasdaq (COMP) entered correction territory last week. I decided to initiate a position at $116 while the tech correction raged on with this shortage as a primary thought.
Even though TSM doesn't produce all of the automotive parts currently in short supply, it does supply the most complicated and highest-margin parts. And these chips and components will only require faster speeds and reduced power consumption as cars become more and more electronically assisted and controlled.
Furthermore, even if automotive didn't contribute more than 3% to TSM's revenue, like it did in 2020, therein lies the growth opportunity. As all cars rolling off the production line are being designed to be less reliant on the driver and more reliant on sensors, servers, radar, and cameras, they will require better memory and processors to function. In the next two years, I expect this capacity to double or triple at TSM as demand surges and additional capacity is brought online.
And this year is the prime opportunity for this scenario to begin.
We Have A Winner
OEMs dropped the ball last year and didn't properly calculate the lead time for acquiring the parts they needed to resume production. Semiconductors are being blamed for it, yet the dichotomy of business strategies allows semiconductors to win and OEMs to lose. All that blame doesn't fix missing the supply chain mark in preparing to make vehicles after a long pause.
This brought OEMs to the government table and semiconductors with their hand out. Unfortunately, the "review process" is nothing but a bureaucratic time-wasting theatrical stunt. It will not solve the problems facing OEMs today. By the time the executive order will be making headway on capacity in the remote future, OEMs will have gotten the parts they need to resume production, albeit at a lower rate. This is supply and demand at work and an entire industry working on a different strategy.
Blame the top brass for not seeing it play out in their favor.
The winners here are the semiconductors producing automotive components. They have all the demand they can deal with and more, plus the government may start handing out money to make capital investments they already planned on.
You have a choice of three semiconductors: Texas Instruments, NXP, and Taiwan Semiconductor. Each has a unique proposition for a portfolio. There's the low-risk/low-reward, the high(er)-risk/high(er) reward, and then the leader with a balanced risk/reward proposition. But at ~$115, I'd say TSM's risk has been mitigated quite a bit and the reward for the next two years looks promising.