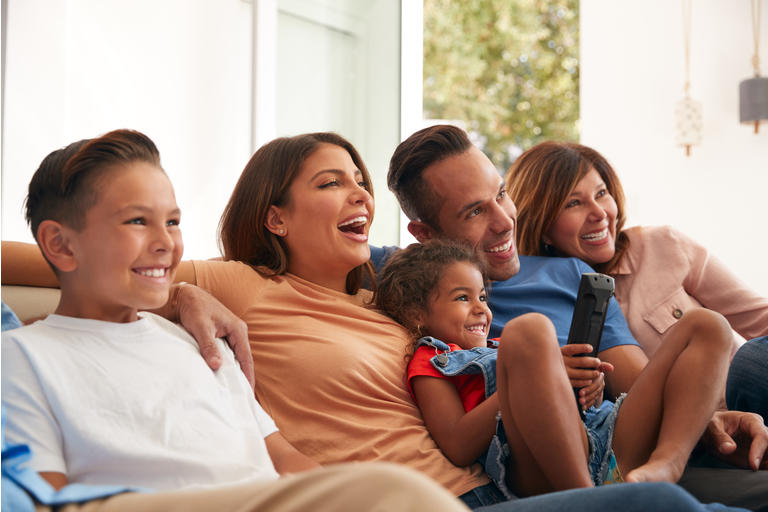 Entravision Communications (NYSE:EVC) has become a top-performing stock in 2021, currently up +65% YTD including dividends. Technical strength in its shares during May has caught my attention, scoring in the Top 1% of all U.S. equities I sort with proprietary momentum formulas. The good news for Entravision investors is the sharp gain in price looks to be fully supported by improving operating results, and its valuation remains on the inexpensive side vs. an overvalued U.S. stock market condition.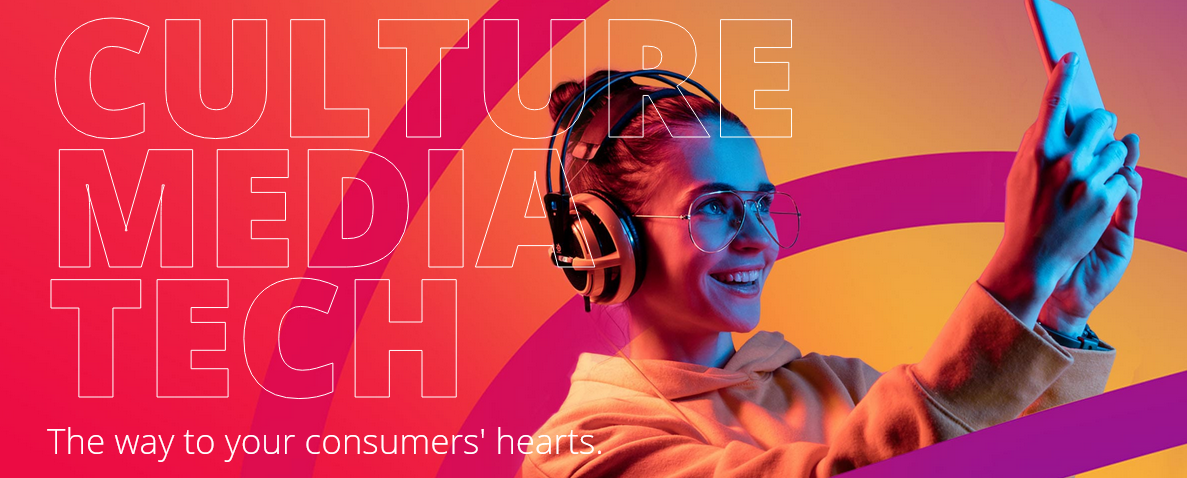 Image Source: Company Website
One of the leading Spanish language media businesses in America, the 2020 acquisition of a majority stake in digital content Cisneros Interactive has pushed Entravision's growth into overdrive. In addition, reduced expenses as an initial reaction to the coronavirus pandemic, and returning advertising revenues at its television and radio assets have spiked operating results this year.
Below is a recap of the March Q1 period announced in early May. Net revenue was up 132% over the same prior-year period; net income attributable to common stockholders was $5.4 million, compared to a loss of $35.6 million in the prior year; consolidated adjusted EBITDA was up 47%; operating cash flow was up 95%; free cash flow was up 149%; and, a quarterly cash dividend of $0.025 per share was announced.
According to Walter Ulloa, Chairman, CEO and lead investor (based on his ownership/control of the voting class of shares),
We are very pleased with our results for the first quarter 2021, with core television and audio performing well, along with our digital segment that continues to see solid growth. We are particularly pleased with the progress of our recent acquisition of Cisneros Interactive through which we significantly expanded Entravision's digital offerings to customers, including representing some of the strongest global audience and ad tech platforms. As we grew our top line, we also remained cost conscious and continue to operate a much more efficient business than even prior to the onset of the COVID-19 pandemic. Overall, we are optimistic for gradual, but continued progress throughout the balance of the year as macroeconomic conditions progress.
And, the outlook for 2021-22 remains bullish, on the back of exceptional online, social media and digital unit growth. Below are rising analyst estimates for EPS and total sales into the end of next year.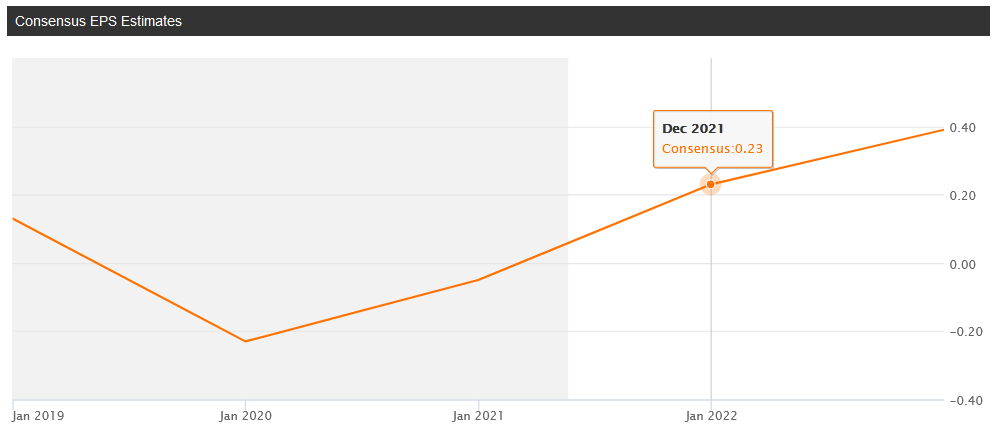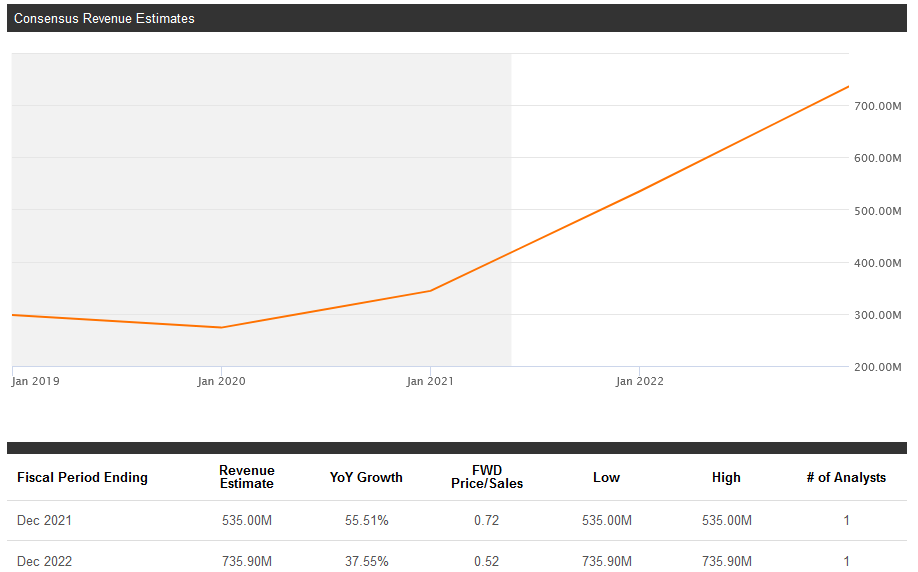 Company Overview
The company owns an enviable set of media assets, focused on the fast-growing Latino community in America and the world generally (owning many overseas assets). It is the Univision network's largest affiliated TV group in the U.S. Below are slides from Entravision's Investor Presentation in December 2020.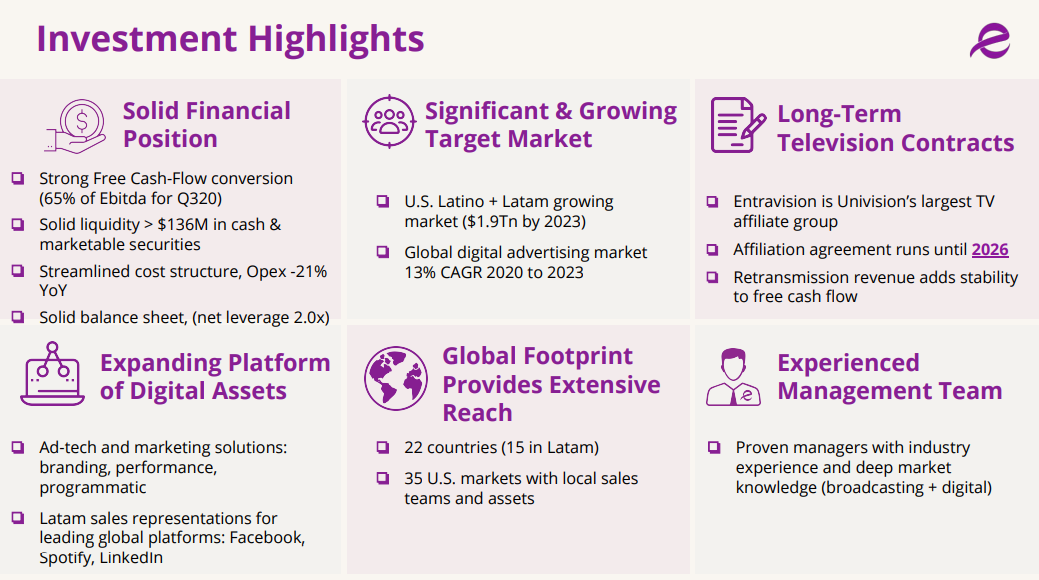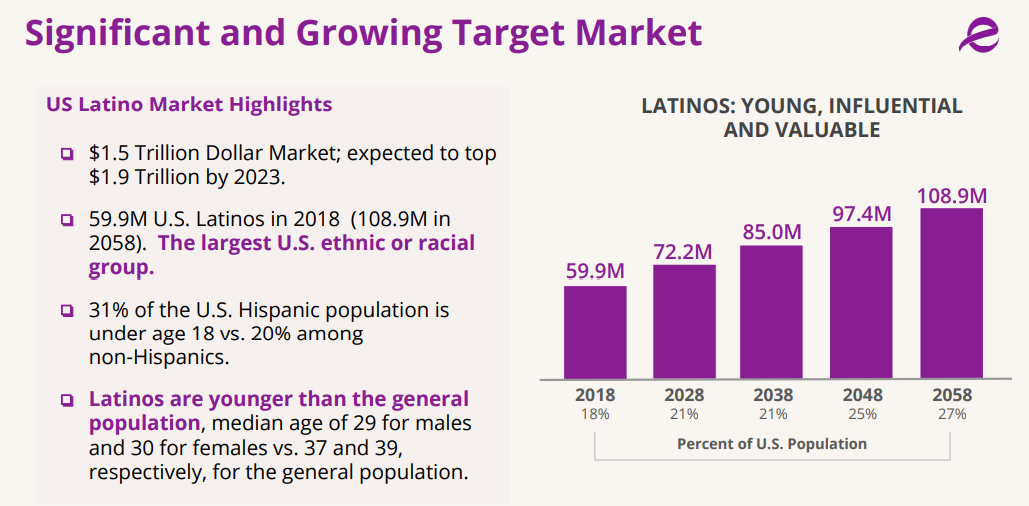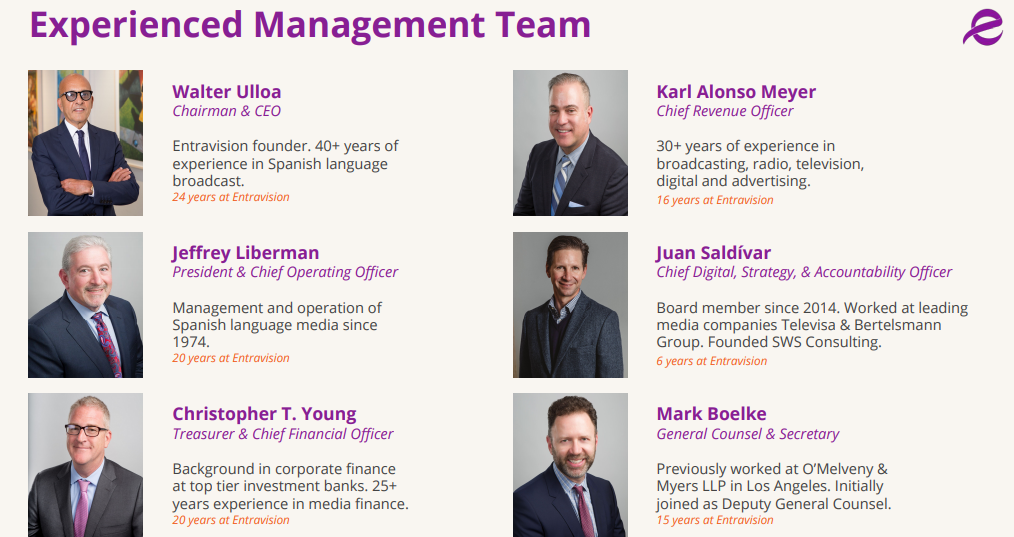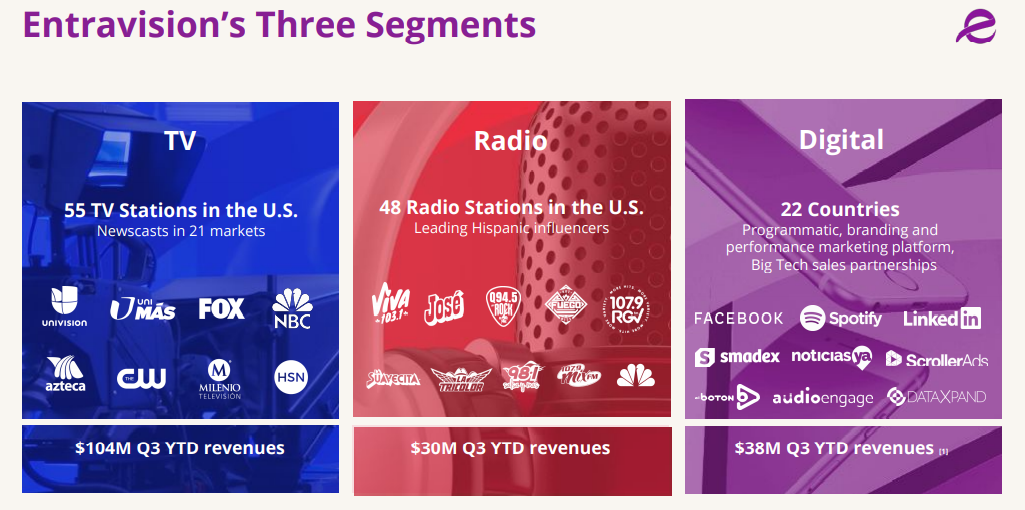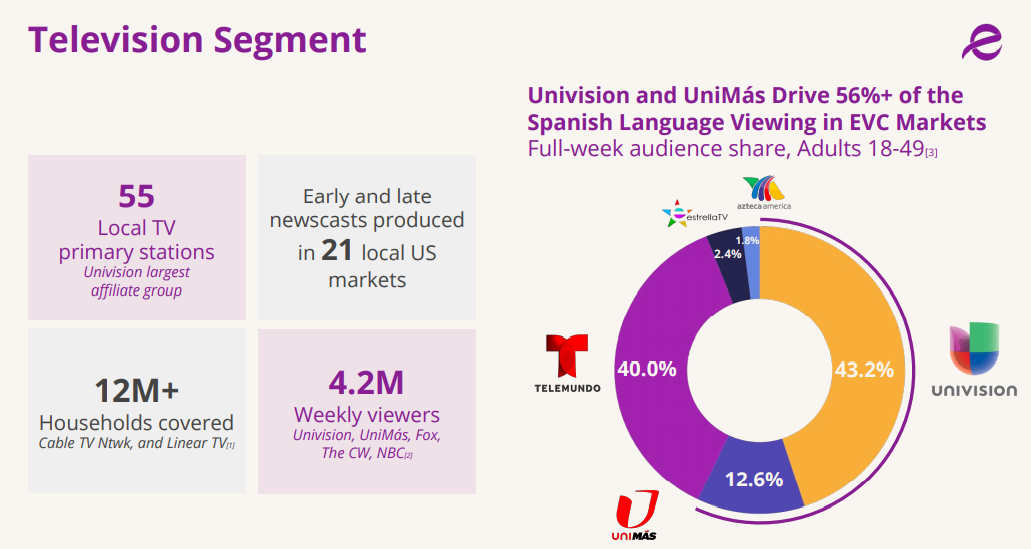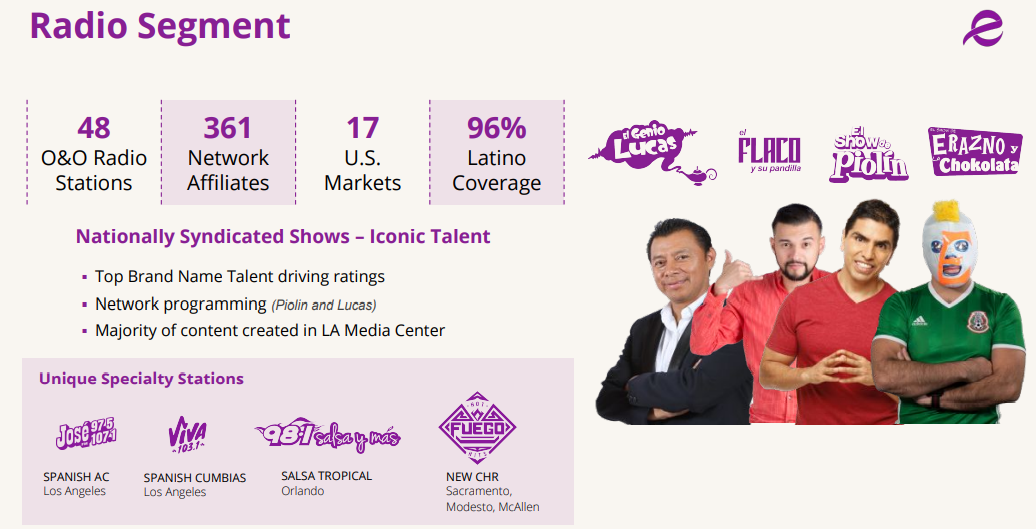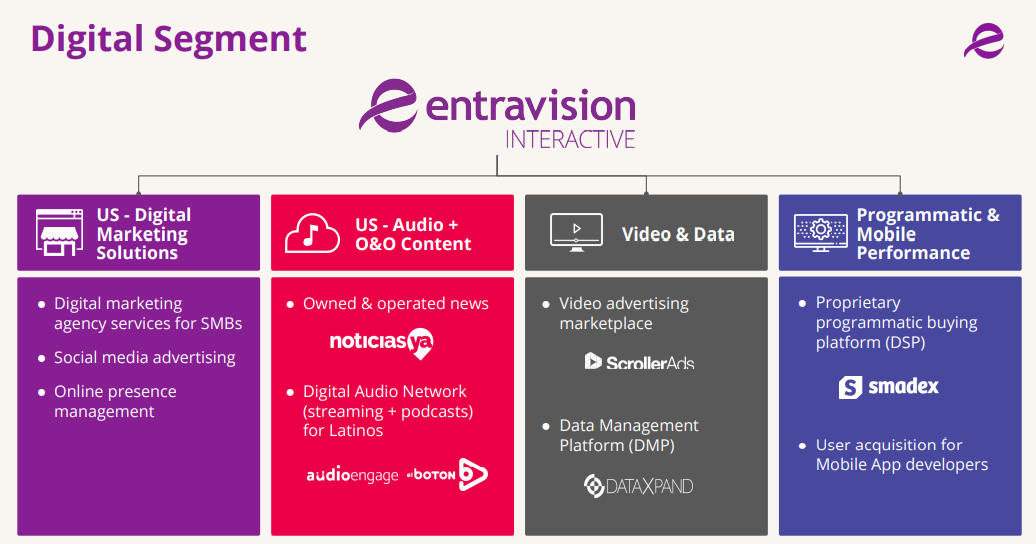 Image Source: December Investor Presentation
Excellent Profit Margins and Asset Returns
Measured against small to mid-sized media company peers and competitors, Entravision's business setup is noteworthy and increasingly profitable. As media businesses can report earnings and losses at varying rates because of the use of extensive "non-cash" intangible amortization, actual cash flow comparisons may be the most useful way to review business productivity. Below are charts of cash flow multiples to sales, assets and debt, highlighting Entravision's robust operating setup vs. the media industry in early 2021. I am contrasting results vs. Seeking Alpha listed peers, mostly based on similar stock capitalizations and company sales. Hemisphere Media (HMTV), Townsquare Media (TSQ), Cumulus Media (CMLS), Audacy (AUD), and Beasley Broadcast Group (BBGI) are included in the group.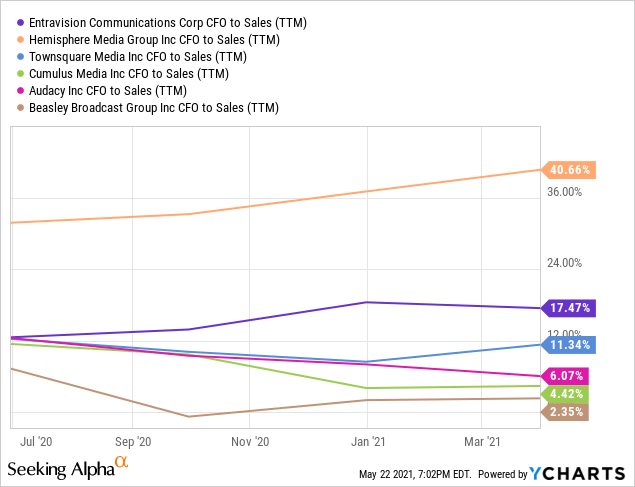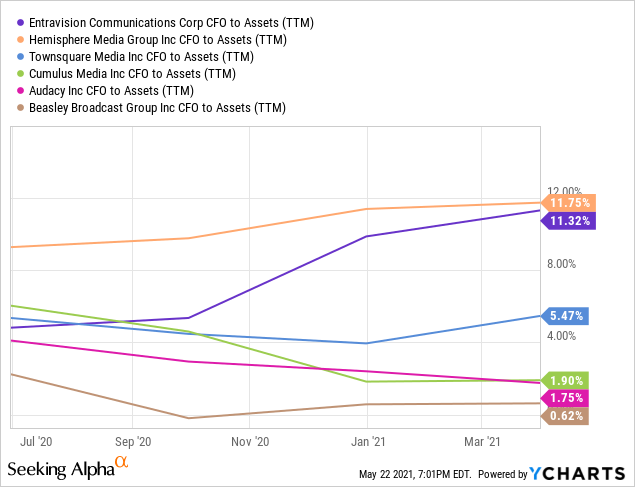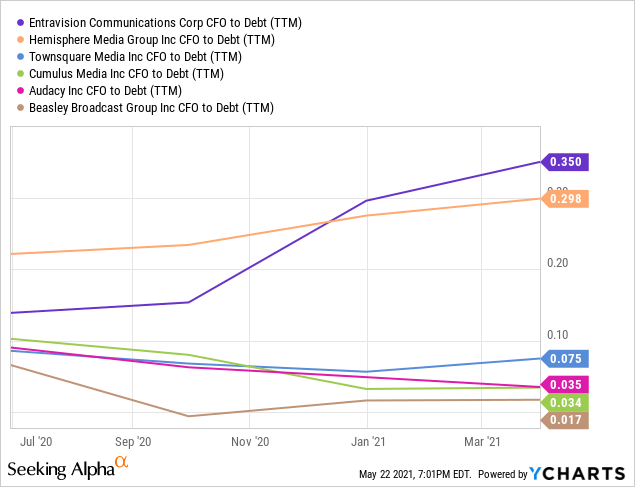 Using cash flow statistics, Entravision is a top choice (or nearly so) from the peer group. Of particular note, it would take just three years of trailing cash flow to pay off all debt and four years to repay all liabilities (net of cash). This number is super-conservative for a media company, as most are leveraged to the hilt. Below is another graph vs. a collection of large media companies generating advertising revenue through television, radio and print assets.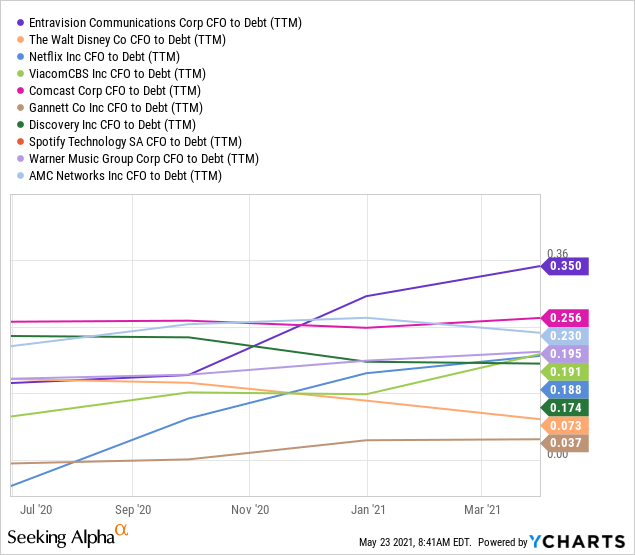 Essentially, only a select list of digital entertainment giants like Alphabet (GOOG) (GOOGL) and Facebook (FB) with tons of cash flow and little debt beats Entravision's conservative balance sheet design. High margins and asset returns are one reason management has decided to push into the digital ad space with the Cisneros purchase. Better cash flow metrics, better growth, and the integration of all types of media should translate into a higher stock valuation.
Valuation Still Low
On the valuation front, Entravision remains a solid buy despite the 200% price rise off its depressed level witnessed during the middle of 2020. Pandemic-related fears on the future of ad spending, several years of operating losses, and the lack of powerful growth drivers (before the Cisneros Interactive acquisition) contributed to a below normal valuation. Below is a 10-year graph highlighting a still strong valuation story based on trailing operating earnings, sales, cash flow and book value.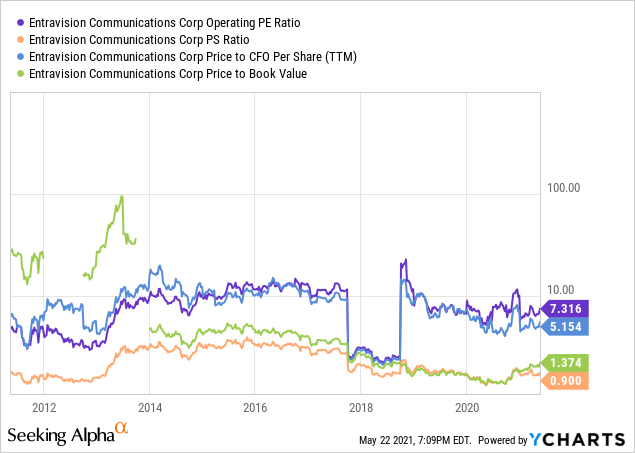 Entravision's operating P/E ratio is the lowest of the peer group, pictured below. Remember, operating earnings may just be starting to climb in extraordinary fashion this year and next with the expansion of digital revenues.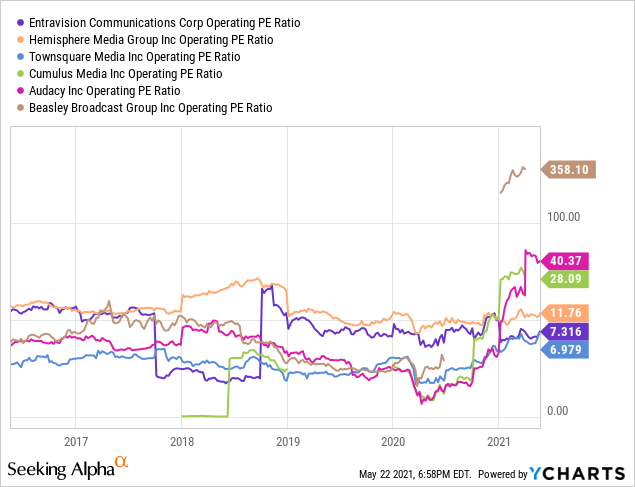 All told, the company still looks like a bargain after you subtract $165 million in cash holdings at the end of March. With an equity capitalization of $400 million at $4.50 a share, and debt issuance of just $250 million, the liquid asset-adjusted stock valuation on cash flow is absurdly low. The enterprise value calculation (market cap plus debt minus cash) vs. annual cash flow generation is drawn below. Translation: I can easily argue Entravision's true underlying worth is double and triple the current quote! And, this statement is made before the monster business growth spurt of 2021-22 has fully played out.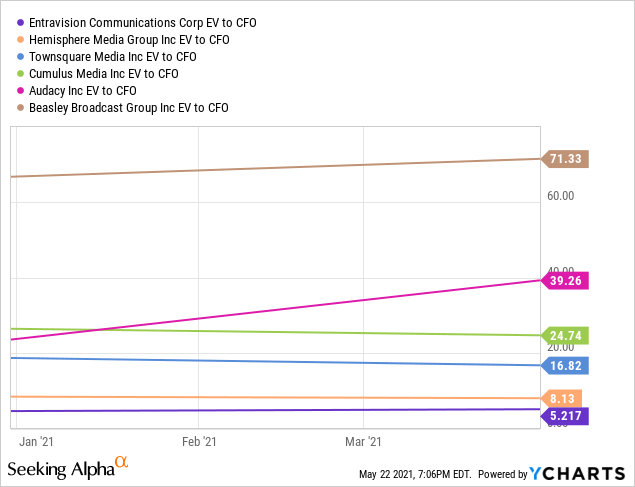 Super-Strong Trading Chart
The combination of robust future growth expectations and a valuation that may be mispriced on "trailing" returns has opened the potential for big stock gains. Well, buyers appear to understand the terrific long-term opportunity to acquire shares under $5. The current trading chart pattern is extremely positive, even in the face of some selling in the overall U.S. equity market during May.
Below I have drawn 6-month and 2-year charts of daily price and volume changes, alongside several of my favorite momentum indicators. Notice the Accumulation/Distribution Line (measuring the closing price vs. the intraday trading range) and On Balance Volume (price change multiplied by volume) have been moving straight up of late. In terms of relative strength in price and momentum stats vs. the entire U.S. market during 2021, Entravision has morphed into a top technical choice for buyers.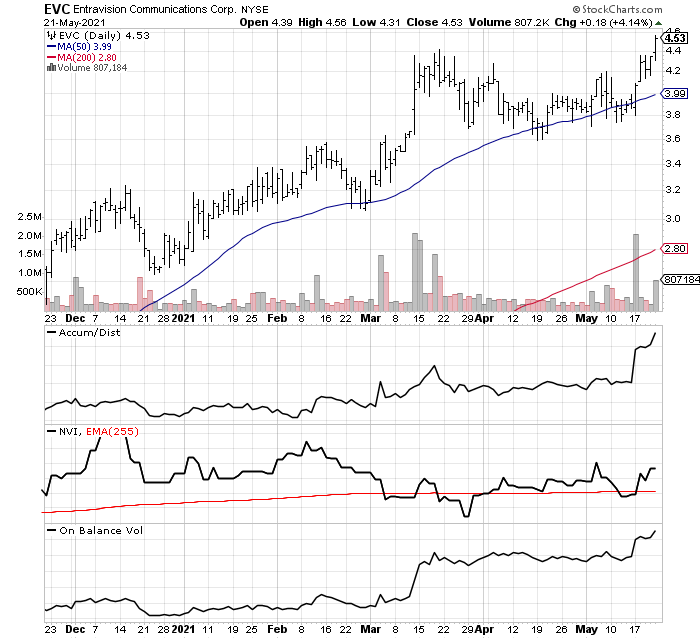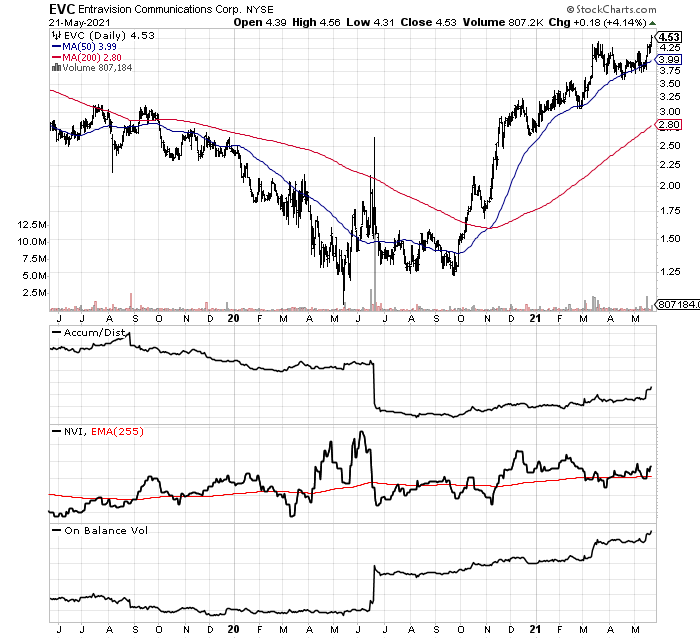 Final Thoughts
When you review growth rates, valuations, and technical trading patterns in combination, Entravision is a name worth more research and reflection. I personally pocketed a nice gain in the stock last week, and am hoping to repurchase a position this week. I am battling through and trying to properly weight my bearish views of the overall market (way overdue for a 10% or 20% decline as record overvaluations and rising inflation/interest rates do not mix well historically), with the emerging bullish story at Entravision. It is entirely possible this name will fight any moderate downtrend on Wall Street and be able to continue zigzagging higher.
The company isn't exactly a risk-free media play. It nearly went bankrupt during the 2008-09 recession. If advertising demand/revenue dries up in a serious recession, downside is definitely possible in the common shares. However, the huge fundamental advance in operations taking place during 2021, with the accretive addition and integration of new digital assets, may be dramatically transforming the value of the whole business to investors.
So, if the stock market can avoid a total wipeout (crash) during the summer and a recession in advertising spend is years away, Entravision could enjoy a truly bullish environment for price gains the rest of 2021.
A final bullish argument to contemplate is insider and management trading activity has been quite positive the last year. Yahoo! Finance reports 6 buys (mostly stock grants) vs. 0 sales during the latest six months. If operating performance issues or overvaluation concerns existed, insiders would likely be net sellers.

I am using Entravision as a small position inside a well-diversified and hedged long/short portfolio design. Because of the company's minor size and greater than normal price volatility in the stock, I do not suggest an overly large investment weighting. My personal trading plan is to repurchase a position on any pullback in price this week, that may or may not occur. A stop-loss sell order placed 15% or 20% below your purchase price could prevent a sizable investment drawdown during a stock market crash scenario.
Thanks for reading. Please consider this article a first step in your due diligence process. Consulting with a registered and experienced investment advisor is recommended before making any trade.