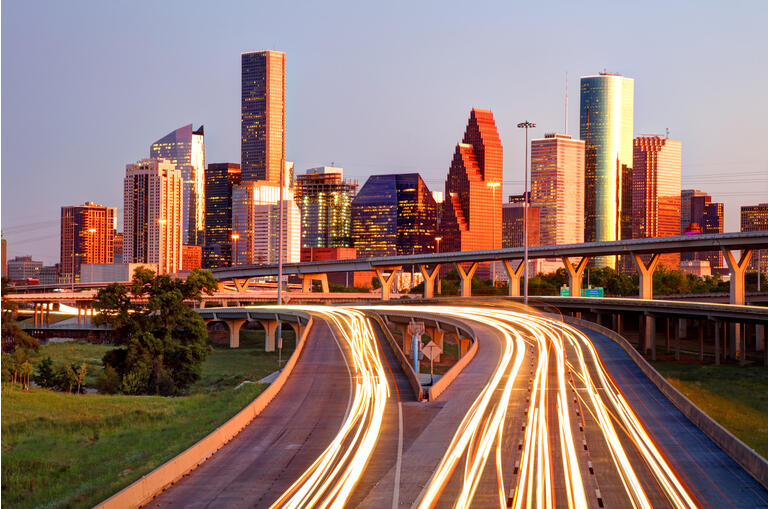 Real Estate Weekly Outlook
U.S. equity markets rallied this past week as long-term inflation expectations eased following a lukewarm slate of economic data and as massive new government spending programs face diminishing public support. Data this week showed that Consumer Confidence declined in May as consumers have become keenly aware of rising prices and shortages across many industries including the critical U.S. housing industry as data showed that both home values and rental rates rose at historically strong levels last month.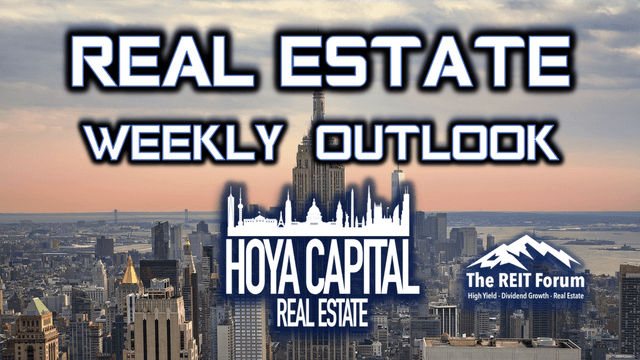 (Hoya Capital Real Estate, Co-Produced with Colorado Wealth Management)
Snapping a two-week skid, the S&P 500 (SPY) rallied 1.2% on the week while Mid-Caps (MDY) gained 1.5% and Small-Caps (SLY) jumped 2.1%. Bitcoin (BTC-USD) was slammed as the "crypto crackdown" continued with China announcing new regulations on Bitcoin mining while the SEC launched fraud cases against promoters selling worthless digital tokens as "investments." Real estate equities - particularly residential REITs and homebuilders - led the gains as the Equity REIT Index (VNQ) gained 2.0% with 18 of 19 property sectors in positive territory while the Mortgage REIT Index (REM) gained 1.1%.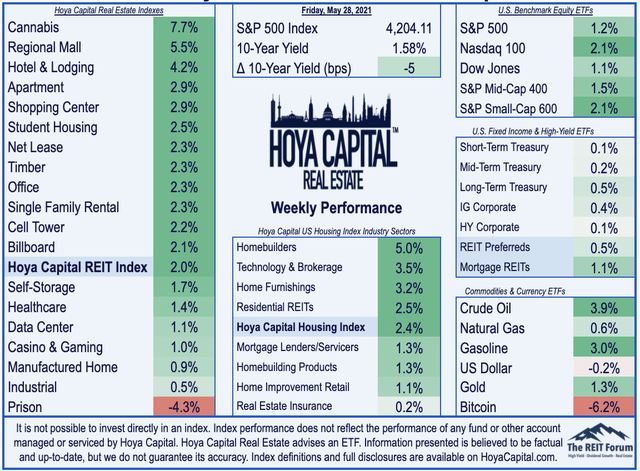 The 10-Year Treasury Yield - along with long-term inflation expectations - retreated to the lowest end-of-week close since late April after the PCE Index - the Fed's "preferred" inflation gauge - showed that core consumer prices rose at a 3.1% annualized rate in April, roughly in line with market expectations. Eight of the eleven GICS equity sectors were higher on the week while homebuilders and the broader Hoya Capital Housing Index were among the leaders after housing data and earnings results from Toll Brothers (TOL) showed that builders continue to sell homes as quickly as they can be built.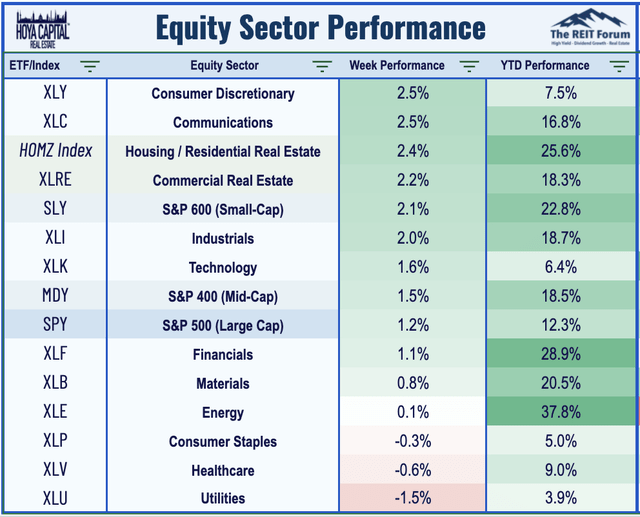 Real Estate Economic Data
Below, we recap the most important macroeconomic data points over this past week affecting the residential and commercial real estate marketplace.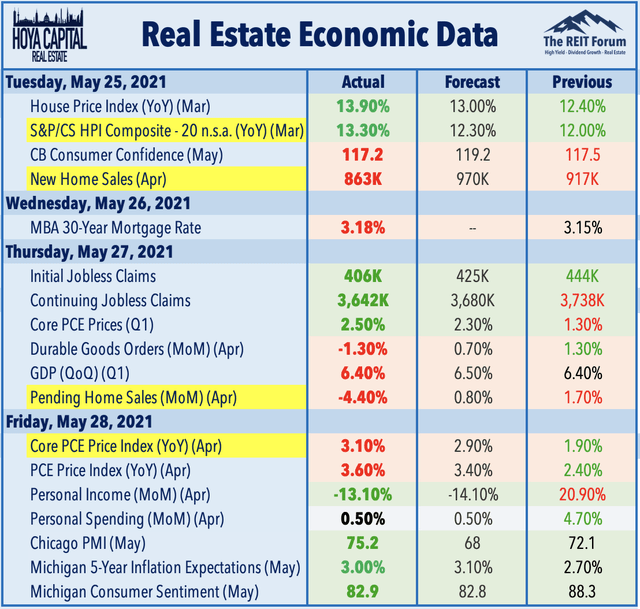 On that note, luxury homebuilder Toll Brothers jumped nearly 9% on the week after reporting better-than-expected earnings results. TOL reported that order growth surged 85% from last year and raised its full-year guidance across all of its key metrics, commenting that "demand remains very strong" as it continues to raise prices and "strategically moderating sales paces." The homebuilder provided a strong outlook for the quarters ahead, noting that its "strong order growth coupled with significant and consistent price increases sets the stage for meaningful revenue, earnings margin, and ROE growth in fiscal year 2022." Homebuilders reported the largest backlog on record in Q1 and - due to supply chain constraints - are struggling to keep up with demand.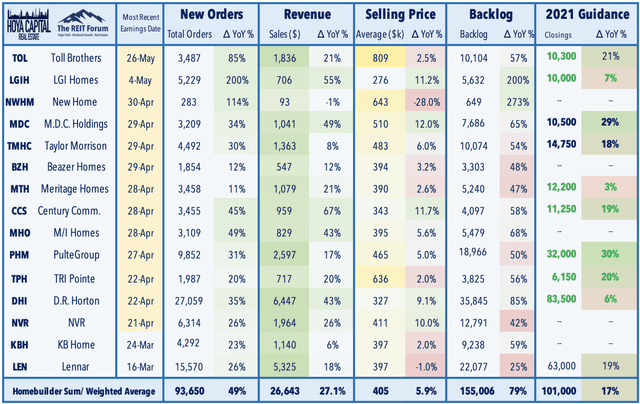 Consistent with these reports, the Census Bureau reported this week that despite the worsening housing shortage, new home construction in the United States moderated last month from historically strong levels, confirming that some builders have been forced to delay incremental projects due to supply chain shortages. New Home Sales fell in April by nearly 6%, but this was still nearly 50% higher than last year. The Monthly Supply of Houses in the United States declined to 4.4-months in April, which remains near historic lows as the substantial imbalance between robust housing demand and historically low housing supply continues to put upward pressure on home values and rents.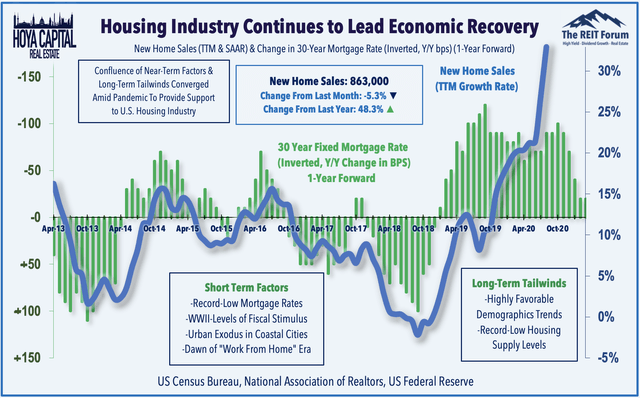 On that point, Case Shiller National Home Price Index data this week showed that home values soared 13.2% year-over-year in March - the 10th straight month of sequentially accelerating home prices - and the highest annual gain since late 2005. The FHFA Home Price Index, also released this week, showed a 13.9% jump in home values, the highest single month on record. Redfin (RDFN) data last week showed that a record 50% of homes were sold above their listing price over the past month while inventory levels fell to new all-time lows. Nearly half of listed homes received an offer within one week while the average home sold was on the market for just 17 days.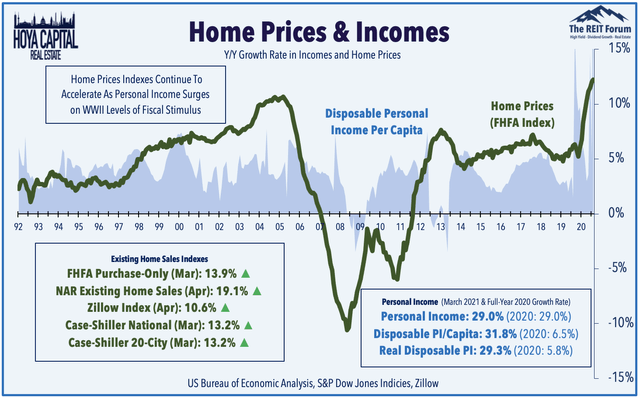 Meanwhile, households looking for deals in the rental markets won't find many options either as fresh data from Apartment List showed that rents have surged over the past several months, jumping another 2.3% from April to May, the third straight month of record-setting rent growth. Led by a recovery in the hardest hit "shutdown cities" including New York and San Francisco, year-over-year rent growth now stands at 5.4%, another record in Apartment List's data. While the coastal cities are just now getting back on their feet, suburban and Sunbelt markets continue to see robust rent growth with many secondary metros reporting annual rent growth near or above 10%.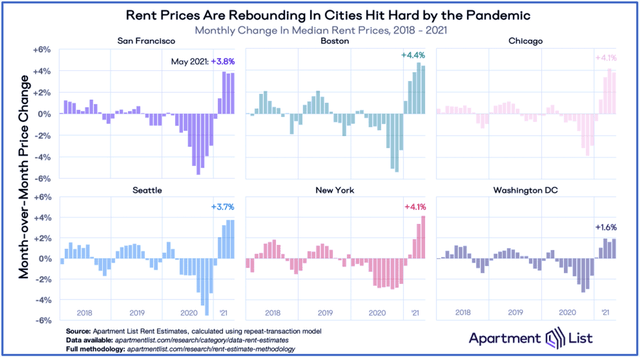 Equity REIT Week In Review
Three more equity REITs boosted their dividends this week - following three raises last week - as 58 equity REITs and 18 mREITs have now raised their dividends this year. American Tower (AMT) boosted its dividend for the second time this year, raising its payout by another 2.4%. National Storage (NSA) boosted its dividend by 8.6%. Retail Properties of America (RPAI) increased its payout by 7.1% to $0.075, but this is still below its pre-pandemic rate of $0.17. The majority of REITs that have raised their payouts this year were those that either raised or maintained their dividends last year - primarily those in the residential, technology, and industrial property sectors.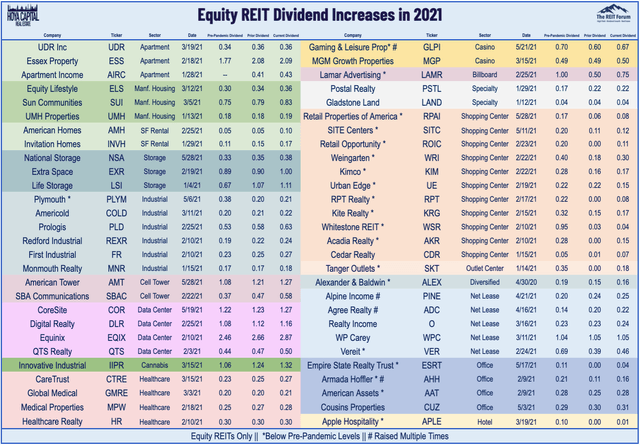 Malls: Troubled mall REIT Washington Prime Group (WPG) jumped more than 18% this week after negotiating another forbearance extension from its lenders - the seventh such extension - which brings the new expiration to June 2nd. WPG - which is also the target of a newly-launched class action lawsuit - is seeking to avoid becoming the third mall REIT to file for Chapter 11 bankruptcy in the past year following similar actions from CBL Properties (OTCPK:CBLAQ) and Pennsylvania REIT (PEI). As discussed last week in Mall REITs: Fighting For Survival, earnings reports revealed that Q1 was another rough quarter, particularly for the lower-productivity mall REITs, as occupancy rates declined to fresh record-lows.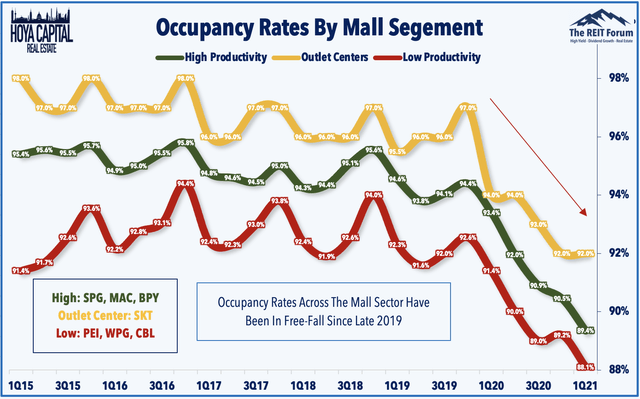 Sticking with the mall sector, Simon Property (SPG) was among the leaders this week following reports that its joint venture partner, Authentic Brands, plans to launch an IPO and is targeting a valuation of about $10 billion. Together with Simon, the company owns the SPARC Group which controls brands such as Brooks Brothers, Aeropostale, and Forever 21, and raised capital in 2019 at a roughly $4.5B valuation. Separate from its SPARC venture, Simon launched Simon Property Group Acquisition (SPGS) earlier this year, a $300 million SPAC which has not yet found an acquisition target.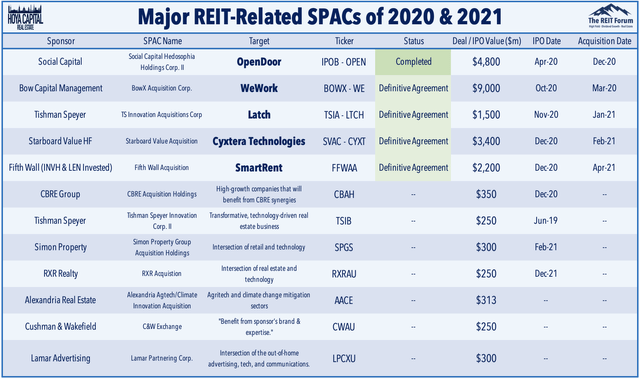 Net Lease: Despite their heavy retail and restaurant exposure, net lease REITs - with some exceptions - fared far better than their retail REIT peers with rent collection "normalizing" by late 2020. As discussed this week in Net Lease REITs: Back to Business, acquisition-fueled growth - the "bread and butter" of the sector - has kicked back into gear over the last several months, underscored by Realty Income's (O) massive acquisition of VEREIT (VER), as the "animal spirits" come alive across the REIT sector. Earnings results and commentary were refreshingly "normal" as these REITs are again on the offensive. Net lease REITs - which are 7% of the Real Estate Index - accounted for 35% of total REIT net acquisitions.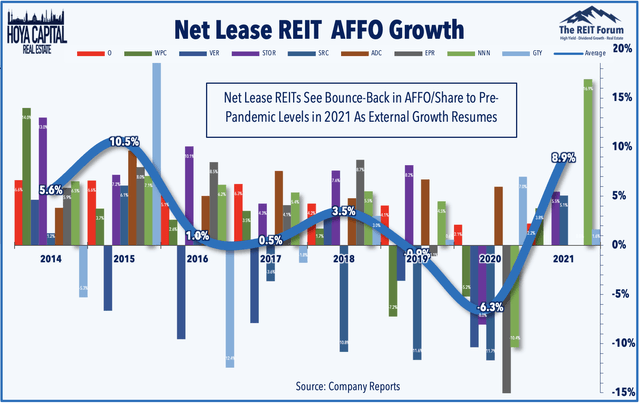 This week, we published our quarterly State of the REIT Sector. REITs recorded a sequential improvement across all critical metrics in Q1, powering a historic wave of dividend growth in early 2021. The Equity REIT Index now has fully recovered its pandemic declines on a total return basis, but several harder-hit property sectors - and REITs that were caught flat-footed - are far from fully recovered. REITs' strong balance sheets and access-to-capital prevented the type of shareholder dilution that resulted in a "lost decade" for REITs from the Great Financial Crisis. REITs are no longer "cheap," but that may be a good thing as premium valuations in the public markets have spurred a wave of M&A and private-to-public acquisitions in early 2021.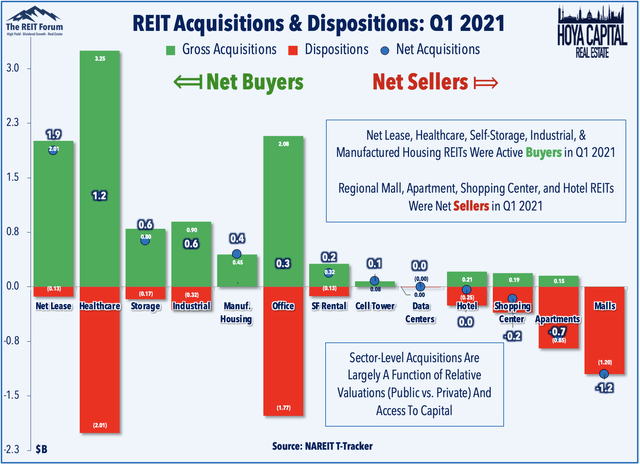 Mortgage REIT Week In Review
Mortgage REITs gained for the second-straight week as residential mREITs finished higher by 0.6% while commercial mREITs gained 0.9%. On a relatively slow week of news flow in the mREIT space, Invesco Mortgage (IVR) dipped nearly 4% after announcing a secondary offering of 37.5M common shares to fund the redemption of its 7.75% Series A Preferred (IVR.PA). Arbor Realty (ABR) jumped more than 5% after announcing it will issue a new Series D Preferred (ABR.PD) with proceeds used to redeem all of its 8.250% Series A Preferred (ABR.PA), 7.75% Series B Preferred (ABR.PB), and 8.50% Series C Preferred (ABR.PC) on June 24th.

REIT Preferreds & Bonds
The InfraCap REIT Preferred ETF (PFFR) was higher by 0.5% this week and is now higher by 3.4% thus far in 2021. In addition to the aforementioned preferred activity, Public Storage (PSA) announced that it will redeem all of its 5.125% Series C Preferred (PSA.PC) on June 30th. PSA's remaining 12 outstanding preferreds have an average current yield of roughly 4.4%. Elsewhere, Gladstone Commercial (GOOD) announced the conditional optional redemption its 7.00% Series D Preferred (GOOD.PD) on June 30th.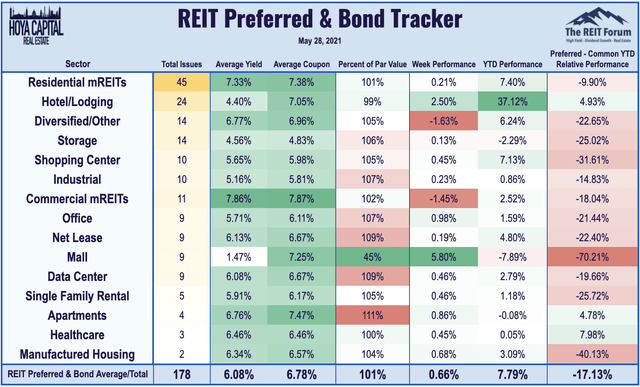 Over in the bond markets, Invitation Homes (INVH) issued $300 million of notes at a weighted average coupon of 2.82% comprised of two tranches: a $150 million 7-year note at 2.46%, and a $150 million 15-year note at 3.18%. REITs have used lower interest rates this year to extend their debt maturities to over 7.25 years, on average, and to lower their average long-term interest rate from 3.76% to 3.65% over the last quarter - the lowest level on record. Debt as a percent of enterprise value retreated back down below 33% by the end of Q1 after briefly climbing above 40% during the March sell-off.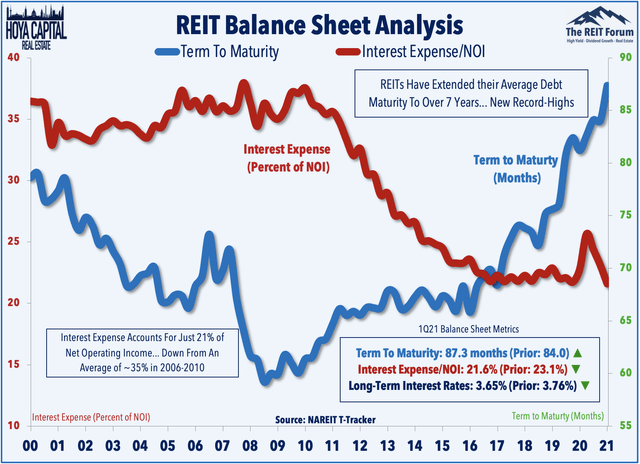 2021 Performance Check-Up & 2020 Review
Through five months of 2021, Equity REITs are higher by 17.6% while Mortgage REITs have gained 16.1%. This compares with the 12.3% advance on the S&P 500 and the 18.5% gain on the S&P Mid-Cap 400. Eighteen of the nineteen REIT sectors are in positive territory for the year, while on the residential side, all eight sectors in the Hoya Capital Housing Index are higher. At 1.58%, the 10-year Treasury yield has climbed 66 basis points since the start of the year and is 106 basis points above its all-time closing low of 0.52% last August, but 167 basis points below its 2018-peak of 3.25%.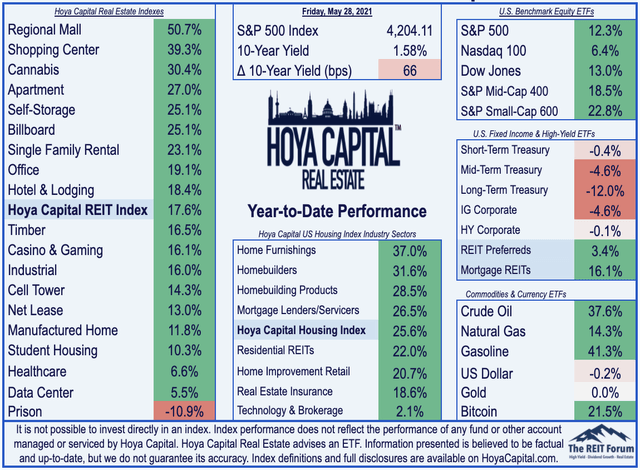 The FTSE NAREIT All Equity REIT Index ended 2020 with total returns of -5.12%. Despite the rough 2020, REITs have been one of the best-performing asset classes since the start of 2010, producing average annual total returns during this time of 11.1%. Interestingly, 2020 was the first year since 2009 that REITs finished in the bottom four of the ten major asset classes, and despite the pullback, still lag only the Small-Cap, Mid-Cap, and Large-Cap equities over this time. REITs have produced far superior total returns to Bonds (AGG), TIPS (TIP), Commodities (DJP), and International (EFA) stocks.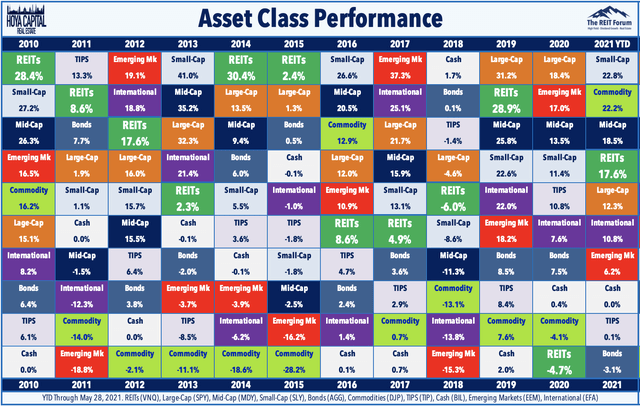 Economic Calendar In The Week Ahead
We have another busy week of earnings reports and economic data in the Memorial Day-shortened week ahead, headlined by ADP Employment data on Thursday (normally on Wednesday), Jobless Claims on Thursday, and the BLS Nonfarm Payrolls report on Friday. Economists are looking for job growth of 650k in May following a historically disappointing April report which was the largest "miss" relative to consensus estimates in several decades. We'll also see Construction Spending data on Tuesday, and a flurry of Purchasing Managers' Index (PMI) data throughout the week.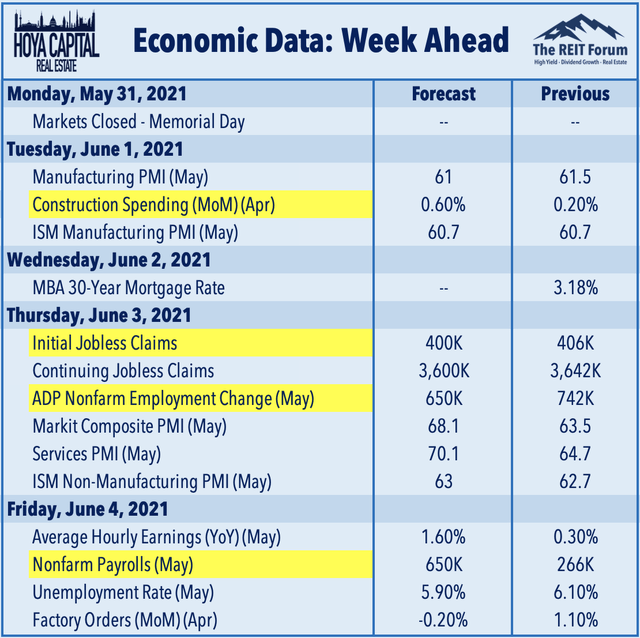 For an in-depth analysis of all real estate sectors, be sure to check out all of our quarterly reports: Apartments, Homebuilders, Manufactured Housing, Student Housing, Single-Family Rentals, Cell Towers, Casinos, Industrial, Data Center, Malls, Healthcare, Net Lease, Shopping Centers, Hotels, Billboards, Office, Storage, Timber, Prisons, Cannabis, High-Yield ETFs & CEFs, REIT Preferreds.
Disclosure: Hoya Capital Real Estate advises an Exchange-Traded Fund listed on the NYSE. In addition to any long positions listed below, Hoya Capital is long all components in the Hoya Capital Housing 100 Index. Index definitions and a complete list of holdings are available on our website.