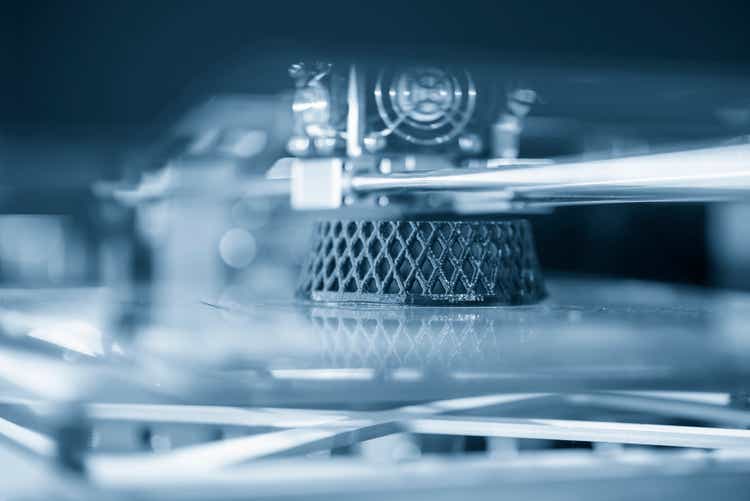 A myriad of SPAC names has seemingly fallen out of favor. SPACs were producing triple-digit returns simply by rumors of mergers and announcing of definitive agreements; now, many of those companies that rose to the $20 and $30 range find themselves back near $10 - a good proportion has tiny revenue streams, <$100 million, and multi-billion valuations. Sifting through the dust, one can find many companies that fit that bill, but there are still high-growth opportunities that exist, albeit with some added risk. Desktop Metal (NYSE:DM) is one of those, as it could find strong, accelerating growth within additive manufacturing as its addressable market expands.
'Additive Manufacturing 2.0'
Desktop Metal is pioneering in what it calls 'Additive Manufacturing 2.0', focusing on increasing the speed and accuracy of 3D printing of end-use parts to bring it to a mass production level. AM in end-use parts has to meet four different criteria: speed (does it compare to traditional manufacturing processes, and can it be faster?), accuracy (how fine are the details in production?), properties (do isotropic properties match existing materials used in traditional production?), and finish (can items be produced with different surfaces/textures/finishes?).
Additive manufacturing brings a few key benefits within product and process innovation: it allows complex builds and parts to be replicated at scale and allows customization of designs while decreasing the amount of equipment needed to mass produce and reducing amount of scrap material. Such benefits can help accelerate the adoption of additive manufacturing, and the industry is expected to see high growth over the course of the decade.
The industry was estimated at ~$12 billion in 2020 by the Wohlers Report, which projected an increased growth rate driven by factors outlined in AM 2.0 to see the industry reach ~$146 billion by 2030. While this is a rapid pace of growth, it's still early in the stages of the AM 2.0 revolution, as the market size is still quite small relative to what is being forecast over the decade.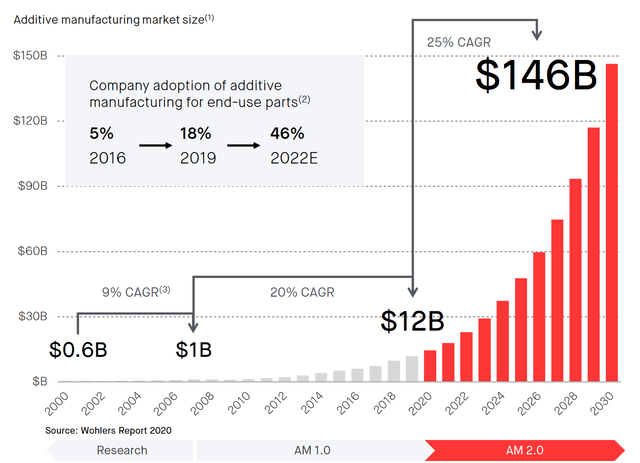 Graphic from Desktop Metal
Now, there is a possibility that the above graph is overshooting the amount and pace of growth that is possible - that can't be written off. A more conservative estimate relative to Wohlers' sees the overall AM market reach ~$54 billion by 2029 (compared to 2025 on Wohlers' timeline), with a late decade CAGR of 12%, dropping from the ~20% up until 2025.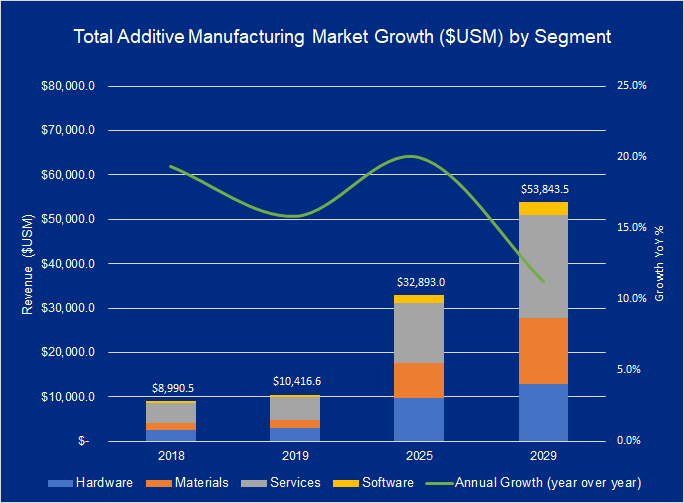 Graphic from SmarTech Analysis
It's quite a profound difference between the two industry estimates, to the tune of nearly $80 billion in value by the end of the decade. That's a massive opportunity to be gained or lost, but it shows the degree of uncertainty of the overall pace of growth of the market, depending on how disruptive AM 2.0 truly can be. Assuming Desktop Metal can find itself a 4-5% share by 2030, that's a $2-2.5 billion revenue opportunity in the secondary ~$54 billion market scenario.
A Comprehensive Portfolio
Regardless of the uncertainty of the degree and amount of growth in AM 2.0, the simple conclusion is that there will be growth, and the market is likely to be multiple times larger than it is at the moment. For Desktop Metal, having a comprehensive portfolio of both devices and materials can secure its own growth trajectory within the market.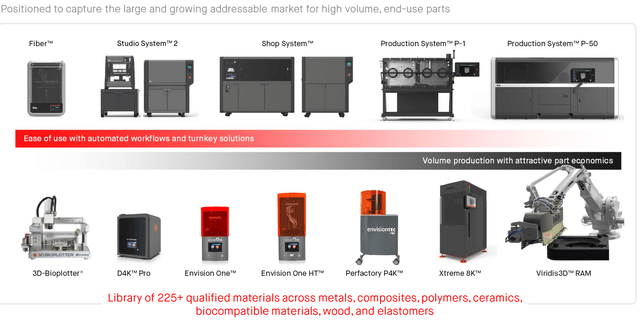 Graphic from Desktop Metal
Desktop's in-house models include the Fiber, Studio, Shop, and Production Systems (top half), while its acquisition of EnvisionTec added Envision's smaller-scale models and the larger Xtreme 8K and Viridis3D RAM. While Desktop's own products are composite (Fiber/for aerospace), metal, and now wood (its Forust subsidiary), the acquisitions it has made have greatly expanded its material portfolio.
EnvisionTec has given Desktop a substantial boost in terms of materials, processes and systems, and provides potential for combined innovation of RAM (robotic additive mfg. seen in Viridis) and Desktop's single jetting. The acquisition, at about $300 million, gives a broad platform of over 190 qualified materials and over 5,000 different customers, including over 1,000 in dental applications - important for Flexcera, which has now received both FDA approval and CE Mark certification, as it provides an expansive customer base for sales as Desktop pushes the product for an international launch.
Envision also brings photopolymer experience and biofabrication potential, as it looks to pioneer "biocompatible parts for medical applications such as bone regeneration, cartilage regeneration, soft tissue fabrication, drug release, and organ printing." Applications for that could be endless, but it's a high risk target - there can be no less than 99.9999% efficacy of 3D printed items going into a body. An acquisition of the PhonoGraft technology adds more biofabrication for soft tissue applications, with the first possibly being an implant for eardrum repair.
Two other acquisitions broadened Desktop's material portfolio. Adaptive3D adds elastomers, rubbers and rubber-like materials, which can serve end markets in healthcare, transportation, and oil and gas industries. Aerosint adds multi-material capabilities for powder-based systems, which could support high-speed, high-scale printing of ceramics and composites.
Acquisition of this nature aid growth not simply by expanding the material, technologies and systems portfolio, but by creating numerous different end market opportunities and additional customer relationships that Desktop now has access to.
High Growth
Just like most of its SPAC peers, Desktop currently exhibits small, but growing, revenue streams, a fair balance sheet from the proceeds, and high projected growth amid its $2.6 billion valuation.
For 2020, Desktop posted just $16.5 million in revenue, with its net loss about 5 times that figure; for Q1 '21, it has already posted ~$11.3 million, +234% y/y. These revenue streams are still small, but the company stands by its $100 million revenue guidance for the year, implying solid sequential growth and growth above +500% y/y. For 2022, revenues are forecast to grow about +93%, with another high-growth year in 2023 at +72%. Growth at this pace does bring multiples back to reasonable levels in a relatively short time frame, yet, it also brings a fair level of execution risk.

There are factors that support such growth over the long run - a deep and expanding customer base (see below), with customers like Ford (F), 3M (MMM), Boeing (BA), GE (GE), Amazon (AMZN), Google (GOOG) and more, and attractive 10-year recurring revenue streams, at 3x and 14x upfront costs per unit for the Production P-50 and Extreme 7, with >50% margins.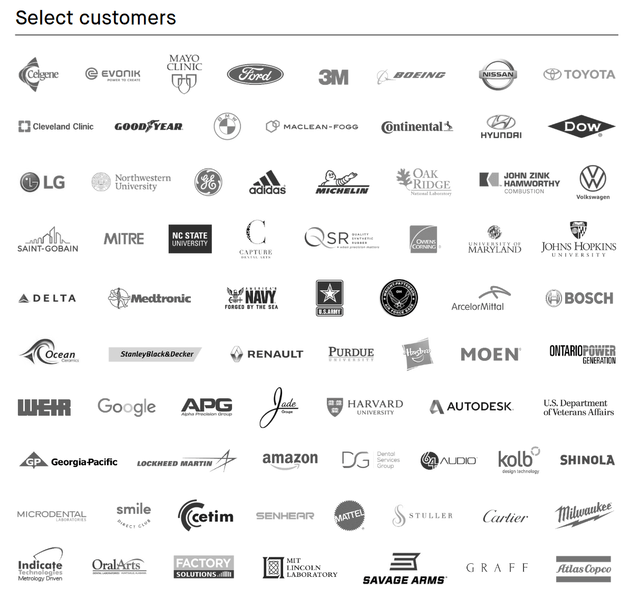 Graphic from Desktop Metal
Yet, Desktop's valuation at $2.6 billion increases execution risk tremendously - it basically makes it a requirement that it does not miss revenue expectations in upcoming quarters (while an EPS miss still can do harm, revenues look to be more important at this time). The company has stood firm with its $100 million revenue target, with a $160 annualized run rate going into 2022, and needs to show that this is achievable with little doubts raised to secure that long-term revenue growth forecast to $334 million by 2023.
There's also competitive risk, with companies including Stratasys (SSYS), 3D Systems (DDD), voxeljet AG (VJET), Markforged (coming public with AONE), Materialise (MTLS) and Proto Labs (PRLB) all involved in the 3D printing space too. Desktop still has over $550 million in cash to go shopping and acquire more to spur growth, but a handful of peers have >$500 million in revenues and are expanding as well.
Overall
Desktop Metal's products span hardware, software, materials and related services, and the company continues to expand its materials and systems portfolios through acquisitions. EnvisionTec, Aerosint, and Adaptive3D bring different material experience, different end market growth opportunities, and different customers to aid Desktop's high targeted growth. Continuation of acquisitions to aid organic growth and produce accelerating revenue streams and lever new materials and customers is possible.
Attractive unit economics within the 3D printing revolution through AM 2.0 enables lower breakeven costs, equaling hundreds of thousands of units in volume. Desktop's printing systems provide revenues both upfront and recurring over a seven or 10-year lifetime, with the total revenue 3x to 15x higher than the upfront price. This could enable Desktop to hit such high double-digit revenue growth targets moving to 2022 and beyond, although the company faces a hefty amount of execution risk through 2021 as it aims to grow revenues by 8x its Q1 amount through the remainder of the year. It's a high-risk, high-reward play, but the long-term potential amid rapid industry growth remains positive.