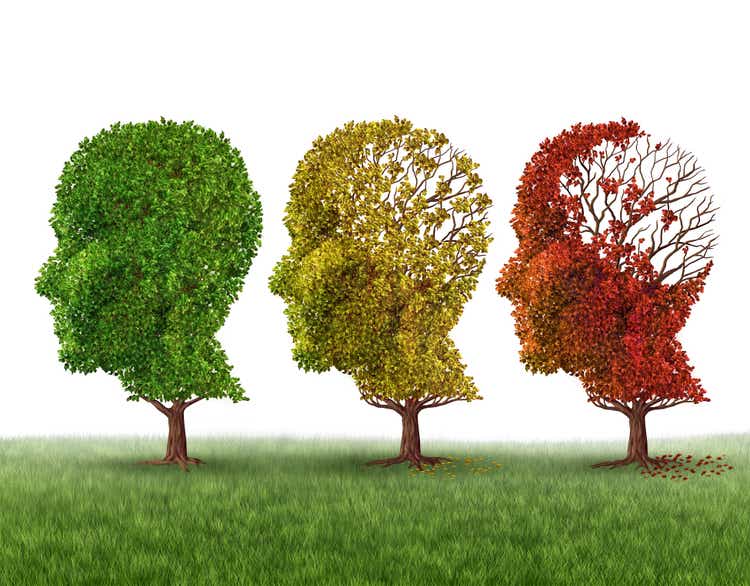 Introduction
On July 28, Annovis Bio (NYSE:ANVS) released new clinical and biomarker data from their two phase 2a trials in Alzheimer Disease (AD) and Parkinson Disease (PD) at the 2021 AAIC (Alzheimer's Association International Conference).
For anyone new to ANVS, I have previously covered this company (here, here).
Year to date, the stock of ANVS has had a good run, with a more than 400% gain from $8.15 on Jan 4. Or a more than 1200% gain at $109.44 on July 28.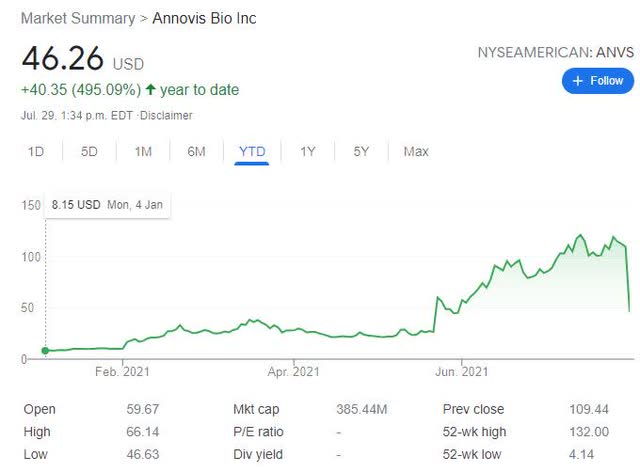 (Source: Google)
It seems the gain was mostly due the positive early data from the p2a AD/PD trials, especially positive cognition data seen in AD patients, released on May 21 (see below; emphasis added)
Efficacy

From baseline to 25 days in the ANVS401-treated group, ADAS-Cog11 improved by 4.4 points, a statistically significant improvement of 30% (p=0.04).

Additionally, the ANVS401-treated group compared to placebo group at 25 days showed an improvement of 3.3 points, or 22% (p= 0.13).

This is the first double-blind, placebo-controlled study that shows cognitive improvements in AD patients as measured by ADAS-Cog and functional improvements in PD patients as measured by the Unified Parkinson's Disease Rating Scale (UPDRS)."
On the heels of such positive AD data, it is perhaps understandable, that the investors expect or speculate optimistically about the new data which the company was to present on the evening of July 28 at AAIC.
From the current stock price action (July 29), it is clear that the news did not meet investors' expectations!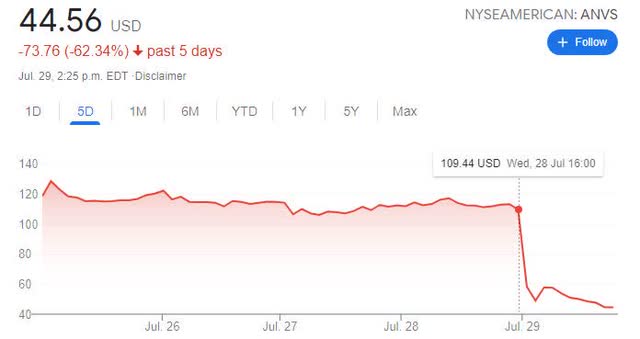 (Source: Google)
Let's now turn to the data to try to understand the sell-off.
ANVS' [New] Data From p2a AD/PD Trials
In addition to the slide presentation, ANVS also released a PR, which summarizes the p2a results in a table (see below)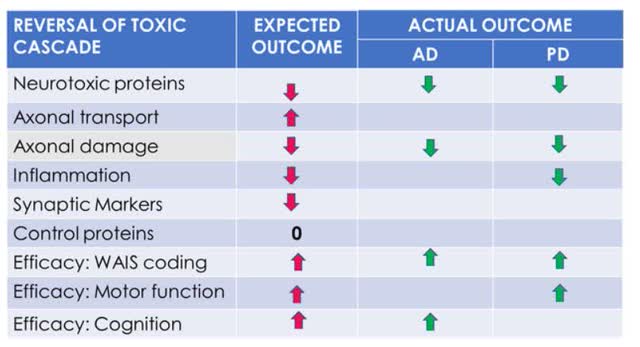 According to this table, the green arrows indicate that the actual outcomes for the items studied in the p2a trials are in the SAME direction as the expected outcomes.
In other words, ANVS's p2a AD/PD trials data are as the company expected or hoped to see going into the trials, in the items disclosed so far.
Let us take a closer look at the new data.
New Data, Excluding New Biomarker Data
Slide number
Slide title, Results, My notes
slide 8

EFFICACY IN AD PATIENTS - ADAS-Cog11

Posiphen-treated group showed trends of improvement in all four ADAS-Cog tests performed compared to placebo group

Note: No statistically significant differences in any of the 4 ADAS-Cog tests between placebo and treatment groups

slide 9

EFFICACY IN PD PATIENTS - MDS-UPDRS TEST

Posiphen-treated group showed trends of improvement in all four parts of UPDRS test compared to placebo group.

Note: No statistically significant difference in any of the four parts of UPDRS test between placebo and treatment groups (in part 4 both groups were in the wrong direction [not improved]).

slide 11

EFFICACY IN AD AND PD PATIENTS - MMSE

While there is a positive trend in AD, the changes in MMSE are not statistically significant.

Notes:

Positive trending, not statistically significant in AD. No change in PD.
Placebo groups, in AD & PD, shows better results, numerically speaking than the treatment groups.

slide 12

EFFICACY IN AD PATIENTS - CDR -SUM OF BOXES

In AD patients there are positive trends in orientation, judgement and problem solving, home and hobbies as well as total CDR score, but the data is not statistically significant.

Note: Placebo group has a better CDR improvement, numerically speaking than the treatment group.

slide 13

SAFETY SUMMARY [in my own words]

% of subjects with any AEin AD, placebo (50%) & treatment group (50%)in PD, placebo (60%) & treatment group (30%)

For serious AEs, AEs that led to Drug interrupted, AEs that led to Drug withdrawn, AEs that suspected Drug related*, % is zero for all the groups (placebo and treatment), except * (1 in PD placebo group)

"Most AEs were due to the spinal fluid extraction that resulted in headaches and back aches" [i.e. from biomarker measurements]
(Source)
New Biomarker Data
Since ANVS has previously disclosed statistically significant PD biomarker data, and Posiphen's MOC (mechanism of action) is about reducing multiple toxic proteins, the new biomarker data was awaited with great expectation.
Here is the data:
1. Slide 15 shows new biomarker data.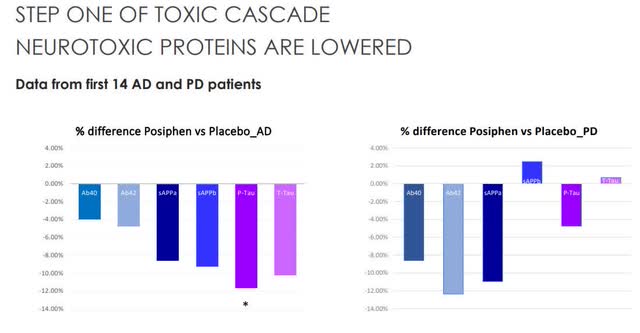 It seems that only P-Tau reduction difference reached statistical significance (p<0.05).
Nevertheless, Posiphen groups have lower amounts of toxic proteins than the placebo groups for all proteins in AD; and for all but two (APPb & s-Tau) in PD patients.
2. Slide 16 shows another data point that is statistically significant in AD.
3. Slide 17 shows positive results on NfL reduction.

In Summary
Although all the new data are in the right direction, positive trending, very few data points have reached a statistically significant difference against the placebo group.
Given these are very small p2a trials (n=14 in AD/PD each) and a short time frame (25 days), these positive-trending results are perhaps as good as the results could be expected to be.
However, as far as the stock market reaction is concerned, perhaps the expectations were way too optimistic or hyped, being influenced by prior PRs.
In my opinion, today's ~60% crash is a reflection of disappointed expectations, as these new data, relative to the previously disclosed ones, are less clear (e.g. MMSE, CDR in cognition benefit vs. ADAS-Cog11) and less conclusively positive (e.g. new biomarker data vs. PD biomarker data).
It is not certain that in the next trials, presumably larger and for a longer duration, these positive trending p2a data will be repeated or become stronger, e.g. showing statistically significant, placebo-adjusted, treatment benefits.
Final Thoughts
I am still invested but with a half of the position size, as I did not want to hold a full position through the readout.
This [taking profit/reducing a position size before a readout] is new for me. It is a lesson I learnt from other readout crashes, which for small cap R&D biotech space are unfortunately common.
I think ANVS will continue with their endeavor to develop treatments for AD, PD, AD in Down Syndrome etc., as the p2a trials have generated positive data in both efficacy and biomarker data.
As previously disclosed, ANVS plans to meet with the FDA after the completion of the p2a trials to discuss the regulatory process forwards, and plan to start p3 trials by the end of 2021, if the EOP2 meetings are successful.
In my opinion, if ANVS continues to make positive progress and ultimately succeeds in phase 3 trials, the stock will no doubt recover from today's crash and go on to a new high to reflect the successes.
Both AD and PD are serious unmet medical needs with huge addressable market, as evidently in the case of BIIB's Aduhelm.
On the other hand, if ANVS ultimately does not succeed, like so many other AD developers, then the stock will no doubt reflect that defeat, as Posiphen is their lead candidate and other candidates, with similar MOC, are still in the early pre-clinical stage.
The process will take time and the stock is likely to be very volatile, with a binary risk/reward at the end of this long process.
Please do your own research and consider your risk tolerance as well as investment timeframe before making any decision.
Thank you for reading. All the best to you!