Clene: Nanomedicines For Neurodegenerative Diseases
Summary
Clene is a developer of proprietary, patented, nanocatalysis therapy for neurodegenerative diseases.
They have ongoing phase 2 trials in multiple sclerosis, Parkinson's disease and amyotrophic lateral sclerosis.
Current stock price near 52-week low offers decent opening.
Looking for more investing ideas like this one? Get them exclusively at The Total Pharma Tracker. Learn More »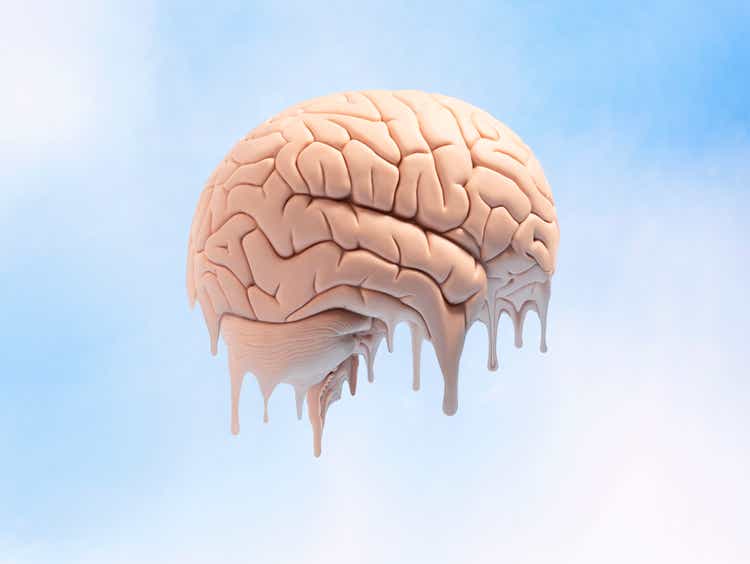 About

Clene Inc. (NASDAQ:CLNN) is a Salt Lake City, Utah based clinical-stage biopharmaceutical company presently focused on the discovery, development, and commercialization of treatments for neurodegenerative diseases with high unmet needs, specifically, multiple sclerosis (MS), Parkinson's disease (PD), and amyotrophic lateral sclerosis (AML) or Lou Gehrig's disease. The company's therapeutic approach is to improve cellular bioenergetics using highly faceted, clean-surfaced nanocrystals (CSN), produced from pure transition elements such as gold, silver, platinum, zinc, and alloy combinations, using an electrochemistry process that is patented.
Nanocatalysis
Cognition and physical functions are enabled in the body by neurons processing information throughout the central nervous system (CNS) via electric signals traveling in a network formed by nerve fibers called axons. Over 25% of the metabolic resources of the body are consumed in supporting the energy needs of this signalling in the CNS. Impaired metabolic activity in neurons results in debilitating loss of neurologic function, which leads to neurodegenerative diseases. Additionally, in a disease like multiple sclerosis (MS), the body attacks myelin, a protective sheath around the axons, generated by brain cells called oligodendrocytes to provide metabolic support to neurons. Nanocatalysis is the process in which the neuro-therapeutic agent acts like an electron reservoir, donating and/or receiving electrons to enhance key metabolic reactions, improving the survival and function of neurons, and improving myelin generating ability of oligodendrocytes.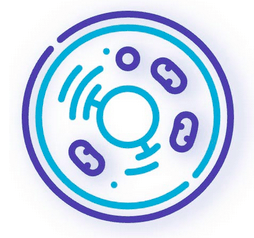 (Source: company website)
Pipeline
Clene's lead drug candidate CNM-Au8 is an orally administered, concentrated, aqueous suspension of CSN gold that catalyses various intracellular biological reactions. CNM-Au8 has demonstrated reduction of neurodegeneration and increased remyelination in preclinical models of ALS and MS. First-In-Human Phase 1 trials demonstrated safety, and the company is now implementing six Phase 2 clinical trials in MS, PD and ALS. Results from these phase 2 trials are anticipated in 2H-2021. Remyelination of chronic MS lesions is not shown by any drug currently approved for MS. There is also no therapy that slows disease progression across MS, PD and ALS.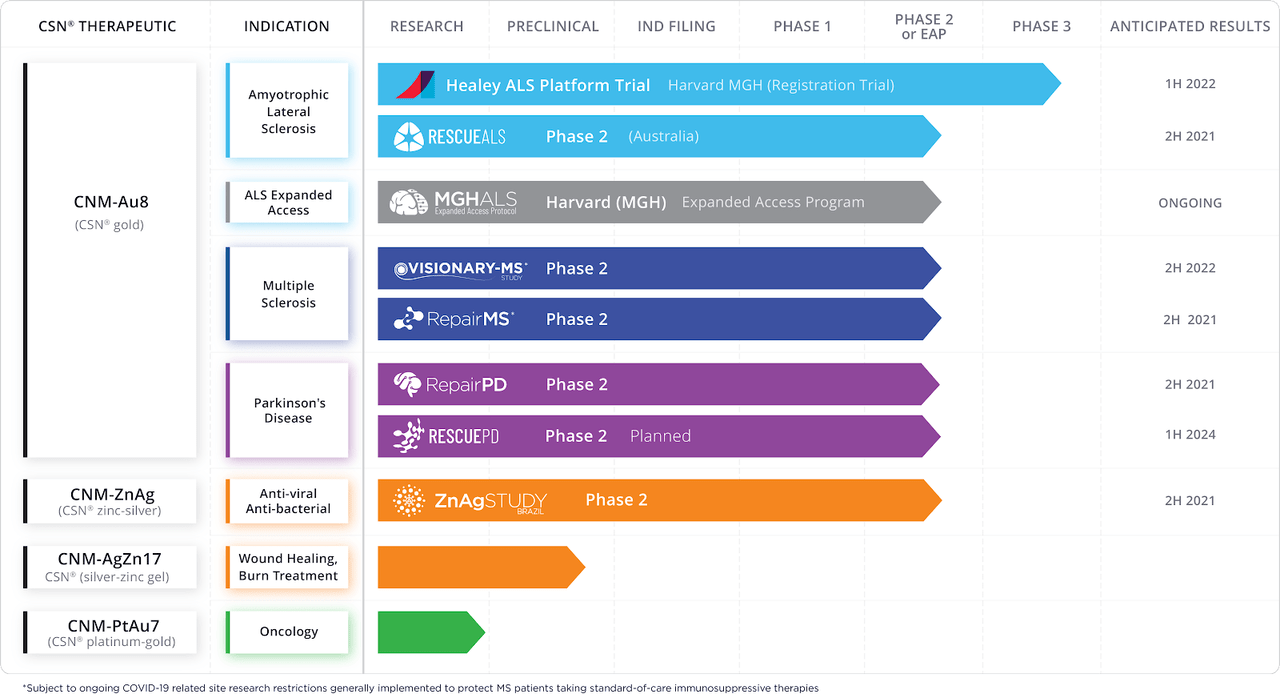 (Image: pipeline; source: company website)
Another candidate CNM-ZnAg, a zinc-silver CSN indicated for the treatment of infectious diseases, including COVID-19, is in phase 2 trial with results anticipated in 2H-2021. Two other candidates are in the preclinical stage: CNM-AgZn17, a topical gel polymer suspension of silver and zinc ions, indicated for wound healing and burn treatment; and CNM-PtAu7, a platinum-gold CSN that demonstrated broad-spectrum efficacy across a variety of tumors in in-vitro research.
Intellectual Property
From the company's S-1 filed in July 2021:
"We are the sole inventors of our manufacturing processes, devices, and drugs. These inventions are protected by a comprehensive intellectual property portfolio of over 130 patents issued worldwide, with over 30 additional patents pending. See "— Intellectual Property" for more details. The patents relate to (1) the devices that manufacture our CSN therapeutic drug candidates, (2) the processes involved in the use of these devices, (3) the drug candidates manufactured in these devices, and (4) methods of use for the drug candidates. In addition to filings for U.S. and foreign patents, we will continue to protect and maintain our proprietary position by the use of trademarks, trade secrets, copyright protection, and continued technological innovation. For example, years of intensive research and development were invested in fine-tuning our production and delivery processes to the point where we expect to be able to consistently, reliably, and affordably produce our drug candidates, including CNM-Au8, to meet large scale needs. We believe that any attempts to reverse engineer or otherwise replicate our discoveries would be extraordinarily challenging for potential competitors without violating our intellectual property protections."
Supplements
In addition to the neuro-therapeutic candidates in development, Clene utilizes their patented electrochemistry manufacturing platform to develop very low concentration dietary supplements. These include:
rMetx, an aqueous zinc-silver ion dietary (mineral) supplement with bioactive immune-supporting properties, sold through the company's wholly-owned subsidiary, dOrbital, Inc., and, a substantially similar product under the trade name, Zinc Factor, sold by 4Life, a related party, under an international supply agreement.

KHC46, an aqueous gold dietary (mineral) supplement of very low-concentration gold nanoparticles having different production methods and using different devices resulting in different physicochemical properties from CNM-Au8. KHC46 is licensed exclusively to 4Life for worldwide marketing and distribution.
Financials
Clene went public at the end of 2020 and has a market capitalization of $520.60 million with last close price at $8.60 as of 7/30/2021. The stock saw a high of $17.82 and a low of $6.23 in the past 52 weeks. The public holds 26.30% of the shares, and institutions and corporations (public and private) hold 59.50% shares, while insiders hold 14.20% shares. There are only 2 insider transactions - both for purchase of shares at $9.63 in May 2021. There is a short interest of 7.73% with 1.43 million shares to be covered in 3 days.
The company earned revenues of $206,000 in FY-2020 and estimated revenue for FY-2021 is $359,750. The company has a debt of $4.12 million, and the cash balance is $48.04 million. The total operating expenses were ~$12 million in 1Q-2021, which suggests a cash run of 12 months.
Risks
The company is an "emerging growth company" as defined in the JOBS Act, hence is eligible for and intends to take advantage of the reduced reporting requirements.
As of 3/31/2021, the company had an accumulated deficit of $193.3 million.
Current revenues are not generated from drug candidates, and it will be several years before the company is able to generate revenue from drug sales.
The company will have to raise additional funds towards the end of the year.
Bottom Line
As noted above, the company has a cash run of about 12 months since its last quarterly report. The company anticipates results from the phase 2 trials towards the end of this financial year, which would be an opportune time to raise further financing. With the Wall Street analysts being bullish to very bullish at an average rating of 4.5/5 and a price target of $22.25, the current stock price of $8.60 near 52-week low offers a decent opening.
About the TPT service
Thanks for reading. At the Total Pharma Tracker, we offer the following:-


Our Android app and website features a set of tools for DIY investors, including a work-in-progress software where you can enter any ticker and get extensive curated research material. 
For investors requiring hands-on support, our in-house experts go through our tools and find the best investible stocks, complete with buy/sell strategies and alerts.
Sign up now for our free trial, request access to our tools, and find out, at no cost to you, what we can do for you. 
This article was written by
Avisol Capital Partners runs the Total Pharma Tracker Seeking Alpha Marketplace service. This is managed by Dr Asok Dutta, BVScAH and Dr Udaya Kumar Maiya, MD Oncologist. The service offers end-to-end research on both investing and trading ideas everyday, and includes a 150-stock watchlist and two 40-stock model portfolios that are continuously tracked.

Dr Dutta is a retired veterinary surgeon. He has over 40 years experience in the industry. Dr Maiya is a well-known oncologist who has 30 years in the medical field, including as Medical Director of various healthcare institutions. Both doctors are also avid private investors. They are assisted by a number of finance professionals in developing this service.

If you want to check out our service, go here - https://seekingalpha.com/author/avisol-capital-partners/research

Disclaimer - we are not investment advisors.

Analyst's Disclosure: I/we have no stock, option or similar derivative position in any of the companies mentioned, and no plans to initiate any such positions within the next 72 hours. I wrote this article myself, and it expresses my own opinions. I am not receiving compensation for it (other than from Seeking Alpha). I have no business relationship with any company whose stock is mentioned in this article.
Seeking Alpha's Disclosure: Past performance is no guarantee of future results. No recommendation or advice is being given as to whether any investment is suitable for a particular investor. Any views or opinions expressed above may not reflect those of Seeking Alpha as a whole. Seeking Alpha is not a licensed securities dealer, broker or US investment adviser or investment bank. Our analysts are third party authors that include both professional investors and individual investors who may not be licensed or certified by any institute or regulatory body.