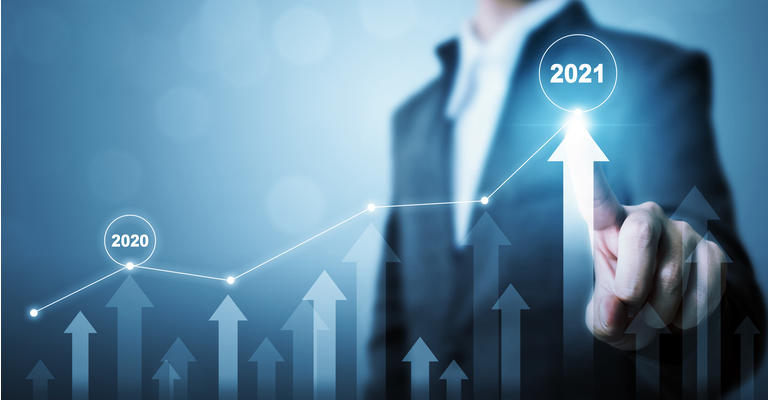 This article was first released to Systematic Income subscribers and free trials on 31-July.
Welcome to another installment of our CEF Market Weekly Review where we discuss CEF market activity from both the bottom-up - highlighting individual fund news and events as well as top-down - providing an overview of the broader market. We also try to provide some historical context as well as the relevant themes that look to be driving markets or that investors ought to be mindful of. This update covers the period through the last week of July.
Market Overview
The CEF market delivered a flat average sector price return over July - a contrast to strong returns over the previous 8 months.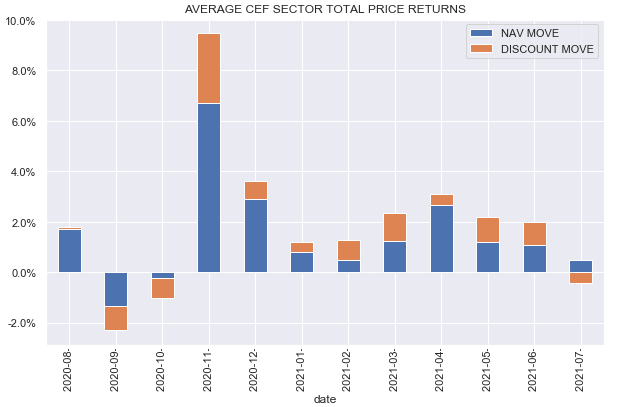 Source: Systematic Income
Sector NAVs were mostly higher due to rising stocks and flat or lower corporate yields. However, these were largely offset by wider discounts.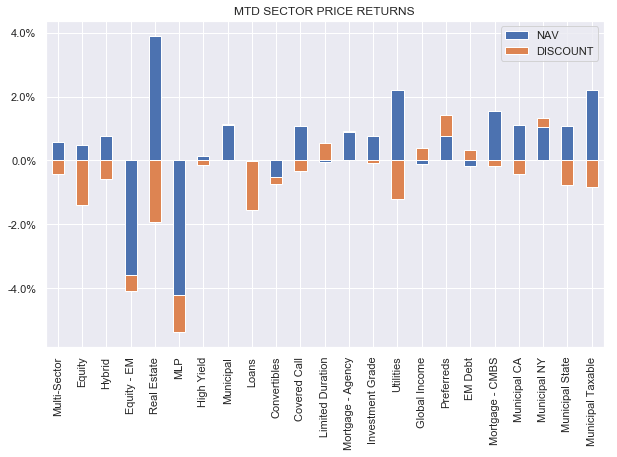 Source: Systematic Income
Although discounts widened over the month, they mostly bounced back off their wides, particularly in fixed-income sectors.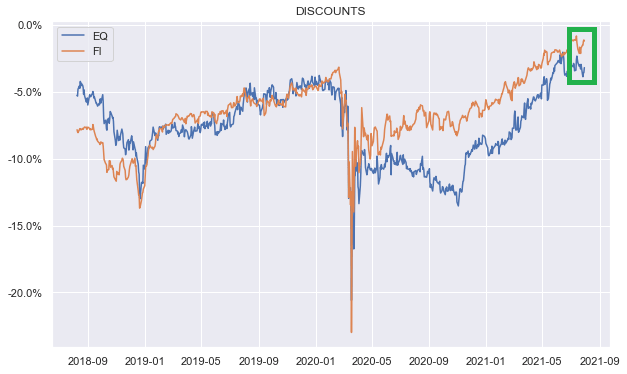 Source: Systematic Income
Over the longer term, aggregate fixed-income and equity sector discounts are not far off their peaks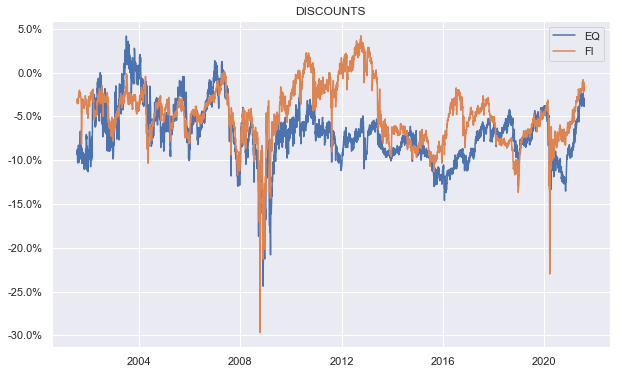 Source: Systematic Income
There is significant variation within the sectors, however. On an aggregate basis a few sectors are trading at excessive valuations, particularly those with relatively low portfolio yields. For example, the agency-focused sector is trading at an average premium level.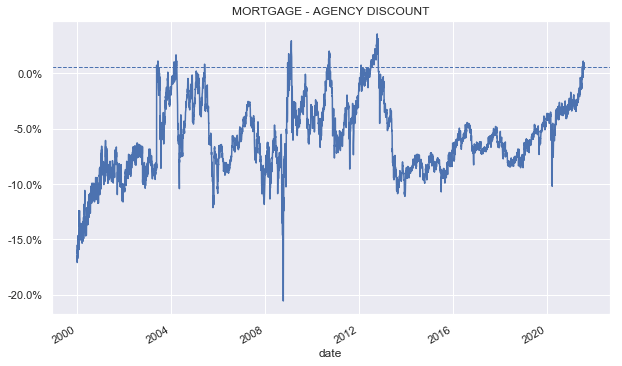 Source: Systematic Income
As is the preferreds sector and a few others.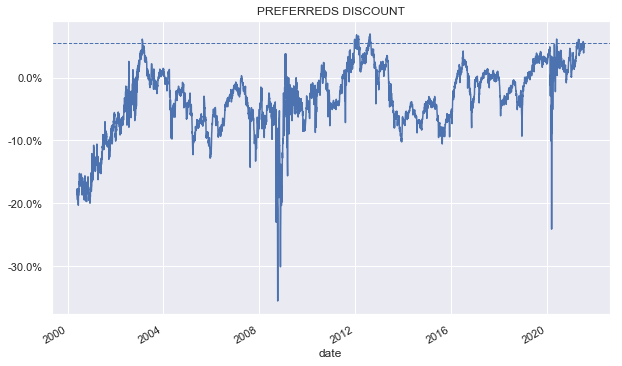 Source: Systematic Income
What is common to these sectors is that they tend to be fairly high-quality (agencies being the highest-quality and preferreds being in the BBB/BB rating sweet spot) with fairly high distribution rates for their quality - 5.8% for the agency CEF sector and 6.3% for the preferreds sector. With underlying asset yields in the low single digits across these sectors and a tailwind of lower risk-free rates no longer on the cards, it will be interesting to see what sort of returns these sectors put up over the next year or so. Our expectation is that these sectors will struggle to deliver total returns in line with their distribution rates.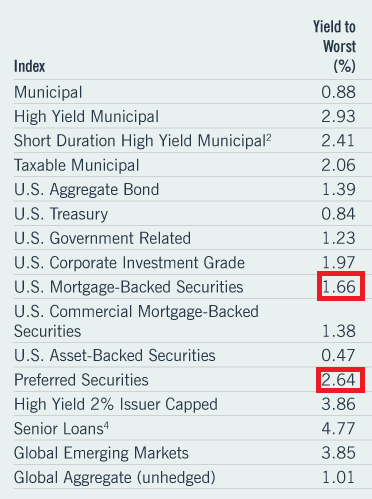 Source: Nuveen
Market Commentary
The question of deleveraging has come up on the service, particularly, what is the best way to identify CEFs that are prone to deleveraging. Deleveraging is a key concern for CEF investors because it tends to lock in permanent capital losses. This is a definite problem since a sustainable level of income ultimately comes from a base of capital so a drop in investor capital results in lower levels of future income, all else equal.
The reason you probably don't hear much about the likelihood of deleveraging in the CEF commentariat is because 1) bad news isn't always welcome which itself reveals an agency problem worth considering, 2) it requires a bit of tricky analysis and parsing - you're not going to get a quick screenshot on the fund's website that says - "Hey, we deleveraged in 2020, better luck next time!", 3) the cost of deleveraging tends to be hidden in the fund's overall performance unlike something more easily observable like a fund's fee - it's a bit like when the tax is included in the price of the item in the store (which tends to be the case outside of the US) and 4) there is a misconception about the actual impact of the deleveraging with some commentators believing it's trivial which tends not to be correct.
The illustration below tries to capture the dynamics of a deleveraging and its impact on a fund's NAV. In this example, we have an asset price (blue line) that goes from 100 to 50 and then back to 100. The orange line tracks the NAV of a CEF that is leveraged 25% at the start and fully deleverages when its leverage hits 50%. Once that happens, asset prices come back gradually and the fund remains unleveraged. The end result is that while the asset price comes all the way back, the fund's NAV remains 27% below its start. This is clearly a toy example, but it does illustrate the risk that a deleveraging can bring.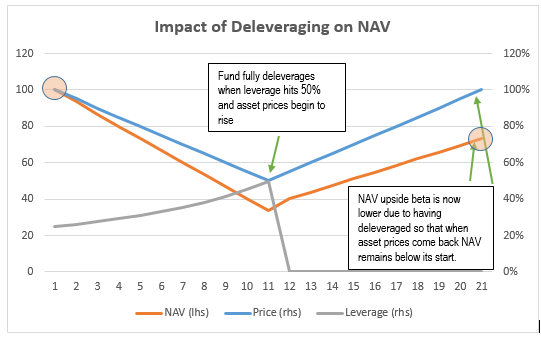 Source: Systematic Income
Deleveraging is a rich topic and we discuss it frequently. Suffice it to say no single metric is going to be a great proxy for how likely a fund is to deleverage. Some of the things that increase the likelihood of a forced deleveraging are 1) high initial leverage, 2) high NAV volatility (i.e. a portfolio of "riskier" assets), 3) more fragile leverage instruments i.e. repo / credit facilities in taxable funds or tender option bonds in muni funds all of which allow the lender to trigger an immediate deleveraging at a certain point (whereas preferred stock does not grant this right to the lender), 4) leverage cap mandates (such as those we discussed in the Nuveen preferreds CEFs) and others.
This can all get very complicated - thankfully there is a shortcut. In our view, the best guide to a future forced deleveraging is whether a fund has deleveraged in the past. Investors can gauge this by looking through the SEC shareholder reports, specifically, the two reports that straddle March 2020 and see what happened to borrowings in the total liabilities section, all of which takes about 2 minutes. Obviously, future results may vary, as the saying goes, but this is a very good rule-of-thumb.
A number of CEF shareholder reports came out in July. These are useful to keep tabs on fund income and coverage, particularly for funds that don't report these figures on a monthly basis. The high-yield muni focused MFS High Yield Municipal Trust (CMU) has 95% distribution coverage over the 6 months ending in May with income ticking a touch lower from the previous year. Sister MFS fund High Income Municipal Trust (CXE) has 97.5% coverage over the same period. Both funds remain attractive in the muni sector due to their attractive valuation, higher-yielding allocations, low fees and sector-beating longer-term NAV returns.
Municipal CEFs with a focus on high-yield and unrated bonds have continued to outperform this year, delivering a 15% return on average vs. a 9% return for their investment-grade focused counterparts. There is still some juice left in the high-yield muni space - spreads have retraced 93% of their COVID widening which sounds like a lot (and it is) but higher-quality bonds have retraced 90-105% of their widening i.e. some have tighter credit spreads than before early 2020. Separately, High Yield muni CEF discounts are a bit tighter on average but they have tended to trade even tighter relative to the broader sector than they still do. This keeps us overweight this tax-exempt sub-sector.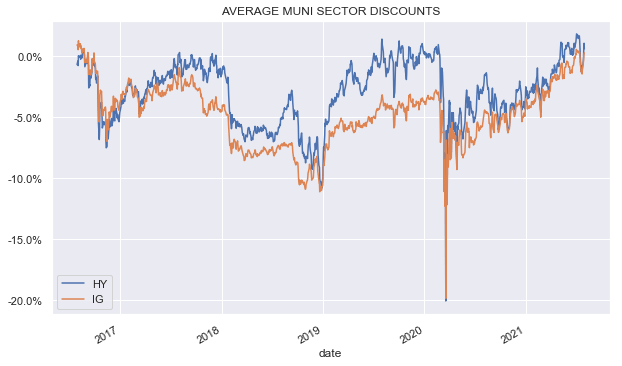 Source: Systematic Income
The KKR Income Opportunities Fund (KIO) also released a shareholder report recently which shows 6-month coverage ending in April at 112%. Income and borrowings both increased marginally from the last annual period. It appears that the fund cut too much last November and it looks to have the highest coverage in the sector outside of term CEFs. The fund has exceptional absolute and risk-adjusted returns in the sector.
Distribution coverage remains one of the key metrics investors are focused on. Distribution coverage has a few different uses so it's worth disentangling them. One use is to check whether a fund's income has changed significantly over the recent while. Such a change in income could be due to a deleveraging or a change in strategy so a big drop in coverage (and, presumably, income) is worth investigating. Often it can be a fluke (as exemplified by PIMCO funds) but typically it's an important signal that something is potentially awry.
Another way to use coverage is to gauge a given fund's likelihood of cutting its distribution. A distribution cut can be a double whammy - reducing income and driving a fund's discount wider. So a fund that has historically cut distributions in the past due to a reduction in coverage is worth keeping an eye on.
The third use of distribution coverage is to gauge what a fund's sustainable income generation looks like. This is probably how most investors treat coverage, however, in the current environment it is an especially bad proxy for a fund's sustainable income level (which is best measured as its yield-to-worst or portfolio yield). For example, the S&P HY corporate index has a "current yield" of 5.46% and a yield-to-worst or YTW of 3.92%. The agency index has a current yield of 1.6% and a YTW of 0.56%. The muni index has a current yield of 3.68% and a YTW of 1.36%. This dislocation between current yield and portfolio yield is likely the largest it has ever been and remains one of the most important income themes. The key point for income investors is that, in the absence of a lower yield tailwind (which seems unlikely with Treasury yields and credit spreads where they are), portfolio yields are going to drive total returns and, as already discussed, portfolio yields are exceptionally low. This dynamic in fixed-income CEFs keeps us tilted to funds with higher underlying yields, relatively wide investment mandates and strong historic alpha that can top up low portfolio yields.
As suggested above, the preferreds CEF sector remains fairly expensive. One example of this is the valuation of the Nuveen Preferred & Income Term Fund (JPI) which is trading at a 3.5% premium. It is unusual to see term CEFs move out to this valuation because of the expected headwind of the premium deflation into the termination date. We quantify this in annual terms as the pull-to-NAV yield which is simply the fund's discount or premium divided by the number of years to maturity. For instance, JPI has a headwind of around 1% as its 3.5% premium is expected to move to zero over about 3 years into its August 2024 termination date.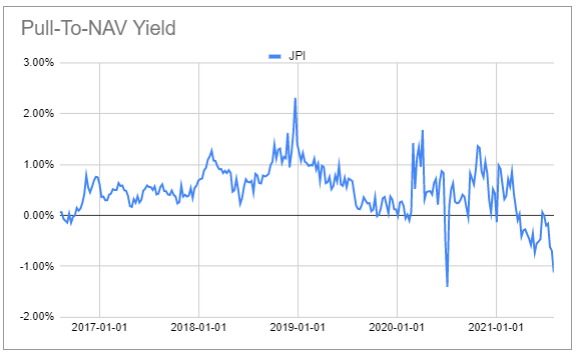 Source: Systematic Income CEF Tool
Recall that term CEFs are not obligated to terminate and JPI could very well turn into a perpetual fund (as did BSL and DMO); however, Nuveen has tended to be a good citizen with respect to its term CEFs and has continued to terminate them as expected. This suggests that investors should consider other preferreds funds. The other preferred term CEF - the Nuveen Preferred and Income 2022 Term Fund (JPT) is typically a decent choice but it has about 7 months to go before its expected termination and its pull-to-NAV yield is even worse.
A perpetual preferred CEF - the Cohen & Steers Tax-Advantaged Preferred Securities and Income Fund (PTA) - is the only fund in the sector that trades at a discount. The Cohen & Steers suite of funds have put up very strong returns in the sector, only second to the Flaherty suite. PTA likely suffers from a lack of track record due to its relatively recent launch, however, we expect it to behave like the other Cohen preferreds CEFs both of which trade at much higher valuations.
Outside of CEF exposure, an actively-managed ETF First Trust Preferred Securities and Income ETF (FPE) is always worth a look as a way to avoid the discount volatility of CEFs and take advantage of active management. Higher-beta ETF options are the actively-managed and leveraged Virtus InfraCap US Preferred Stock ETF (PFFA) and the Canadian financials / energy focused iShares International Preferred Stock ETF (IPFF) for investors with decent market conviction.
Stance and Takeaways
Across CEF sectors, our allocation remains focused on a number of attractively-valued niche sectors such as CLO debt, high-yield emerging-market and tax-exempt bonds. For higher-quality exposure we are tilting to either open-end funds or preferreds given the CEF wrapper has a difficult time generating much excess yield from high-quality assets in return for leveraged exposure and potential discount volatility.
We are also leaning heavily on alpha as a potential source of future returns in an environment where returns due to beta are expected to be historically low. We continue to like the Credit Suisse High Yield Bond Fund (DHY), trading at a 4.3% discount and a 7.5% distribution rate, Wells Fargo Advantage Income Opportunities Fund (EAD), trading at a 4% discount and a 7.9% distribution rate, Apollo Tactical Income Fund (AIF), trading at an 8.9% discount and a 6.7% distribution rate and KIO highlighted above, trading at a 3% discount and a 7.7% distribution rate.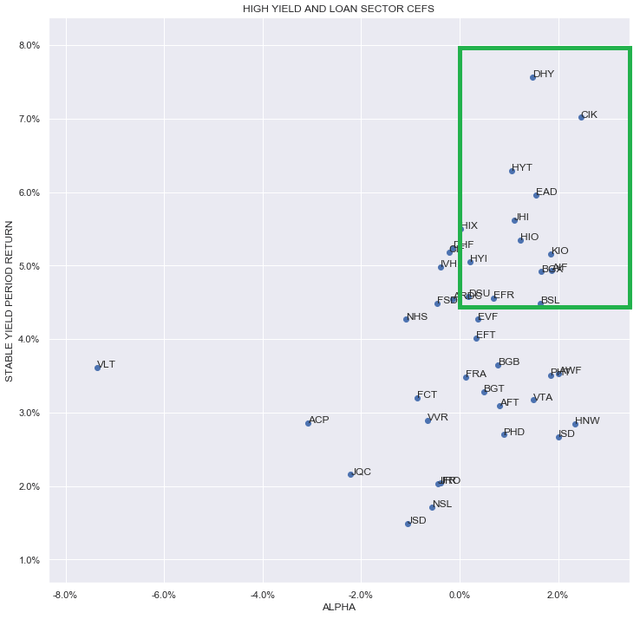 Source: Systematic Income
All of these funds are in the green square in the chat above which contains credit CEFs with strong risk-adjusted returns as well as strong returns in a period of stable yields which adjusts for any duration tilts that benefited from a fall in yields which is unlikely to repeat itself.