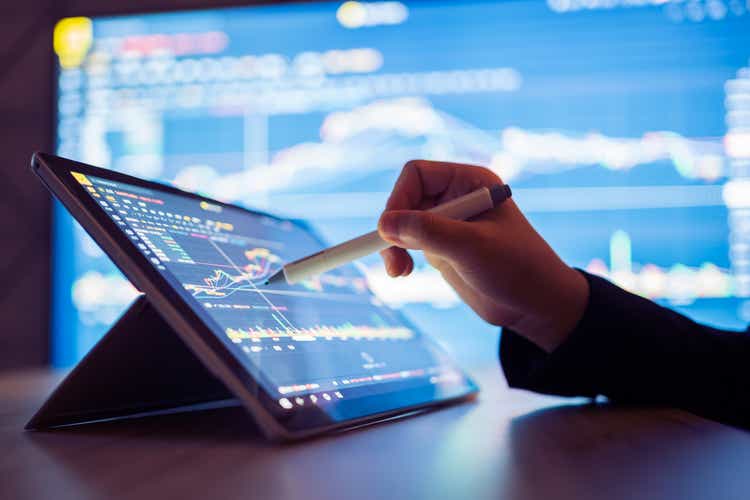 This article was first released to Systematic Income subscribers and free trials on 12-August.
Mortgage REIT preferreds have held up very well over the last year and a half, recovering nicely, in contrast, to common shares of many issuers. The sector continues to feature attractive yields for their risk exposure. In this article, we discuss the newly released Q2 credit figures and introduce a single metric that attempts to distill portfolio risk that can be easily compared across issuers to gauge relative value opportunities in the sector.
Within the agency-focused sub-sector we like the AGNC 6.125% Series F (AGNCP) given its attractive combination of a 6.12% yield and strong portfolio resilience. We also like the ARR 7% Series C (ARR.PC) for investors who want to hedge a ZIRP market environment and DX 6.9% Series C (DX.PC) for investors who want to lighten up on duration and increase the likelihood of redemption.
Quarterly Update
Q2 was, in many ways, a reversal of what we saw in Q1. The quarter saw wider agency spreads, more expensive TBA roll financing and burnout that didn't quite want to arrive. These drivers caused a drop in book values - on average larger than the gains we saw in Q1, leaving book values down for the year.
In terms of individual results for those keeping score at home and, specifically for the key credit metrics relevant to preferreds holders, AGNC (AGNC) leverage ticked up a bit to 7.9x from 7.7x, equity / preferreds coverage fell from 7.4x to 6.9x and 25bp MBS basis book value sensitivity increased marginally to 13.7%, leaving all 3 key metrics worse than the previous quarter.
Dynex Capital (DX) leverage ticked lower to 6.7x from 6.9x, equity / preferreds coverage improved to 6.8x from 6.6x and 25bp MBS basis book value sensitivity rose to 13.6% from 13.1% - so 2 out of 3 metrics improving.
Annaly Capital Management (NLY) leverage fell from 6.1x to 5.7x, coverage fell to 8.6x from 8.9x and 25bp MBS basis book value sensitivity improved to -9%. NLY continues to have one of the strongest credit metrics in the agency-focused suite so it is not surprising that its preferreds tend to have some of the lowest yields in the sector.
Armour Residential REIT (ARR) leverage fell from 7.2x to 6.8x, equity / preferreds coverage increased from 6.3x to 6.5x and 25bp MBS basis book value sensitivity fell from 11% to 10.8% - going 3 for 3 overall. In terms of fundamentals it remains attractive with a high agency allocation, lowish leverage and high coverage.
Stress Test
It may seem like preferred stocks of agency-focused mREITs are doubly safe - agency securities are issued by government-sponsored companies and preferred stocks have an added layer of protection over mREIT common shareholders. However, it is not inconceivable for an agency-focused mREIT to go bust. Some holdings of agency-focused mREITs, such as interest-only securities are not implicitly backstopped by the US government and can change in value strictly based on the payment and refinancing dynamics of the mortgage pools.
More importantly, however, agency-focused mREITs are 1) highly leveraged, typically in the high single-digit area and 2) interest-rate hedged. This combination of high leverage and interest-rate hedge creates something called basis risk - a situation where the hedged instrument (agencies) and the hedging instrument (interest rate swaps, Treasury futures) diverge in an important way.
Specifically, what tends to happen (we saw this during the GFC and during the COVID crash) is that the MBS basis - a measure of the yield differential between agency MBS yields and Treasury / swap yields, rises by around 1% with MBS underperforming risk-free rates. Because mREITs are long agencies and short Treasury futures or paid-fixed in swaps they lose money.
The simple model below captures what happens to mREIT book value in an event where the MBS basis - increases sharply. The model assumes leverage of 7.6x, repo haircut of 5% and agency portfolio duration of 4. A 1% change in the MBS basis (the B Scenario) leads to a 32% drop in the equity of the company - a figure where many mREITs ended up in March of last year.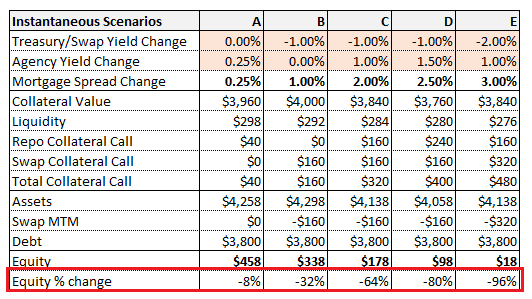 Source: Systematic Income
The average book value drop over Q1-2020 was 27% for the agency-focused mREIT sub-sector as the MBS basis rose by about 1%. Recall that this was in the context of the Fed putting in a number of emergency measures to ease the liquidity strains in fixed-income markets - presumably, losses would have exceeded these levels had the Fed not intervened as quickly as it did. The point here is that agency mREIT portfolios, and, hence, preferreds do carry some risk. In our view, these securities are still attractive, however, investors cannot assume that all are created equal and simply go for the highest-yielding option.
This raises the question of how should investors gauge the quality of the underlying portfolio? The three key metrics, in our view, are the 1) proportion of agencies in the portfolio (most agency-focused mREITs also hold small allocations to MSRs, loans or mortgage credit assets), 2) portfolio leverage and 3) equity / preferred coverage. Once we know these figures we can then run a simple stress test - roughly in line with what we saw last year across the different types of assets.
The results are shown below with the individual yields of the issuer preferreds on the y-axis and the stress equity / preferreds coverage on the x-axis. The higher the stress coverage figure the more resilient the underlying portfolio, all else equal.
The chart shows that there are 3 broad areas - on the low side are TWO, IVR and CMO with stress equity coverage around 2x. Then we have DX, AGNC and ARR with stress coverage figures of around 4-4.5x. And NLY is in a league of its own with a stress coverage figure of 5.5x. The chart also shows that the relationship between yields and stress coverage figures slopes downward, broadly speaking - higher stress coverage preferreds have lower yields which makes sense. CMO is currently callable and is trading above "par" which has a negative yield if redeemed immediately.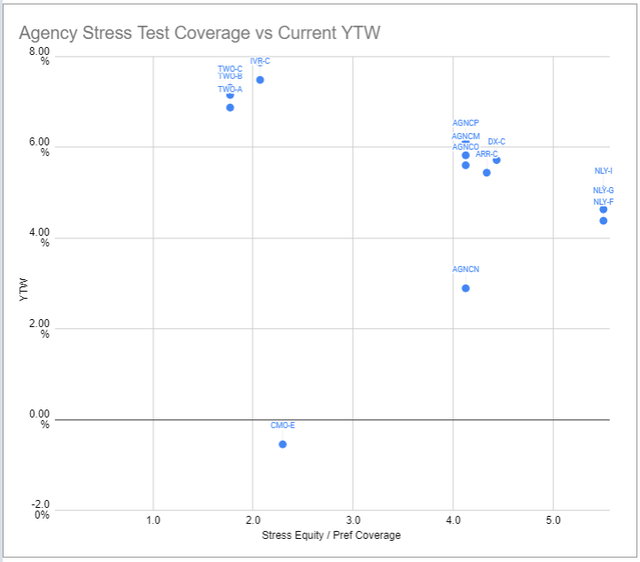 Source: Systematic Income Preferreds Tool
The reason the chart focuses on coverage rather than leverage is that leverage can be changed much more easily than coverage. An mREIT can significantly dial up or down leverage with a phone call but for coverage to move sharply it needs to make changes to its capital structure by, for instance, redeeming / issuing preferred or common stock.
Stance And Takeaways
In our view the middle part of the stress range - the one with AGNC, DX and ARR preferreds is the most interesting one with a number of opportunities. We like the AGNC 6.125% Series F (AGNCP) with the highest yield of three issuer preferreds at 6.12% and a 3mL + 4.697% reset coupon if not redeemed in April of 2025.
The ARR 7% Series C (ARR.PC) can be attractive to investors who want to hedge a ZIRP interest-rate environment where short-term policy rates remain zero for an extended period. ARR.PC is the only fixed-rate preferred in the agency sub-sector that is not currently redeemable. If short-term rates stay near zero over the longer term, the fixed-to-float preferreds in the sector will step down to a significantly lower yield (highlighted below) - well below that of ARR.PC.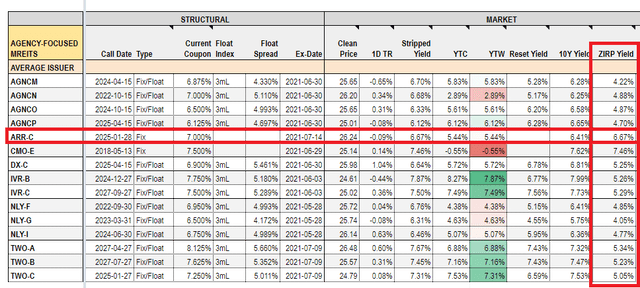 Source: Systematic Income Preferreds Tool
Finally, investors who want to minimize the likelihood of extension (i.e. non-redemption) but want to leave open the door to potentially participate in higher short-term rates should have a look at the DX 6.9% Series C (DX.PC) with a 5.72% yield. The stock's floating spread over Libor is the highest among this set of preferreds which increases the likelihood of redemption, particularly if we see only 1-2 hikes rather than the 3-5 priced in by the market by its call date in 2025.