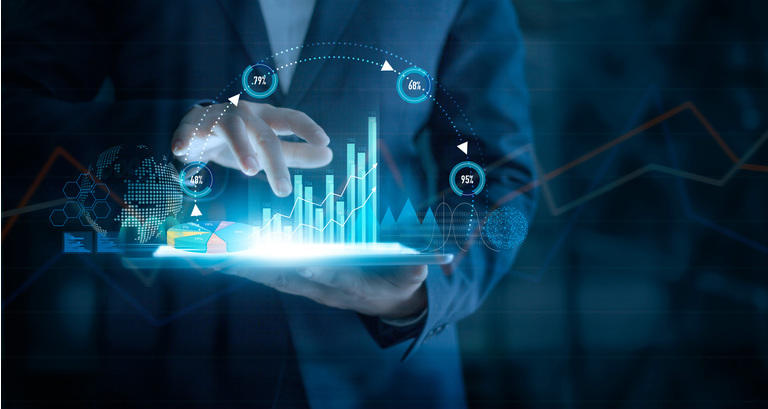 Written by Nick Ackerman, co-produced by Stanford Chemist
The Miller/Howard High Income Equity Fund (HIE) is a dividend-focused closed-end fund. They had initially focused more on higher-yielding investments in the energy sector. We all know how that turned out over the recent years, and they launched in 2014. That was terrible timing for the fund. However, it has since provided more encouraging performance.
Of course, the huge rally from 2020's lows is helping that rebound. I believe the fund is attractively valued at this time with around a 4.7% discount, and activists are buying. That was part of the premise of why we were adding more to this fund in our Tactical Income 100 portfolio just a couple of months ago.
Saba owns around 15.5% of the fund's outstanding shares as of 06/22/2021. The second-largest institutional ownership is RiverNorth, and they held over a 7% allocation. Currently, the filings are just 13G filings which means passive investments - not looking to exert control over the fund. This gives me the impression that HIE is worth holding and makes me want to add even more.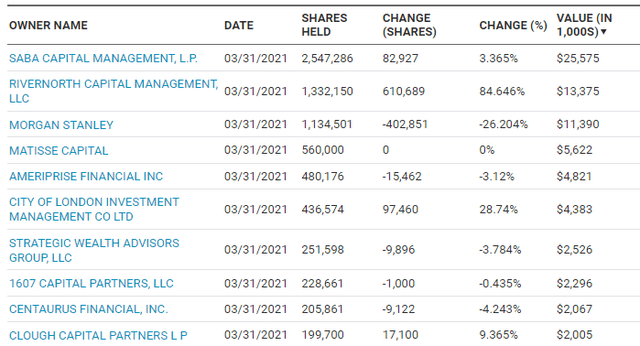 (Source - Nasdaq)
We covered the fund relatively recently, but we have a few more points worth revisiting with a new Semi-Annual Report.
The fund is classified as a "diversified, closed-end management investment company whose primary objective is to seek a high level of current income with capital appreciation as a secondary objective."
They intend to invest "at least 80% of its total assets in dividend or distribution paying equity securities of US companies and non-US companies traded on US exchanges. The Fund will seek to invest in securities that the Investment Advisor considers to be financially strong with reliable earnings, high dividend or distribution yields, and rising dividend growth. The Fund may invest up to 25% in Master Limited Partnerships ("MLPs"), generally in the energy sector. The Fund intends to engage in an options writing strategy consisting of writing put options on securities already held in its portfolio or securities that are candidates for inclusion in its portfolio. It may also engage in covered call writing strategies, and it may buy put and call options. The Fund may write covered put and call options up to a notional amount of 20% of the Fund's total assets."
This allows the fund to invest quite freely in a diversified portfolio. In fact, with an interview conducted at the end of 2020, the fund manager calls it a "...very plain-vanilla fund with no exotic investments which are often endemic to the close-end fund space." At the same time, this isn't always a desirable trait to have in a CEF.
In this case, it makes a lot of sense as the catalyst for continuing to hold is the liquidation in the future. This will lock in the fund's discount that it has been trading at. The opportunity there is presumably what is drawing Saba and RiverNorth to the fund. Of course, one is getting paid quite well in this fund to continue holding until said liquidation.
The fund is quite small, with around $206 million in net assets. They employ a modest amount of leverage of around 19.34%, bringing total managed assets to around $245.8 million. The fund's expense ratio is high and comes to 2.03%. I would assume this is also factoring in the interest expense of the fund, but it isn't separately identified as it typically is.

(Source)
Performance - Discount Appealing
With the current 4.73% discount and termination on November 24th, 2024, it looks quite appealing. Though admittedly, it isn't for risk-averse investors. There is significant volatility with this fund.
As we've discussed ad nauseam, the historical performance of this fund isn't appealing at all. In that interview we linked before, the fund manager mentions all the same points we have remarked on in the past.
Many investors will remember that the time before 2014 was a particularly precarious time for high-yielding stocks - in particular in the energy space. And the collapse of energy - which comprised about 50% of the investment universe of the fund upon its IPO - and the subsequent reduction in many of the dividends of formerly high-dividend-paying energy stocks really made it difficult, at times, for the fund to maintain its dividend over time.

It did do so, but with the downturn related to the COVID-19 pandemic, over 200 companies in the universe of stocks with a market cap of $1 billion or greater ended up cutting their dividends this year. And this was particularly concentrated in the highest-yielding areas of the market in which the fund was invested. So as a consequence of this turmoil, we made a difficult decision to reduce the dividend by two-thirds starting in April of this year.
HIE has done exceptionally well this year. Some of the discount has even already been narrowing. What is interesting is how this fund had previously traded at a premium for a few years before last year's crash.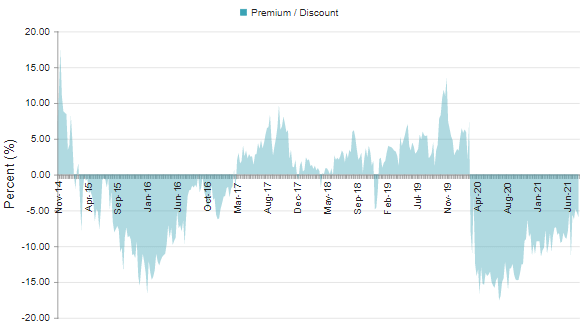 (Source - CEFConnect)
I wouldn't suspect that we see premiums ever return to the fund primarily because investors shouldn't pay up for a fund that should be liquidated in a few years.
One thing that appears to have closed the discount is the strong performance in the NAV as the fund rebounded from its lows. It has made some sharp moves higher for this year already. In recent months, the fund has been trending mostly sideways to even lower as value-oriented stocks once again get left on the backburner. Instead, the market pushing up growth once again as the 10-Year Treasury rate declines.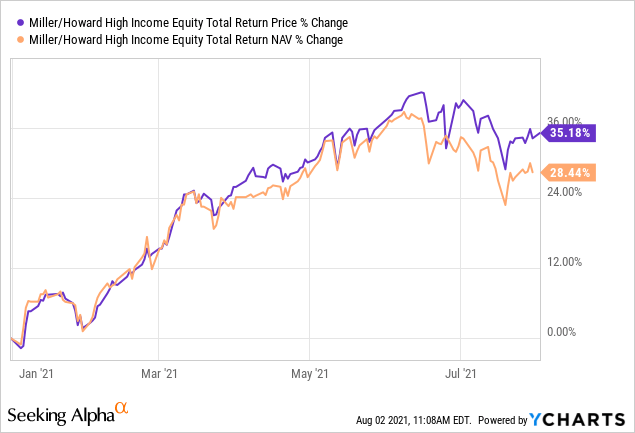 Distribution - NII Should Be Stabilized
The latest Semi-Annual Report is now available. With the economy back on the mend and companies in a more financially stable situation, net investment income [NII] should be relatively stable from here. However, the Delta variant of COVID could certainly wreak havoc. It has already been pushing the CDC to revert some of the pandemic measures. That's the shorter-term risk to HIE, in my opinion.
With that being said, here were the latest earnings for the fund.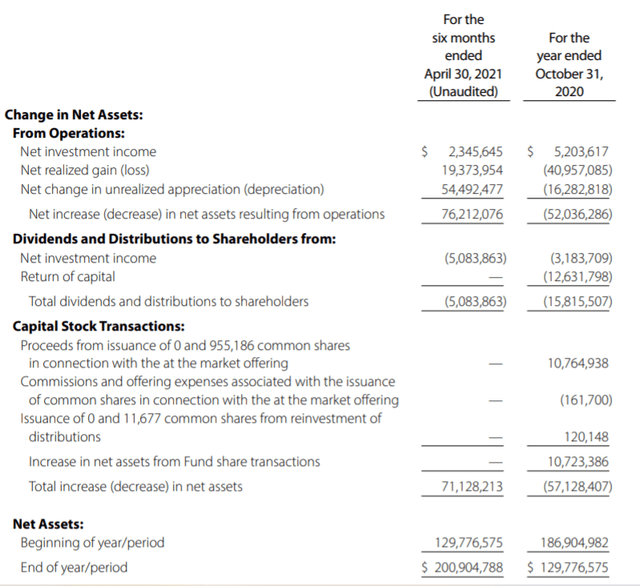 (Source - Semi-Annual Report)
NII coverage comes to 46.1% of the fund. This is higher than the previous 33% coverage for their full fiscal year. However, that is due to the distribution cut that the fund implemented last year. It was a severe cut that saw the distribution go from $0.1160 monthly to just $0.04.
At the beginning of the year, the fund put a boost that helped claw a small percentage of this decline back. With the current $0.048 monthly rate, the distribution yield comes to 5.74%. Due to the discount, the NAV yield comes to a lower 5.4% rate. That's important because that's the figure the fund has to earn to sustain its yield.
In the case of HIE, a large portion of the distribution will come from capital appreciation. There has been no lack of over the last 6 months for the period ending April 30th, 2021. Since that time, though, the fund has flattened out and trended sideways to downward, as previously mentioned.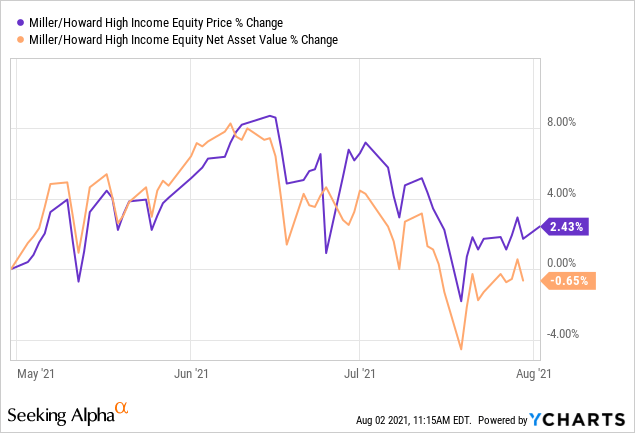 In terms of how the distributions will be taxed, we won't know until the end of the year. However, from past characteristics, it has included a large portion of return of capital. Now, this is for a couple of reasons, and not all of it is destructive.
MLPs will often classify large portions of their distributions as ROC. This gets passed onto shareholders through the CEF structure. Of course, this is harder to measure since MLPs and energy have done so poorly anyway. So in the case of HIE, we would see destructive ROC too.

(Source - Semi-Annual Report)
Holdings - Aggressive Turnover
This fund is traded quite actively. For the last 6 months, the fund has reported a 75% turnover. That isn't an annualized figure either. In 2020, the fund's turnover came to 277%. The lowest in the last 5 years was in 2016, when they reported 85%.
Part of the massive turnover in 2020 seems to be tied to the fact that they were exiting some of their energy positions in favor of more diversification. The reason I mention all of this, though, is because we can take a look at the fund's holdings and breakdown as of June 30th, 2021. Just be aware that holdings could have changed quite significantly since then.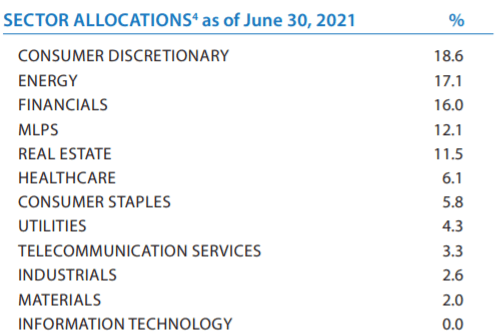 (Source - Fact Sheet)
The top sector allocations belong to consumer discretionary, energy, financials, MLPs, and real estate. I would note that energy and MLPs could probably be combined as they will trade somewhat loosely together. Both are going to be a function of mostly what the price of crude is doing. With that, we are looking at those two sectors coming to a 29.2% allocation. Quite aggressively but clearly paid off this year.
This is also with holdings in financials and real estate, which are all cyclical themselves. The value-oriented tilt of this portfolio is exactly why this fund is so volatile - all giving us the reason why the risk-averse investor should probably invest elsewhere.
This allocation is also different from when we last covered the fund. We were looking at the March 31st, 2021 Fact Sheet then. At that time, financials were the largest allocation. Though interestingly enough, several of their top holdings are still top holdings today too.
The largest consumer discretionary sector belonged to just 8 positions. Bringing up another good point that HIE is a relatively tight portfolio. They don't hold a huge number of holdings. We can see in other funds they hold hundreds of positions - even thousands in munis sometimes.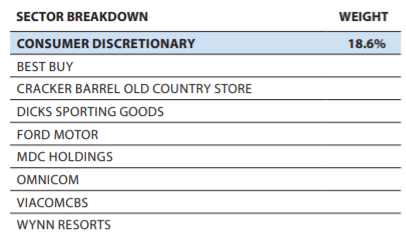 (Source - Holdings/Sector Breakdown)
Besides Cracker Barrel (CBRL) and Ford (F), none of these positions were in the fund going back to January 31st of this year. Again, this is highlighting how active this fund manager is between going in and out of positions.
Also, none of those positions come to the largest top 5 holdings that they provide either.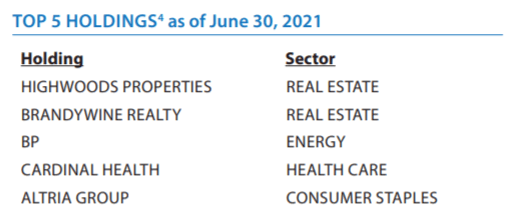 (Source - Fact Sheet)
Instead, we see Highwoods Properties (HIW) and Brandywine Realty Trust (BDN) as the top positions. Both of which are real estate holdings or REITs, more specifically. HIW is an office REIT, and that means can still present some significant pressure in the future with Delta variant once again locks down some areas of the U.S. Of course, office REITs also have to contend with perhaps never getting back pre-pandemic level utilization again.
Occupancy for HIW came to just 89.5% across their entire portfolio. They anticipate a new low range of 89.5% to 91.5% for the year. It isn't looking like it'll get better over the short-term, even from the management:
Occupancy was relatively flat sequentially and in the quarter at 89.5%. And as stated last quarter, we expect occupancy to remain steady throughout the third.
I highlight this to be honest with the risks in this fund. These are the same risks to its second-largest holding as well, BDN. BDN is also an office REIT. Their occupancy rate for the last quarter wasn't much better at 90.2%. It was actually a decrease from June 2020 where occupancy was 90.8%.
Average occupancy for the Same Store Properties was 90.2% and 90.8% during the three-month periods ended June 30, 2021 and 2020, respectively.
They anticipate a similar range of 91 to 93% occupancy. That is what they are baking into their 2021 FFO assumptions.
On the other hand, neither one of these REITs cut their dividend. HIW actually increased their dividend, with the latest quarterly being $0.50 from the prior $0.48.

(Source - HIW Seeking Alpha)
BDN might not be increasing their dividend, but they have maintained it throughout the ongoing issues.

(Source - BDN Seeking Alpha)
Conclusion
HIE, despite its risks, is presenting an opportunity. It is a truly "turnaround" CEF that one could play with should the economy continue to expand. Though keep in mind that the cyclical nature of the holdings presents significant volatility.
With the termination date a few years away and the fund presenting a discount, this also bolsters some anticipated future returns. Saba and RiverNorth at least see the appeal here. They have filed 13G filings signifying passive investments. However, it will be interesting if they stay as passive investors as Saba is a known activist.