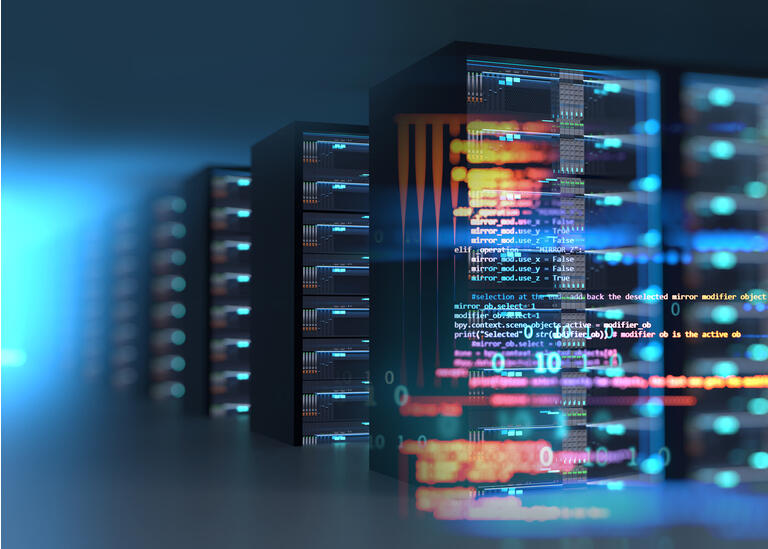 Investment Thesis
Power & Digital Infrastructure Acquisition Corp. (XPDI) had traded at a significantly lower multiple than its peers after the company announced its proposed merger with the leading Bitcoin (BTC-USD) mining and hosting company Core Scientific Holding Co. on July 21, 2021. This valuation gap should converge in the next 2-3 months for the following reasons:
Fundamentally, Core Scientific is one of the leading players in Bitcoin mining and hosting (the sweet spot in Bitcoin ecosystem right now) and should trade on par with its peers; Technically, as stated in the deal announcement, XPDI's proposed merger with Core Scientific would be closed in 4Q21 after its shareholders' approval. Typically SPAC common stock and warrants would trade up after the deal closing, i.e. after the deal risk is removed.
Assuming the Bitcoin trades at the current level or higher, the upside for the warrants (XPDIW) could be 2-3x, while the downside could be 50% given the Bitcoin price volatility. To hedge the potential downside or simply to monetize the volatility, it might make sense to have a pair trade, i.e. long XPDIW and buy puts or put spread on other Bitcoin miners.
Valuation Gap
There are several publicly traded crypto mining companies that are XPDI's comparables, including Marathon Digital Holdings Inc. (MARA), Riot Blockchain, Inc. (RIOT) and HIVE Blockchain Technologies Ltd.(HIVE) (a.k.a HVBT). Cipher Mining Inc. (CIFR), a recently completed SPAC deal, should also be added to this list.
As illustrated in the table below, the average P/S multiple of MARA, RIOT and HIVE is 15x based on 20201 projected revenue while P/S for XPDI is 9x. If CIFR is included based on 2022 forecast revenue, the average forward P/S of MARA, RIOT, HIVE and CIFR is 7x while that of XPDI is 4x. To trade even with its peer group, XPDI common stock potentially could have at least 67% upside, or approximately at $17 per share. Since XPDIW has a strike price of $11.5, $17 of XPDI would implies roughly $5.5 for XPDIW which is 2.5x upside.
Company Name

Market* ($ Billion)

Revenue ($ Million)

P/S

MARA

$3.5

2020 $42

2021P $230

2022F $573

84x

15x

6x

RIOT

$2.8

2020 $65

2021P $219

2022F $426

43x

13x

7x

HIVE

$1.1

2020 $39

2021P $68

2022F $181

30x

18x

7x

CIFR

$3.4

2020 $0 mm

2021P $6 mm

2022F $350 mm

NA

533x 2021 Revenue

9x 2022 Revenue

XPDI

$4.5**

2020 $60 mm

2021P $493 mm

2022F $1,140 mm

75x 2020 Revenue

9x 2021 Revenue

4x 2022 Revenue
*As of September 24, 2021
**Equity valuation based on the announced deal terms.
Source: Bloomberg.
Historic Blessing from China Ban on Crypto Mining
On September 24, 2021, China Central Bank PBOC announced that all crypto related transactions (including trading) and businesses are illegal. This came as no surprise as Chinese government had already executed a ban on crypto mining in China end of second quarter this year. The crypto currencies plunged sharply on the news, but the China ban is actually a great blessing and a historic opportunity for miners.
Based on the data from statista.com (see charts below), China accounted for 46% of total hash rate as of April 2021. After the government ban, this 46% would either be permanently gone or have to be migrated to other countries, such as the US and Central Asian countries.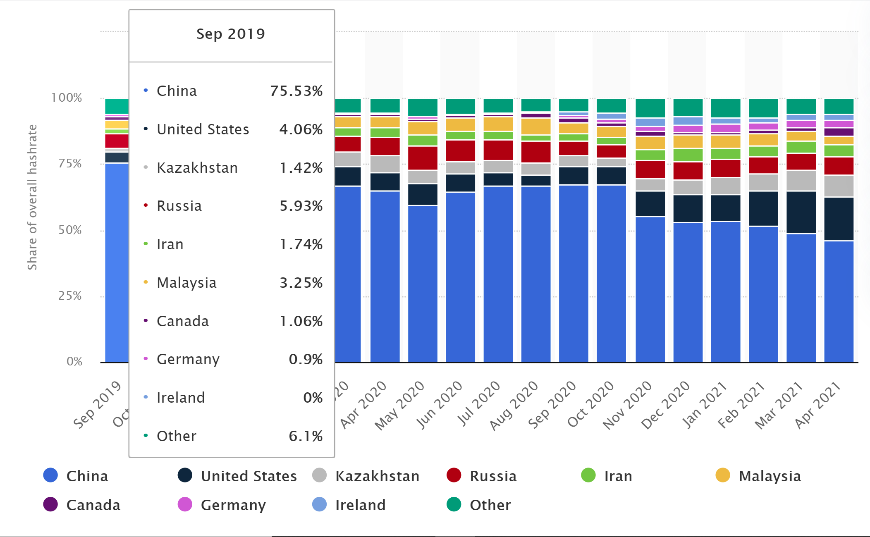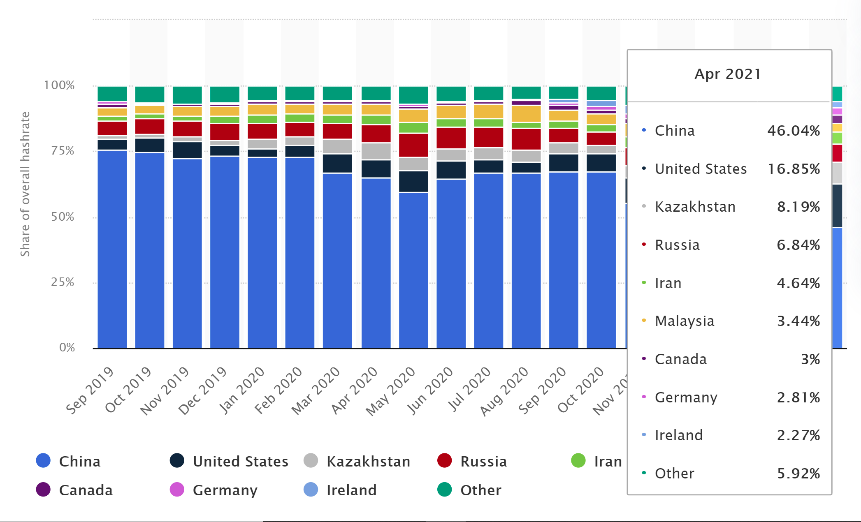 Source: statista.com
With over half of the world hashrate off line suddenly, the mining actually got easier (lower difficulty) and more profitable (see Bitcoin hashrate chart below). China's ban on mining also caused mining rig price to crash as the miners located inside China had been dumping equipment. This is definitely a blessing for the miners that remain open as their cost of buying rigs suddenly dropped. As long as Bitcoin price holds up or keeps rallying, the miners will be significantly more profitable than before due to lower equipment cost. XPDI should benefit more from this China factor because it is not only a miner, but also a hoster that would make money by simply providing a much needed "home" for those miners migrating their capacity out of China. All these have not been priced in the price of XPDI and XPDIW yet.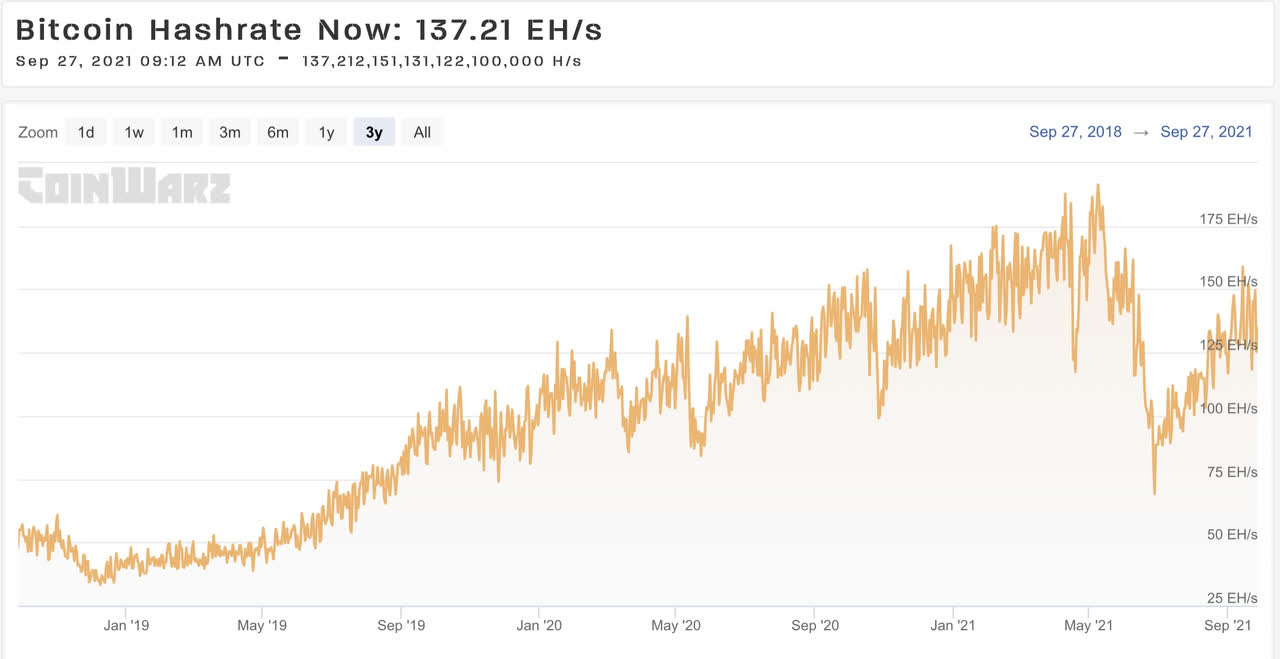 Source: CoinWarz.
Unfavorable SPAC Factor
It is worth pointing out that XPDI is the largest by revenue within its peer group but its valuation is so far the lowest. This valuation gap is most likely caused by a technical reason, i.e. it is a special purpose acquisition company (SPAC), the publicly listed blank check company.
SPAC had a roller coaster ride over the past twelve months - the market hype of SPACs peaked in February and then quickly cooled off due to a flood of new SPAC IPOs and a series of poorly structured mergers. Consequently, market reaction to the newly announced SPAC mergers is typically muted until the deal is eventually approved by the SPAC shareholders. The trajectory of the market sentiment toward SPAC is captured by the following two indices compiled by SPACInsider.com:
SPAC Yield-To-Maturity Tracker which tracks weekly median yield-to-maturity for the SPACs that are currently searching for targets. A unique feature of SPAC share is that its shareholder could choose to redeem the share at the shareholders vote for the proposed business combination. The redemption price is NAV of the cash in the trust account (typically $10/share plus interest). If its price trades below $10/share, it generates a positive yield to maturity, just like a fixed income instrument. However, when this happens, it implies that the market is not confident that SPACs would execute a merger that could cause the share price to rally above par. The chart below shows that the yield now is at the historic high. In February 2021, the yield was negative, i.e. the share price was trading at a premium over the NAV when too much money was chasing SPACs then.
SPAC Yield-to-Maturity Tracker

Source: spacinsider.com
SPACDex Return Tracker tracks market capitalization weighted and equal weighted returns, which include every tradable SPAC, along with its rights and warrants included. The SPACs in this index include those that have announced a deal, but have not closed the combination yet. A SPAC will be removed from the index after its merger is closed. This tracker could capture the deal announcement "pop" of common stocks, warrants and rights. The chart below clearly shows that the return is at the historic low, i.e. very muted reaction to deal announcement or little announcement "pop". This might largely explain the underperformance of XPDI and XPDIW even after its merger announcement.
SPACDex: Market Cap & Equal Weighted Return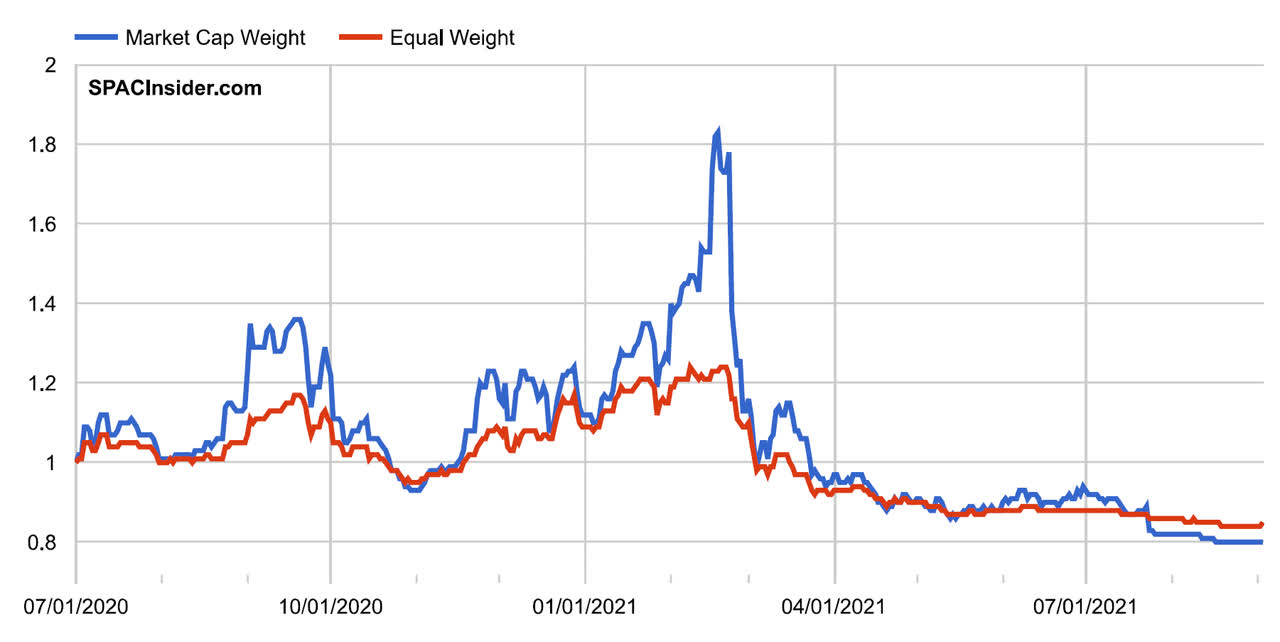 Source: spacinsider.com
XPDI closed its initial public offering on February 12, 2021 and raised $345 million by issuing 34,500,000 units. Each unit is composed of one share of Class A common stock and one fourth of one redeemable warrant (XPDIW). The warrant terms are quite standard, e.g. one warrant one share, $11.5 strike price and $18 redemption trigger, etc. The company announced a merger with Core Scientific on July 21, 2021, but XPDIW did not enjoy a deal announcement pop and actually been slightly underperforming its peers CIFRW, MARA and Bitcoin since then (see chart below).
XPDIW vs CIFRW, MARA and Bitcoin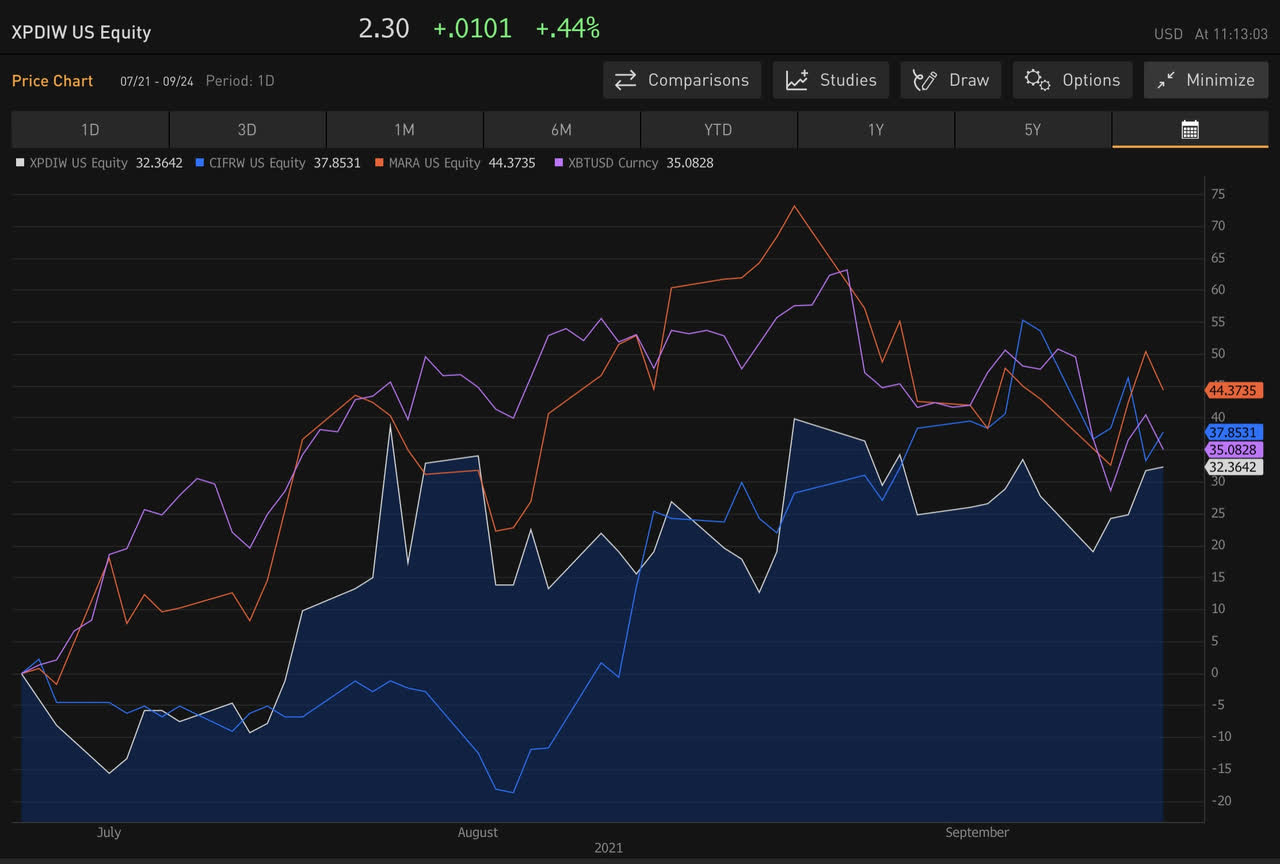 Source: Bloomberg.
Key Catalysts
1) SPAC shareholders vote to approve the merger with Core Scientific in 4Q 2021.
As illustrated in the SPAC flow chart below, a proposed SPAC merger is subject to its shareholder approval, which should unlock the value of the newly merged new company as explained in the previous section. We use three recently closed SPAC deals to illustrate the price impact on the warrants, which ranged from up 50% to up over 100% upon deal approval.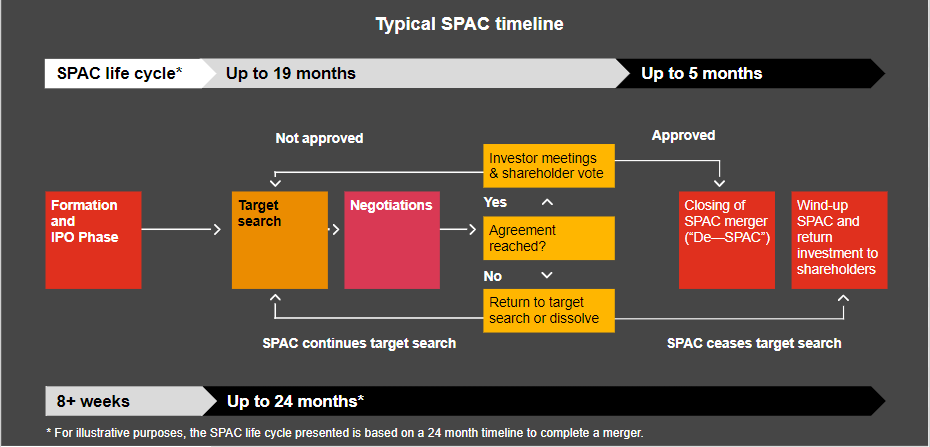 Source: pwc.com
The first example is CIFR or Good Works Acquisition Corp. (GWAC) which announced on March 5, 2021 that it would merge with a Bitcoin mining company Cipher Mining Technologies Inc. for a valuation of $2 billion. Five and half months later on August 25, 2021, GWAC shareholders voted to approve the deal. The price chart below shows the price movement of CIFR and its warrants (CIFRW) at the deal announcement and shareholder approval.
CIFR and CIFRW Price Chart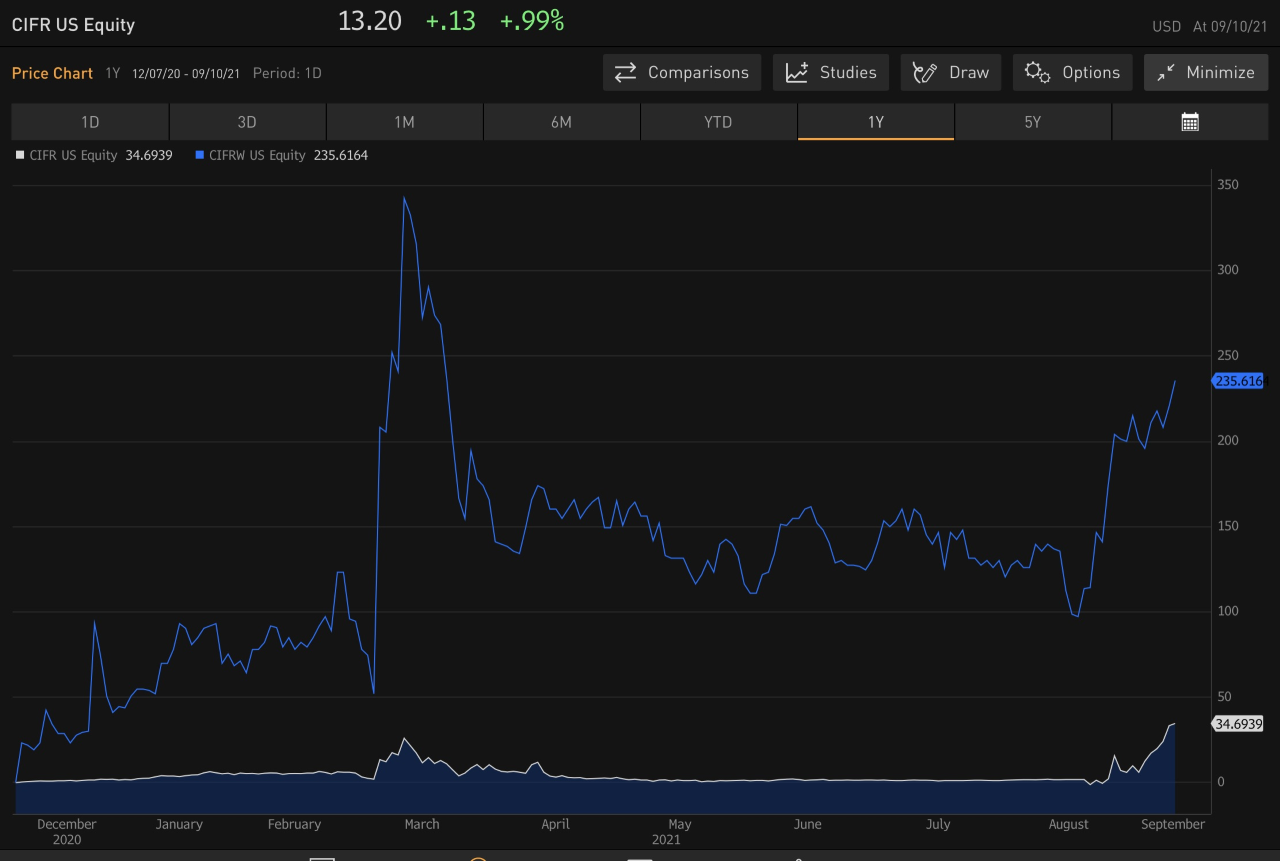 Source: Bloomberg.
The second example is Soaring Eagle Acquisition Corp (SRNG) which announced the closing of its merger with Ginkgo Bioworks, Inc. (DNA) on September 14, 2021. Both the common stock and warrant (DNA.WS) of the newly merged company rallied significantly upon the deal closing news (see chart below).
DNA and DNA.WS Price Chart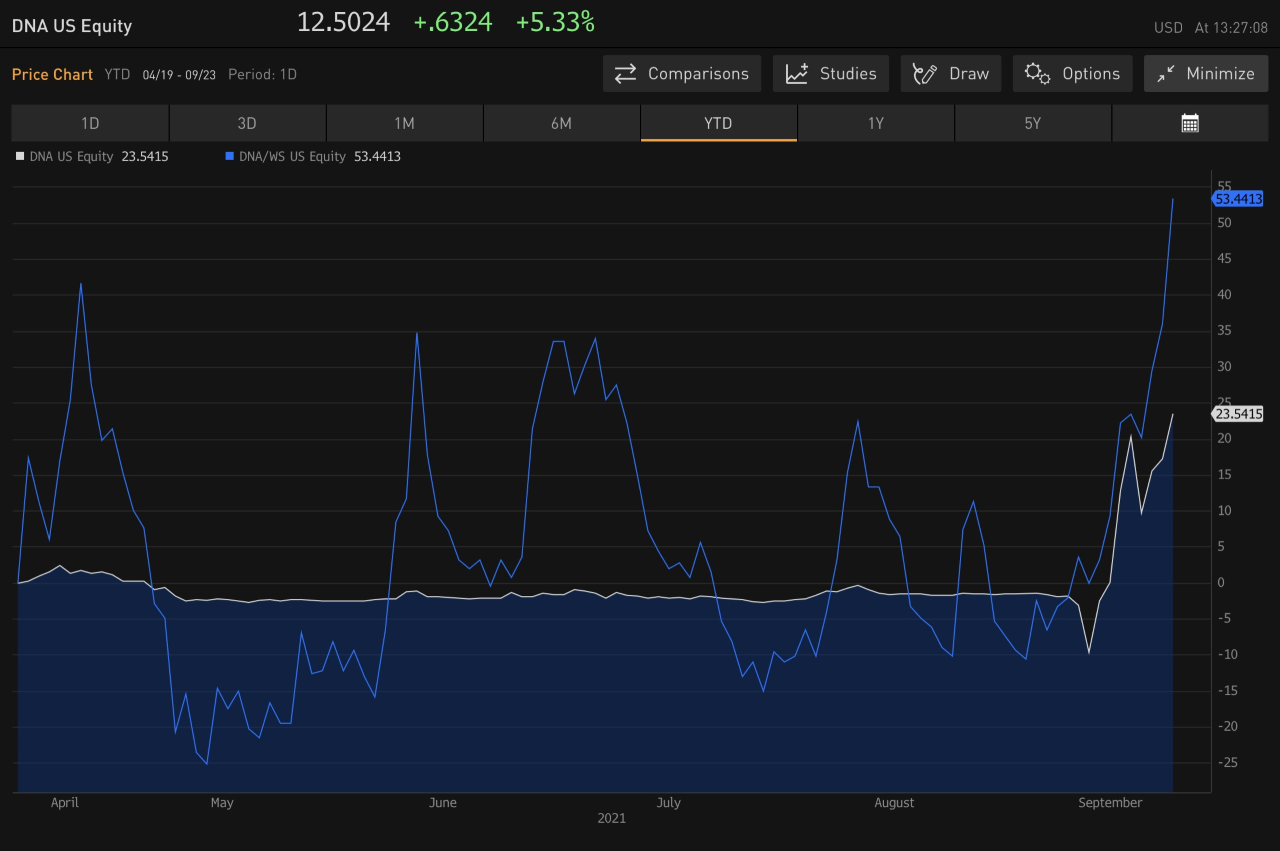 Source: Bloomberg.
The third recent example is D8 Holdings Corp. (DEH) which announced the closing of its merger with Vicarious Surgical Inc. (RBOT) on September 15th, 2021. Both its common stock and warrant (RBOT.WS) posted significant gains after the de-SPAC event.
RBOT and RBOT.WS Price Chart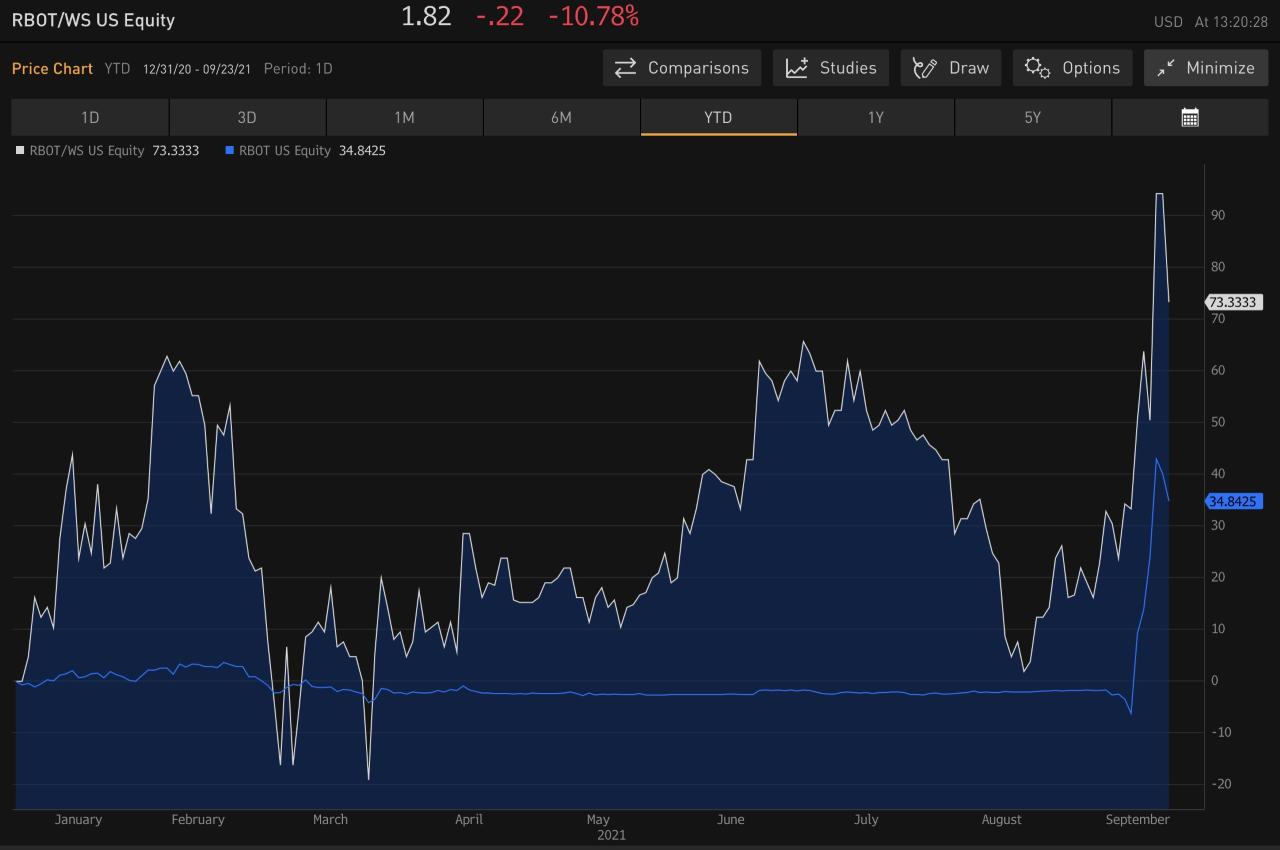 Source: Bloomberg.
2) Significant rally of Bitcoin
Stock prices of mining companies are typically highly correlated with Bitcoin price and tend to outperform when Bitcoin trends up. The charts below use RIOT and MARA as examples to illustrate the relationship.
RIOT vs Bitcoin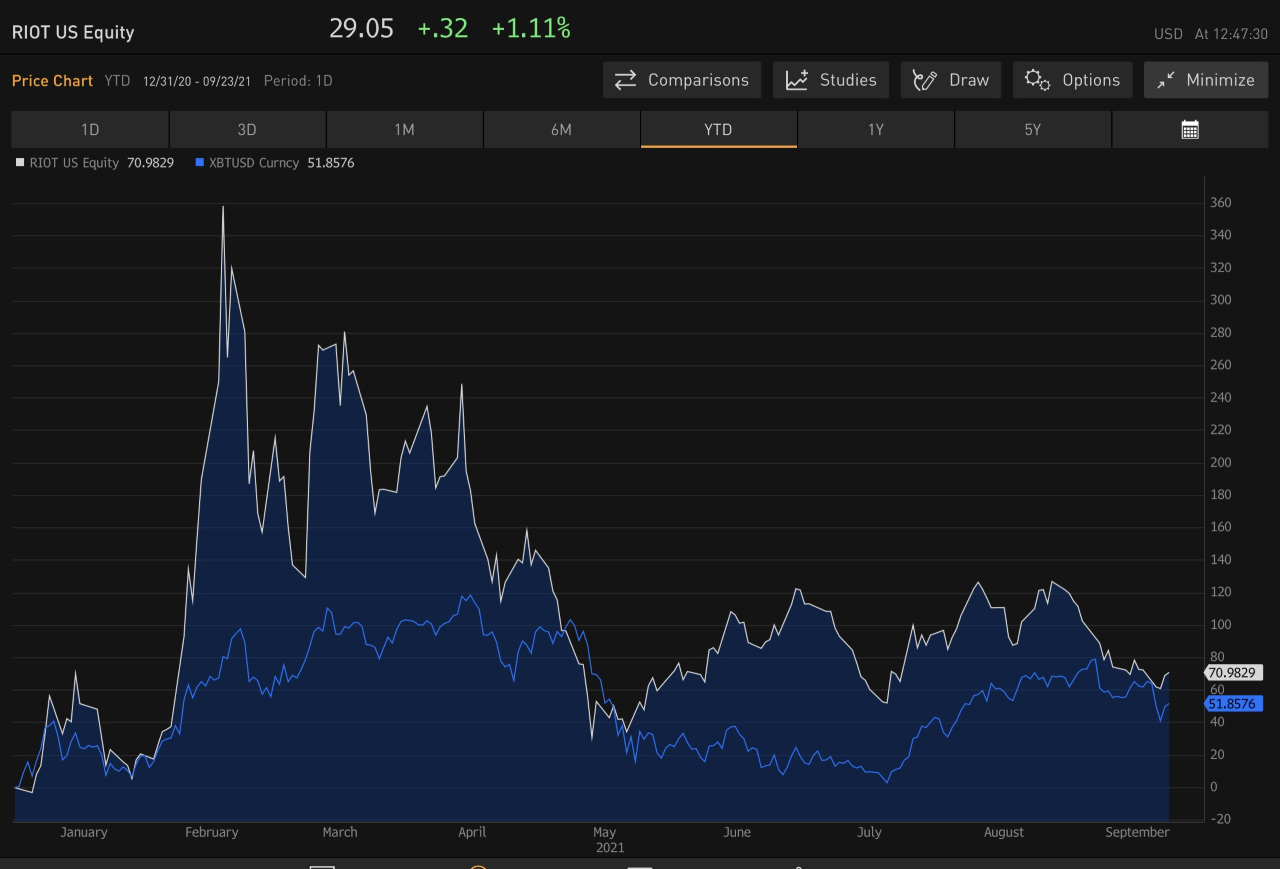 Source: Bloomberg.
MARA vs Bitcoin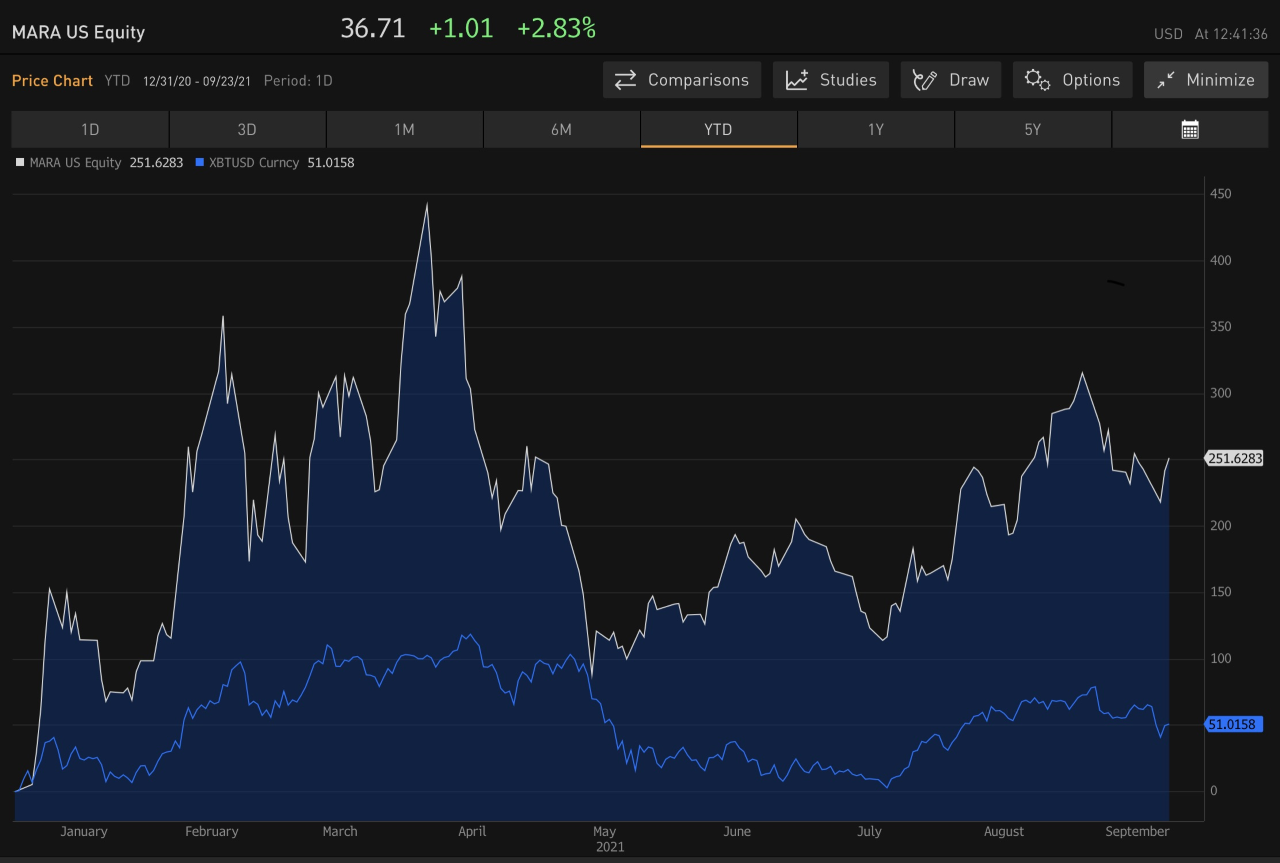 Source: Bloomberg.
In theory XPDIW should start to track and even outperform Bitcoin price trend closely right after it announced its potential merger with Core Scientific on July 21, 2021. But in reality, XPDIW still lagged Bitcoin slightly as of September 24th (see chart below). If Bitcoin price continues to rally significantly from the current level, the rising tide will most likely lift all the boats, including XPDIW.
XPDIW vs Bitcoin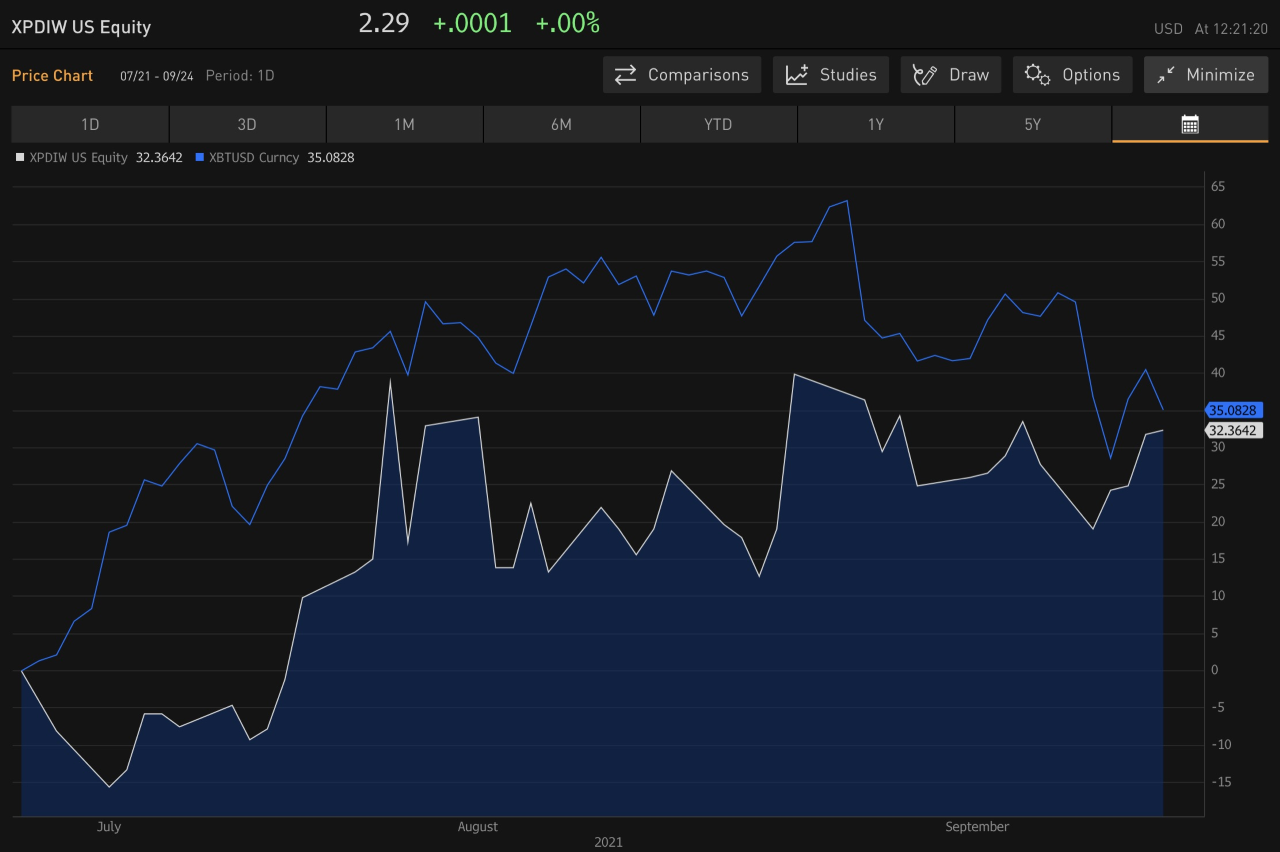 Source: Bloomberg.
Key Risks
Significant selloff of Bitcoin price. Since the pandemic triggered the sharp market selloff in March 2020, Bitcoin price has been trending up. However, the volatility at the same time was also high with more than dozens of times of more than 10% intraday drops (see chart below). It will not be a surprise that this pattern will continue. Given the high correlation, crypto mining stocks will most likely fall with Bitcoin price. One way to mitigate the risk is to hedge XPDIW long position with puts on those high flying miners such as MARA or RIOT.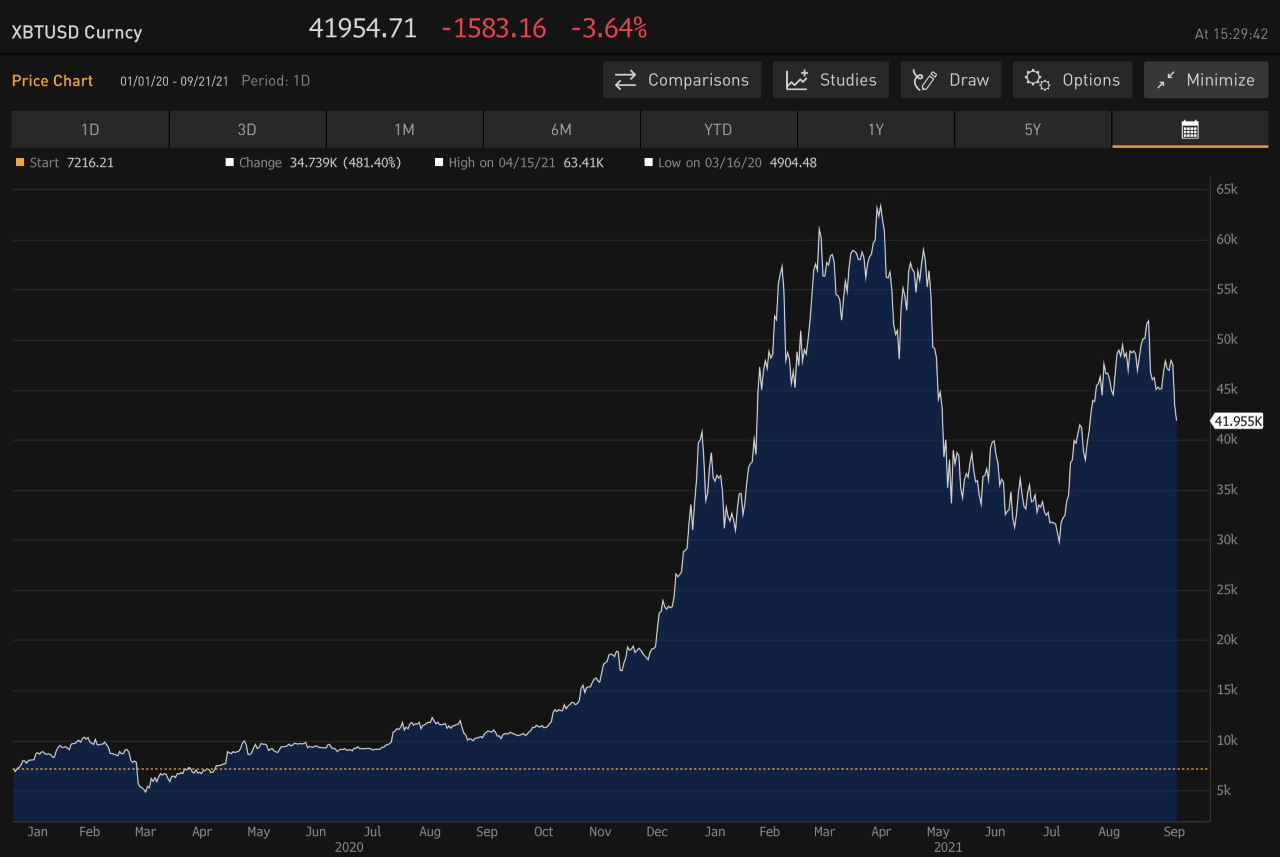 Source: Bloomberg.
Uncertainty of the SPAC deal approval. XPDI's proposed merger with Core Scientific is still subject to its shareholders approval. SPAC warrants would expire worthless if the shareholders do not approve the deal. We assign low probability of this happening because the management teams of both XPDI and Core Scientific are solid and experienced, and should be able to navigate the process smoothly. General market selloff. Current valuation of equity market is at fairly elevated level and could incur sharp selloffs at any time due to a variety of reasons. If this happens, companies in the Bitcoin ecosystem, such as XPDI, could also suffer.
Conclusion
XPDI is a SPAC that is in the process of merging with one of the leading Bitcoin mining and hosting companies. However, since the deal announcement, XPDIW has so far traded at a fairly low multiple and underperformed both Bitcoin and its mining peers despite the fact that XPDI is a much larger company by revenue. This valuation gap should converge after XPDI shareholders approve the deal in the fourth quarter. The potential upsides for XPDIW are 2-3x while the downside could be zero if the deal does not get approved and XPDI is liquidated.