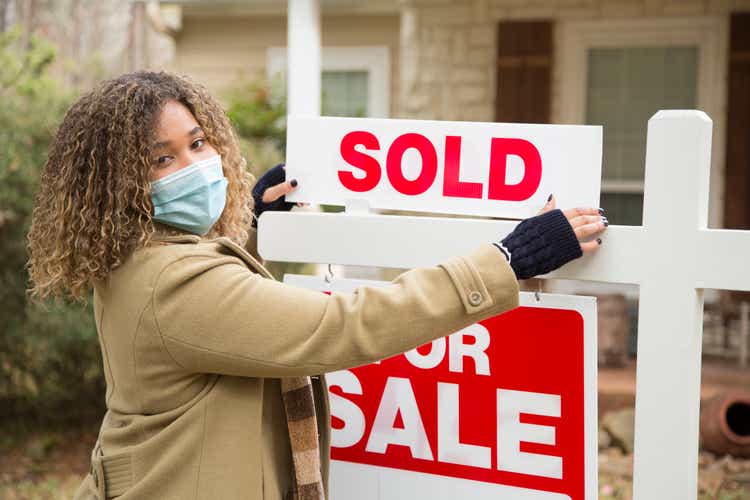 Co-produced by Austin Rogers for High Yield Landlord
Investors are constantly faced with the choice of how to allocate scarce investment capital. Most of those fortunate enough to have a meaningful amount of funds to invest know the benefits of exposure to commercial real estate, especially in a low interest rate / high inflation environment.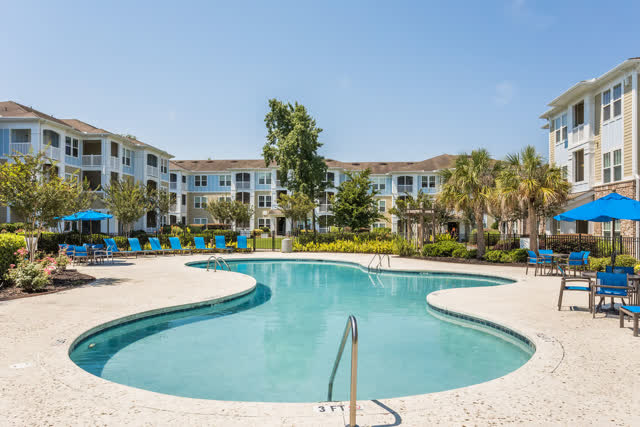 Source: Independence Realty Trust (IRT)
But what is the best way to gain exposure to this asset class?
Traditionally, commercial real estate has been the realm of corporations, private funds, and wealthy individuals. Then real estate investment trusts ("REITs") proliferated in the latter half of the 20th century and especially in the 2000s and 2010s, allowing small-dollar investors to gain access to professionally managed property portfolios that trade on public stock exchanges.
More recently, a crop of non-listed real estate funds and crowdfunding websites have unlocked even more opportunities that were previously unavailable to most investors. It's possible now via crowdfunding to purchase a $5,000 or $10,000 stake in a single property, along with dozens or hundreds of other investors.
Of course, most of these opportunities require one to already be wealthy (accredited investors only). But many crowdfunding sites have created funds (with varying levels of liquidity) for non-accredited investors - i.e. those that are not yet millionaires.
With so many options to invest in commercial real estate, which should you choose?
Answering that question does depend on whether one is an accredited or non-accredited investor, as there are more options available to the accredited investor.
However, a few recent studies comparing public REITs to private real estate provide compelling evidence that investors searching for maximal returns should have an allocation to REITs. That goes for everyone, even accredited investors with the option to invest in exclusive private funds with high minimums.
Two Recent Comparisons
A September 2020 study by British asset management firm Schroders and an even more recent study published in the November edition of The Journal of Portfolio Management both come to the same conclusion:
Over long time periods, publicly-traded REITs outperform private real estate funds.
Publicly traded REITs outperformed an index of private equity real estate funds (compiled by the National Council of Real Estate Investment Fiduciaries) in the 1980s, 1990s, 2000s, and 2010s, to varying degrees.

Source: Schroders
As you can see, in the last five years, private real estate has come closest to matching the total return performance of REITs, but over longer time periods, REIT outperformance widens.
Several points should be noted here.
First, the underperformance of private real estate is understated here due to the effect of fees. The NCREIF index shows returns before fees are taken out, while REIT returns are net of management fees.
Second, contrary to popular belief, there is on average no illiquidity premium offered by private real estate funds.
Third, the performance difference is not due merely to differences in leverage. REITs have leverage ratios around 40% on average, while private equity typically uses leverage ratios ranging from 60% to 80%. Greater leverage tends to maximize both gains and losses. But a 2015 academic study that controls for leverage shows that REITs outperformed private real estate over its sample period from 1994 to 2012.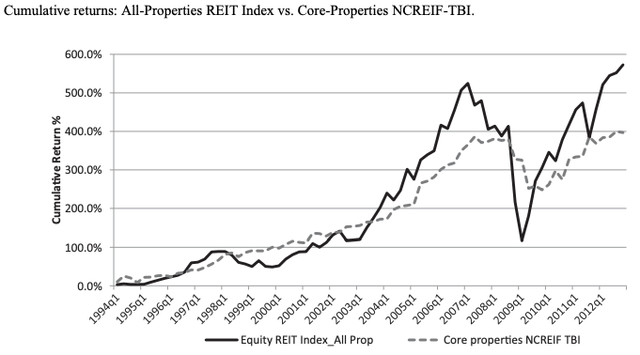 Source: NAREIT
Here's a more detailed overview of the 2015 study's findings, comparing various kinds of private real estate funds to levered and unlevered REITs in similar sectors: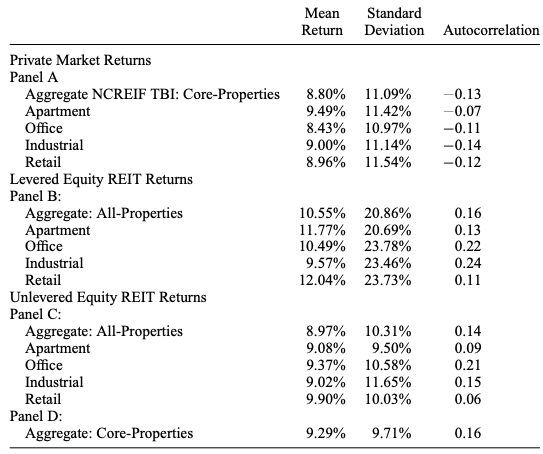 Source: NAREIT
When the researchers removed the effects of leverage and adjusted private returns lower to account for fees, the private funds index did enjoy some years of outperformance during this sample period, but REITs still pulled away with the win in the end.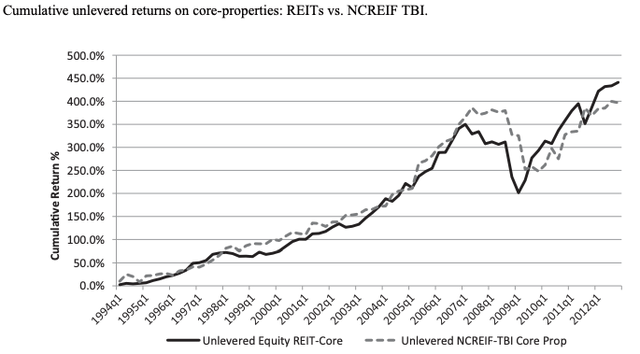 Source: NAREIT
This comparison also excludes the many "alternative" or "specialty" REITs that own assets like cell towers, data centers, billboards, self-storage facilities, farmland, timberland, etc. But recall that when we include all REIT property types, REITs regularly outperform, albeit with more volatility.
The 2021 Journal of Portfolio Management study, titled "Private Equity Real Estate Fund Performance: A Comparison to REITs and Open-End Core Funds," uses the NCREIF Open End Diversified Core Equity index as the proxy for private equity real estate.
This index boasts $231 billion in assets across its funds. This index has 38 fund constituents, some of which date back to the 1970s. The index is capitalization weighted (like most REIT ETFs), and again, returns are reported before the impact of fees.
Here's the NCREIF-ODCE has performed this year and over the last four quarters:

Source: NCREIF
Not bad, but remember that these are gross returns, before fees are taken out. Net returns are probably 100-200 basis points lower.
Measuring this against the performance of REITs for the first three quarters of 2021, we find that REITs' outperformance has continued into this year, even with a pullback in September: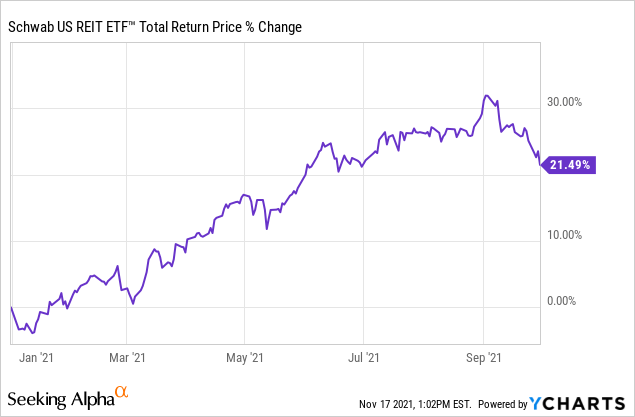 YCharts
I use the Schwab U.S. REIT ETF (SCHH) here because it only includes equity REITs for a fair comparison. All of the studies cited above exclude mortgage REITs from the comparison.
Here are a few more insights from the JPM study:
Over a 20 year period, REITs produced a 10.34% average annual return, compared to 8.69% for the private real estate funds that lasted that long.
Private equity real estate does have some star performers. The 75% best performing private real estate funds outperformed the 75% best performing REITs - 16.13% to 12.37%.
The primary reason why the private real estate index underperformed public REITs was the laggards. The bottom 25% of private funds produced average annual returns of 1.35%, while the bottom quartile of REITs returned an average of 7.9% annually.
REIT stock prices respond faster to falling interest rates than the appreciation of the underlying properties in private real estate funds, fueling outperformance of REITs during falling rate environments.
When GDP growth is strongest, the performance difference between REITs and private real estate is narrowest.
The daily liquidity of REITs means that they trade largely on the market's expectations of the future rather than the value of their underlying assets. As such, some REITs trade well above their net asset values, while others trade well below them.
In the long run, REIT stock prices tend to converge back to their net asset values, but there is no hard and fast rule that says they must, and sometimes they can trade at sizable premiums or discounts to NAV for years at a time.
Bottom Line
As the recent studies have shown, there are some very strong performers in the private equity real estate fund space. But unless one is extremely confident in one's ability to pick those long-term winners, one would be better off gaining exposure to commercial real estate by assembling a portfolio of REITs.
In fact, it is our belief - a belief that is bolstered by a compelling slate of academic research - that even high net worth investors with investments in private real estate funds ought to have an allocation to public REITs as well. Do your own research. Compare your returns from private funds to those from REITs.
And, of course, for the many non-accredited investors out there who do not have access to these exclusive funds, don't despair. The academic research demonstrates that you are probably not missing much, and that you can perhaps do even better with REITs anyway.
At High Yield Landlord, it is our goal to uncover and own REITs with:
Skilled, shareholder-aligned management teams
Strong balance sheets and ample access to liquidity
Tenants and real estate types with strong growth tailwinds
Safely covered and growing dividends
Upside to fair value
One example that checks all of these boxes right now is National Retail Properties (NNN), a REIT that specializes in single-tenant net lease properties leased primarily to e-commerce-resistant, non-rated or sub-investment grade retailers.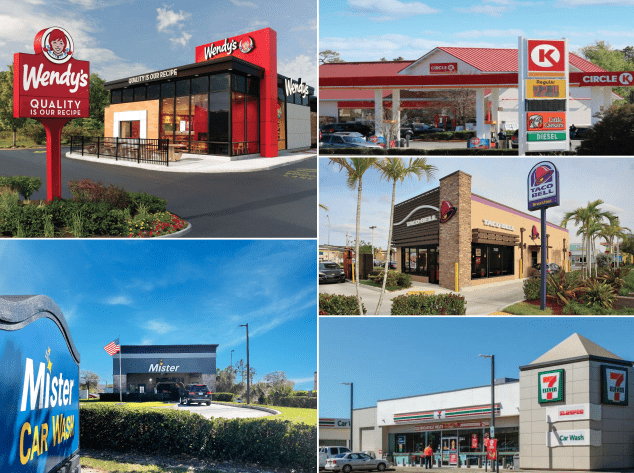 Source: NNN November Presentation
While it might seem risky to target lower credit or unrated tenants, NNN has a very long and successful record of employing this strategy. Its core management team has spent an average of 20 years at the company, and the REIT has raised its dividend every year for the past 32 years - the third longest growth streak of all public REITs.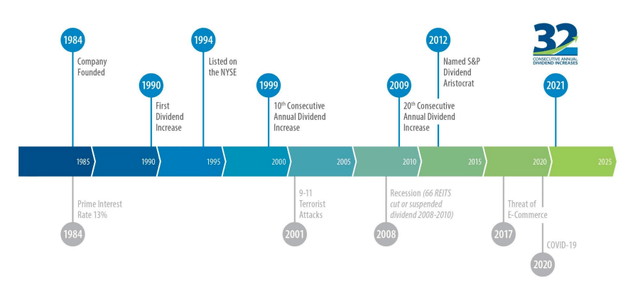 Source: NNN November Presentation
Since the Vanguard Real Estate ETF (VNQ) was introduced in late 2004, NNN has outperformed it by a wide margin.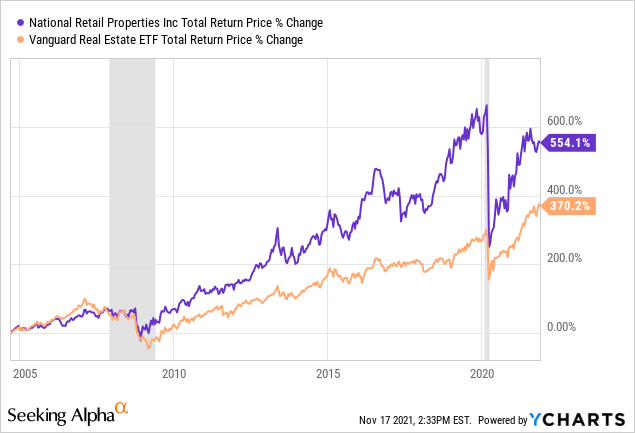 YCharts
Going further back, we find that NNN has outperformed other REIT indexes in the last 15 years, 20 years, and 25 years: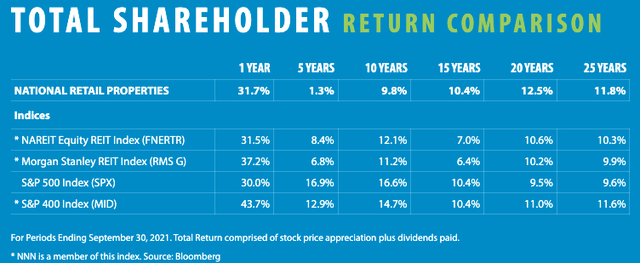 Source: NNN Website
Few REITs can boast this kind of record.
And trading at only 15.2x adjusted funds from operations ("AFFO" - the best earnings metric for REITs), NNN looks like a bargain. We expect its valuation to recover closer to 20x AFFO, unlocking 30%+ upside, and while you wait, you earn a 4.5% dividend yield. I would much rather buy this type of undervalued REITs than invest in fee-heavy private equity real estate funds in most cases.