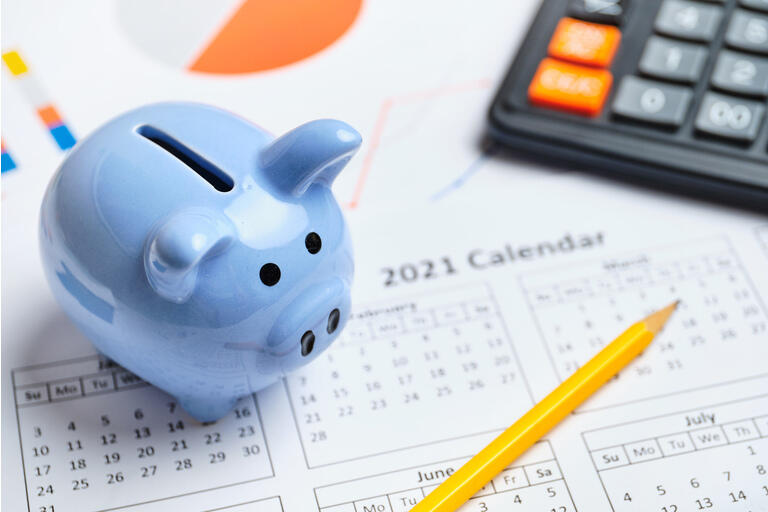 We are getting close to finishing out another stellar year for the market. The broader performance seemed to be a bit unexpected, at least in my opinion, as 2020 broadly finished so strong as well. I'm certainly not complaining, though, as it was beneficial to almost all investors.
It seemed as though this year was almost impossible not to have a positive gain in one's portfolio, considering every sector was in positive territory. That being said, bonds have been a bit of a different story as interest rates increasing have put pressure on these indexes.

(Source - Seeking Alpha)
That is at least as of now. With a month and a half left in 2021, anything could be possible. After all, we saw in 2020 just how rapidly a market could break down (and subsequently recover.)
The utility sector has been a bit of a struggle this year but is still green for the year. I believe that my more overweight exposure to several utility funds had hurt my portfolio. Still, for the sake of transparency, my total closed-end fund portfolio is up 23.07% YTD as of October 31st, 2021. At least, that is what Fidelity tells me. It also shows that the S&P 500 was up 24.04% as of the same period. The Dow Jones U.S. Total Stock Market Index was up 22.87%, and MSCI ACWI ex USA climbed 8.57%.
As far as the bond indexes that Fidelity displays, we have the Bloomberg Barclays U.S. Aggregate Bond Index down 1.58%, and the Bloomberg Barclays Municipal Bond Index is clinging to some green at 0.50%.
All in all, I can't complain too much about the performance of my portfolio. My portfolio is relatively diversified across assets and sectors, holding a bit of everything besides muni bond funds at this time.
More broadly, the closed-end fund market remains tightly valued. Discounts have sunk considerably this year. Undoubtedly, that has helped provide a significant boost to my overall performance for the year.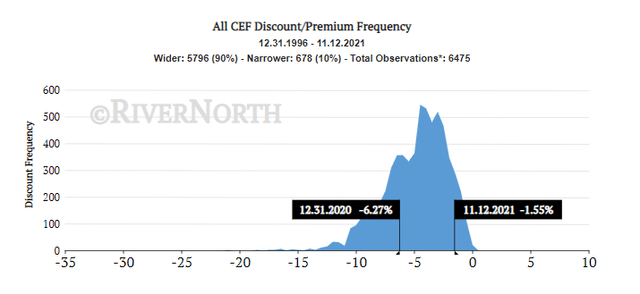 (Source - RiverNorth)
On the other hand, I've remained at around 10 to 12% in cash in this portfolio. That would be another contributing factor to lagging performance as that capital could have produced much better returns being invested.
About My Portfolio
First, I want to touch on some background on how I structure my investments for context. I like to organize mainly into three portfolios; a closed-end fund portfolio, an individual dividend/dividend growth portfolio and speculation. Though I also have a 4th account/portfolio, it is a retirement account that holds an ETF and some CEFs.
For the individual dividend and dividend growth names - this is a Roth account. Then the speculative portfolio is also a taxable account. Finally, the fourth account (a former self-directed 401k) is another Roth account.
In this piece, I am highlighting only my CEF portfolio. Keeping these portfolios - or buckets, if you will - allows me to keep track of my investments better. At least for me, it seems like a better way to organize. However, everyone will have their own strategy and way of looking at it. One has to do whatever is easiest for them.
My previous update was posted as of July 9th, 2021 - published to Seeking Alpha on July 27th, 2021.
I have 43 total positions at this time. That was a decline from the 46 positions I had held in July. The top ten constitute 43.67% of the entire portfolio. That's a small decline from the 44.5% that it was previously. Before that going back to May, it was 41.7%, so it has floated around this figure for the year.
Since the last update, another change to the portfolio is that it isn't technically just a "CEF" portfolio any longer; I've included the Financial Select Sector SPDR (XLF).
Top 10 CEFs And Portfolio Composition
Looking at the top ten in my portfolio, there are several on this list that was also included in the previous list. The data is as of November 15th, 2021.

(Source - Portfolio Visualizer)
BlackRock Science & Technology Trust II (BSTZ) remains my largest position by a significant margin. It has only given up some of its lead as it was previously 7.36% of my portfolio.
Others that remain unchanged are John Hancock Tax-Advantaged Dividend Income (HTD) and Cohen & Steers REIT & Preferred Income (RNP). These were 2nd and 3rd previously as well.
However, the BlackRock Science & Technology Trust (BST) has returned since I have added back quite aggressively. Some might recall that this position was dropped due to the rights offering they initiated.
Additionally, BSTZ rocketed to my top holding by a significant margin mostly because I sold off BlackRock Science and Technology (BST) when they announced their rights offering. That was a somewhat recent event that I discussed more in June. That's why BST is now not amongst my top ten, as I sold the position off completely.
I put new capital to work when investing back into BST instead of selling off BSTZ to balance it out. With that, technology has climbed ahead has my largest allocation - with utilities being right there.
The below is a sector breakdown of my entire portfolio, not just the top ten.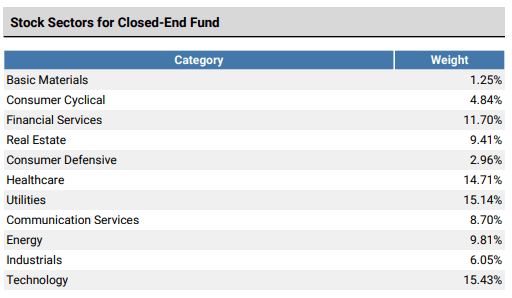 (Source - Portfolio Visualizer)
As I mentioned above, utilities have been the laggard. So combining those factors, utility exposure in my portfolio had declined for the year. Helping to offset some of the declines were adding Aberdeen Standard Global Infrastructure Income Fund (ASGI) within the last few months. That being said, it is still hardly a "traditional" sector exposure that you'd find in many portfolios.
If I were to trim exposure, it would be to energy and technology going forward. At this time, I still want greater financial and real estate exposure. Though I also wouldn't mind ramping my utility exposure back up either. Going forward, the "trim" would come via adding less to those sectors. To pick up shares of BST at the valuation it was and still currently is, seemed like a no-brainer.
Another area I want to invest a bit more in is international exposure. I've been slowly adding more there throughout the year to bring my portfolio to the level it's at currently. The image below is also for my entire portfolio, not just the top ten.

(Source - Portfolio Visualizer)
John Hancock Financial Opportunity (BTO) is a notable removal from this list. As mentioned, I replaced it with XLF as the valuation of BTO has just become too high for my liking. At the same time, I didn't replace it equally, as noted by the fact that XLF doesn't show up in the top ten.
I made that switch on August 17th, 2021. It has turned out to be incredibly ill-timed as financials have continued to rally. On a total NAV return basis, it has blown XLF out of the water. Helping to contribute to that significant outperformance is the leverage BTO employs.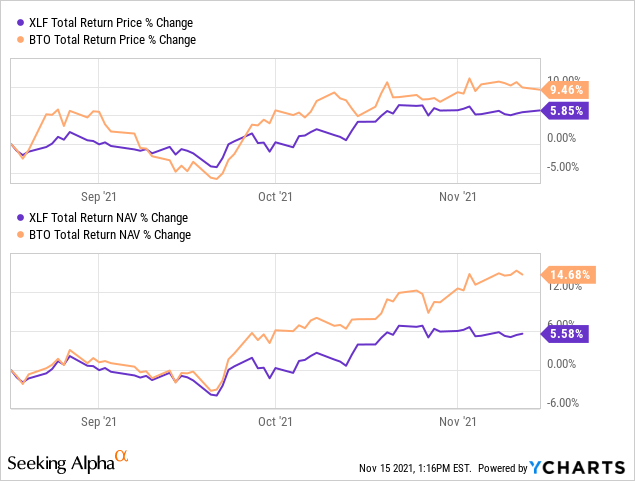 The total share price performance is a bit different of a story; it is a bit closer anyway. However, XLF has still been the clear laggard here. The day I sold BTO finished at a 12.25% premium. Then only took a couple of weeks later to finish at a 17.15% premium. Since then, the premium has moderated to 7.69%. I believe that is still too expensive to get back in. Admittedly though, it was the wrong call previously to make the switch - and I could be kicking myself again in the next 3 or 6 months.
PIMCO Dynamic Credit and Mortgage Income (PCI), an income favorite, has also been removed from my top ten. However, it wasn't through a conscious effort. Instead, it was due to adding back BST and poorer performance relative to other top names. That is what dropped it to the 13th spot. PCI shares at some point will become shares of PIMCO Dynamic Income (PDI). Any day now, we should be getting an announcement when it should be official.
Finally, another name to make it to the top list was Gabelli Dividend & Income Trust (GDV). I've added to this fund over the years, and the position is starting to become quite sizeable. I believe it remains attractively valued. It's also similar to my portfolio in that it isn't the "traditional" asset allocation we would get elsewhere.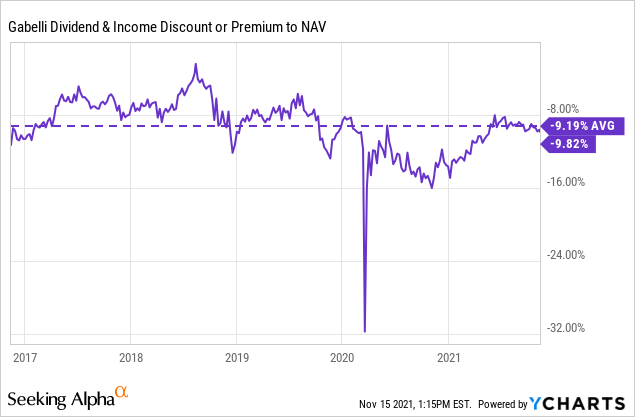 Performance
On a side note - not to do with my top ten - but I added to BlackRock Innovation & Growth Trust (BIGZ) that launched earlier this year. So far, that investment hasn't worked out. However, it also limits my portfolio's backtest performance to April. That is the first whole month BIGZ would have traded for, as it was launched on March 26th, 2021. The fund is 1.05% of my portfolio, so well away from my top ten currently.
The performance of the portfolio since then can be seen below. Of course, this is just a backtest and doesn't account for changes I've made in my portfolio.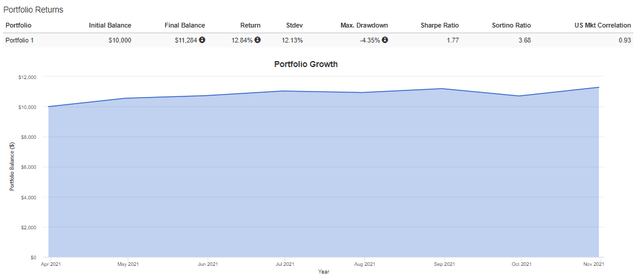 (Source - Portfolio Visualizer)
Additionally, I added PIMCO Dynamic Income Opportunities (PDO) to my roster. That limits the performance. We can go back to just February 2021 as that's the first entire month after launching on January 29th, 2021. I went pretty aggressive with adding PDO as it comes to 2.78% of my portfolio. The performance from that month to October can be seen below.
Again, this is just a backtest of the portfolio's performance if it had similar allocations that it does now. I had to modify the percentages to get to 100%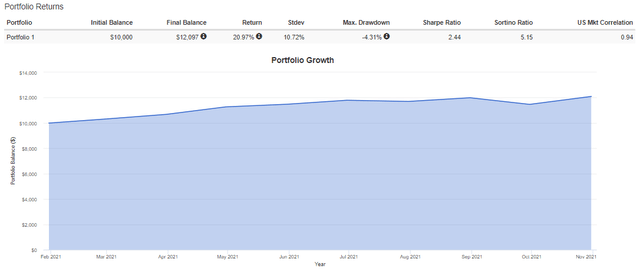 (Source - Portfolio Visualizer)
That gets us a bit closer to the actual full year. Though I shared the performance figure above that Fidelity reports, I thought this was still useful for visually representing it.
Conclusion
I view myself as primarily a buy-and-hold style investor. Therefore, several of my largest positions won't vary too significantly. On the other hand, I will trim down funds if they become too pricey for me. I generally allow quite a bit of flexibility on that front as well. Then there are rights offerings that are often best avoided and sidestepping by selling out of the position and revisiting after the dust settles. Since I'm constantly adding new money to this portfolio and reinvesting distributions, that will also cause changes to my underlying portfolio.