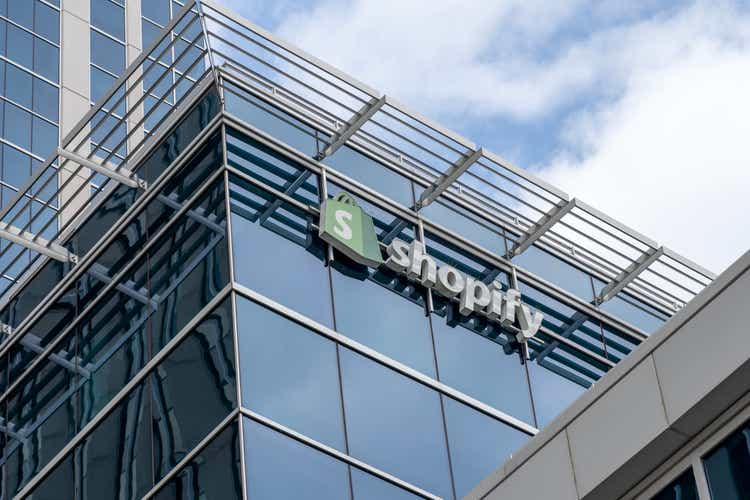 Thesis:
We believe Shopify (NYSE:SHOP) represents one of the best e-commerce opportunities in the market today. It is an already-profitable, high-growth cloud-based software business that's set to lead in the potential $800 billion addressable market. Shopify was last traded at $1,325 with an EV/Sales multiple of 40x. This expensive multiple implies the market's expectation of at least $40 billion in annual revenues as the company approaches a mature state (10x TTM). While Shopify is sometimes away from achieving said revenue, we believe this expectation merely scratches the surface compared to the total addressable market. We believe Shopify's long-term compelling narrative makes it an excellent investment opportunity for patient investors.
The Future of Retail:
Throughout the last two years, as countries enter in-and-out of lockdowns and retailers were forced to close, we observed several changes to the retail industry. We believe these changes will sustain and shape the retail landscape moving forward.
First, the shift from brick-and-mortar to e-commerce is inevitable. As Covid-related shutdowns forced consumers to shop online, their preferences and spending behaviors have been changed forever. Surveys indicate that consumers are likely to shop online over traditional retail post-Covid due to the immediacy and conveniency introduced. While brick-and-mortar retailers will see recovery in sales as Covid abates, the shift to e-commerce is structural and permanent.
Second, as merchants migrate online and e-commerce becomes increasingly competitive, we believe the differentiating factor lies in merchants' ability in delivering a unified, immersive user experience to consumers across multi-channels available. These channels include social media, marketplaces, websites, mobile devices, physical storefronts, etc. A unified shopping experience across multi-channels improves shoppers' experience and provides retailers with important insights on their business. Most merchants new to e-commerce, however, lack said omnichannel infrastructure capacity.
Third, we believe there's demand to alternative e-commerce solutions over digital marketplaces. While marketplaces such as Amazon and Taobao have enabled the acceleration of e-commerce, it's not the ultimate solution to digital retail. Marketplace delivers solutions instead of products; and we believe this is an era defined by consumers who prioritize personalized experiences offered by brands over white labels. Furthermore, marketplace has been notorious in its partnership with merchants, including a history of pressuring down margins and utilizing merchants' data to launch competing products. This further drives demand from both consumers and merchants for an alternative e-commerce solution over marketplace.
The Shift to e-Commerce Is Permanent
As countries entered into lockdowns, consumers were forced to shop online during the pandemic. E-commerce adoption reached an all-time high to represent 16.4% of total global sales. McKinsey's research suggests that while U.S. ecommerce had been slowly eroding brick-and-mortar retail market share by five percent per year for the last ten years, Covid-related shutdowns have accelerated this e-commerce penetration progress by another ten years within three months.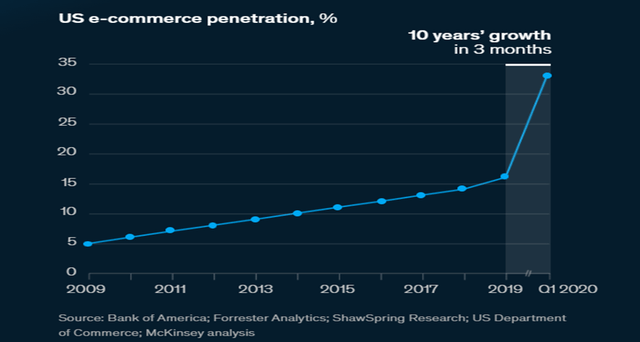 Source: McKinsey The Quickening Report
This increase in e-commerce adoption is not limited to age demographics. While Gen Z and millennials have a higher representation in e-commerce adoption, older shoppers have moved online as well; 84% of all-ages consumers interviewed in 11 different markets suggests that they've moved their shopping habits online prior to or during the pandemic.
This increase in e-commerce adoption is also not limited by product type. Surveys have observed an increasing consumer adoption to e-commerce replacing brick-and-mortar retailers. Consumers worldwide are said to be buying items that were rarely, if ever, purchased online prior to the pandemic, such as groceries, health and hygiene products, home essentials, etc.
Research indicates that these shifts in consumer preferences and behaviors are sticky. 75% of interviewees said they've tried new products and brands during the pandemic. And 60% of that population said they'll be integrating the new products as part of their new lifestyle post-Covid. E-commerce during the pandemic introduced the option for conveniency and immediacy to consumers that weren't available previously and it has altered consumers' preferences and behavior forever.
EY's consumer research echoes the above survey findings. EY found that as some locations begin to reopen in 2021, 60% of consumers will start to visit brick-and-mortar stores less frequently compared to before the pandemic. And 43% of consumers will continue to shop more often online for products they would otherwise buy in stores when they reopen.
Management teams of giant retail chains have shared similar views - that the changes in consumer preference and spending behavior due to Covid are likely to be structural and permanent. Nike CEO John Donahoe said during the sporting brand's Q1 2021 press conference: "there're three structural tailwinds…[and] the accelerated consumer shift towards digital is here to stay."
This was further echoed by FedEx CMO Brie Carere when asked about the B2C landscape going into 2021:
"I'm not going to forecast volume into 2021 but what I can certainly tell you is, I believe the ecommerce change is structural. We have seen a huge uptick in the categories that people are willing to purchase online, certainly moved into a higher value."
Creating An Omnichannel User Experience
As more merchants migrate onto the digital platform, competition on e-commerce has become increasingly fierce. Ad costs spiked during the pandemic due to record levels of online competition. It now costs more than $30 to acquire new customers for merchants. Facebook's data suggests that "Cost-Per-Impression" (CMB) ad costs are likely to sustain its current trend at an elevated level. Data from Revealbot indicates that aggregated "ad cost per click" costs have increased by 40% within 6 months, from $0.71 in January 2020 to $1.01 in May 2020.
As competition toughens, merchants can increase sales by operating on more channels. This is similar to the idea that traditional retailers tend to operate in multiple locations to capture traffic and increase sales. E-commerce merchants can also operate in multiple channels to increase sales; these channels include social media platforms such as Facebook and Instagram, marketplaces such as Amazon and Taobao, and wholesaler digital platforms such as Walmart and Target.
This however will be challenging for merchants who are new to e-commerce as they lack the infrastructure and expertise in curating a unified omnichannel immersive user experience. Data indicates only "38% of largest companies are capable of providing this on consumer experience. The challenge is for DTC brands to build up on their ecommerce expertise."
Demand For Alternative Ecommerce
During the pandemic, marketplaces led the acceleration of e-commerce. Both Amazon and Alibaba posted record revenues. A total of $2 trillion of products were bought amongst the top marketplaces in 2020. Legacy wholesalers such as Walmart and Target have expanded their capacities by initiating their own e-commerce marketplace. Google was reported to be aggressively luring Amazon's merchants to expand its own marketplace capacity as well.
While we believe marketplace will likely remain one of the fastest-growing and most exciting businesses, we're convicted that there's demand to alternative e-commerce solutions.
We believe this is an era defined by consumers that prioritize personalized experiences offered by brands and products over over-the-counter white labels. Consumers are said to place increasing emphasis on brands and products that align with their personal values; 40% of consumers surveyed want products and brands that align with their belief and are willing to pay a premium. Marketplace, however, sells solutions instead of products. Consumers are always referred to the same product from a different brand with their searches on marketplace. This is a time where consumers are willing to pay premium for brands and products that align with their preferences, and marketplace will not deliver on this trend.
From a merchant's perspective, while marketplaces are one of the fastest ways to drive sales growth, they're notorious for pressuring down margins. Merchants have also expressed their concerns on ceding brand distinguishments and customer relationships on marketplace. Merchants are also increasingly concerned with their market data on marketplaces, as Amazon was recently accused of using its sellers' data to launch competing products. 50% of surveyed merchants are unsatisfied with marketplace due to the unfair revenue sharing practice and more than 26% of merchants believe marketplace distracts customers from their product offerings.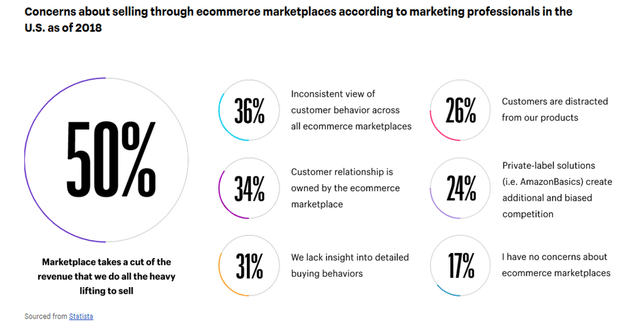 Source: Brand Building Challenged By Marketplace
In summary, we believe Covid has reshaped the future of the retail industry. The shift from brick-and-mortar to e-commerce is structural and permanent, and the importance of physical retail will continue to diminish. We think the debate will shift from physical retail vs. e-commerce to physical retail vs. websites vs. social medias vs. marketplaces; in our view, physical retail will become one of the many, equally important distribution channels available to retailers.
In this increasingly complex, competitive, and crowded e-commerce landscape, we believe a differentiating factor lies in merchants' abilities to deliver immersive shopping experiences to consumers across multi-channels through offering products that align with consumers' preferences and values. Most e-commerce newcomers or small-to-medium businesses (SMBs) lack said infrastructure capability.
We believe Shopify is well-positioned for the upcoming changes to the retail industry. Shopify offers cloud-based software to build integrated, omnichannel retail platforms for merchants. It also offers other valuable e-commerce services such as payment systems, fulfillment, and shipping solutions.
Moreover, we believe Shopify offers a more partnership-oriented, merchant-friendly environment to marketplace. It allows merchants to retain their customers' data and provides the data-analytic capability to further merchants' understanding of their respective strategies and positioning.
"If you have visited or made a purchase from merchant's Shopify-powered store, we collect and use information about you on behalf of that particular merchant. We only use this information at the direction of our merchant - they ultimate choose how and why to use your information."
Company Overview:
As mentioned, Shopify offers a cloud-based software to merchants to create and manage an omnichannel commerce platform which connects web and mobile storefronts, physical retail, pop-up shops, social medias, and marketplaces. Meanwhile, it simultaneously maintains one integrated back-end system to allow merchants to seamlessly manage inventory, process orders, and complete fulfilment and shipping orders across multiple platforms.
Shopify generates revenue from two segments of operations: 1) subscription solutions and 2) merchant solutions.
Subscription Solutions
For the subscription solutions segment, Shopify generates revenue when merchants subscribe to the above-mentioned software to create a multi-channel e-commerce platform. Shopify also offers additional functionality and features to merchants' e-commerce platforms, such as special web themes, additional platforms, and physical POS systems, at additional costs.
Because Shopify's subscription solutions revenue is based on merchants' usage of its software platform, we have modeled the company's said segment revenue through forecasting the Monthly Recurring Revenue (MRR) based on historical trends. The MRR data is provided by management and is calculated by multiplying both the number of merchants and the average monthly subscription charge.
Shopify Plus MRR growth rate has been robust despite a recent decline in momentum; for the last 4 quarters, Shopify Plus MRR grew by 10.5%, 9.52%, and 8.7%, and 8% q-o-q respectively. For Shopify Non-Plus MRR, Shopify recorded an average growth rate of 6.3% per quarter TTM.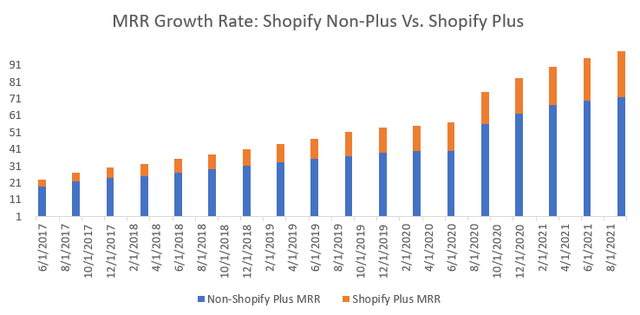 Source: Author with data provided in Shopify Financial Statements
Merchant Solutions
Through the merchant solutions segment, Shopify provides a variety of additional e-commerce solutions to merchants to complement its cloud-based software offering. These solutions include payment systems, automated fulfilment, warehouse management, shipping, working capital, etc.
Shopify generates revenues in the segment through a percentage of Gross Merchandise Volume (GMVs) facilitated on the platform. For example, for every transaction made using Shopify payments online with a credit card, Shopify would charge a 2.4% to 2.9% variable rate depends on the merchant's subscription plan plus an additional $0.3 fixed fee. The more merchandise Shopify's merchant sells, the more revenue Shopify generates.

Source: Shopify Plans & Pricing
Because the merchant solutions segment revenue is a percentage of total GMV transacted on the Shopify platform, we have modeled the company's segment revenue through its GMV historical growth trend. Historically, Shopify recorded an average of 45.8% TTM quarterly revenue growth for GMV.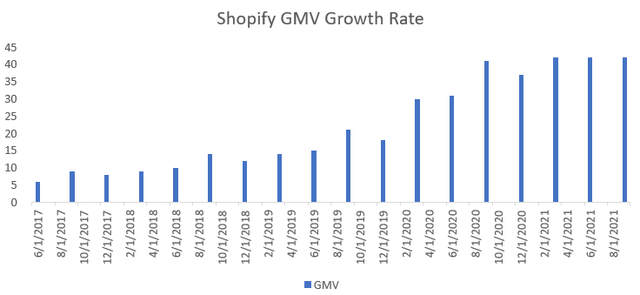 Source: Author with data provided in Shopify Financial Statements
Valuation:
Utilizing the historical trends of GMV and MRR as a guide for projecting growth in the subscription and merchant solutions segments, we have arrived at the high range of consensus for Shopify's revenue at $4.72 billion for FY 2021. Consensus estimates Shopify's FY 2021 revenue in the range of $4.43 billion to $4.82 billion. We believe the market is too conservative on the low end of the consensus given Shopify has already generated $3.31 billion in the last three quarters of operation. A $4.43 billion estimate implies Shopify will generate little to no growth in Q4, which traditionally is the busiest retail season.
And we have forecasted a 55% gross margin for 2021, which is consistent with achievements in the previous two years; Shopify's gross margin was 55% in 2019 and 53% in 2020. Our assumption is that while Shopify's margin will grow as its operation scales, the improvements will be offset by the continued increase in additional costs for expanding its supporting infrastructure and product lines (e.g., purchasing web themes designed by third parties).
For operating expense, such as Sales & Marketing, Research & Development, and General & Administrative, we have assumed an increase in dollar cost but a declining percentage to either COGs or revenue as the company's operations continue to scale. There are also discretionary adjustments incorporated based on management's guidance in our model.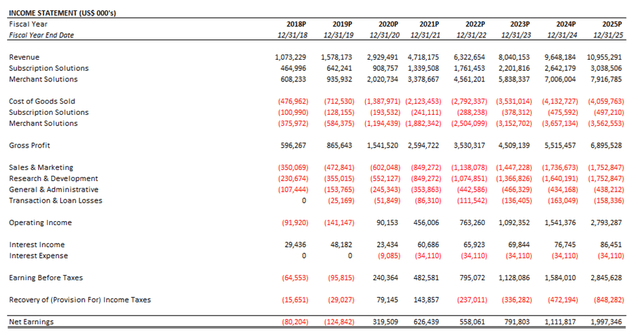 Source: Author with data provided in the Shopify Financial Statements
Shopify was last traded at $1,323 on Friday, December 17th, 2021, with an EV/Sales multiple of 38x. This is already one of Shopify's lowest multiples of the year. The $1,323 price tag implies a forward 2021 P/S of 36.27x and 2022 P/S of 27.16.
We think this declining multiple is due to a basket of overblown fears. First, investors may be placing an idiosyncratic risk to Shopify as countries like Canada may re-enter shutdown during Christmas due to the widespread of Covid-variant Omicron. There is also a possibility that continued supply chain bottlenecks may continue to adversely impact Shopify and its merchants' profitability throughout the holiday season into the new year.
Second, as Federal Reserve Chair Powell reaffirmed his hawkish stance on the rate hike schedule last week, investors may be rotating their positions out of the high-growth yet expensive tech companies.
We think neither are valid reasons to sell Shopify. First, despite that Shopify may be impacted by potential future lockdowns, the company has entered into a new age of operations enabled by economies of scale. Shopify has been consistently generating EPS close to 10x the profitability compared to the prior year; the company generated diluted EPS of $9.94, $6.9, $9 in Q1, Q2, and Q3 of 2021 compared to the -$0.27, $0.29, $1.54 in Q1, Q2, and Q3 of 2020. Shopify has proved that its business strategy works and is highly profitable. We believe this one quarter of potential underperformance due to a broader macroeconomic condition shouldn't change investors' long-term investment thesis towards the company.
Second, as the Federal Reserve begins to raise interest rates back to "normal" from 2022 to 2024, it will inevitably impact growth companies' valuations. However, investors should be aware that Shopify is highly profitable from a cash flow perspective. In 2020, with just $319mm of net income, Shopify generated $425mm in cash from operations. Under the theme of rate hikes, we think Shopify should be rewarded and trade at an even higher valuation for its enormous cash position and its increasingly lucrative, cash-generating business model; Shopify's most recent cash position stood at $7 billion, including short-term investments.
Risk Factors to Consider:
First, as Covid abates and restrictions are lifted, some traditional brick-and-mortar retailers might decide not to renew their business subscriptions with Shopify. Despite the shift to e-commerce is inevitable in the long run, some sales (GMV) will shift back to physical retail as countries reopen. Shopify's topline will be impacted as a result.
Furthermore, Shopify's costs associated with subscription renewals are substantially lower than costs associated with generating revenue from new merchants. Therefore, even if Shopify can offset the potential topline loss by attracting new merchants, its profitability might suffer. Based on these considerations, Shopify's topline and bottom line are likely to be adversely impacted if merchants decide to move back to brick-and-mortar business models as Covid restrictions are lifted.
Second, Shopify may face competition from other companies. Shopify currently has no direct competition in the market. However, the e-commerce landscape has become increasingly competitive. Companies in other complementary businesses may enter into the industry to compete against Shopify.
Third, companies may change their privacy or partnership agreements with Shopify due to a variety of reasons. Management has discussed the impacts of recent changes made by Google and Apple in the company's recent annual financial statement; Google has restricted data information from its browser while Apple announced similar privacy changes through its iOS 14 update. These restrictive practices could affect both Shopify and its merchants' strategic position within the e-commerce industry.
Fourth, it is important that Shopify continues to expand internationally to grow its revenue. However, as the company expands, it may encounter competition against companies that are more accustomed to local culture. It's notoriously difficult for tech companies to break into local markets in many EM countries.
Fifth, a basket of macroeconomic factors can adversely impact Shopify's revenue growth. Macroeconomic conditions such as inflation and continued supply chain constraints are destructive towards small-to-medium businesses (SMBs). As we've previously mentioned, the majority of Shopify's merchants consist of SMBs. SMBs are more susceptible to difficult economic conditions than larger businesses. Therefore, the continued toughening of the macro-environment could cause SMBs to fail, resulting in a higher merchant turnover for Shopify.
Summary:
We think Shopify is one of the best e-commerce investment opportunities. It fits within the future retail landscape we imagined. It's also an already profitable, high-growth cloud-based software company that's poised to lead in the potential $800 billion addressable market.