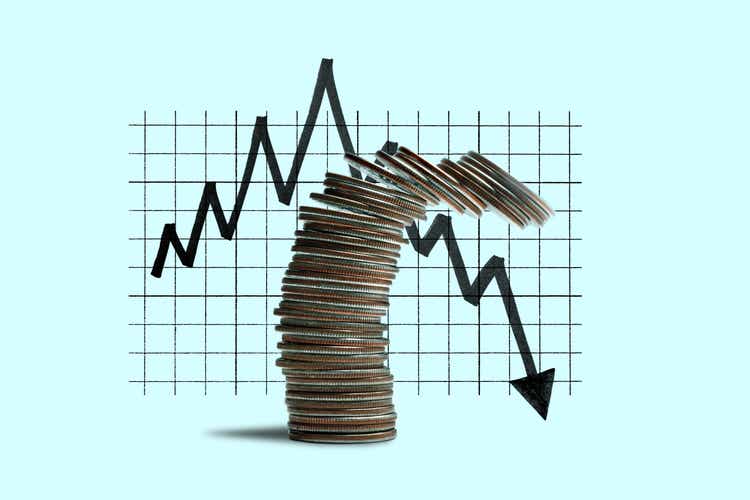 For short-term traders wanting to ride the latest move lower in the market, sometimes just selling or shorting the weakest names in a peer group can net outsized gains (or prevent losses in longs) over a 2-6 week period. Unfortunately, reversals in blue chips from deeply oversold or overbought conditions can mean such a strategy is not always the best for positive results over extended periods of time.
Some of the most widely held and popular stocks are part of the Dow Jones Industrial Average, represented by the SPDR Dow Jones Industrial ETF (DIA). As the January market sell-off intensifies, I thought it would be useful to post a quick research article on the weakest participants in the longest functioning U.S. equity index.
Using (1) my proprietary formulas, (2) the standard momentum design for sector relative strength on StockCharts.com, and (3) Seeking Alpha's Quant Ratings, in combination, here are seven lagging picks out of the Dow 30 group to consider avoiding or selling over the next month or two.
For my system, I look at moving averages of price, relative price strength vs. the S&P 500, and creations of momentum like the Accumulation/Distribution Line, Negative Volume Index, and On Balance Volume (to list just a few I use in formula sorts) compared to other stocks. Again for this article, I am only sorting blue chips in the Dow Jones Industrial Average.
In no particular order, the short-term Sell/Avoid names are Walt Disney (DIS), Visa (V), NIKE (NKE), Goldman Sachs (GS), 3M (MMM), American Express (AXP), and JPMorgan Chase (JPM).
Walt Disney
Disney has been one of my favorite stocks to trade and watch over the decades. I have actually written two bearish articles on the world's leading entertainment company over the past year, my latest effort in June linked here. The stock quote was weak all of 2021, skidding faster as the year progressed. Too much investor optimism on both economic reopening benefits and growth in its streaming service are the main reasons. A truly extraordinary debt load from the 2019, 21st Century Fox media asset merger and a historic overvaluation vs. operating reality are others. A graph of 10-year high valuations on basic fundamentals is drawn below, including price to trailing earnings, sales, cash flow, and book value.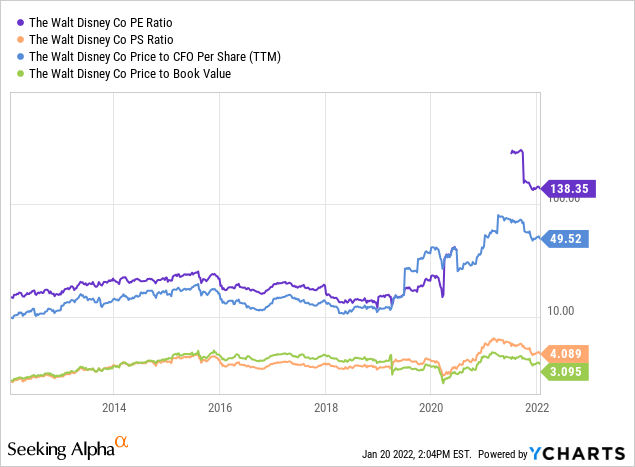 My technical trading formulas are still not very optimistic on Disney, and StockCharts has a low 18 out of 100 relative strength score as a sector grade. Seeking Alpha's Quant reading is only average out of a 4000+ equity universe, to round out the bearish momentum summation. Former CEO Bob Iger absolutely had sound logic to dump most of his holdings in the spring and summer.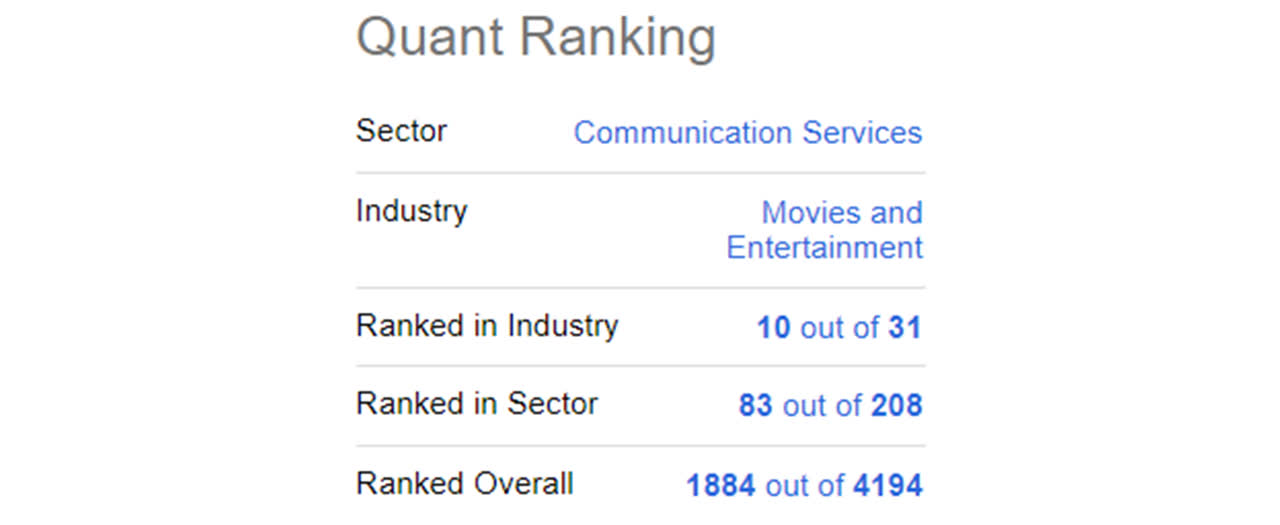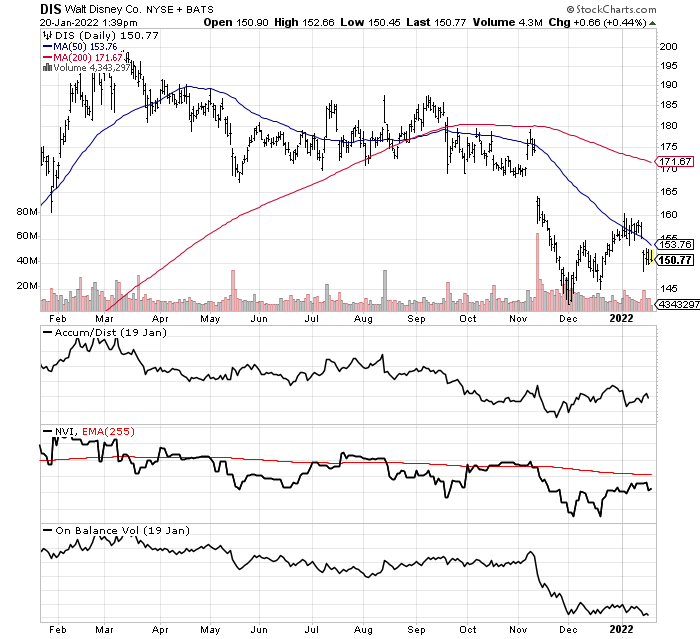 Visa
Visa just plain got ahead of itself in 2021, and valuations are overdue to decline back toward a normalized range. Plus, price to sales of 20x is incredibly crazy vs. its sub-10x multiple a decade ago. Rising interest rates are not helpful for transaction numbers, and a monster negative real earnings yield of -4.5% are other reasons to be skittish on the stock. If inflation was running at 2% right now, not 7%, analysts could make an argument this name might be a worthwhile future gainer. As it stands near 7-year high valuations, a year or two of consolidation looks to be next.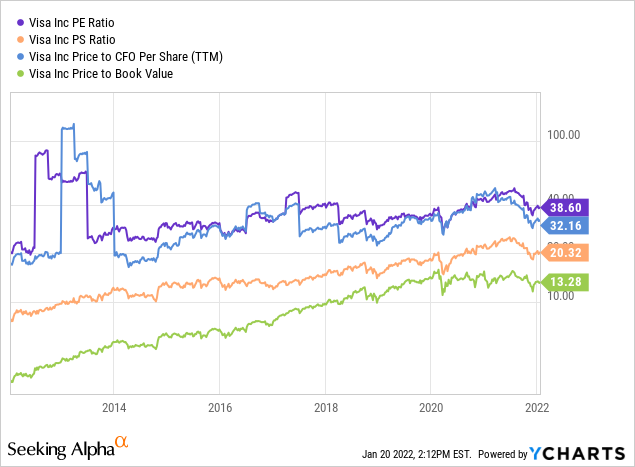 My momentum formulas are relatively bearish vs. other equity alternatives, with On Balance Volume looking quite negative since July. StockCharts gives the company a 28 relative sector score, and Seeking Alpha ranks Visa with an average trading momentum and earnings beat track record of late.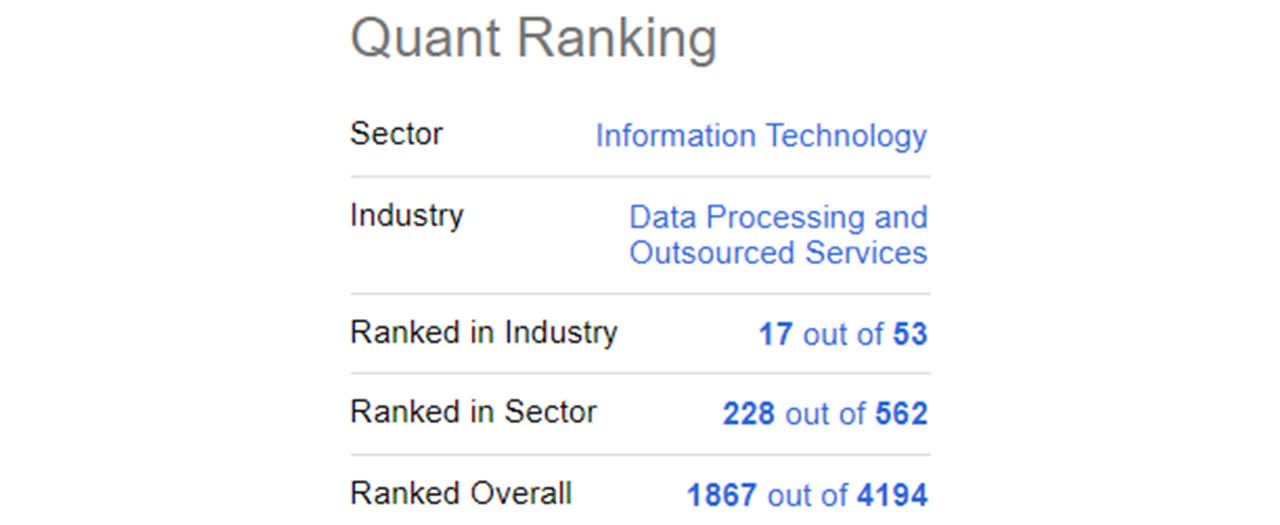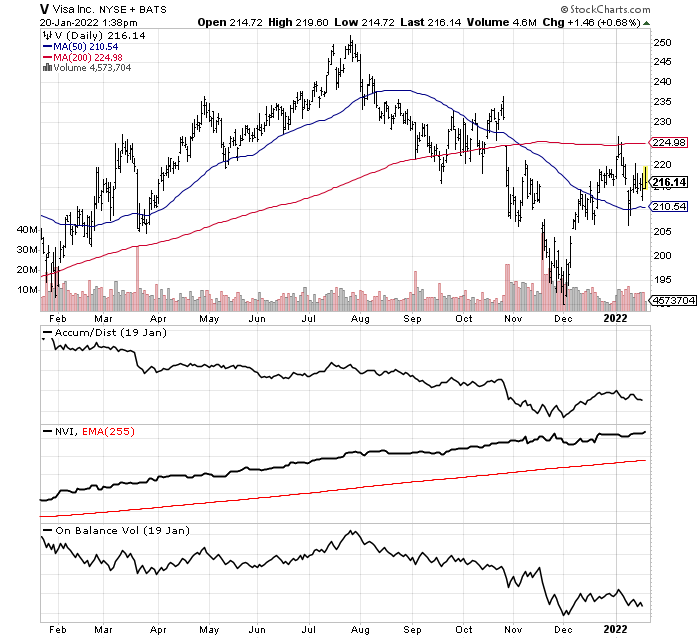 Nike
Nike's stock quote has cratered the last few months. Supply chain and labor cost issues in Asia, worries about consumer spending in 2022 as interest rates climb, and a stock quote way too expensive vs. its likely growth future curve are reasons for the sell-off. In a nutshell, the valuation picture for Nike has doubled vs. 2012 a decade ago. So, with earnings projected by analyst consensus to grow about 25% annually the next three years, any hiccup in results could drastically cut the share price.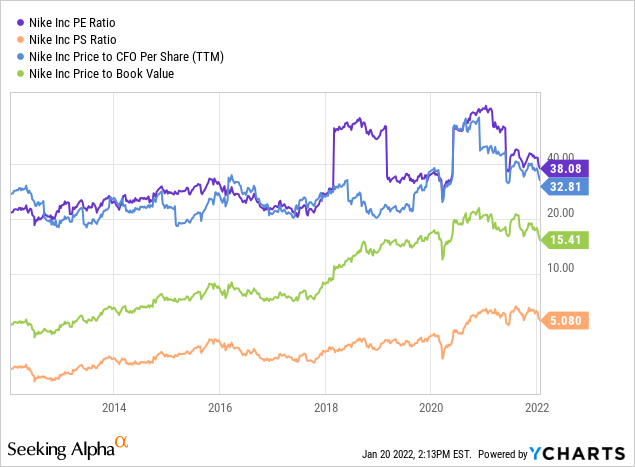 My proprietary momentum research places Nike in the bottom 30% of blue chips currently for 3-6 month trends. StockCharts puts a very weak 18 score on the name for sector performance. For some good news, SA Quant numbers are forecasting a slightly better setup than the current average backdrop.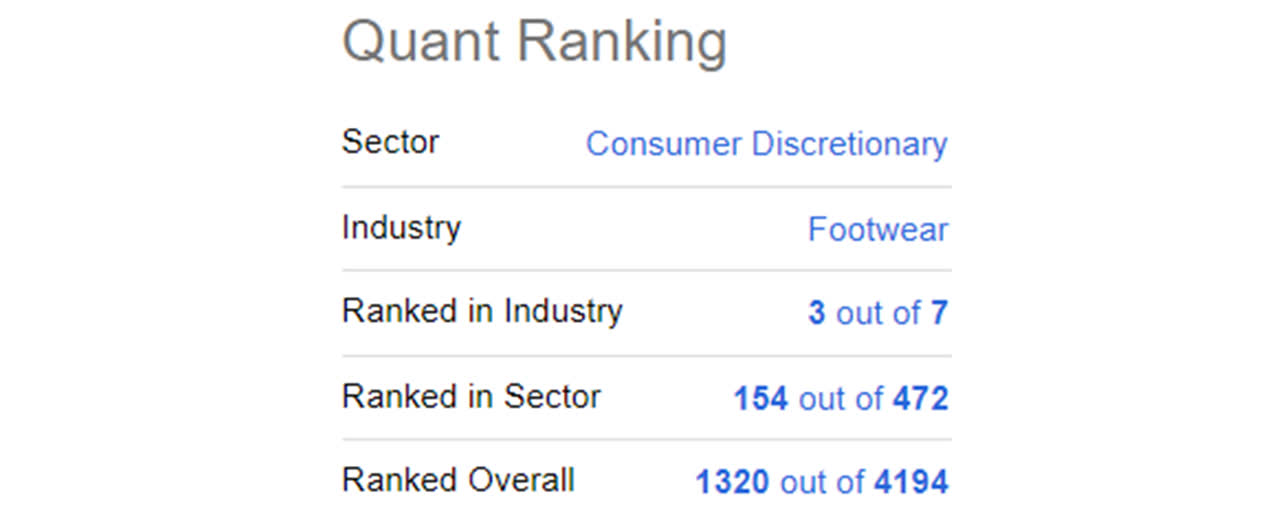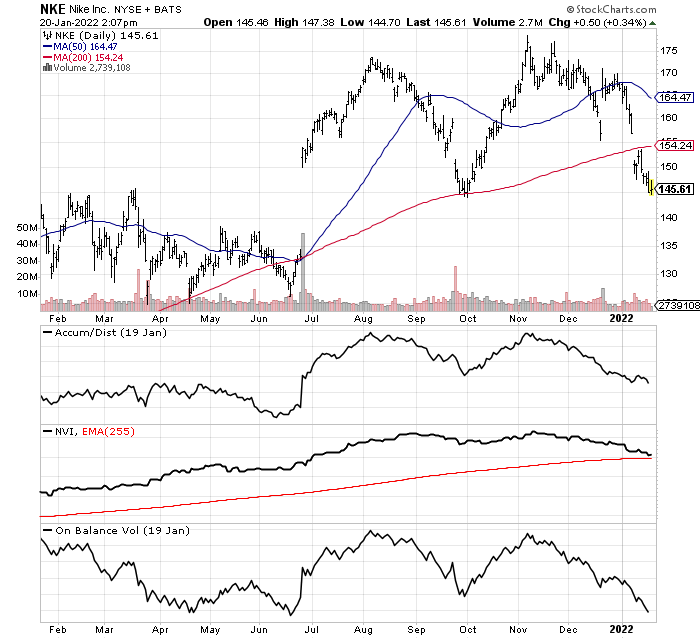 Goldman Sachs
Goldman is the only pick from this group sporting a below 10-year average valuation on trailing 12-month operating results. However, its stock chart is quite ugly in January, as a falloff in bond and stock pricing could hurt trading profitability in the near term. I wrote a bullish article on Goldman Sachs in August of 2020 here, when the stock was around $200 a share. So, owning it for a double in price into the summer of 2021 was not the worst idea. Now, I am Neutral to Bearish on GS.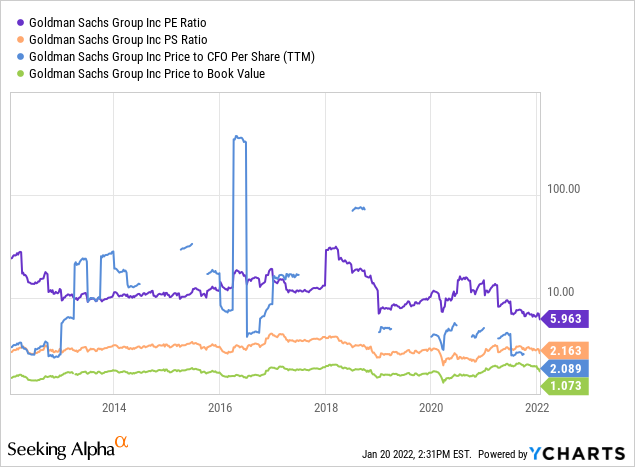 Again, on short-term momentum screens, GS trading trends do not look healthy. StockCharts gives the company a 23 sector strength score, while SA's Quant reading is average for investment banks and brokers, although mildly positive vs. all stocks traded on Wall Street.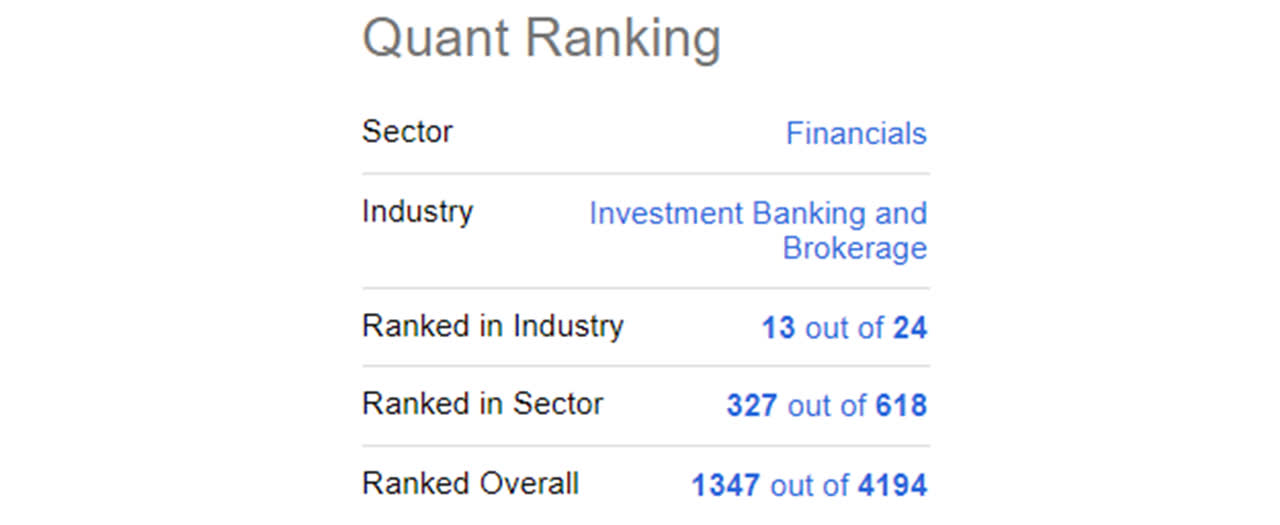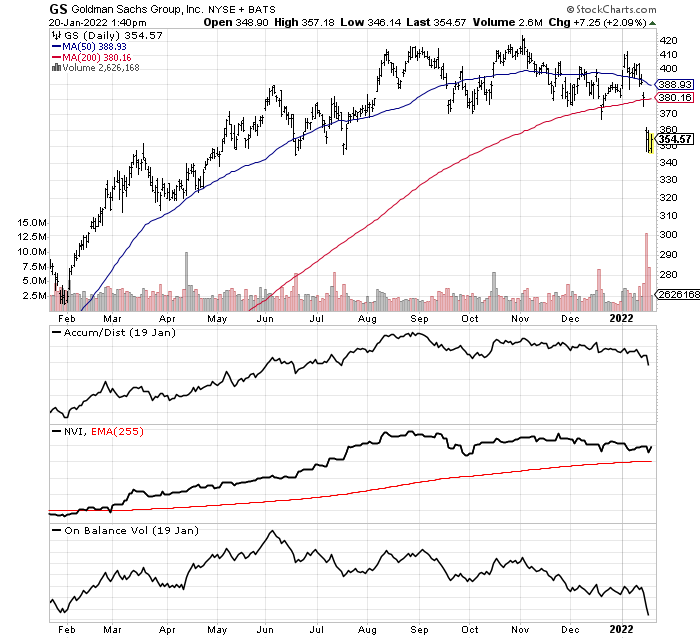 3M
Minnesota Mining and Manufacturing is the surprising pick of the bunch. It is typically a great stock to own in bear markets and corrections, a top defensive idea generally. Yet, the data suggests sellers have the upper hand vs. buying interest and volumes. Valuations are roughly normal vs. its 10-year trading history. All told, I would wager a reversal higher in MMM will appear before the others.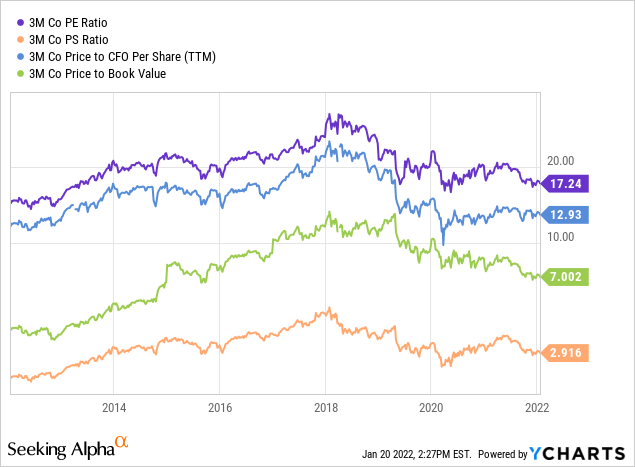 But for now, trading the momentum trend, 3M looks like a pedestrian to bearish selection. My formula puts a bottom 20% tag on the company for momentum trends the last 3-6 months. StockCharts has a 28 sector performance grade, and SA computer models lists MMM in the middle of the pack out of 4000+ alternatives for your buy capital.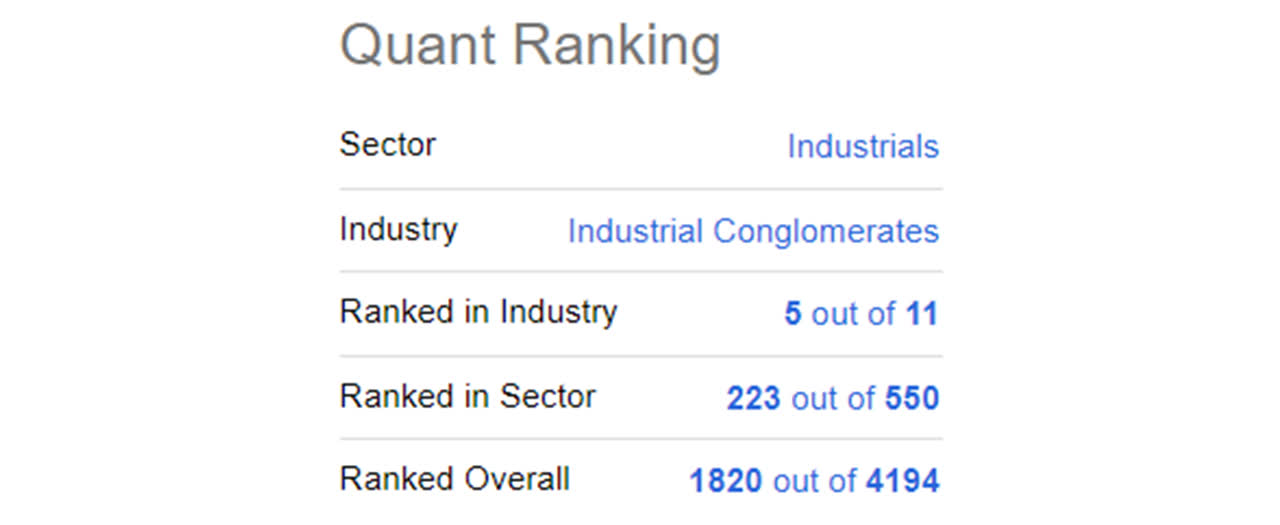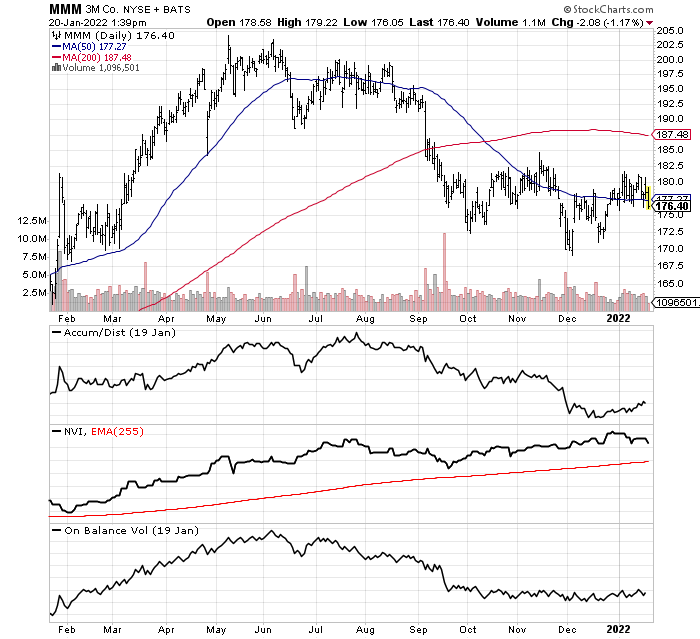 American Express
Another financial/bank name to avoid right now, based on a sliding stock market and rising interest rates is American Express. Its valuation has doubled and stock quote more than doubled the March 2020 pandemic sell-off lows. Not exactly shocking news, as many stocks have gain better than 100% over 22 months, but my point is the company may be priced for perfection (like thousands of others in January 2022). The stock market is notoriously cyclical, much more so than the overall economy. If a Russia/Ukraine war rocks the global economy, or interest rates spike this year, American Express will find it difficult to climb in price from today. The stock is still overvalued by nearly 40%, measured against basic fundamental valuations the last decade. And, the popular argument floating around investor circles that higher interest rates always inflate bank earnings is not supported by historical facts.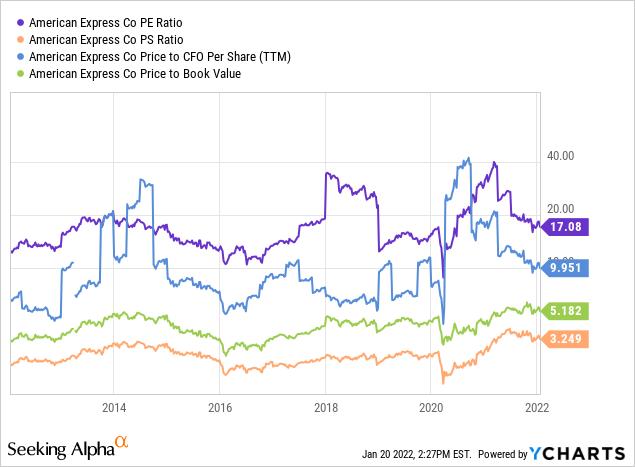 AXP's price has witnessed just a minor decline since its October peak, but momentum indicators supporting price have been sliding rapidly since July. StockCharts puts a 34 score on American Express for sector relative strength, the highest of the seven mentioned in this article, while SA places the name in a top 25% momentum position. Of the weakest financials and banks, AXP may have the strongest setup. I am nevertheless expecting more downside in the coming months.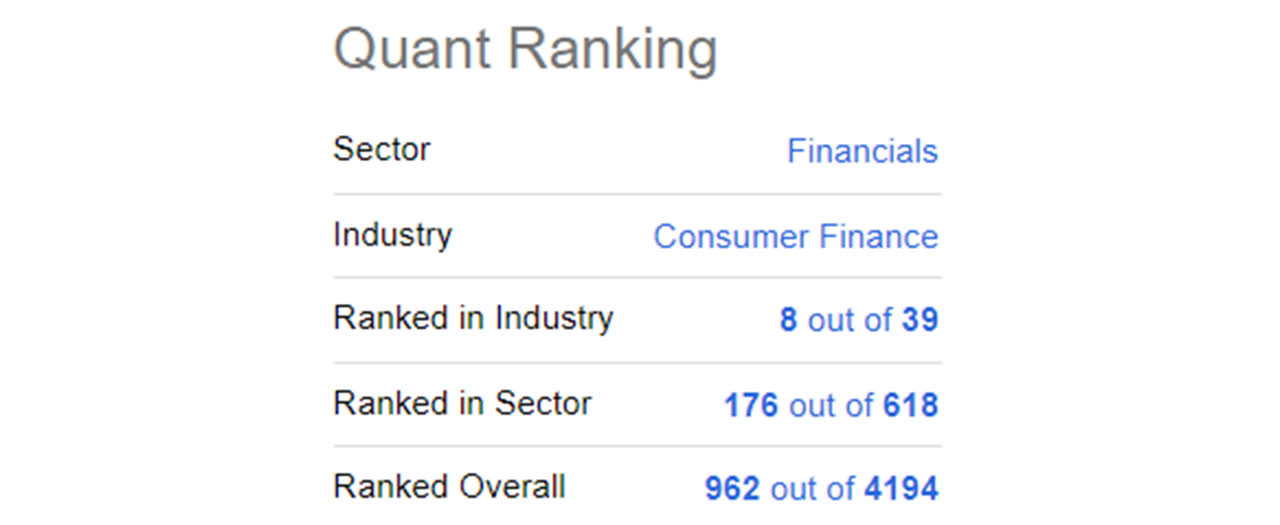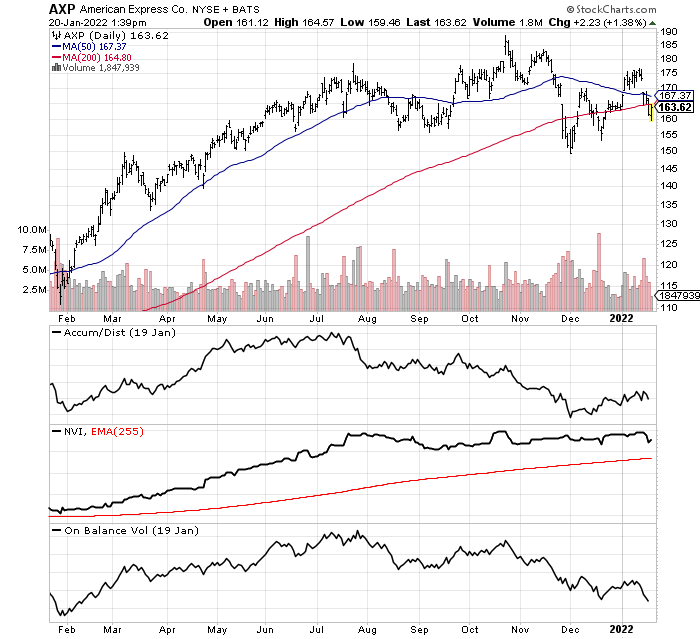 JPMorgan Chase
JPMorgan is the biggest bank in the U.S. by assets, and run by exceptional managers. Doesn't matter, as the U.S. financial markets succumb to selling. The valuation of shares on the underlying business is high vs. its 10-year trading history, but not extraordinarily so. CEO Jamie Dimon freaked everyone out on JPM's conference call last Friday, basically predicting the Federal Reserve will have to raise bank interest rates at every policy meeting in 2022 (starting in March) to match elevated inflation unlikely to come down on its own. This is one of the most pessimistic forecasts of any economist or bank forecaster.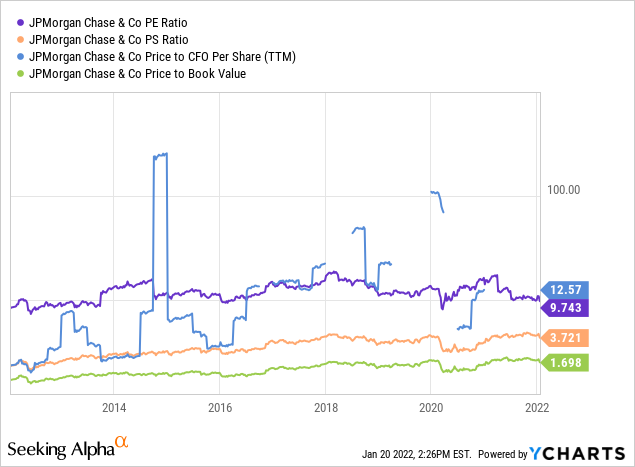 On Balance Volume trends have been consistently bearish since June, and the stock quote has been demolished by 12% over the last week of trading on worse than expected Q4 earnings news. StockCharts gives JPM a sector performance score of 29. However, Seeking Alpha computers rank its Quant setup (including earnings misses vs estimates) as the worst of the three big banks mentioned in this analysis.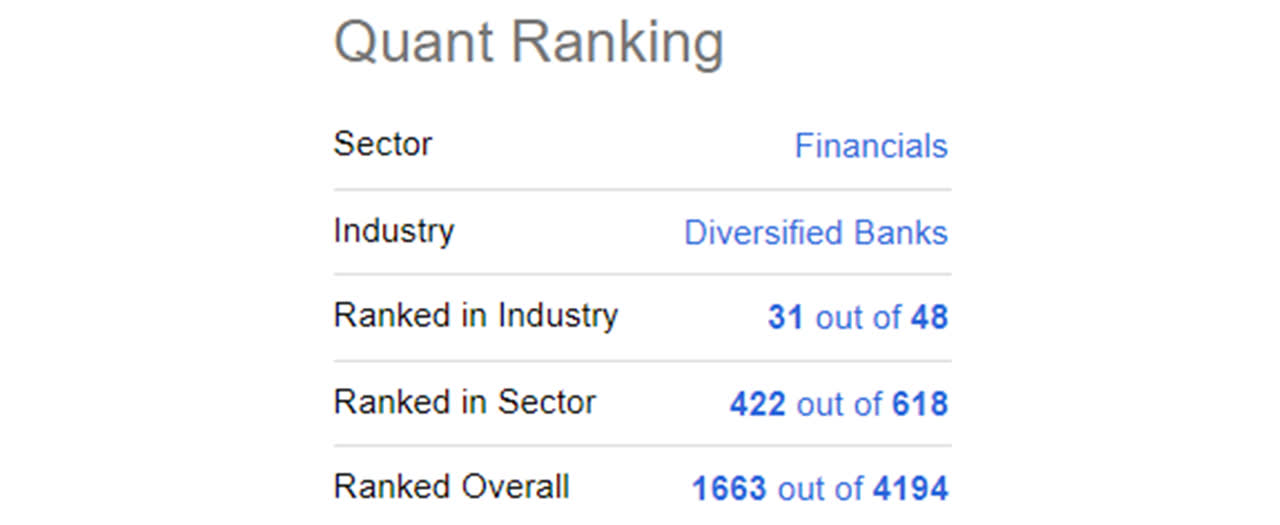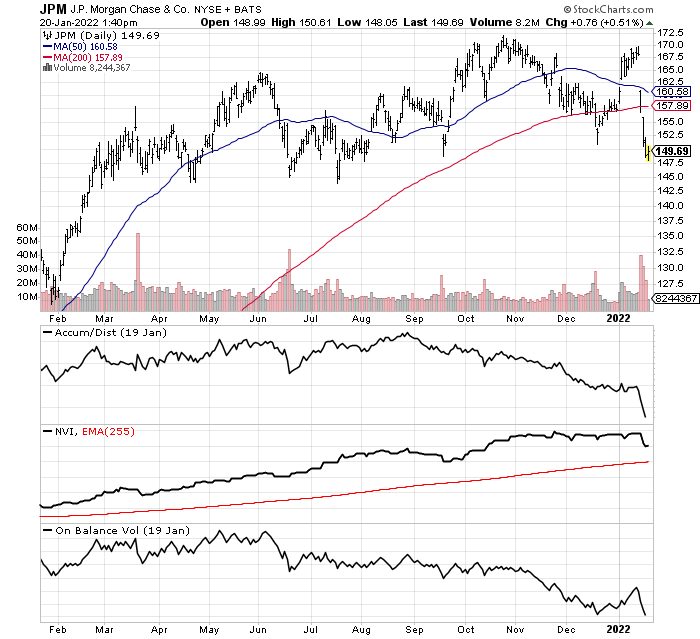 Final Thoughts
My momentum research work over many years suggests these seven companies, as a group equally weighted, will underperform the overall index over the next 2-6 weeks. If selling continues off the early January all-time high for the 30 Dow Jones Industrials, I suspect these names will lead the decline.
What could change their weak momentum performance? Each will have to deal with specific developments in their businesses. In terms of a theme, four are financials/banks/brokers, which tend to track price fluctuations generally for U.S. financial assets. Since the outlook for both stocks and bonds has turned overwhelming bearish the last couple of weeks, a reversal in asset prices to the upside would definitely be helpful, particularly for Goldman Sachs and JPMorgan. I wrote an article earlier this week linked here regarding the troubled future for U.S. equities and bonds, and Catch-22 situation the Fed finds itself, after allowing inflation to run wild last year.
If stocks were cheap relative to historical readings, surely any or all could reverse higher and generate nice gains for investors in 2022. But, as valuations remain extended, especially against 40-year high and still rising inflation categories, the odds favor more downside in U.S. stocks throughout 2022.
Thanks for reading. Please consider this article a first step in your due diligence process. Consulting with a registered and experienced investment advisor is recommended before making any trade.