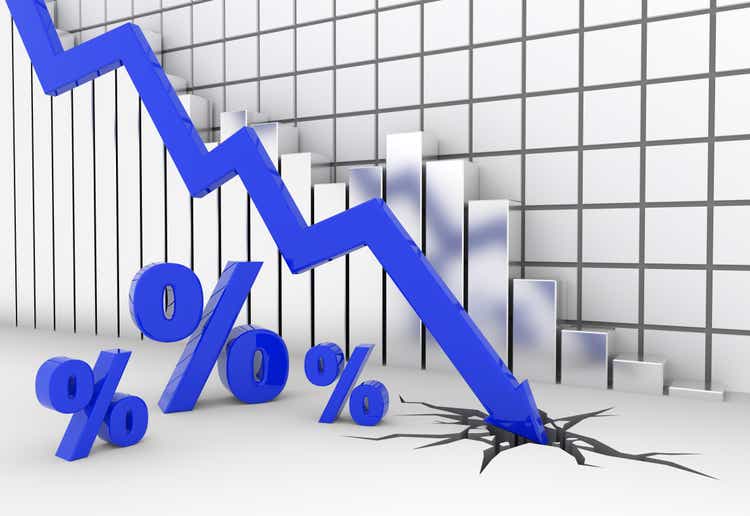 The stock market is down in early 2022. For perspective, the S&P 500 Index is down (-7.5%) year-to-date, the NASDAQ is in correction territory, and the Dow 30 is down (-5.4%) as of this writing. On the other hand, the CBOE VIX is up 4.6% to nearly 30 YTD. Some previously high-flying tech stocks have plunged. For example, Netflix (NFLX) has declined almost (-36%) after a poor earnings report and investor fears of increased competition. This early 2022 sell-off represents an opportunity for buy-and-hold dividend growth investors. Relentless investor selling has driven down some quality names. It is time to do some selective shopping. I view Ecolab (ECL), T. Rowe Price (TROW), and Medtronic (MDT) as long-term buys.
What is Causing the Sell-Off
Investors must wonder what is causing the persistent selling after a strong 2020 and 2021. There are three reasons: market overvaluation, inflation fears, and rising interest rates.
The market entered 2020 arguably overvalued. The S&P 500 Index's price-to-earnings (P/E) ratio was roughly 28X on January 1, 2022. This value is the highest value outside of the highs at the dot-com boom and before the sub-prime mortgage. The recent sell-off has brought the multiple down to about 25X. Ultimately, the market must revert to its mean. Although this value is still high, there are some stocks with lower valuations during the sell-off making them a bargain. Investors must be picky.
The second reason is rising inflation. Inflation has been minimal for many years. Businesses and consumers were used to low prices and slight prices increases. This fact has changed. Inflation returned in 2021, and consumer prices experienced the most significant jump since 1982. On a trailing 12-month basis, the Consumer Price Index [CPI] was up 7% in December 2021, and the Personal Consumption Expenditures (PCE) Price Index, the US Fed's favorite measure of inflation, was up 5.7% in November 2021.
The reasons inflation is rising are complex but include demand outstripping supply, supply chain shortages, worker shortages caused by COVID-19 sicknesses, retirement, and labor competition. Other influences on the supply chain and inflation were the well-publicized global shortage of semi-conductors, the blockage of the Suez Canal by the container ship Ever Given, the loss of oil and natural gas production in Texas during the deep freeze, the Colonial Pipeline disruption, and Hurricane Ida.
The third reason stocks are being sold is rising interest rates. The US Federal Reserve has pivoted and started tapering in November 2021. The Fed has become more aggressive and will likely complete tapering in March 2021. In addition, the Fed is forecasting three increases in the Federal Funds Rate.
The combined effect has made investors nervous. Market overvaluation caused some investors to exit positions to lock in unrealized gains. However, selling, for this reason, will eventually slow. Companies and consumers may have lower buying power due to inflation. However, companies have been able to pass on price increases, which should maintain margins and earnings. Higher interest rates mean debt becomes more expensive, but rates are still historically low, although they are not at record lows anymore. In any case, there are opportunities in the early 2022 sell-off.
Ecolab
Ecolab is a specialty chemical company providing water treatment, hygiene and sanitation, and infection prevention products and services. Ecolab operates in three business segments: Global Institutional & Specialty, Global Healthcare & Lifesciences, and Other. The company is the market leader in providing cleaning and sanitation products and services to customers with about 8% global market share. Bill Gates owns approximately 12.3% of the stock through his foundation.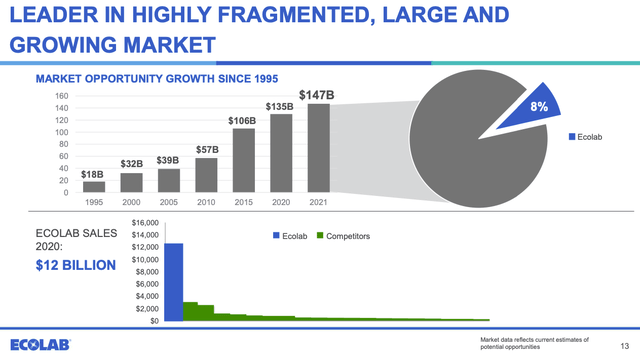 Ecolab is rarely undervalued and tends to trade at a premium. After announcing Q4 FY 2021 results, the stock sold off because it missed earlier guidance. The company also forecast lower earnings per share growth in fiscal 2022 than expected. Ecolab is currently challenged by the impact of COVID-19 and supply chain disruptions. The stock price plunged and is now trading near its 52-week low and is down about (-18%) YTD.
Investors should look at this stock due to its market dominance and long-term growth. Despite being the market leader, the company still has room to grow organically and through bolt-on acquisitions. Cleaning and sanitation are necessary functions for many businesses, and Ecolab provides a solution. In addition, the company sells equipment and then provides consumables resulting in recurring revenue. Water treatment should grow too as usage rises. Ecolab is increasing its sales to pharma and healthcare companies. Along this line, Ecolab is acquiring Purolite for $3.7 billion.
Ecolab is a Dividend Aristocrat and Dividend Champion. The company has raised the dividend 29 years in a row. The most recent quarterly dividend increase was to $0.51 per share. The forward dividend yield is not high at ~1.1%, but it is well covered with a payout ratio of only 41%. The forward P/E ratio is still a lofty ~35.2X based on a forward non-GAAP earnings per share of about $5.40. However, the stock price has fallen substantially below the 50-day and 200-day EMAs. Therefore, I view Ecolab as a long-term buy.
T. Rowe Price
Another long-time favorite to consider is T. Rowe Price. The company is one of the largest publicly traded asset managers. At the end of 2021, the firm had about $1.69 trillion in assets under management [AUM]. Most of this money is held in sticky retirement accounts. The money is divided into approximately 69% equity funds, 29% balanced funds, and 10% fixed-income funds. The company continues to gain assets through better fund performance. In the trailing 5-years and 10-years, T. Rowe Price's funds have performed much better than the Morningstar median, peer median, and benchmarks.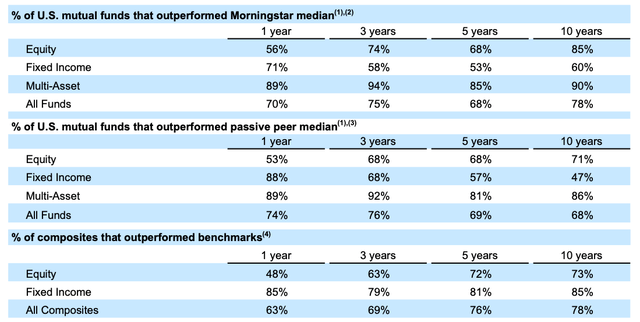 T. Rowe Price's revenue and EPS growth is tied to AUM. If AUM rises due to inflow or market action, the company will earn more since it charges a fee based on assets. However, the opposite is also true. Suppose AUM declines due to market action or outflows, revenue, and EPS decline. Hence, the firm's stock price is sensitive to broader stock market moves. T. Rowe Price's stock price is nearly in bear market territory, declining about (-19%) YTD, below the 50-day and 200-day EMA.
The forward yield is around 2.71% and is supported by a fortress balance sheet with no debt and about $3,419 million in cash, equivalents, and short-term investment in the LTM. Furthermore, the payout ratio is excellent at ~33%. T. Rowe Price has raised the dividend for 35 years, making it a Dividend Aristocrat. The dividend growth rate has been in double-digits in the past decade.
Source: Portfolio Insight
The stock is undervalued, trading at a P/E ratio of ~12.5X versus a long-term average of ~16X. The Chowder Rule gives 17.1%. I view T. Rowe Price as a buy now.
Medtronic
Medtronic is the world's largest pure-play medical device company. The company operates in four segments: Cardiovascular (~36% of total revenue), Medical-Surgical (~29% of total revenue), Neuroscience (~27% of total revenue), and Diabetes (~8% of total revenue). Medtronic has a new CEO focusing on organic growth, tuck-in acquisitions, and minority investments to expand its product portfolio. Along these lines, the company has a solid pipeline and gaining regulatory approval for dozens of new or improved medical devices.
The company has recently struggled with the negative impact of COVID-19. Hospitals experienced lower elective surgery and procedure volumes since resources were diverted and patients stayed away. In addition, the company recently received an FDA warning letter about its diabetes business. The stock price plunged in response, adding to the downward trend since the peak in late-August 2021, and is down more than (-20%) since the peak.
Medtronic is a long-term dividend growth stock with 44 years in a row of dividend increases making it a Dividend Aristocrat. The forward dividend yield is about 2.4%, supported by a conservative payout ratio of ~44%. In addition, the balance sheet's debt is declining, and the leverage ratio improving after the Covidien acquisition.
The stock is trading at a forward P/E ratio of approximately 18.3X. This value is much lower than in recent years and below our fair value multiple of 20X. In addition, the stock price is below the 50-day and 200-day EMA. Therefore, I view Medtronic as a long-term buy.