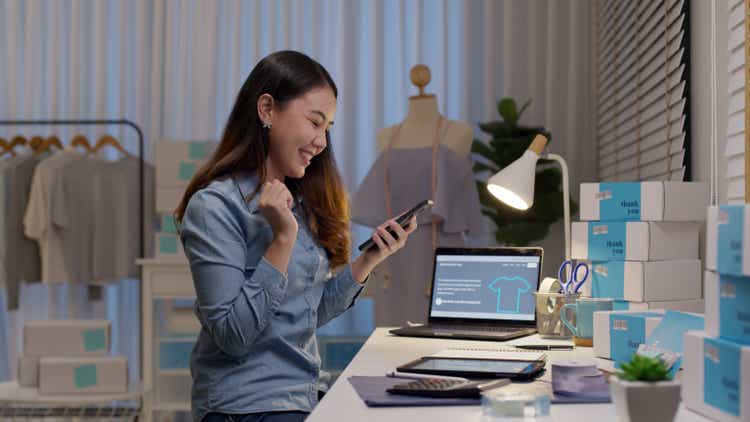 Overview
National Bank Holdings Corp (NYSE:NBHC) is Colorado's largest publicly traded bank HQ. With more than $7 billion in total assets, the bank has gained a strong presence in Boulder, CO and Austin, TX. Fortunately for NHBC, Boulder and Austin have attracted a significant amount of young, tech-oriented talent over time. With substantial investment and population inflow, the economies of both Boulder and Austin should perform well.
According to consensus, Austin's population grew to 961K, a gain of 21.7% over the last ten years;
Similarly, Boulder's population grew 11.2% over the same period, underscoring the city's economic boom.
The bank runs a balance loan book, with ~50% loan book towards real estate lending and ~50% loan book toward C&I lending. NBHC has historically built on a relationship banking strategy, emphasizing depository and treasury management.
One exciting development is the launch of 2UniFi. This banking solution helps small and medium businesses to increase access to the banking system, reduce costs & save time, and lastly increase their actionable information. 2UniFi touches on crucial pain points of i) cash flow issues; ii) information reconciliation; iii) data security; and iv) payment management. While the platform's success remains to be seen, it is nevertheless a differentiation point for the bank and could potentially drive future growth.
Review of Operations
From a profitability perspective, ROA has been industry-leading over the past few years, while ROE has been on par with the industry. The bank's fee income has grown over time. The efficiency ratio has decreased significantly from ~69% in 2016 to ~64% in FY21. Our expectation is that given as the bank's assets continue to grow and fintech operations success gain traction, the efficiency ratio will continue to improve over time.
The conservative credit culture can also be seen through the bank's low nonperforming loans. NPL % of Total loans has historically trended below 75 basis points and has improved over the years.
The bank's cost of financing is attractive compared with other industry peers. In terms of the loan growth, From FY17 to FY19, the bank has delivered high teens CAGR. With COVID becoming background noise at some point in the future, we expect to see continued strong organic loan growth to support a booming economy.

Valuation
Stock is reasonably priced on P/E (15x) and P/TBV (2.0x). Given the strong organic loan growth, the bank is attractive given its market presence in growing markets such as Austin and Boulder and its solid deposit franchise in the Colorado and Missouri markets.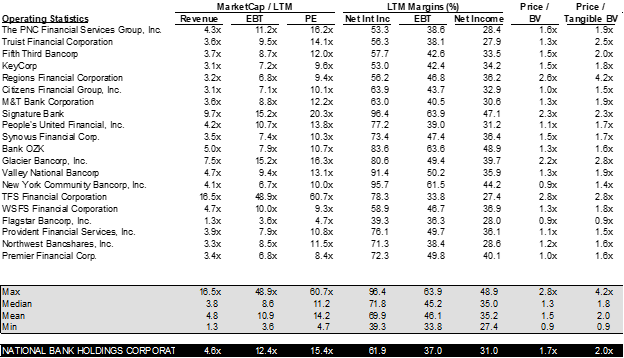 Risk/Reward
From a risk perspective, watch for banks driving growth at the expense of credit quality. With a growing market, competition will arise as it relates to loan products, potentially pushing the bank to lower credit underwriting criteria to win business.
From a reward perspective, we like the organic growth in the core market that National Bank Holdings is serving. Moreover, the current valuation does not price in the success of 2UniFi, which is a free option for shareholders. Thirdly, the bank will benefit from a rising interest rate environment. Lastly, the management is compensated on 3-year Total Share Returns; as such, shareholders' interests align with the management team.
Conclusion
Overall, National Bank Holdings is reasonably priced at 15x P/E with exposure to the dynamic core market that can reasonably grow at double digits in the next few years. The 2UniFi launch provides upside potential that is not reflected in the share price. Management and shareholders are aligned from the perspective of shareholder return. We are bullish about the risk/reward dynamics.